Sydney is a spectacular city, sprawling its magic and diversity around the largest natural harbour in the world. I am a huge fan of it and very grateful for living here. There is plenty to see and do in Sydney, however it is a busy city. Therefore, it's always a good idea to escape Sydney for a day. I have listed for you my top 5 day trips from Sydney. These destinations are less than 2 hours' drive from Sydney.
The Blue Mountains
When I first settled in Sydney, one of my first day trips was to the Blue Mountains. Only 2 hours drive away from Sydney, the Blue Mountains are a mountain range famous for their blue hues, high cliffs and deep valleys. Waterfalls dot the landscape and hiking trails meander through the forest. The Blue Mountains are testimony to an early tourism trade in New South Wales and are well worth a day trip, or even a weekend. After passing through many times on my way to Mudgee, I decided to explore again and search for sweeping views away from the tourist trail. Here is a list of 10 stunning lookouts in Australia's Blue Mountains.
The Basin
Sydney has many secrets but my favourite one is tucked away in the meanders of Pittwater, north of the city. Technically, The Basin is within metropolitan Sydney but it is close to it's northernmost point and it has a unique holiday feel. The Basin is an isolated gem on the edge of Ku-Ring-Gai National Park, sheltered in quiet waters but ready to escape into the South Pacific Ocean. Shaded by gumtrees and populated by diverse wildlife, The Basin is Sydney's Best Kept Secret.
Berry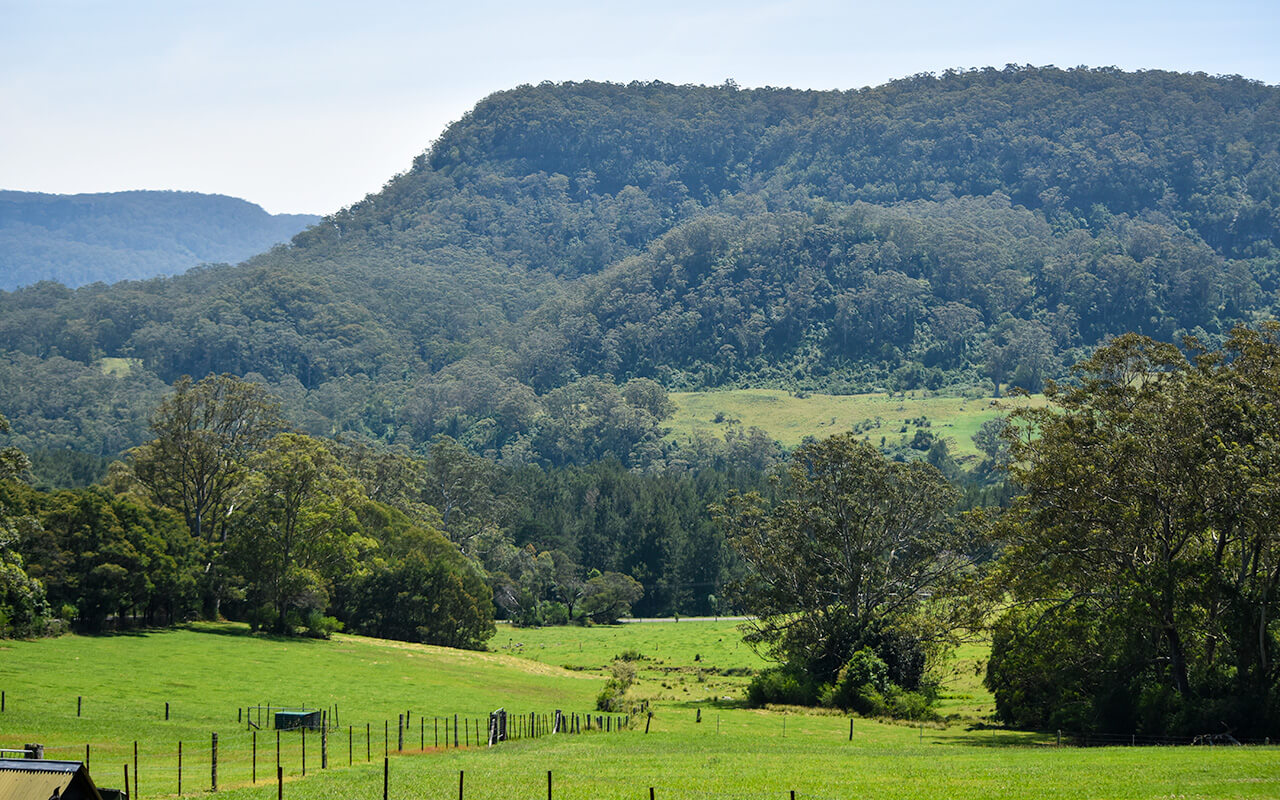 Berry is a lovely little rural town only 2 hours south of Sydney. Set in a beautiful bucolic setting, surrounded by rolling green hills, its proximity and easy access makes an ideal choice for a day trip from Sydney. Berry is blessed with a mix of rustic, small-town feel, a busy cafe life and great shopping. Berry's proximity to the NSW South Coast's breathtaking beaches makes it a diverse destination for a day. If you need convincing, I have 7 reasons to take a day trip to Berry.
Kangaroo Valley
Kangaroo Valley is a most beautiful valley, nestling between two mountains and only two hours south of Sydney. Developed thanks to the dairy industry, Kangaroo Valley offers a gorgeous combination of rolling hills, green fields, quaint farms and a charming village, all quietly secluded in wilderness. The relative isolation of Kangaroo Valley means time has somewhat stopped, the village of Osborne hasn't changed much in over a hundred years. On a day trip to Kangaroo Valley, you will experience some slow time in the countryside.
Berrima
Less than 2 hours south of Sydney, Berrima is a charming and Georgian village in the NSW Southern Highlands. First established in the 1830s and mostly built by convict labor, Berrima is rich in heritage buildings: the Court Room, the Prison, and the Church all have historic value. Furthermore, there are plenty of well-preserved stone cottages. Nestled on the Wingecarribee River, it's a small historic town on the way to Canberra and a delightful destination for a day trip. There are various things to do on a day trip to Berrima.
Weekends from Sydney
You can stretch all these day trips from Sydney into weekends if you have more time. And if you are keen to venture further down the NSW South Coast, I highly recommend Jervis Bay. Also, if you are into food and wine, don't miss a weekend in Mudgee.
You can find more day trip and weekend ideas on the Destination NSW website. And don't forget to check out my Pinterest boards for NSW and Sydney.
What is your favourite day trip from Sydney ? Please share in the comments below.