If you are into hiking, or simply walking in nature, the state of New South Wales has plenty of options. I love nothing like escaping city life to take adventurous hikes in the wilderness… Not to mention exploring walking tracks in Sydney. Whether you are keen on a coastal walk or an adventure deep in the forest, there is hike for you. Here is my list of the best places to go bushwalking in NSW.
The Best Places to go Bushwalking in NSW
In a period of little or no travel, I've had to refocus my attention on local destinations. I've always been into hiking but I now take it more seriously. I have my sights set on the Royal National Park coastal walk and I would love to do some Blue Mountains day hikes. I have covered a few of the best hikes in Sydney, including the harbour walks. And of course, I have done a number of NSW walks.
Hiking Packing List
For your NSW bushwalking, you need a hiking gear essentials. NSW bush walks require a minimum of preparation and having good bushwalking shoes, plenty of water, a good camera and sun protection is absolutely necessary.
| Image | Title | Description | Brand | Buy |
| --- | --- | --- | --- | --- |
| | Tempest 20 Women's Hiking Backpack | Lightweight hiking backpack | Osprey | Buy on Amazon |
| | Precip Women rain Jacket | Lightweight waterproof jacket | Marmot | Buy on Amazon |
| | Women's X Ultra 3 GTX Hiking Shoes | Women's hiking shoes | Salomon | Buy on Amazon |
| | Water Bottle | BPA free, leak proof | CamelBak | Buy on Amazon |
| | Aluminium Trekking Poles | Mountain Tech | Cascade | Buy on Amazon |
Hiking Tips for beginners
Before you embark on the trail, make someone knows where you are going. This is one of my beginner hiking tips and I also use it when I go on Sydney national park walks. It happens way to often that people get lost and take days to be found because they failed to share their plans with a friend… I also make sure I have a spare power source for my phone, just to make sure I don't run out of battery.
Bouddi National Park
North of Sydney, the NSW Central Coast is a peaceful suburban haven dotted with waterways and national parks. I discovered the Bouddi coastal walk a few years ago, famous for its spectacular coastal walk. It's a 95-km drive from Sydney, perfect for a day trip or a relaxing weekend. There are several Bouddi National Park walks however the best one is the Bouddi coast walk. The distance from Putty Beach to McMasters Beach is only 8,5 km and it's a hard track. For accommodation on the Central Coast, this beach house in Terrigal is a good option.
Most walkers start the walk at Putty Beach, where parking and picnic facilities are available. The track follows the coast in a mix of boardwalk, stairs, fire trail, bush track and beach. The start of the walk is quite moderate and you can admire a stunning example of tessellated pavement. A little further on, the colours in the sandstone are an icon of Central Coast bush walks. Most people only walk as far as Maitland Bay, which is a charming little beach.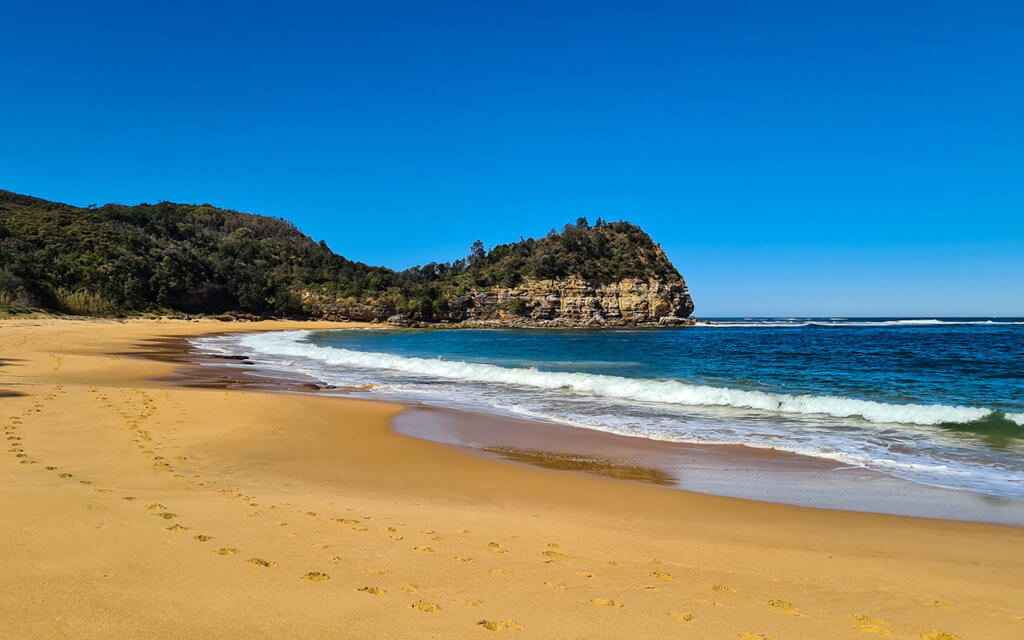 On my second visit to Bouddi National Park, I decided to walk all the way to McMasters Beach and realised that the track becomes a lot harder after Bouddi Head. But it's also very rewarding. The track climbs and descends in the heath and the views of the coast are absolutely stunning.
I took a detour to Third Point, which is a great spot for whale watching. The views extend to Broken Bay and Barrenjoey Headland in Sydney's metropolitan area. After that, the walk is mostly flat on soft fire trail, until the final descent to McMasters Beach. I did the walk in winter and the sun was still pretty harsh, so don't forget to take a hat, water and appropriate sun protection.
When you get to McMasters Beach, the access to the beach is a little hard to find but it was nice to rest and have lunch at the local cafe. Since there is no public transport at McMasters Beach, I chose to head back to Putty Beach on the track. It was a pretty big day and demanding track, and you can take an Uber or taxi back.
Overall, this tough track is diverse and really beautiful, well worth the effort.
Kiama Coast Walk
Kiama is a small town on the NSW South Coast, some 120 km south of Sydney. It's an easy day trip from Sydney but I also rate it for a weekend getaway from Sydney. There are many things to do in Kiama NSW and the coastal walk is probably one of the best hikes in NSW. The walk is 22-km long, from Minnamura to Gerringong. The recommendation is to do it over three days and split it this way:
Minnamura to Blowhole Point: 8,4 km, 3 hours, medium track
Blowhole Point to Loves Bay: 5 km, 1,5 hours, medium to hard track
Loves Bay to Gerringong: 6 km, 2 hours, medium to hard track.
I did the coastal walk over two days, combining the two last sections, and it's perfectly doable. What's more, the public transport options work perfectly that way with the local train. For accommodation, this house in Kiama Downs has beautiful ocean views.
The Kiama coastal walk is beautiful all the way but the two sections are slightly different. The first half, from Minnamura to Blowhole Point, goes through the suburbs a bit and requires some beach walking. Jones Beach was a little taxing has the sand was quite soft. On the way, don't miss Cathedral Rocks at the southern end of Jones Beach and Bombo Quarry. Both places are renowned as fantastic photography spots at sunrise. I made the effort and was wowed by Bombo Quarry.
After that, Bombo Beach has the most inviting surf and there are great views of Kiama Lighthouse. At the end of the trek, I enjoyed a meal on Collins Street, in the historical cottages.
On the second day, I started at Blowhole Point near the lighthouse. The blowhole is one of the best Kiama attractions but doesn't always perform… This second section of the walk is even more beautiful. At the beginning, the track follows the coast alternating headlands and beaches. Kiama caravan parks are very neat! After Loves Bay, which is a little rocky beach, the landscape becomes more barren, leaving the houses behind. This is the last opportunity to get water and bathroom facilities and the track is quite exposed to sun and wind all the way to Gerringong.
There were fewer walkers on this section of the track, which was much more rural. Still, I found it to be incredibly beautiful. Combining the two southern sections makes for a longer walk, allow 4 to 5 hours from Kiama to Gerringong. I think next time I might try the opposite direction, Gerringong to Kiama coastal walk!
Blue Mountains National Park
Located 80 km west of Sydney, the Blue Mountains of Australia on the World Heritage List and the most visited national park in New South Wales. Famous for its numerous Blue Mountains lookouts, this area is home to dreamy waterfalls and deep valleys stretching out to the horizon. Caves and rock formations such as the Three Sisters in Echo Point are a landmark of this landscape, something you can't miss when hiking in the Blue Mountains. For accommodation in the Blue Mountains, try this Luxe Loft.
The eerie "blue haze" that floats over the valleys is a real thing, created by the eucalyptus oil emanating from the trees and mixing with the ambient air… There are some great hikes in the Blue Mountains, including the Grand Canyon, a moderate 6,5 km track. The Six-Foot Track is a three-day hike, 46-km long… Another famous walk is the National Pass, a hard 4,5-km loop.
There are all sorts of walks in the Blue Mountains, from easy paved footpaths to hard, multi-day hikes. Check out the NSW National Parks website for track closures due to repairs and bushfire damage, and if you miss out, there are other activities in the Blue Mountains.
Pigeon House Mountain in Morton National Park
I always like to include a hike when I go away… On a weekend in Mollymook, I hiked up to Pigeon House Mountain Dithul Walking Track in Morton National Park. Visible from a distance in the Budawang Wilderness, this recognisable peak was named by Captain James Cook in 1770. This paradise cabin in Mollymook looks ideal for accommodation.
Starting at the picnic area off Yadboro Road, the track is pretty steep all the way and even includes some ladders. This means this track is best done in dry weather, things could be very slippery… The track meanders through forest, heathland and sandstone, with a few clearings allowing for panoramic views of the cliffs and gorges within the Budawang Wilderness.
Once you get to the top, the viewing platform is not very big and there is a narrow "balcony" for coastal views. We had a small picnic at the top and enjoyed the views. On a clear day, you can see as far as Jervis Bay and Bermagui. Note that this walk is quite taxing, so I recommend allowing enough time for several stops and carrying plenty of water. This is the habitat of lyrebirds, you might hear their unique song on your walk! Next time I visit the Morton National Park, I will try the Fitzroy Falls walks.
Minnamurra Rainforest Centre in Budderoo National Park
The NSW South Coast used to be covered in rainforest and some pockets still remain, which you can visit through bushwalking tracks. A fabulous example of this unique ecosystem, the Minnamurra Rainforest Centre is in the Kiama area, on Jamberoo Road. The Falls Walk goes all the way to the Minnamurra Falls. It's a hard track due to its steepness but the footpath is easy to walk on, being either paved, boardwalk or a comfortable bush track. Thankfully, there are several benches along the way if you need to rest.
The main reason for walk this track is to experience the unique atmosphere of the rainforest. The trickling streams, moss-covered rocks and feathered ferns create a peaceful and dreamy feel. When you get to the lookout overlooking the rainforest canopy and the waterfall, it's as if the effort of the climb ebbs away in the ambient peacefulness… Another massive attraction is the presence of lyre birds. I had one running in front of me on the track for a period of time.. And even captured the mating song of a male, complete with the unique tail feathers…
Barren Grounds Nature Reserve in Budderoo National Park
Little-known Budderoo National Park has more than one hiking trail to charm you. The Barren Grounds Nature Reserve is on the escarpment of the NSW Southern Highlands. Access is via Jamberoo Road, coming from the township of Robertson. There is a well-appointed picnic area with tables, facilities and even a hut if you want to stay overnight in the area. There are several walks in the area, we did the Griffiths Trail, which is a moderate 8-km loop in the heath. If you extend to Cook's Nose to enjoy the stunning views, it would add 5 kms.
The track is very pleasant, passing by the Illawara Lookout. The stone bridge is notable as it is a natural sandstone bridge over the stream. We started this walk in the fog and the weather gradually cleared to reveal blue skies… Indeed, the weather can change quite quickly in that area. The Barren Grounds are very popular for bird watching. This is also the spot where I got my first tick, bushwalking NSW has some downsides…
Wild Walks
There are so many walks I want to do in NSW… I need to plan some Blue Mountains adventures and I would love to try some Hunter Valley walks… The Great North Walk is a multi-day walk and is on my list for when I start camping and hiking…
Related Posts
Bouddi National Park Coastal Walk
Kiama Coast Walk in
2 days
North Head Manly Walk
Sydney
Do you have any tips for great bush walks in New South Wales? Tell me in the comments below!
Save these NSW bushwalking tips on Pinterest!
LesterLost is a participant in the Amazon Services LLC Associates program, an affiliate advertising program designed to provide a means for us to earn fees by linking to Amazon.com and affiliated sites.