There is no shortage of gorgeous views in Sydney, you could almost become blase about it. In order not to forget that I live in one of the world's most spectacular, I love going back to Sydney's spectacular viewpoints. Every time, I get a reminder of how fortunate I am to live here and how much Sydney has to give to the explorer. North Head is one of Sydney's seven headlands and an imposing presence at the entrance of Port Jackson. Take a walk with me and be inspired by the stunning cliffs of Sydney's North Head Sanctuary !
North Fort
North Fort is part of the North Head Sanctuary and like Middle Head, bears witness to the military defence of Sydney. There is a 45-minute tour of the tunnels and gun emplacements available.
North Fort is a short drive beyond the beach suburb of Manly, turn left to North Fort just before the Bella Vista Cafe.
Memorial Walk
Memorial Walk is an outdoor educational journey into Australia's presence in various international conflicts and peacekeeping missions. Before you start the walk, take a moment to admire the breathtaking views over Sydney Harbour and the CBD.
The walk around North Head Sanctuary starts here and will take you all the way to Manly.
Fairfax Lookout
Fairfax Lookout is a short loop walk at the southernmost tip of the North Head Sanctuary. You can reach it in ten minutes on foot from the Memorial Walk or drive there. The path loops around the headland amidst tea trees and offers stunning views over the ocean and South Head.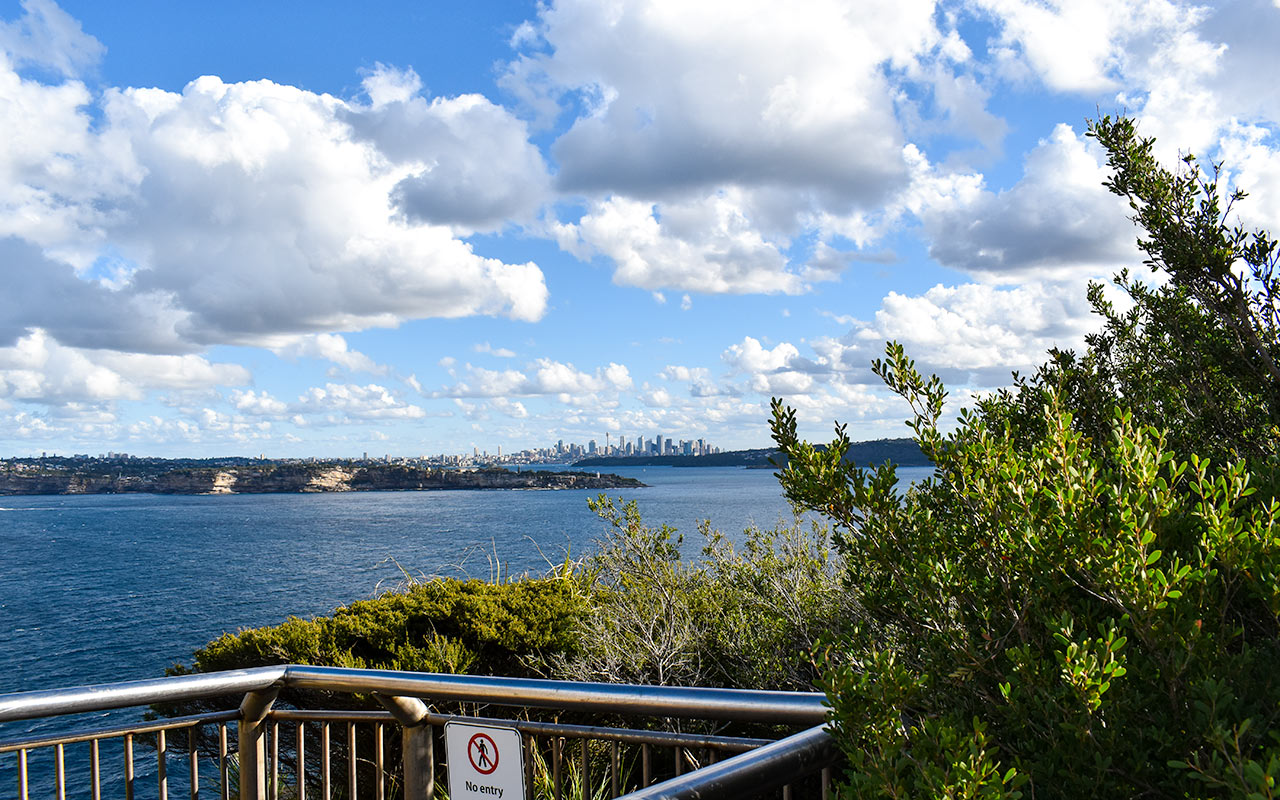 At the time of my visit, some of the lookouts were partially closed off due to the cliff becoming unstable. Still, the views are amazing. When I stand there watching the view, I can't help but think of the First Fleet sailing through the heads and being presented with the most beautiful harbour… No wonder this location seemed perfect for colonial settlement. Of course, the presence of water was instrumental in this but I love the romantic notion that beauty attracted the first fleet !
North Head is a great spot for whale watching, you can see the tourist boats from the cliff tops. If you equip yourself with a good pair of binoculars and a great deal of patience, you might just see a pod of whales on their migration. While the view over the Eastern Suburbs of Sydney is incredible and gives a good idea of how dramatic that part of the coast is, don't forget to look down. Some of the colours in the waters below will leave you breathless.
There is a path that takes you around the headland, through the Memorial Walk and all the way to Manly in about fifteen to twenty minutes.
Q Station
If you have enough time, I do recommend visiting the Quarantine Station. As early as 1830, this remote location was used to isolate newly-arrived people suspected to be carrying highly contagious diseases such as Spanish Influenza, Smallpox and even the Bubonic Plague. The Quarantine Station was in use until the 1970s and is now a hotel, conference centre and museum. It is quite a moving visit, with many objects and artefacts saved from its residents.
Shelly Beach
The walk around the North Head Sanctuary headland will take you to Shelly Beach, one of Sydney's prettiest and most secluded beaches. In the bushland above Shelly Beach, there is a fantastic viewpoint over the succession of beaches towards the north. You can access the rock on the picture below, however take great caution, you have to step very close to the edge of the cliff.
Alternatively, you can enjoy the view safely from a park bench located under a rock ledge, and if you have time, indulge in whale watching.
Shelly Beach is a lovely spot for a relaxing afternoon and even has decent snorkelling. Enjoy a casual drink or lunch at the Boathouse Cafe and Kiosk. I find Shelly Beach a wonderful reminder of how extraordinary the Sydney lifestyle is. This is suburban Australia, certainly wealthy, but nevertheless unique.
Manly Beach
You can reach Manly Beach easily from Shelly Beach on the boardwalk. Manly is a little like Bondi, quintessentially Sydney, only a little quieter.
Manly is where the North Head Sanctuary walk ends. I find it a lovely suburb, bustling from tourists and shoppers alike. I often hear newcomers to Australian wondering if office workers go for a surf at lunch time… Or if that's an urban myth? Well, it's true! I did see a guy change from his suit into his board shorts and go for a quick surf at lunch time in Manly! My favourite thing to do there is to enjoy some fish and chips on the beach… However, you have to watch out for the seagulls! There is a plethora of cafes and restaurants along the beachfront and the Corso is well-known for its shopping experience.
How to get there
If you start the walk at North Fort, take the 135 bus from Manly Wharf. It runs every half hour approximately. Ferries run from Manly back to Circular Quay, as well as buses. Please check the Transport NSW website here.
If you are looking for more ideas on what to do in Sydney, I have stories about Middle Head, South Head and The Basin. Outside of Sydney, there are some great day trips, check out this blog post for more ideas. Also, there is a great coastal walk north of Sydney on the NSW Central Coast, in the Bouddi National Park.
I also have a Pinterest board on Sydney.
Have you visited North Head? Do you have any tips for my next visit? Please share your experience in the comments below.