A few months ago, I found myself in Canberra. I am reasonably familiar with the place, and I have started exploring the surrounds. In the winter, Canberra can be bitterly cold and the temptation of seeking a sunny and slightly warmer place is hard to resist. Batemans Bay NSW is only two hours away from Canberra and on a sunny day, it doesn't fail to deliver a heartwarming day trip. Therefore, I decided to do a dash to the ocean from Canberra in a day.
Braidwood and Monga National Park
From Canberra, the Kings Highway heads towards the east on the highlands. The landscape is flat and rural, quite majestic in the dimming light. Braidwood is a heritage-listed small town, with a gold-rush era history. With old pubs and heritage buildings, Braidwood is worth a stroll if you have time.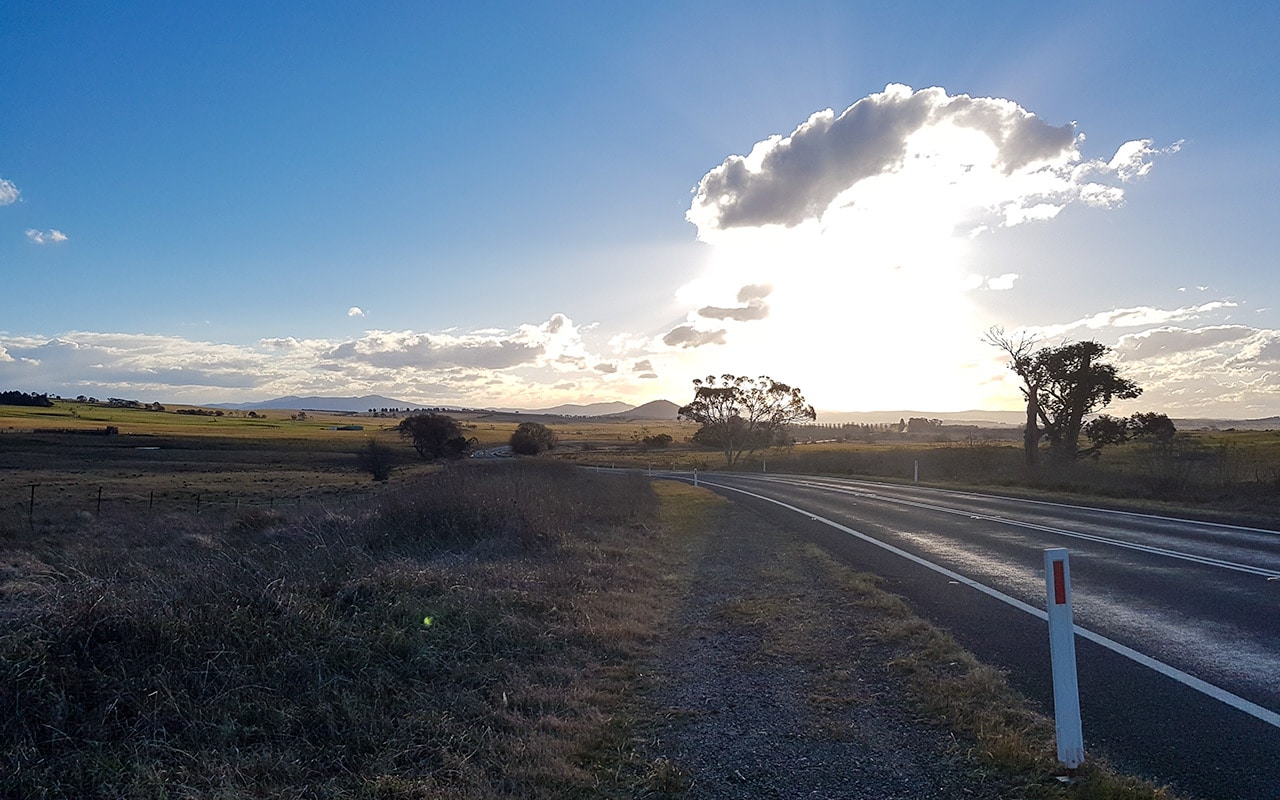 Twenty kilometres after Braidwood, the road takes a steep descent off the tablelands, through the Monga National Park. The road is quite dramatic, meandering through a mix of rainforest and old-growth eucalyptus forest, descending towards the coast.
Batemans Bay
Named by Captain Cook in 1770, then a lieutenant on his first voyage, Batemans Bay is a seaside town four hours south of Sydney on the NSW South Coast, in the Eurobodalla Shire. Batemans Bay NSW is the closest seaside town from Canberra and a popular holiday spot. With only a day to explore and a four-hour round trip, I had to select a few good sights without committing myself to too much driving. With beautiful beaches and Australian wildlife, Batemans Bay NSW offers a relaxed setting with options for fishing, snorkelling or simply relaxing. Due to my short time there, I elected to take a scenic drive and treat myself to a nice lunch.
Batemans Bay is on the Clyde River, with many beaches and sights. The water is crystal clear and inviting. If you have more time, the Batemans Bay Cycleway is an 18-kilometre journey through wetlands and along the waterfront.
Casey's Beach and Batehaven
Starting in the centre of Batemans Bay NSW, the Coast Road is a scenic road heading south towards Moruya. My first stop was Batehaven and its spectacular Observation Point. On the day of my visit, the wind was very strong but the views over the Clyde River were stunning. Also, I could see myself relaxing on a summer's day at Casey's Beach.
Surf Beach
A little further south, Surf Beach is taking a further distance from the holiday units along the coast. Again, it is a pristine setting crystal-clear waters, and the seagulls were patiently lined up on the beach.
Rosedale Beach
Rosedale Beach is my favourite of the beaches I visited that day. It is secluded yet spacious. Of course, I imagine it would be pretty busy in summer. Further down, Guerrilla Bay is a national heritage area and if you have time, I recommend walking around Burrewara Point. After that, I stopped for a quick lunch at the Mossy Cafe and enjoyed a healthy and delicious food bowl.
The tourist road continues to Moruya and the quarry site for the pylons of the Sydney Harbour Bridge, however, I took a shortcut back to Princes Highway as my time was running short.
Mogo Village
I made a brief stop at Mogo Village, a little heritage township lined with craft shops and quaint buildings. Mogo comes highly recommended for its Zoo and Gold Rush Colony so I'll have to make another trip.
Pebbly Beach
On the recommendation of the Tourist Office, I headed north to Pebbly Beach to observe a rather curious phenomenon… kangaroos hanging out on the beach… In my twenty years in Australia, I'd never heard of it and would have assumed it was an urban myth… But no, it's real, and it makes for some very quintessentially Australian pictures… The turn-off to Pebbly Beach Forest Road takes a steep descent through Murramarang National Park and the beautiful eucalyptus forest. When you get to the beach, there is a car park, barbecues and toilets.
The location is very scenic and it's worth spending a bit of time there. The kangaroos are quite tame and you can get some good photos as long as they get into the frame properly, with the beach in the background… It is best not to feed them and they are quite comfortable with human presence.
Bucket List for Next Time in Batemans Bay
After leaving Pebbly Beach, I headed back to Canberra through the Monga National Park. However, I feel I need to go back and spend more time there. I love the NSW South Coast, however, I usually stop at Jervis Bay. Coming from Sydney, Batemans Bay NSW is further away, which makes it a little more difficult for a weekend. Another great destination for a relaxing weekend on the NSW South Coast is Mollymook.
Next time, I would love to spend more time in the Murramarang National Park, around Durras Lake, for the beaches and the bush walks. I would also make a stop at the quarry site for the Sydney Harbour Bridge pylons.
Also, I would try the Mogo Zoo and maybe do an animal encounter.
If you do this Dash to the Ocean from Canberra in a Day, don't forget to allow another day to the wilderness of the Namadgi National Park.
Other weekend destinations in New South Wales include Mudgee and Orange.
Related Posts
Relaxing weekend in Mollymook NSW
Have you been to Batemans Bay? Please tell me about your experience in the comments below.
Save these tips for Batemans Bay, NSW on Pinterest!