With such a geographical spread, it's understandable that Sydney is such a great city for scenic walks. With the largest natural harbour in the world, there are some great Sydney walks. This is the ultimate guide to the best Sydney harbour walks according to a local!
The Ultimate Guide to the Best Sydney Harbour Walks
With harbours, dramatic cliff tops and its many nooks and crannies, Sydney Harbour can be seen from many different sides and angles. There are some great Sydney coastal walks but some of the best walks in Sydney are within the harbour. Whether you are looking for a casual urban stroll with pleasant views or a more challenging hike, there are walks in Sydney Harbour for you. It's so easy to hop on a ferry in Sydney Harbour, walk across Sydney Harbour Bridge or explore a beautiful clifftop.
What to pack for a Sydney Harbour Walk
Most walks in Sydney are an easy to moderate grade but you still need to pack a few essentials in order to cope with the sun and wind. And don't forget to pack a camera to capture the stunning views!
| Image | Title | Description | Brand | Buy |
| --- | --- | --- | --- | --- |
| | Tempest 20 Women's Hiking Backpack | Lightweight hiking backpack | Osprey | Buy on Amazon |
| | Precip Women rain Jacket | Lightweight waterproof jacket | Marmot | Buy on Amazon |
| | Women's X Ultra 3 GTX Hiking Shoes | Women's hiking shoes | Salomon | Buy on Amazon |
| | Water Bottle | BPA free, leak proof | CamelBak | Buy on Amazon |
| | Aluminium Trekking Poles | Mountain Tech | Cascade | Buy on Amazon |
If you are looking for a special gift for a hiker, I have an even more comprehensive list!
Manly to Spit Coastal Walk
The Manly to Spit Walk is one of the most popular harbour walks in Sydney and for good reason. This 10-km moderate track is easy to get to on public transport and has access to stunning Sydney harbour views and secret beaches.
You can do it in either directions, and the Spit to Manly walk means you will finish the trail at Manly Beach and enjoy the relaxed vibe of the beach front cafés. I find that walking from Manly to Spit is a bit easier, with only one hard section in that direction: the steps after Forty Baskets Beach. After that, you have some beautiful views of South Head, Middle Head and Sydney Harbour. Either way, it's high on my best Sydney walks list.
There are some secret swimming spots at Crater Cove and Castle Rock Beach. Grotto Point harbours a charming lighthouse and some Aboriginal carvings. At the end, Clontarf Beach is a nice spot with a local café for refreshments. There are buses to the city and Manly near Spit Bridge. Note that parking at Manly is expensive so it's best to rely on public transport.
North Head Manly Walk
When I first arrived in Sydney, it took me a little while to work out that there was a Manly to North Head Walk, and that North Head itself was much more than just the Fairfax Lookouts…
Those are some of the best lookouts in Sydney but the North Head walk is beautiful too… This Manly coastal walk is an 8-km loop from Shelly Beach to North Head and back, with a visit to a hanging swamp, military barracks and a quarantine cemetery.
There is a bit of a climb at the beginning, but you can stop at the lookouts and admire the views over the Sydney coast and the Northern Beaches. And the views from the Fairfax Lookouts and the War Memorial, facing South Head and Sydney Harbour are absolutely stunning. If you are driving, I would recommend doing the loop from North Fort, as parking in Manly Beach is quite expensive.
South Head Heritage Trail
South Head Sydney is the most spectacular of Sydney headlands and the one with the oldest colonial historic references. The walk from Watson's Bay, originally a fishing village, to Dover Heights is a diverse and very pretty walk. Camp Cove is a stunning harbour beach and the South Head Heritage Trail still has original 1870's cobblestones laid by convict labour. On this walk, you explore some of the earliest colonial landmarks, such as Hornby Lighthouse and its historic keeper's cottage.
At the Gap, the coast is at its most dramatic with terrific views of North Head, Sydney Harbour and the CBD. I recommend walking all the way to Macquarie Lighthouse, one of the earliest in Sydney, and high on my list of the best lighthouses in Australia.
I first noticed this spectacular headland on my way from the Spit to Manly Walk. South Head really is one of the best Sydney coastal walks.
Middle Head
In the heart of Sydney Harbour, Middle Head is a quieter headland, dotted with military buildings and secret beaches… It's a more discreet Sydney coast walks but a walk around Middle Head guarantees some beautiful views of Sydney Harbour.
Middle Head has a privileged location in the harbour, with views of North Head, South Head, Crater Cove and Manly Beach. I love watching the boats on Sydney Harbour cruise past…
After exploring the headland and its military posts, I recommend enjoying the stunning views from Georges Heights, a perfect spot for a picnic. From there, you can either descend to Clifton Gardens or to Balmoral Beach for a swim.
Sydney Bay Run
The Sydney Bay Run is a 7-km loop around Iron Cove in Sydney's Inner West. The concrete footpath is very popular with cyclists and joggers and it's a peaceful spot if you don't count some fairly busy thoroughfares nearby.
The best place to start the walk is at King George Park or Callan Park, where parking is available, leaving the crossing of the Iron Cove bridge last. I took this walk very early on a winter morning. The light was crisp and the sunrise offered some stunning colours
Cremorne Point Walk
3.5 km, 1 hour to Mosman Bay, easy
You're likely to arrive at the Cremorne Point ferry but it's worth starting the walk at Cremorne Point Reserve, so you may need to backtrack a little… One of the best Sydney secret walks, this is an easy 3,5km stroll on a concrete footpath.
With its manicured lawns and cheeky birdlife, the reserve offers some majestic views of the Sydney Harbour Bridge and CBD. At the tip of Cremorne Point, Robertsons Point Lighthouse is a romantic spot to rest and reflect while watching commercial vessels and Sydney ferries go by.
As you enter Mosman Bay, the scent of gum trees is quite pronounced and the lines are blurred between public and private gardens. The charm of this walk is in the mix of stately homes and peaceful coves, with the occasional animal cry from the not-so-distant Taronga Zoo. After that, you can take the ferry out of Mosman Bay. Walks in Sydney Harbour don't get any gentler than this!
Cockatoo Island
Nestled in the Inner West, Cockatoo Island is a UNESCO world heritage site and an interesting day trip within Sydney Harbour. Access is via ferry only and for a day, you can walk around the complex and historically diverse site. As many sites in Australia, Cockatoo Island history started with Aboriginal settlement and continued during colonial times… Many of the early constructions were built by convict labour and some have been restored today.
Later on, Cockatoo Island took on an industrial path by becoming a shipyard, with many of the buildings remaining today, in need of a refurbishment. A walk around Cockatoo Island will take you at least half a day, and will take you through the ages. Today, the island combines its Aboriginal identity with convict history and more recent ship building past. I strongly recommend taking a tour or audio tour to get your bearings and hear some of the fascinating stories.
Cockatoo Island has cafés and restaurants and there are many Cockatoo Island events throughout the year. You can camp at Cockatoo Island in order to enjoy a quietened down piece of history. Ferries to Cockatoo Island depart from Circular Quay.
Sydney Harbour Bridge Walk
Did you know that one of the simplest harbour walk in Sydney is actually on the bridge itself? Apart from climbing the Sydney Harbour Bridge, this a free and easy way to discover this landmark. The Sydney Harbour Bridge walkway runs alongside the Cahill expressway. Rather than take a train (which also runs on the bridge) you can walk from one end to the other in 20 to 30 minutes.
There are actually plenty to things to see and do along the harbour bridge. The public walkway is enclosed by wire mesh and barbed wire for safety reasons but there is a gap above the railing so you can take photos. The views of the harbour and Sydney Opera House are absolutely beautiful and give a measure of how majestic Sydney Harbour is. This view will no doubt tempt you into trying the cruises on Sydney Harbour.
The Sydney Harbour Bridge Pylon Lookout is an old-fashioned attraction, with a small museum telling the fascinating history of Sydney Harbour Bridge and an incredible viewing platform. Be prepared for lots of stairs but this is one of the best views of Sydney Harbour.
One entry is via the Milsons Point bridge stairs. On the CBD side, there are several points of access: the Cumberland bridge stairs is the first exit and is a great place to start a walking tour of the Rocks. If you have more time and want more views, you can continue on the Cahill Walk, which will take you above Circular Quay train station and all the way to the Sydney Royal Botanical Gardens.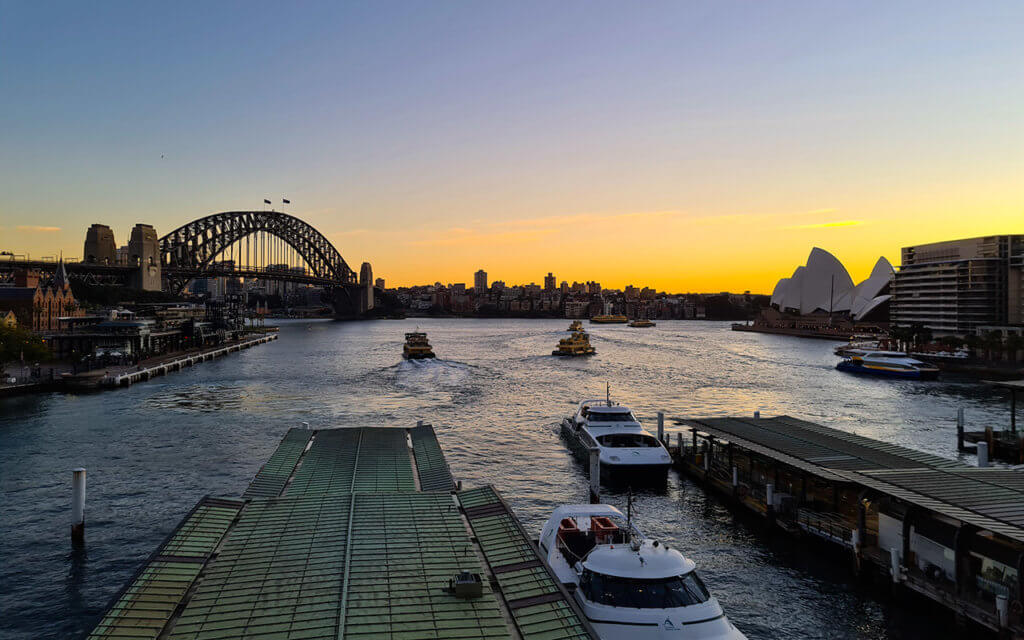 It is worth exploring the Harbour Bridge under its many angles. From the walkway to the parks underneath its pillars, the Sydney bridge walk is a free way to discover this iconic landmark.
Taronga Zoo to Balmoral Beach Walk
A very popular attraction in Sydney is Taronga Zoo. It's a quick trip on the ferry from Circular Quay and a great day out. But instead of returning to the city, you can do a very nice coastal walk to Balmoral Beach, Sydney. Going through the coastal bush, the boardwalk snakes around Bradleys Head and then on to Clifton Gardens.
With a stop at pretty Athol Bay, you get very intimate views of Sydney Harbour and may sometimes forget you are still in the suburbs. Clifton Gardens is a good place to stop for a light lunch or a coffee.
The Taronga to Balmoral walk gets quite steep just after Clifton Gardens, in order to get atop Middle Head. After that, it's a coastal path to Georges Heights and stairs down to Balmoral. This beach is possibly the nicest reward you can have at the end of a long walk. The calm and sheltered waters are perfect for a quiet swim!
Walking in Sydney
Whether you walk across the Sydney Harbour Bridge or attempt a more challenging Sydney hike, walking is the best way to discover the harbour. Do you have a favourite Sydney Harbour walk? Don't forget to venture out of town and do some bushwalking in NSW. Tell me in the comments below!
Related Posts
North Head Manly Walk
Sydney
Save these Sydney Harbour Walks on Pinterest!
LesterLost is a participant in the Amazon Services LLC Associates program, an affiliate advertising program designed to provide a means for us to earn fees by linking to Amazon.com and affiliated sites.