There is no denying that Sydney is a spectacular city… Having done most of the best walks in Sydney several times, I am still amazed at how easy it is to get lost in nature on a coastal walk without having to actually leave town. Walks in Sydney mix the urban with the natural very well. If you are keen to get out and about, this is my guide to the best hikes in Sydney.
The Ultimate Guide to the Best Hikes in Sydney
Sydney walks will present many nooks and crannies, secret beaches and hidden pathways. In times of no travel, there are many hiking trails in Sydney you can explore for a few hours at different levels of difficulty. Sydney coastal walks are quite dramatic and over the years, more pathways have opened for the pleasure of tourists and locals alike. Hiking in Sydney is a free activity that will deliver beautiful views! From harbour walks in Sydney to more remote bushwalks, there is something for every hiker and some of these rank amongst the best hikes in NSW.
Packing list for hiking in Sydney
All these walks are in Sydney's metropolitan area and within mobile phone range. Still, some places can be isolated and hard to reach so it's important to pack some day hike essentials. Packing appropriate sun protection such as sunscreen, sunglasses and a hat applies to every season. Pack enough water and have appropriate footwear. Also, a basic hiking first aid kit could be a life saver.
| Image | Title | Description | Brand | Buy |
| --- | --- | --- | --- | --- |
| | Tempest 20 Women's Hiking Backpack | Lightweight hiking backpack | Osprey | Buy on Amazon |
| | Precip Women rain Jacket | Lightweight waterproof jacket | Marmot | Buy on Amazon |
| | Women's X Ultra 3 GTX Hiking Shoes | Women's hiking shoes | Salomon | Buy on Amazon |
| | Water Bottle | BPA free, leak proof | CamelBak | Buy on Amazon |
| | Aluminium Trekking Poles | Mountain Tech | Cascade | Buy on Amazon |
These are the basics however I have a more comprehensive list of the best gifts for hikers.
Manly to Spit Walk
The Manly to Spit Bridge walk is one of the most famous walks in Sydney Harbour, between the Northern Beaches and the Lower North Shore and a beautiful coastal walk.
The walk is 10 kms long and takes from 3,5 to 5 hours. It is a grade 3 or medium walk. Travelling through some sections of Sydney Harbour National Park, the trail is a mix of paved walkway, boardwalk and maintained bush walk. Depending on the tide, there are also some areas where you walk on sand. The trail itself is not too difficult but you still need a reasonable degree of fitness and some good walking shoes.
Manly to the Spit Walk or Spit to Manly Walk?
I have done this walk several times, mostly from the Spit Bridge towards Manly. Recently, I did it in the direction from Manly to Spit and I have to say that this is my recommendation now. If you walk Spit to Manly, you get to a beautiful beach with many restaurants and cafes at the end though…
Getting to Manly
The easiest and most pleasant way to get to Manly is on the ferry from Circular Quay. You get to cross the harbour and view some sections of the trail…
The walk starts at Manly Ferry Wharf, going towards North Harbour Reserve and Forty Baskets Beach. This section is easy, going past nice houses in the suburb of Fairlight. If you get to Forty Baskets Beach at high tide, you may need to walk on the rocks. After that, the "bush" starts and the coastal views emerge. The trail is pretty much coastal all the way to Spit Bridge. Don't miss the lookout to view the Heads and the Quarantine Station.
You can also take a side track to go up to Arabanoo Lookout for more spectacular views. After that, the fire trail meanders through the bush and you come up to some stairs. There is a smaller trail going to Crater Cove but I didn't find that to be very well indicated.
The stairs section is the only part that's a bit challenging when you do the walk in this direction. It's not too long and climbing stairs is easier than climbing a bush trail with rocks… After that, most of the trail is fairly level and even goes downhill. This is why doing the walk from Manly to Spit is easier.
Crater Cove
About halfway through the walk, you get to a point facing South Head, there is a lookout over Crater Cove. Close to the water, partially carved in the cliff face, there are some old fishermen's shacks. Built in the 1920s, they were occupied until the 1960s and are still looked after by volunteers. There is a narrow bush path just before the stairs taking you to street level and the descent is quite steep. It's not the easiest to find and I think park authorities and volunteers would prefer the place to remain undisturbed. It's a secret spot of the Spit Manly walk and as long as you are respectful of the environment, why not try and find it?
Further on, there is a spot with Aboriginal engravings on a flat rock, this one is well indicated. Aboriginal engravings are not uncommon on Sydney harbour walks.
Grotto Point
For many years, I observed a lonely and mysterious white construction from Balmoral Beach… I finally discovered the Grotto Point Lighthouse. At the 8th marking of the walk, you can take a trail towards the harbour. The trail is a bit difficult in some places but it's worth the effort. Grotto Point was the first point mapped inside Sydney Harbour and remains essential to seafarers entering the heads. The light is painted white and nicknamed "Disney Castle" and deserves to be on the list of the best lighthouses in Australia.
Castle Rock Beach
On this section of the trail, you have access to stairs to several secret beaches. Some of these places are true gems, where you can enjoy a swim in clear and calm waters. Further on, the track goes mostly downhill towards Clontarf and I really appreciated having my trekking poles. This section is quite a bit more taxing on the way from Spit to Manly.
After Clontarf, the trail ends at Ellery's Punt Reserve. There is a bus stop after the bridge, in Mosman, where you can take a bus back to Manly or towards the city.
Manly to North Head Walk
The North Head Manly Walk or North Head Sanctuary Loop is an 8-km walking track on North Head Sydney and takes about 3 hours to complete. It is both a historic visit and discovery of nature. I usually drive to North Head and park at North Fort. I do the loop to Manly from there. However, this walk works very well from Manly. After the Manly to Spit Bridge Coastal walk, it's one of the best Sydney harbour walks.
The walk starts at the Boathouse in Shelly Beach. There is a bit of a climb from the carpark, but you can stop at some of the lookouts offering stunning views of the Northern Beaches. Continue the climb to the wall that marks the entrance of the national park. You need to push a little gate with a no-dogs sign and go through a hole in the wall.
There are some stairs to climb before arriving at a fire trail that follows the coast. At that point, the access to the cliffs is pretty much sealed off. The rest of the trail is quite easy and flat, a mix of fire trail, bush track and boardwalk. The trail follows a protection wall and it is common to see cyclists there.
Hanging Swamp
At some point, you will come across a sign for the Hanging Swamp, don't miss it! This was a complete surprise to me but there is a swamp on the cliff and the boardwalk meanders through it for a couple of kilometres. The environment is in contrast to the fire trail, with wetlands, frogs and birds populating the area. It is incredibly peaceful and I never imagined something like that on a coastal cliff… This is the charm of Sydney bush walks, you can really discover true hidden spots.
Memorial Avenue
The trail progresses to the part of North Head once used a defensive military post. Memorial Avenue is an educational journey detailing the presence of Australian troops in the different armed conflicts of the 19th and 20th centuries.
Fairfax Lookouts
At the southern tip of North Head, you have some lookouts, with stunning views of Sydney Harbour and South Head. It's a very popular place to take visitors to Sydney. This is also a great spot to watch the ferries in Sydney Harbour.
Third Quarantine Cemetery
On the way back, you will find the Third Quarantine Cemetery, a painful reminder of how many people died of infectious diseases in the neighbouring Quarantine Station. You have to be mindful of snakes in the cemetery but the views over South Head are sensational.
City Lookouts and Barracks Precinct
At the end of the North Head Walk, the boardwalk will take you through more dense bushland with city views. The Barracks Precinct is where the School of Artillery was housed for a period of time, and is another reminder of North Head's military heritage.
The boardwalk continues back to the hole in the wall and Shelly Beach.
Malabar Headland Walk
The walk around Malabar Headland takes about 2 hours return, for 3,5 kms. This walk is a mix of boardwalk and bush track and is quite easy. Before you head out though, you must check whether the ANZAC Rifle Range is in operation. If it is, the gate at Maroubra Beach, at the start of the walk, will be closed.
Progressing through bushland and fire trail all the way to Boora Point and the Malabar Battery, which are great view points for whale watching.
Once you get to Malabar Beach, you can either backtrack to Maroubra, which is what I did, or take the Eastern Escarpment track, which loops back through bushland. I'll have to go back and do this loop but I have to say that the reveal of Maroubra Beach with the city skyline in the background is absolutely stunning. Definitely on the list of Sydney best walks!
Maroubra to La Perouse Walk
Another of Sydney's coastal walks is a longer track from Maroubra to La Perouse. Maroubra is a famous beach in Sydney, known for its relaxed vibe and dedicated surfing community. Walking from Maroubra to La Perouse takes about 5 hours to walk 14 kms. I found it to be both a beautiful coastal walk and a diverse track. This is a grade 3 walk, with some fantastic whale watching opportunities, really the best of Sydney hiking.
ANZAC Rifle Range
The track starts at the southern end of Maroubra Beach and you need to go through a gate which may be closed in the rifle range is in operation. Checking the rifle range website before you do this walk is essential!
The views from Malabar Headland are simply stunning. At Boora Point, just before Malabar Beach, the rock is textured and shaped by the wind.
Malabar Beach
After Malabar Beach, the track continues along Randwick Golf Course. This is a shared space so be mindful not to disturb golfers during their game, they have right of way!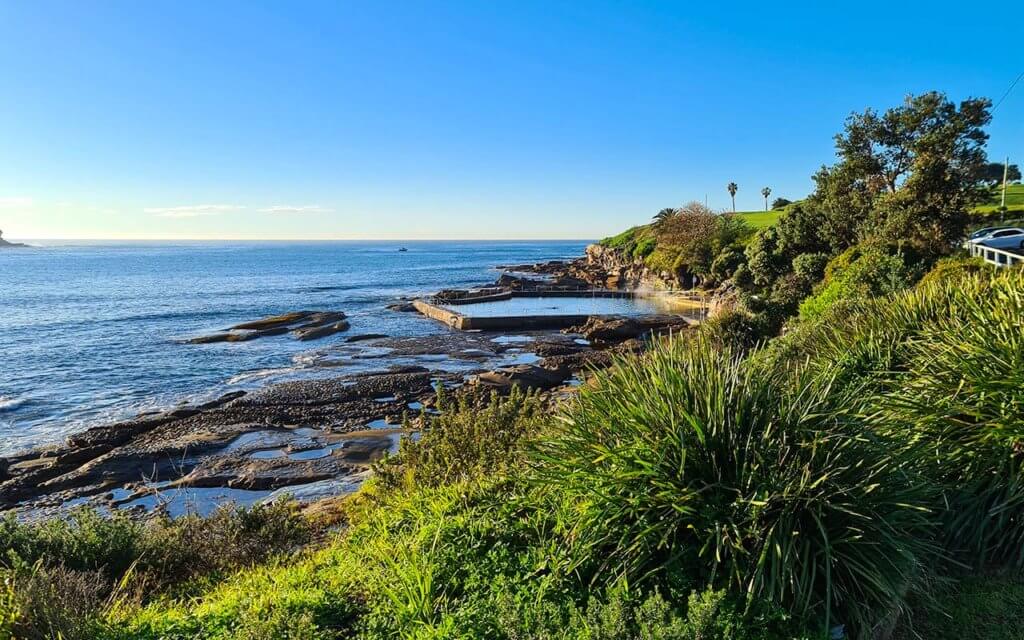 Little Bay Beach
After the rolling greens of Randwick Golf Course, the trail descends to Little Bay Beach, a fairly secluded beach in Sydney, but still very popular on a sunny day.
The Coast Hospital Cemetery
After another golf course, the landscape changes quite suddenly and you will come across the Coast Hospital Cemetery at the end of a fire trail. This cemetery was created following a smallpox outbreak, close to Prince Henry Hospital. The cemetery continued to be used for bubonic plague victims at the turn of the 20th century, but was neglected after that. Today, there are only a handful of tombstones visible.
Cape Banks
The scenery changes again at Cape Banks, a rocky promontory favoured by rock fishermen. You are now in the Kamay Botany Bay National Park. It is possible to walk around Cape Banks and see the shipwreck but you need to exercise caution around the unfenced cliffs. Cape Banks has its own walking track and is one of the lesser-known Sydney coast walks.
Henry Head Lighthouse
Crossing a final golf course and dipping into picturesque Cruwee Cove, the trail follows around the coast to Cape Banks battery and Henry Head Lighthouse. I am quite passionate about lighthouses and I found this one a little disappointing but there are some great views of Kurnell and Botany Bay. After that, the fire trail continues on to La Perouse. You can stop at Little Congwong Beach, which is actually a nude beach. The final stop is Congwong Beach.
La Perouse
La Perouse is a historical suburb of Sydney, with some of Australia's early European history unfolding here. In the early days of the British Convict colony, French explorer Monsieur de Laperouse was also cruising the waters around Botany Bay. He landed and eventually gave his name to the area, and buried his chaplain Le Receveur near the former light station, now La Perouse Museum.
After such a fantastic walk along the coast, I enjoyed fish and chips in the park! So far, I have done the walk in the direction from Maroubra to La Perouse so I can't compare to the opposite direction. I guess the difference would be the position of the sun, more in your face going north, and the reveal of Maroubra Beach would be stunning…
Bondi to Coogee Coastal Walk
In Sydney's Eastern Suburbs, the Bondi to Coogee walk is a superstar of coastal walks! It's true that the succession of famous beaches with rolling surf waves and that special Eastern Suburbs vibe is quite unique.
The Bondi to Coogee walk goes for 6 km, it's mostly an urban walk with paved walkway and some stairs. The walk takes 2,5 to 3 hours and is a grade 2. It's relatively easy, apart for some stairs.
Bondi to Bronte Walk
The Bondi Coogee coastal walk starts at Icebergs and is quite busy so close to Bondi. As you climb the headland, the footpath is broader. One of Sydney's beat outdoor events, Sculpture by the Sea normally takes place on the headland, with installations from Bondi to Tamarama.
Tamarama Beach and its iconic surf club is further on. Tamarama is a small beach with rough conditions, so you might want to save your swimming for upcoming Bronte. The crashing of the waves on the rocks is mesmerizing…
Bronte Beach is a bigger beach, more user friendly and very popular with surfers.
After Bronte Beach, there is a boardwalk passing through Waverley Cemetery. This cemetery is heritage-listed and famous for its Victorian and Edwardian monuments. It's still in use today. This section of the coast show
Clovelly Beach
Clovelly could almost be a hidden Sydney beach, although I find it's concrete waterfront and carpark not hugely attractive. Gordons Bay comes next, a spot favoured by divers and snorkelers. There is steep climb to get back onto the headland and on to Coogee Beach.
Coogee Beach, Australia
Before you get to Coogee Beach, you will see the Bali Bombing Memorial. Coogee Beach is quite large, and equipped with two ocean pools: McIver's Baths and Wylie's Baths. There are few good cafés in Coogee and they are usually better than the ones in Bondi.
Coogee to Bondi Walk
If you do the opposite and walk Coogee to Bondi, you would get the same challenges but with a very beautiful reveal of Bondi Beach.
How to get to Bondi Beach
From the city, you can take the train to Bondi Junction, then bus 333 to Bondi Beach.
Kurnell to Cronulla Walk via the Cape Baily Track
When I first arrived in Sydney, I lived in Cronulla for the first 6 months and never thought of venturing to Kurnell. I didn't there was much to see east of Cronulla Beach… On a previous visit to La Perouse, on the other side of Botany Bay, I did notice a lighthouse in the distance and due to my mild obsession with those, I had to check it out. I took the long walk from Kurnell to Cronulla Beach and loved it! 17km in 3 to 4 hours… The best part was by far the Cape Baily Track, one of the best hiking trails in Sydney!
Kurnell
The suburb of Kurnell is a place of historic significance for Aboriginal people as well as European settlers. Captain Cook first landed here in 1788 when exploring the coast of Australia, and the small beach where it happened pretty much remains as it was, including the rock where the first European set foot on Australian soil… There are other Kurnell walks in bushland but I made my way to Cape Solander.
Cape Solander
I parked at the NSW National Parks office in Kurnell and started the walk from there, but you can easily start the walk at Cape Solander, at the beginning of the Cape Baily Track. Cape Solander has a small awning from which you can observe whales cruising past. It's a fairly common occurrence and on my visit, a park ranger was duly taking notes on how many whales and dolphins were around…
The track is quite easy, on the cliff itself. There is a boardwalk for most of the way, mixed with well maintained bush track. I did this walk in spring and it has to be the best time of year to do it. The spring flowers were blooming and there were flannel flowers everywhere.
Cape Baily Lighthouse
Sitting atop a small hill, the Cape Baily Lighthouse is relatively small and was built in 1950. It was never manned and was used to guide shipping traffic to stay close to the coast. Further on, the rock becomes textured and I could see the remnants of a hanging swamp, but obviously it was too dry at the time to survive.
Boat Harbour
The Cape Baily track ends at Boat Harbour, where you have some beach shacks and where you can drive your car onto the sand. This is the east end of Cronulla Beach and I walked an extra 6 kms or so. The beach had firm sand and was fine to wall on but it was very windy that day. This is the less necessary part of the walk but I thought 17 kms on a sunny day was fine. This one is on the best Sydney coastal walks ranking!
West Head: Resolute Bay
At the northern end of Sydney, the Ku-Ring-Gai Chase National Park is a gem of secret spots and hiking trails. West Head Lookout is a beautiful vantage point and a great place to take first-time visitors to Sydney. There are some beautiful views Lion Head Island and Broken Bay. On my last visit there, I was feeling like I needed some hiking to test my new trekking poles…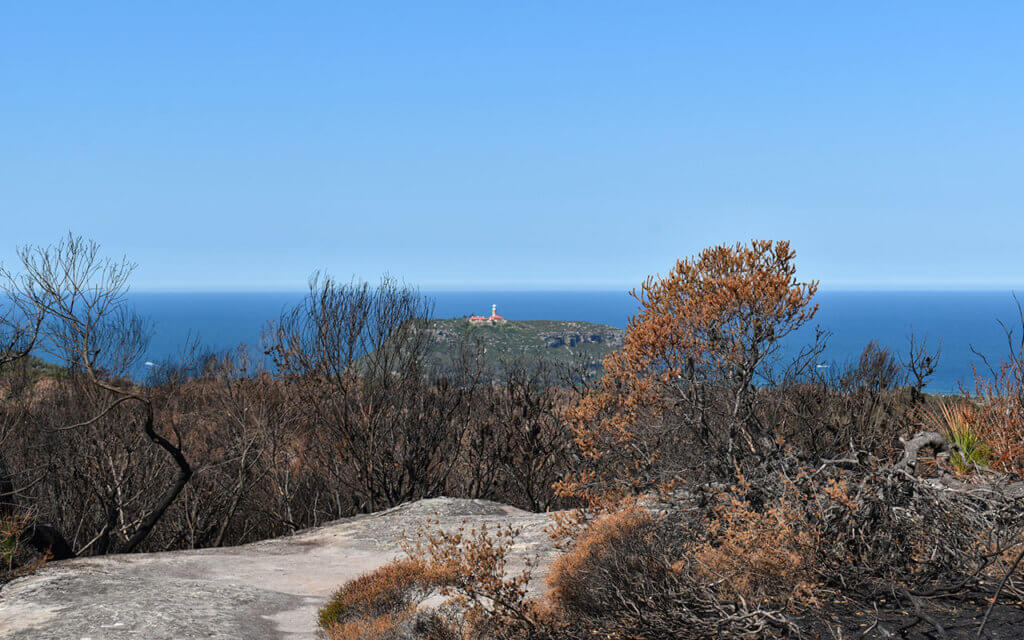 Resolute Bay is a secluded beach with views of Pittwater and Barrenjoey Headland. The track starts at West Head Picnic Area. Initially, the track is not too difficult, apart from being quite rocky. At the time of my visit, the bush was quite scorched, obviously having been burned not long before.
Aboriginal Rock Carvings
Along the way, you will come across a flat rock adorned with Aboriginal rock carvings. The shape of a man is clearly visible, and further on, you will find the shape of a fish.
Resolute Bay
The descent is initially soft, on a broad but rocky track. You get some views of Pittwater and Barrenjoey Headland. Then you get to some stairs and it's a steep descent to the beach… Remember that you will have a steep climb back up! The bush was pretty scorched on my visit. Unfortunately, Sydney national park walks are not spared by bushfires…
The beach is secluded and lovely but was in the shade towards the end of the day. To get the morning sun, I would recommend going there in the morning. The way back up was certainly steep but the trekking poles helped a great deal… On the way back, you will find a rock ledge where Captain Cook sheltered from the rain. There is also a little side track where you can see a hand print in the rock…
Barrenjoey Headland
Sydney is not short of spectacular views and a day trip to do the Barrenjoey Lighthouse Walk is a must-do when you visit Palm Beach Sydney. The northernmost point in Sydney is a headland at the end of the Palm Beach isthmus. The views from the top are absolutely stunning. From the lighthouse, you can look back on the isthmus and all the way to Sydney, and if you look north, Lion Head Island and the NSW Central Coast seems to stretch indefinitely.
The walk takes an hour and a half and is a moderate one. Be prepared for some climbing and again, I really appreciated having my trekking poles. The best way to do the walk is to climb the service track, which starts on the Pittwater beach side. The service track is steep but quite easy to walk on and it's nice to climb with an open view of the lighthouse.
Once you are up there, it's worth having a wander on the headland for different view points. For the way down, the old Smuggler's Track is a steep descent with stairs, but your facing the isthmus and the views are gorgeous! Look out for dolphins playing in the surf at Palm Beach… If you can travel that far, the Palm Beach lighthouse walk is one of the best Sydney walks.
Royal National Park Coastal Walk
At the southern of the metropolitan area, there are many walks in the Royal National Park I have yet to do. The Royal National Park coastal track is 27 kms long and a long day's walk depending on your fitness. I will update you once I have explore some of the Royal National Park walking tracks!
Related Posts
Barrenjoey Lighthouse Walk in Sydney
Day Trip to the Basin
Sydney
Hiking Places in Sydney
I have yet to do more walks around Sydney. Do you have any more suggestions for some NSW bushwalking? Please tell me in the comments below!
Save those hiking tips for Sydney on Pinterest!
LesterLost is a participant in the Amazon Services LLC Associates program, an affiliate advertising program designed to provide a means for us to earn fees by linking to Amazon.com and affiliated sites.