I have this thing for lighthouses… I find them mysterious and romantic, and I keep a look out for them whenever I travel. Years ago, I stayed in a family house in the Ile de Groix in Brittany, France and the lighthouse light would sweep the land at night… It was mesmerising! If you are fascinated by lighthouses as much as me, this list of the best lighthouses in Australia is for you.
The Best Lighthouses in Australia
We've all seen those pictures of lighthouses in storm weather, seemingly fragile and out of reach… Lighthouses at night used to provide essential navigational aid to seafarers, but sadly, they are largely obsolete today, due to advances in technology. Famous lighthouses are still important landmarks and tell a little bit of the local history.
Macquarie Lighthouse, NSW
This is the oldest lighthouse in Australia. Macquarie Lighthouse is on Dunbar Head, just 2 km from South Head, which was a lookout point for boats entering and leaving Sydney Harbour as early as 1788. Its history is connects closely to Sydney's early colonial history and its characters: the first lighthouse was built in 1818, designed by convict architect Francis Greenway, but the construction wasn't very good and it had to be repaired several times. Robert Watson, a quartermaster on the Sirius was its first light keeper and later became Harbour Master of Sydney. He gave his name to Watson's Bay.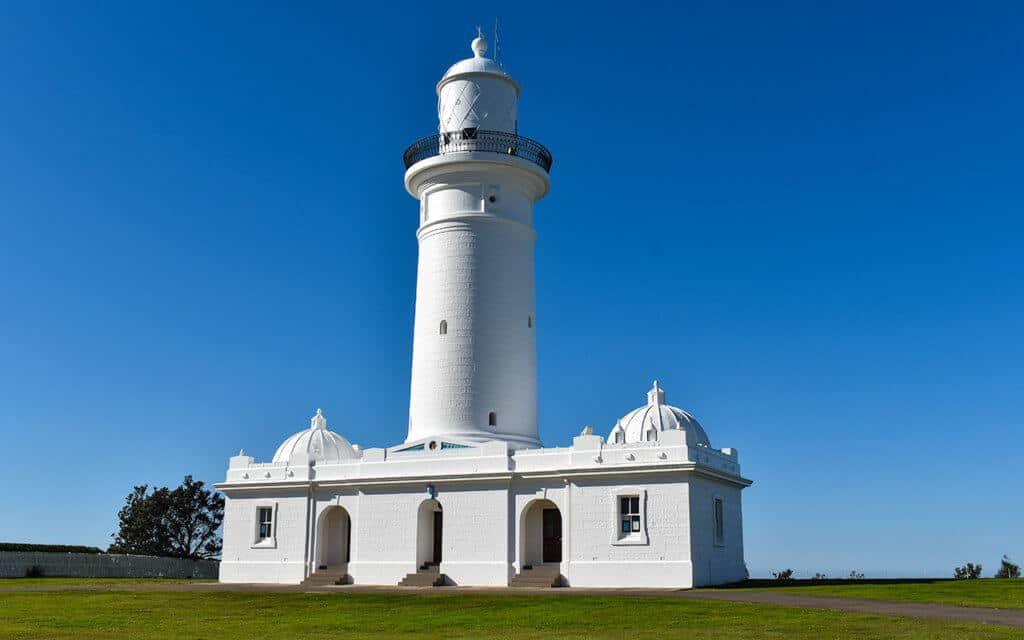 James Barnet, another colonial architect, designed the current tower and works began in 1880. It was first lit in 1883 and two years later a Chance Brothers Fresnel Lens was installed, later replaced by a kerosene lamp. In 1933, the lighthouse connected to mains electricity. Today it is a very iconic building of Sydney. The coastal walk around South Head is superb and you can finish at the Macquarie Lighthouse.
East Coast lighthouses often have that lonely elegance and I found this one terrific, even if it's not the original tower.
Hornby Lighthouse, NSW
A rare thing nowadays, this is an active lighthouse. In 1857, two shipping tragedies highlighted the limitations of Macquarie Lighthouse and the need for a new lighthouse at the entrance of Port Jackson. The Dunbar lost 121 lives and the Catherine Adamson lost 21… In 1858, colonial architect Mortimer Lewis completed the third oldest lighthouse in Australia.
Electricity was connected in 1933 and a Chance Brothers catadioptric lens was installed in 1948. With automation, staff moved out and the nearby cottages fell into disrepair. Interestingly, the only survivor of the Dunbar tragedy was Irish seaman James Johnson, whose brother lived in one of the cottages for a time, and who founded a dynasty of light keepers in Australia.
Hornby Lighthouse has distinctive red and white stripes and is a dominant Sydney landmark on the South Head Coastal Walk.
Fort Denison Light, NSW
Also known as Pinchgut Light, this is an active lighthouse on top of a Martello tower, on one of the islands of Sydney Harbour, near Potts Point and the Royal Botanic Gardens. A Martello tower is a small defensive fort with a round structure and thick walls. Construction started at Pinchgut in 1839, after the incursion of two American warships in the harbour but completion occurred in 1857.
A lantern was added to the tower in 1913, using an acetylene gas carbide lamp, which was converted to electricity in 1926. The tower is actually a nuisance to shipping and two ships ran aground in 1857.
The island is accessible by boat and there is a ferry service. The Fort Denison restaurant is no longer in operation unfortunately but you can visit the inside of the Martello tower that has 5 guns and you get some beautiful views of the Sydney skyline. This is one of my favourite spots to take photos of Sydney Harbour.
Grotto Point Lighthouse, NSW
Located on Dobroyd Head, on Sydney's North Shore, Grotto Point is a small and active light opposite Balmoral Beach and Middle Head. Also known as Port Jackson Entrance Range Front Light, it works in conjunction with Parriwi Light in Mosman, and it's still an essential lighthouse in Sydney for entering the harbour. Grotto Point and Parriwi are the two leading lights into Sydney Harbour. It was first lit in 1911, with an acetylene gas carbide lamp initially, and now connects to mains electricity.
Interestingly, Grotto Point was the first point mapped inside Sydney Harbour. Today, Grotto Point is a detour off the Spit to Manly Coastal Walk. At Stop 8 of the walk, you can take a turn towards the harbour and find it in 10 or 15 minutes. The brush is pretty dense and the terrain can be difficult with rocks and mud on the narrow footpath but you get a great view of Balmoral Beach and Sydney Heads from that little secret spot.
The light is white and stands out against the green and grey brush and deserves its nickname of "Disney Castle". You can also access it through a trail into Sydney Harbour National Park at the end of Barrabooka Street in Clontarf.
Barrenjoey Lighthouse, NSW
Designed by James Barnet and completed in 1881, Barrenjoey Lighthouse is located on Sydney's northernmost headland and it's a beautiful spot with views of the NSW Central Coast, Pittwater and Palm Beach.
Governor Phillip named the spot "barrenjuee" in 1788 after the Aboriginal name for small wallaby. The lighthouse was to guard and guide access into Broken Bay, to keep an eye on smugglers.
You can get views of the lighthouse on the Palm Beach Summer Bay tour.
In 1843, a Customs Station was established and the first lighthouse, initially called Stewart Towers, was lit in 1868. Unlike most Sydney lighthouses, the current tower is unpainted, in a rich dark sandstone and automation came in 1932. Electricity replaced the acetylene gas lamp in 1932. Today, the keepers cottages have been renovated and visits are available on Sundays. Getting to the lighthouse is a bit of climb but the Barrenjoey Lighthouse Walk is a fantastic day trip.
Kiama Lighthouse, NSW
Kiama is a charming coastal town south of Sydney and mostly known for its blowhole. South of Kiama Harbour, close to the blowhole is the lighthouse, established in 1887. Initially, it was lit using a catadioptric fixed lens, visible 9 nautical miles away. In 1908, the power source was upgraded to coal gas and in 1920, an acetylene gas carbide lamb was installed. The ligththouse is now automatic but still active.
The lighthouse cottages nearby housed harbour pilots for many years and one is now a tourist information centre.
You can visit Kiama from Sydney on this small group tour.
The views of Seven Mile Beach are very beautiful and the lighthouse is at the end (or beginning) of the coastal walk.
Ulladulla Lighthouse, NSW
Also called Warden Head Light, this lighthouse built by James Barnet in 1873 guards the Ulladulla Harbour on the NSW South Coast, and I discovered it on a long weekend in Mollymook. One of only two wrought iron lighthouses in NSW, it was initially built on Ulladulla Breakwater and then moved to its current location in 1889. Automation came in the 1910s with a carbide lamp. Finally, the lighthouse connected to electricity in 1964.
The lighthouse is only 12m high, with 3 levels, timber floors and small balcony supported by cast iron brackets. It feels as though it's standing in a carpark but because it's not a typical stone or concrete structure, it stands out in the design and history of lighthouses.
Cape Otway Lighthouse, Victoria
I've only visited two lighthouses in Victoria, but on my trip to the Great Ocean Road, I discovered the Cape Otway Lightstation, which is actually Victoria's oldest working lighthouse. The location is a perfect vantage point for whale watching. In 1848, the first lighthouse was fitted with a Fresnel lens, then a second lighthouse was completed on the mainland. The lighthouse was decommissioned in 1994 and there is now a low powered solar light in front of the tower, 73m above sea level.
A telegraph station was added to the site when Tasmania was connected to the mainland by a submarine light from Cape Otway to Launceston in 1859. There were eight shipwrecks off Cape Otway, including the first American ship sunk during WWII by a German mine. The site is now part of Cape Otway National Park.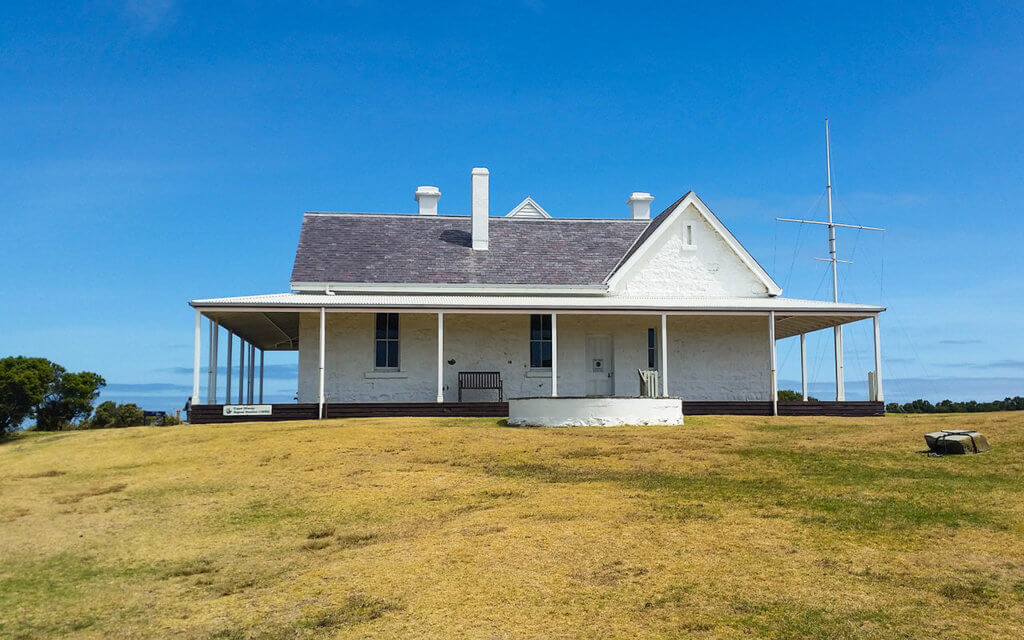 The site visit is quite comprehensive, the telegraph station is in very good condition and the lighthouse tour is really interesting. I climbed all the way to the top and got some great photos of the coast and the red balcony. At the time of build and operation, the site was extremely remote with supplies only arriving once every 6 or 12 months. Cape Otway is located at the narrowest point of entry to the Bass Strait. The 84-km gap between King Island and Cape Otway is known as the "eye of the needle".
Split Cape Lighthouse, Victoria
Located at Aireys Inlet on the Great Ocean Road, Split Cape was initially named Eagles Nest Point and this Victoria lighthouse cuts a fine figure on the Surf Coast. It was built in 1881, the initial staircase and timber fittings are still there. For the first 27 years, three light keepers operated a very isolated lighthouse. Automation occurred in 1919 and electricity came in 1972.
This tour from Melbourne will take you to the Great Ocean Road.
The Fresnel lens is still in operation, which is quite rare. The Chance Brothers factory in Birmingham, UK was bombed during WWII and the essential formula for making the unique lens crystal was lost, so the lens cannot be replaced. All lighthouses have their little stories, Split Cape apparently once had a a keeper who scratched a small hole in the black paint at the back of the lens to prevent the light shining inland. That way, the light didn't disturb the local residents at night… The tower is 34m tall, 66m above sea level. The best lighthouses are often the tallest lighthouses!
Tours operate every day, self-guided or with a guide. There are four landings along the climb, and you get 360 degree views from the top. The nearby keepers quarters are now private houses, the stables and work room is now a café.
Cape Willoughby Lighthouse, South Australia
Located in the eastern part of Kangaroo Island, one of the most beautiful Australian islands, Willoughby Cape is the first lighthouse in South Australia. It lights the Backstairs Passage between the island and the mainland. Initially named Sturt Light, it was first lit in 1852. Originally, the keepers quarters were located by the beach.
In 1912, kerosene burners replaced the wick burners and in 1923, the lighthouse upgraded to a Chance Brothers dioptric revolving lens floating on a bath of mercury. In 1959, the lighthouse connected to electricity and in 1974, the lantern room and the timber staircase was removed. Some say that the lighthouse lost some of its appeal after these changes.
I caught the dimming light at Cape Willoughby, there was nobody there except for a mob of kangaroos and loved my visit there. It remains my favourite Kangaroo Island lighthouse.
Cape Borda Lighthouse, South Australia
At the opposite end of Kangaroo Island, in the west, Cape Borda is a lonely yet interesting lighthouse. Initially called Flinders Light, it is the only square stone lighthouse in South Australia. Built in 1858, Cape Borda Lighthouse is designed to guide boats coming from the Roaring Forties towards Adelaide. A small cannon warned ships in case of fog and still fires today at 12.30pm.
Cape Borda is one of three lighthouses in Australia to retain a Deville lantern room and was automated in 1989. In the early days, there was no road connecting Cape Borda to the rest of Kangaroo Island and the keepers and their families endured terrible hardship. The nearby cemetery is testimony to the fact that several children died of disease and in child birth. Some of them also disappeared into the bush and were lost.
Today, there is still a dirt road to Cape Borda, full of kangaroos, so you get a real sense that living in a lighthouse can be very lonely. There is a little museum with objects related to the operation of the lighthouse and it is possible to stay in the keepers cottages.
Cape du Couedic Lighthouse, South Australia
French explorer Nicolas Baudin actively sailed the waters around Kangaroo Island and the coast of South Australia, and named Cape du Couedic after one of his friends. This part of the Kangaroo Island coast is very dangerous and there are no less than 14 shipwrecks off the Flinders Chase coast. Construction took place between 1906 and 1909, and there was no access road at the time. The flying fox at Weirs Cove was used to haul supplies up the cliff every three months. From 1908, a phone line connected to Cape Borda and was the only mean of communication for the lighthouse keeper. To give you an idea of the isolation, the first motor vehicle to visit the area came in 1940…
In 1957, the lighthouse was converted to acetylene gas, automated and demanned and electricity was connected in 1974. Today, the lighthouse is an integral part of Flinders Chase National Park: Remarkable Rocks, Admirals Arch and its New Zealand fur seals colony are absolutely worth a visit. You can visit these places on Kangaroo Island tours. Also, the keepers cottages are available for holiday rental.
This tour from Adelaide will take you to the highlights of Kangaroo Island.
Cape Bruny Lighthouse, Tasmania
Tasmania is an island south of Australia and one of my favourite destinations. There are a few islands off Tasmania and Bruny Island is a pristine gem, but not just because of the lighthouses…
Even though it's inactive, this Bruny Island lighthouse is one of my favourites, the visit taught me a lot about lighthouse history. The guide had so much knowledge and we were the only ones there. Cape Bruny was continuously manned between 1838 and 1996. The lighthouse was built by convict labour and had the longest serving keeper from 1877 to 1914, Captain William Hawkins. The original Wilkins Lantern used a pint of whale oil every hour… In 1903, the cast iron staircase was built and the Chance Brothers lantern was installed. It is still in place today, with its original crystal.
A local company led by a descendant of the last lightkeeper operates tours of the lighthouse. They're a very informative visit, I learned a lot about lighthouses… The site is part of the South Bruny National Park and maintained with the help of volunteers.
Low Head Lighthouse, Tasmania
On the east side of the mouth of the Tamar River, Low Head, Tasmania is the third lighthouse constructed in Australia. It was built by convict labour in 1833 and is also the oldest continuously used pilot station. Explorers George Bass and Matthew Flinders circumnavigated Van Diemen's land in 1798 and landed at Port Darymple (now George Town), proving the existence of a strait between Tasmania and mainland Australia.
The waters at the Tamar river mouth were hazardous and a beacon was installed as early as 1804. Whale oil was initially used to light the lamps and a Chance Brothers lens was installed in 1888, when the convict construction was pulled down and a new tower was built. 1916 saw the installation of a Fresnel lens and kerosene replaced whale oil. Interestingly, the lighthouse contains Tasmania's only foghorn, also manufactured by Chance Brothers and installed in 1929. Designed to alert ships when the light was obscured by fog, it was decommissioned in 1973 but reactivated in 2001. Today, it sounds every Sunday at noon.
Eddystone Head Lighthouse, Tasmania
Explorer Tobias Furneaux named Eddystone Rocks in 1773 after Eddystone Rocks in the English Channel. The idea of a lighthouse to manage the north east coast of Tasmania rose in 1875 but Eddystone Lighthouse didn't happen until 1889 due to lack of funding and disagreements on its proposed location.
Land access was difficult and the keepers and their families remained isolated for long periods of time. Aside from supply deliveries, they received rare visits from doctors and priests. That's a fact about lighthouses, you need to be ready for a lonely life…
Today, there is still only a sandy track and the area feels very remote, populated by a few beach shacks. The beach nearby is one of the best I've seen in Tasmania and the Bay of Fires, and its beautiful orange rocks, is close by.
Cape Leeuwin Lighthouse, Western Australia
The most southwesterly point of Australia is where the Indian Ocean and the Southern Ocean meet, and is famed by seafarers around the world. I visited on my way to Albany. Cape Leeuwin, one of the most beautiful lighthouses I've seen, bears the nickname "the light between two oceans". Isn't that a romantic name?
The tallest lighthouse in Australia took 15 years to build due to lack of funding and was finalised in 1895, when Western Australia was still the Swan River Colony. It operated a kerosene light, the largest in the world at the time, until 1982, when automation and electricity came through.
Cape Leeuwin is a barren, windswept spot. The famed Cape to Cape Walk ends there and you can challenge yourself in trying to see where exactly the two oceans meet… I tried spotting a distinctive swirl in the water but it's very subtle… Maybe if you take a tour from Augusta, the guide will be able to point it out…
Cape Naturaliste Lighthouse, Western Australia
This lighthouse is at the other end of the Cape to Cape Walk, near Margaret River, and is active since 1904. It was built with stone quarried from nearby (and beautiful!) Bunker Bay, which is also named The Quarries…There are no less than 12 ships in the area, including American whalers. During construction, a jar of valuable mercury fell into the water. A sailor drowned trying to retrieve it and the mercury was never found, probably buried deep into the sand. In 1907, a fireball damaged the lighthouse and keepers quarters in a severe storm.
Along with Cape Leeuwin, it's one of the best Australian West Coast lighthouses. As luck would have it, there is a tour of the lighthouse from Margaret River.
Lighthouses of Australia
This is my story so far with these peculiar buildings. I look forward to discovering more lighthouses of the world. Wherever you go along the coast, there is one with a few stories to tell…
Related Posts
Barrenjoey Lighthouse Walk in Sydney
Relaxing Weekend in Mollymook NSW
Do you have a favourite Australian lighthouse I can add to my list? Tell me about it in the comments below!
Save these Australian Lighthouses on Pinterest!