What better way than spending hours driving with your loved one for a romantic road trip? If you enjoy this type of journey, the west coast is one of the best road trips in Australia. Most itineraries would suggest travelling from Perth to Exmouth but I divided my West Coast Australia itinerary in two parts: the South West and Perth to Kalbarri.
West Coast Australia
Travelling around Australia is a dream of mine, but for now, I'm doing it bit by bit. Thankfully, driving in Australia is not difficult, you just need to prepare your road trip and plan for the long distances.
As I live in Sydney, more recent road trips have been on the South Island of New Zealand. Driving in New Zealand is roughly the same as in Australia.
Perth
If you embark on a road trip in Western Australia, you will no doubt visit Perth, the state capital. There are many places to visit in Perth and it's probably one of the best cities to visit in Australia as part of a road trip. Indeed, Perth is easy to drive around and I recommend this Perth itinerary to help you plan your journey.
Perth Accommodation
If you are looking for the best places to stay in Perth, you have quite a bit of choice. There are plenty of Perth apartments around. Why not stay by the beautiful Perth beaches? I used to live in Scarborough and it's fantastic for visitors with restaurants, cafes and remodelled waterfront.
The Seashells Services Apartments Scarborough have great water views. The Ramada Scarborough Beach is a more recent option, with self-contained rooms.
Some of the best hotels in Perth can be found in the CBD, the Hyatt Regency Perth is on the foreshore and is quite affordable for a luxury hotel.
A new area to stay in is East Perth. It's only a few minutes from the CBD on the free shuttle bus CAT and the Westin Perth is perfect for an indulgent weekend!
For serviced apartments Perth, I would suggest the Fraser Suites Perth, also in East Perth.
However, I would recommend at least a couple of days, there are plenty of fun things to do in Perth. Street art in Perth is especially plentiful!
Fremantle
Distance Perth to Fremantle 18km
Even more than finding out what to do in Perth, you need to make time for Fremantle. The distance from Perth to Fremantle is only 18 km and it's an easy train ride if you don't want to drive. There are many things to do in Fremantle.
Fremantle restaurants are lively and offer a good range from Italian to seafood specialties.
Fremantle Accommodation
If you are looking for a cool vibe and nightlife, Fremantle is a great place to stay in Perth. Some of the old merchant buildings have been renovated into accommodation
For Fremantle apartments, Be Fremantle is in a central location and has self-contained accommodation, some of them with harbour views.
For Fremantle hotels, the Esplanade Hotel Fremantle is a piece of history, having housed the first convicts of the Swan River colony. It is now a reasonably priced luxury hotel located in the heart of Fremantle.
Another option is the Hougoumont Hotel, a slick boutique hotel built using innovative sea-container construction, also in a very good location.
Fremantle Cruises
If you decide to base yourself in the port city, there are cruises from Fremantle going to Rottnest Island for a day. Check out additional information and current tour prices.
You can also take a Swan River Lunch Cruise departing from Fremantle or Perth. Check out additional information and current tour prices.
Busselton
Distance Fremantle to Busselton 220km
If you are travelling "down south" from Perth, Busselton WA is likely to be your first stop. Named after the settler Bussell family, Busselton is one of the earliest settlements in Western Australia. On the edge of Geographe Bay, it is now a resort town with plenty of cafes and restaurants to break up your journey.
Busselton, Australia also boasts the longest wooden jetty in the Southern Hemisphere. The Busselton jetty was pretty run down when I first visited years ago, however it is now the most famous of Busselton attractions, with a train ride and an underwater observatory.
Check out additional information and current tour prices for the Busselton Jetty Underwater Observatory Tour.
If you are looking for things to do in Busselton, don't miss the jetty and the waterfront. On a sunny day, the jetty is incredibly photogenic, with a rendition of beautiful blue hues: sky, ocean and jetty!
There are several Busselton restaurants on the waterfront, however we didn't get to try them as we stopped before lunch time.
Busselton is also a good place to take a whale watching cruise. Check out additional information and current tour prices.
Accommodation in Busselton
There is quite varied accommodation around the Busselton area.
The Busselton Visitor Centre can also provide other suggestions and some historical elements.
Cape Naturaliste
Distance Busselton to Cape Naturaliste 38km
Whilst the drive from Perth to Busselton is fairly uneventful, the scenery becomes quite interesting thereafter. I highly recommend the drive from Dunsborough to Cape Naturaliste as the scenery is so unique to that part of the world: it's a very short transition between farmland and the ocean.
The drive through Meelup National Park will take you to several beaches on the south west of Geographe Bay. Castle Rock, Meelup Beach, Eagle Bay, Bunker Bay…
The beaches are pretty popular and absolutely beautiful. Drive through the bush on sealed roads to find facilities and parking.
Bunker Bay also has a cafe. The place seems really wild and isolated but there are some high end villas and resorts nestled in the bush.
The Cape Naturaliste lighthouse has some nice views. The original crystal for the lighthouse is still in operation and you can do a tour for $5. The compound has been renovated, with a cafe and a kids play area.
Cape Naturaliste is at the start (or finish) of the Cape to Cape track, a coastal walk that stretches all the way to Cape Leeuwin.
Yallingup
Distance Cape Naturaliste to Yallingup 24km
This is a charming little resort town, with a strong surfing culture so things to do in Yallingup mostly revolve around the beach. True enough, the surf breaks are really good.
The lagoon at Yallingup Beach, with its rock pools and blue waters, is great for snorkelling and swimming. We didn't find restaurants in Yallingup so we bought lunch from the local cafe and enjoyed a break on the beach.
The area is full of underground caves, one of the better known being Ngilgi Cave, formerly known as Yallingup Cave.
There are wineries in Yallingup too, however we didn't have time to stop. Besides, Yallingup to Margaret River is only 30 minutes drive…
Accommodation in Yallingup
Yallingup is a lovely location and has some good options for holiday accommodation.
Smiths Beach
Distance Yallingup to Smiths Beach 4km
When you travel Western Australian, you will find plenty of beautiful beaches. Picking my favourite wasn't hard though. Smiths Beach WA is absolutely stunning, with perfect sand and surf.
There is no shade though so if you are visiting in summer (or on any sunny day), make sure you are equipped for the harsh Australian sun.
Canal Rocks
Smiths Beach to Canal Rocks 7km
The granite coastline offers an interesting curiosity: the waves of the Indian Ocean have carved a straight and narrow channel between the rocks. The two sides are connected by a bridge.
You can climb the rocks around, although I would exercise caution as the water is pretty wild.
The beach is pretty rocky at Canal Rocks, I preferred Smiths Beach.
Margaret River
Distance Canal Rocks to Margaret River 40km
The Margaret River region is an interesting mix of bucolic scenery and hippy vibe. Here, the pace is slow and its all about wine, caves, food and surfing breaks.
If you are coming from Perth, Busselton to Margaret River is only 40 minutes drive so it's worth pushing the day trip that far.
We didn't spend too much time in Margaret River but it's a good place to break up your journey, and even spend a day or two visiting the wineries.
Most of the Margaret River wineries are located within close vicinity. Vasse Felix and Cullen have very nice restaurants for lunch.
Margaret River restaurants range from casual cafes to fine dining in the wineries, so it's suitable for any budget.
Margaret River is a great place for local food. We visited Pukara Estate and the Providore Centre, which has a great selection of local produce and wine. We stocked on olive oil, chutneys, preserves… The organic kitchen garden outside is worth a look.
Margaret River Accommodation
There are plenty of options for accommodation in Margaret River. The best thing to do is to experience the bucolic and forest aspects of the area.
Prevelly
Distance Margaret River to Prevelly 10km
This little township has everything going for it… Located on the south side of the Margaret River mouth, Prevelly is peaceful and enjoys some amazing views. The perfect reason to visit Prevelly as a romantic destination is the coast, but there is a very nice story around the quaint Greek Orthodox chapel there…
Why would a Greek Orthodox chapel be sitting on the coast of Western Australia?
The story started with Geoff Edwards, a Perth man who served in WWII, in the Battle of Crete. In 1941, he was captured as a prisoner of war by the Germans. He escaped and was sheltered by the Monks of the Preveli Monastery.
As a gesture of gratitude, he built the Holy Chapel of St John the Theologian and gifted it to the Greek community. Today, the chapel is only used for weddings from time to time. In the 1960s, the land owned by Geoff Edwards was subdivided and named Prevelly.
Several streets in the township bear the names of Greek monks who cared for Geoff Edwards during his captivity…
The little white chapel casts a charming and unusual figure on the West Australian coast, and amongst the summer colours, you might think you're in Greece for a minute…
I knew when I saw it there must be a story about this place, and what a lovely one!
Gnarabup
Distance Prevelly to Gnarabup 3km
A little further down from Prevelly lies the smaller township of Gnarabup. Gnarabup beach is smaller and the White Elephant Cafe has a good menu.
This is a place that feels both connected and far from everything. One more to add to your beach collection…
Accommodation in Gnarabup
As a fairly recent development, Gnarabup has some really good resort-style accommodation and it really fits with the proximity of the beach.
Surfers Point & Rivermouth
Distance Gnarabup to Surfers Point 4km
With all the beautiful places to visit in Western Australia, at least one has to have the most beautiful sunset… Surfers Point doesn't disappoint in that regard. There is a well-designed lookout and you can admire the surfers' performance in the dimming light…
There is a wooden stairs to get to the beach, but the viewpoint from above is perfect.
Rivermouth is, quite literally, the Margaret River mouth… Great place for swimming…
Boranup Karri Forest
Distance Prevelly to Borabup 20km
Driving through the Boranup Karri Forest is one of the highlights of a trip around Australia. The drive is only half an hour at a slow pace and starts about 25 mis south of Margaret River. The road is unsealed but the limestone base makes it perfectly drivable for 2-wheel drives.
The karri tree is a type of eucalyptus and one of tallest hardwoods in the world. Trees can live up to 350 years and were used for building ships and mining beams.
The Boranup Forest is a new growth forest, established after extensive logging in the 1880s. Still, the trees can be over 60m tall and are a commanding presence…
To enjoy the drive, open your windows (and car roof if you have one), and take it slowly. I also recommend stopping and walking amongst the trees for the full experience. Listen to the silence, the birdsong and even the tree branches cracking and falling to the ground.
And an experience it is! There is a majesty and a stillness about those really tall trees, it is truly magnificent…
You can take a short sidetrack drive to Boranup Lookout, which offers beautiful views of the forest and Hamelin Bay.
Boranup Karri Forest is a home to many birds: purple-crowned lorikeets, fairy wrens, white-breasted robins, crested strike-tits, golden whistlers and many more…
We also saw some kangaroos but they were very shy…
Hamelin Bay
Distance Boranup to Hamelin Bay 22km
Just south of the Boranup Forest, Hamelin Bay WA is a stunning beach with pristine white sands. The beach is famous for its stingrays visiting the shoreline. The best season to view the stingrays at Hamelin Bay is in summer, but you should only observe them, and certainly not touch them!
Hamelin Bay has some toilet and shower facilities at the car park so it's perfect for spending the day there: swimming, fishing and snorkelling!
There aren't many options for Hamelin Bay accommodation but Augusta is less than 20 minutes drive away.
Augusta
Distance Hamelin Bay to Augusta 17km
Augusta, Australia is a quaint historic town with a choice of accommodation options, if you want to break up your journey. It is a good spot for whale watching in Flinders Bay in winter (june to august).
We didn't find much to do in Augusta but it is the closest town to Cape Leeuwin.
Accommodation in Augusta WA
Accommodation choices in Augusta are a little limited to motels.
Cape Leeuwin
Distance Augusta to Cape Leeuwin 8km
This rocky promontory is the most south westerly point in Australia. Windswept and barren, it was named by explorer Matthew Flinders in 1801, after a Dutch ship who had charted the area in 1622.
Cape Leeuwin lighthouse was built in 1895, at a time when Western Australia was known as the Swan River Colony. The light keepers cottages have been renovated since our last visit and there is a cafe and gift shop in one of them.
The lighthouse had a live-in keeper until 1988, was automated in 1992 and the last keeper left in 1998.
Cape Leeuwin is important to seafarers as it is the point where the Southern and Indian Oceans meet. There is a lookout where you may want to try and pick the exact point where the waters meet but I'd say you would need a very good eye.
It's also a must-see on a southwest road trip!
From Cape Leeuwin, you can continue your trip to the South Coast and Albany.
Lancelin
Distance Perth to Lancelin 122km
On our second romantic road trip on the West Australia Coast, we headed north. My earliest discoveries of Western Australia took me to Monkey Mia and Coral Bay, and I had passed through the Lancelin sand dunes on several occasions.
Lancelin is a small fishing village on the West Australian coast, some 130km north of Perth. Its white sand dunes and clean beaches make the bulk of things to do in Lancelin. The relaxed seaside lifestyle was personified for many years by the fishermen's shacks dotted in the sand dunes. The shacks were very basic, without running water or electricity and mainly used for summer holidays. They were eventually dismantled to return the dunes to their initial condition.
When we visited Lancelin, the sky was very overcast, which robbed us of some very nice photos, unfortunately… But on a sunny day, the beach must be stunning and sand boarding on the dunes sounds like a lot of fun!
Accommodation in Lancelin
In this part of the West Australian Coast, accommodation is mainly about motels and holiday parks. It's usually fairly standard and family-orientated. On the upside, you have kitchen facilities in most places and plenty of space!
The Pinnacles
Distance Lancelin to the Pinnacles 73km
In Nambung National Park, the Pinnacles are a great day trip from Perth and we had to stop for a walk and some great photos.
The Pinnacles WA are limestone formations and a geological curiosity unique to Western Australia. There are various theories as to how the pillars were initially formed. What is known for sure is that the base material of the pillars are seashells, as the area was once covered by the ocean.
Today, there are thousands of weathered limestone pillars, standing up to 3,5m above the yellow sand base. The Pinnacles desert is an eerie sight and a walk through feels like you're wandering on a spiky moonscape.
On a sunny day, the colours are incredible, with the blue ocean in the background. Unlike the sand dunes in Lancelin, the sand is yellow, which is a beautiful contrast with the blue sky.
You can either take a slow drive and stop in various places for photos, or you can take the Pinnacles Walk, which takes about an hour and is graded as easy.
The Pinnacles tour is one of the most popular day trips from Perth. Check out additional information and current tour prices.
There is also a fabulous Pinnacles Desert Star Gazing Tour. Check out additional information and current tour prices.
Jurien Bay
Distance Pinnacles to Jurien Bay 52km
We stopped briefly at Jurien Bay, another small coastal town with a relaxed beach vibe. It's only 220 kms from Perth (or 2,5 hour drive). We felt the place was a bit standard but the beach is beautiful and it's an ideal location for swimming, snorkelling, paddle boarding and other water activities.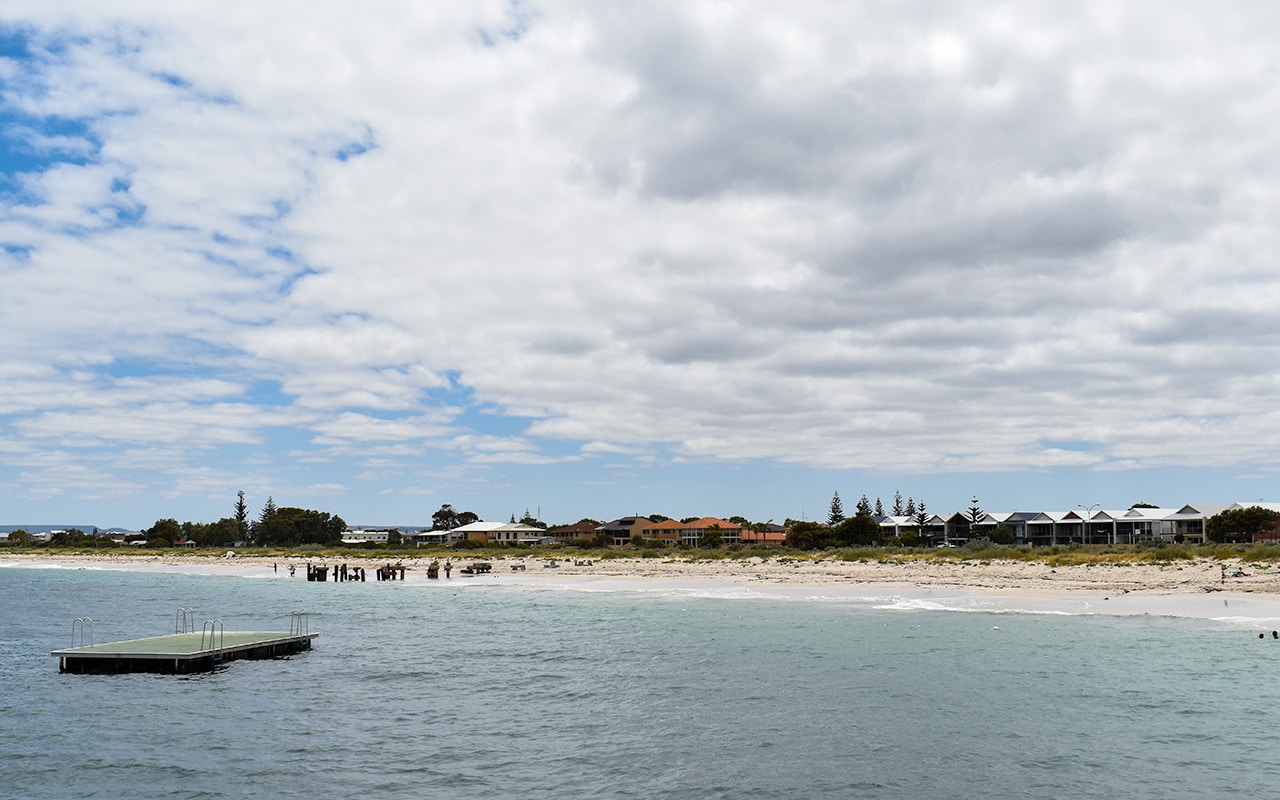 Also, Jurien Bay is a perfect location if you want to explore the Pinnacles or find some wildflowers in season.
Accommodation in Jurien Bay
I prefer private houses to caravan parks, there are a few of those available for holiday rentals.
Dongara – Port Denison
Distance Jurien Bay to Dongara 136km
Further north is Dongara and Port Denison. The two townships are either side of the Irwin River and are often referred to together. Dongara has a few historical buildings and is the "capital of cray fishing".
Port Denison is south of the Irwin river.
Geraldton
Distance Dongara to Geraldton 64km
For a more sizeable town, Geraldton WA is 420 km from Perth, so more appropriate for a weekend at a minimum. With a population of 35,000, it's bigger than any other coastal town in the area and is a great base to visit Coral Coast Australia.
The waterfront at Geraldton still has a fairly industrial feel, however these days, the town is a port of call for large cruise ships and a point of access to the Abrolhos Islands. There is a 5-hour tour departing from Kalbarri. Check out more information and current tour prices.
There are plenty of cafes and restaurants on the renovated foreshore and we had lunch there before continuing our journey north.
The beach colours were incredible that day, lucky us!
Accommodation in Geraldton
Due to its size and recently redeveloped waterfront, Geraldton has some really nice accommodation options.
Lynton – Horrocks
Distance Geraldton to Horrocks 73km
Continuing along the coast towards Kalbarri, we took a turnoff at Northampton in search of some convict history. Horrocks is a pleasant coastal hamlet, with its typical caravan park, a few beach shacks and, interestingly, some luxurious beach villas. Nothing unusual there… But if you continue along Port Gregory Road, to the mouth of the Hutt River, there is an interesting piece of history.
The Lynton Convict Hiring Depot, or what's left of it, is worth a visit.
Horrocks, by the way, was named after Joseph Lucas Horrocks, a convict transported to Australia in 1851, who later became the Medical Officer at the Lynton Convict Hiring Depot.
The depot was supposed to provide convict labour to a local lead mine, on the Murchison River, and operated from 1853 to 1857.
Within this short period of time, the convicts built several buildings, some of which partially remain today: a store, a depot, a lockup, a hospital, a lime kiln and an administration block.
There was a lot of degradation in the 1930s and some of these buildings are now piles of rubble but the depot, the lockup and the officers' quarters are still standing.
I'm always fascinated by how convicts and settlers ended up in such remote places, albeit for a few years only.
As the names and dates scratched into the walls show, the place was never really left alone.
There are plaques giving some details about Lynton's history and entry is by donation.
Hutt Lagoon
Distance Horrocks to Hutt Lagoon 37km
The West Australian coast is full of quirky natural phenomena, and there is even a pink lake! Hutt Lagoon is a salt lake. The pink hue is due to the presence of a carotenoid-producing algae in the water.
The colour varies from bubblegum to lilac, to even red. The most fascinating is the pink, of course, but you have to find the right spot and right time to get the best colour.
George Grey Road leads to Kalbarri, however it is very close to the water level and the view is partially obstructed. From there, the lake didn't even seem to be pink.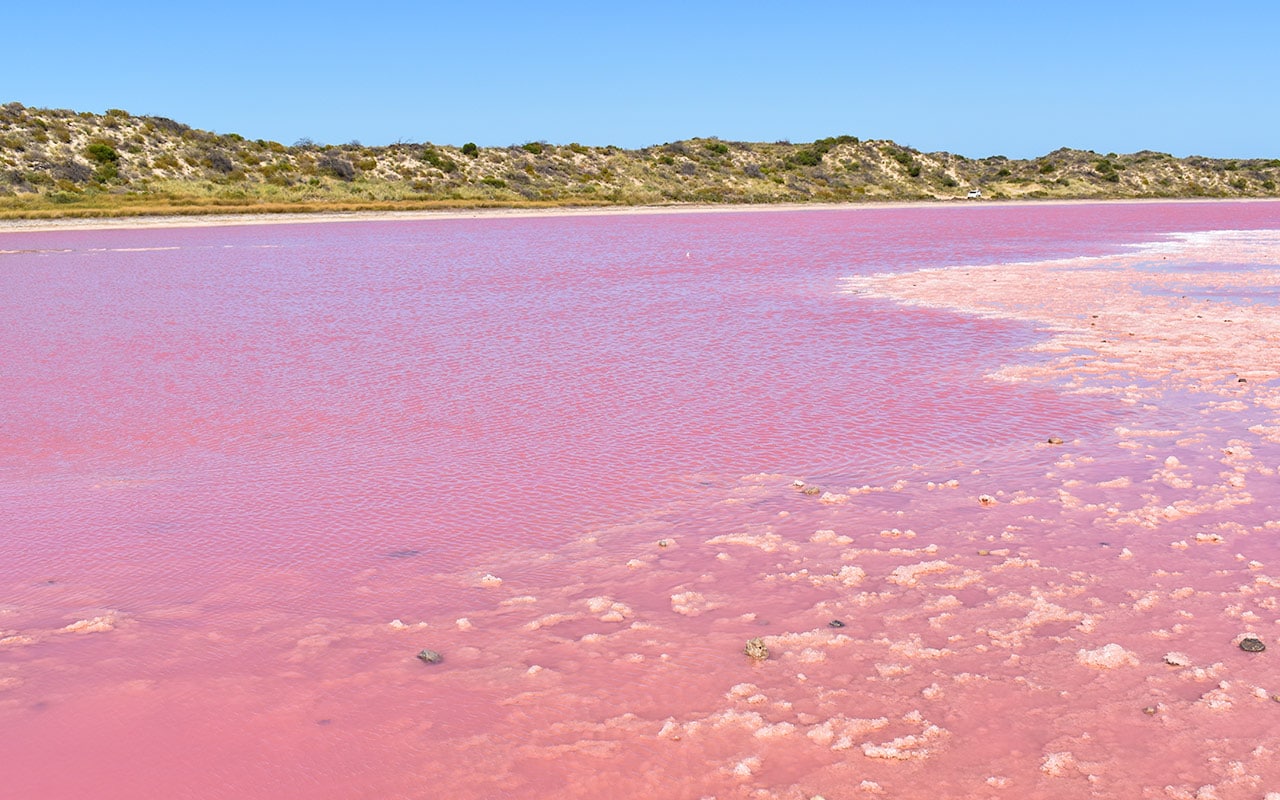 Your best chance to see the lake in all its glory is to drive to the other side, along Port Gregory Drive.
The colour rendered by the lake is very dependent on the weather and how clear the sky is. The best time to visit Hutt Lagoon is in summer, when the light is brightest. If you can, pick a sunny day, between 10am and 2pm, when the sun is at zenith. Slightly more difficult is finding a good vantage point but you can also take a scenic flight from Kalbarri.
Check additional information and current tour prices.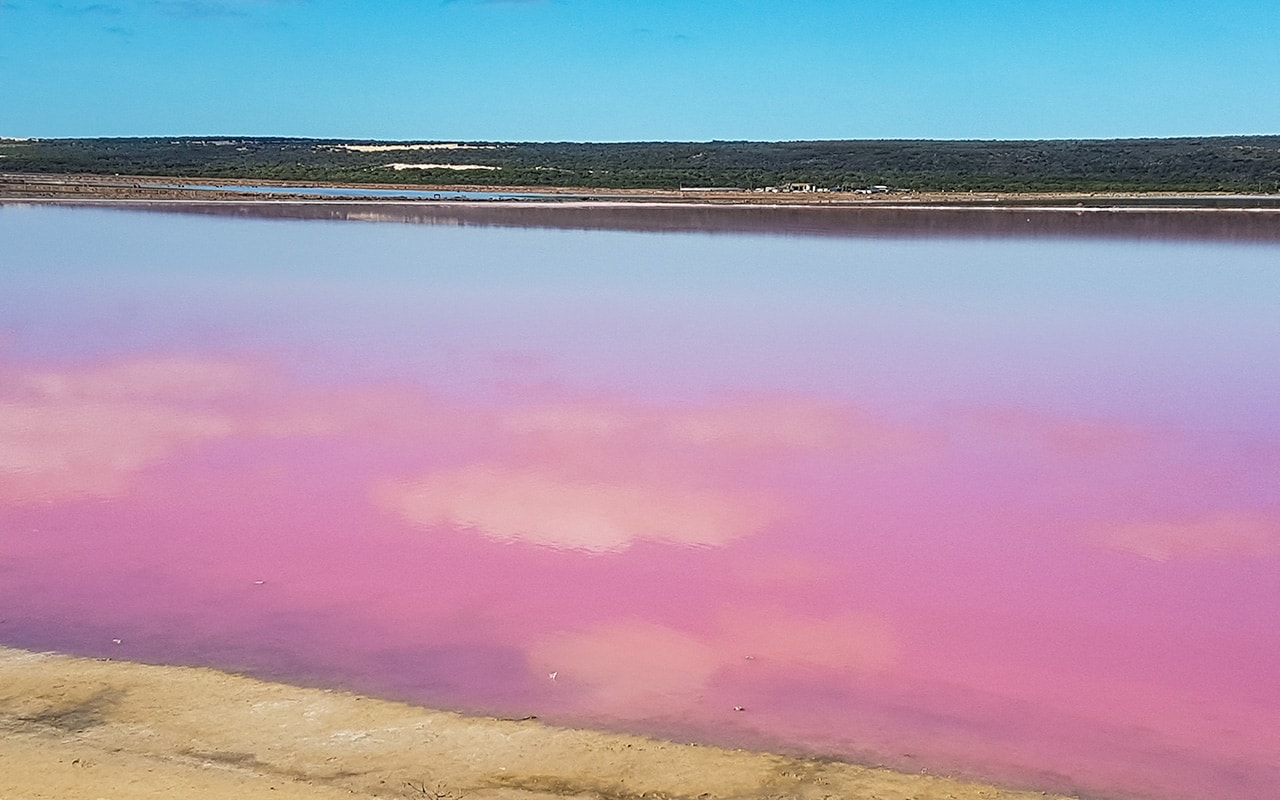 Beware that this attraction has become very popular thanks to Instagram, and there are plenty of vehicles poorly parked along the road and even driving erratically. There was hardly anyone there when we visited but I suspect things have changed now…
Kalbarri, Australia
Distance Hutt Lagoon to Kalbarri 55km
A 6-hour drive from Perth to Kalbarri (590km) will take you to a small township at the mouth of Murchison River. It didn't stand out in terms of dining options, however the coast is stunning. Enjoying a coastal walk, the different places to swim would take a day, and you would need another day to visit the national park.
Coastal Cliffs at Kalbarri WA
There are various lookouts on the coastal cliffs and they are good at different times of the day.
Natural Bridge, Island Rock and Eagle Gorge had beautiful colours at sunset. Other lookouts include Shellhouse Grandstand, Pot Alley, Rainbow Valley and Red Bluff.
Don't miss the Bigurda Trail, 8km of coastal boardwalk. Some of the lookouts have shaded areas.
Accommodation in Kalbarri
Kalbarri accommodation varies in price and quality, with budget to luxury options. Most places are self-contained and roomy.
Kalbarri National Park
Distance Kalbarri to Kalbarri National Park 37km
The National Park is worth spending at least a day. We were there on a hot summer's day so we didn't attempt any long hikes, however there are plenty of options.
Don't miss Nature's Window, and see if you can beat the crowds…
Z Bend
Apart from admiring the view over the Z Bend, you can hike down to the Murchison Gorge via the Z Bend Trail, although that's a bit challenging on a hot day.
We spent the rest of the day visiting the different lookouts. We can actually combine the Kalbarri Gorges and Coastal Cliffs in a scenic flight. Check out additional information and current tour prices.
Related Posts
There are many more places to see on West Coast Australia road trip and we have yet to continue north. What are your favourites?
Please tell me in the comments below!
Save this West Coast Australia itinerary on Pinterest!