If you are looking for what to do in Perth, apart from the gorgeous beaches, I can suggest the best walking tour of Perth Street Art. There are a fair few famous graffiti artists who have left their mark and it's one of the best free things to do in Perth.
The Best Walking Tour of Perth Street Art
In my view, there are few Perth attractions that will surprise you more than street art. Whilst it's not the easiest place to get around on foot, the Perth climate makes outdoor activities really pleasant. I find it a little difficult to pick the best time to visit Perth but, for this activity, I would avoid the hottest days of summer and the heavy rains of winter.
You can get to most of these places on trains and buses, however if you want to see everything in a short period of time, you may need a vehicle.
I visited many different suburbs over several days however, if all you have is a couple of hours, I recommend a 2-hour art and culture tour. Check out additional information and current tour prices.
Claremont
The upmarket suburb of Claremont is not one you would necessarily associate with gritty street art, like the one you can find in Melbourne and, indeed there isn't much there. Still, the most fun things to do in Claremont would have to involve finding the mural at the rear of 21 Bayview Terrace, behind a shop called Highs & Lows.
Kyle Hughes-Odgers. Highs & Lows, rear 21 Bayview Terrace, Claremont
This mural was painted by Kyle Hughes-Odgers in 2012. Access via the Gugeri Street carpark.
That's the only one I found in Claremont but that should get you started on all the street art stuff to do in Perth…
Highgate
As one of the inner city suburbs of Perth, Highgate is equally popular for nightlife and brunch… On the side of the Mary Street Bakery, in a small park.
Robert Jenkins. Mary Street Bakery, 507 Beaufort Street, Highgate
Along the wall is a dreamy fresco by local artist Robert Jenkins. You'll see a fair bit from him around so it's worth including in your Perth itinerary. The seated goat and giraffe are assisted by Robert Jenkins' trademark little blue men and a fair amount of butterflies. There is great movement and poetry in this mural.
Highgate is not a big Perth tourist spot but it has quite a bit of hidden street art in the lanes behind Beaufort Street. When you are looking for street art, exploring the back lanes if what you must do in Perth.
Leederville
Another inner suburb of Perth rich in popular bars and restaurants, Leederville does very well in terms of street art. If you are looking for an urban break from the Perth beaches, I recommend trying a few of the Leederville cafés.
Goat Dreaming by Robert Jenkins. Laneway near 112 Oxford Street, Leederville
I wonder if the goat has a special meaning for Robert Jenkins, it seems to be a popular theme… This fresco is striking and almost overwhelming.
Pink by Sarah McCloskey. 112 Oxford Street, Leederville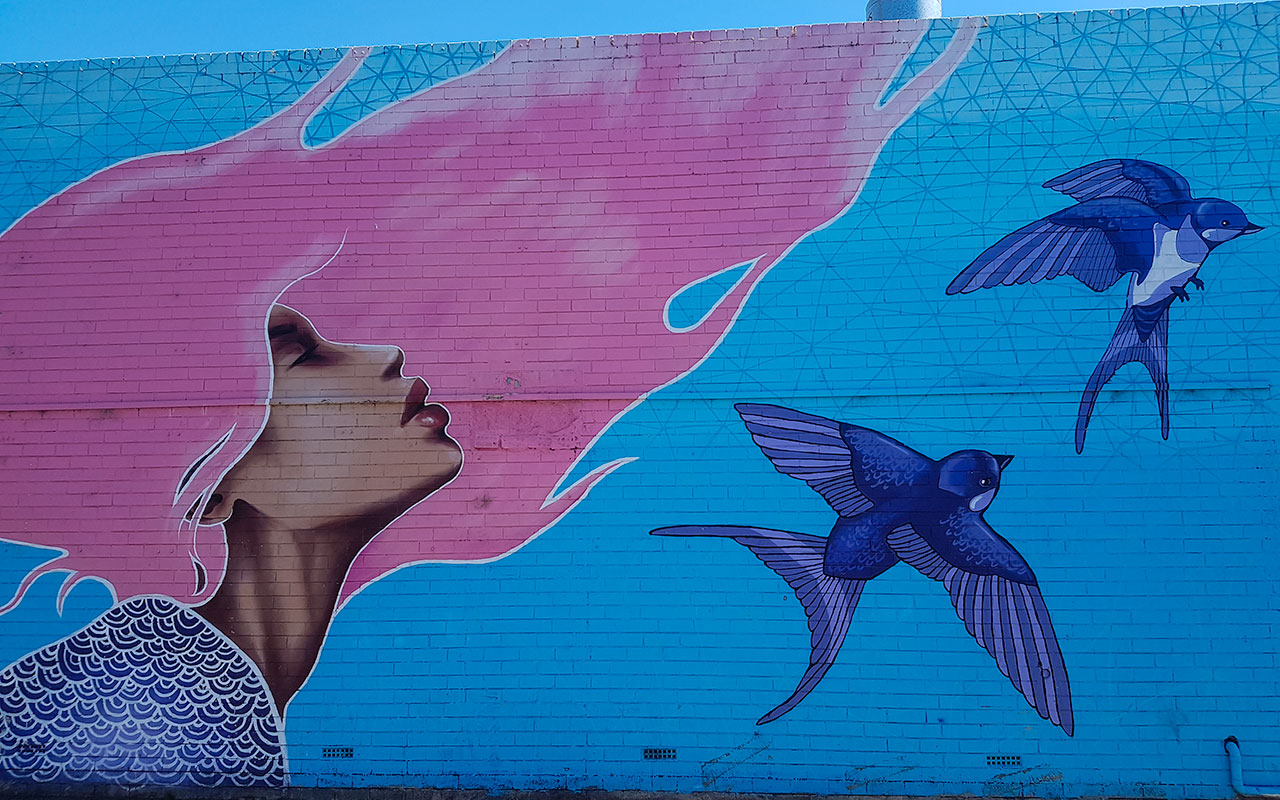 In this iconic street art mural, Sarah McCloskey gives us a perfect combination: the movement of the pink hair contrasts beautifully against the photo perfect face. It's most likely one of Perth highlights!
Aliens by Martin E. Wills, Laneway near 112 Oxford Street, Leederville
The Aliens have three eyes and seem to float through the air, which could be expected in this mural by Martin E. Wills. The sliced bodies are a bit more of a surprise.
Water Corp Building, 629 Newcastle Street, Leederville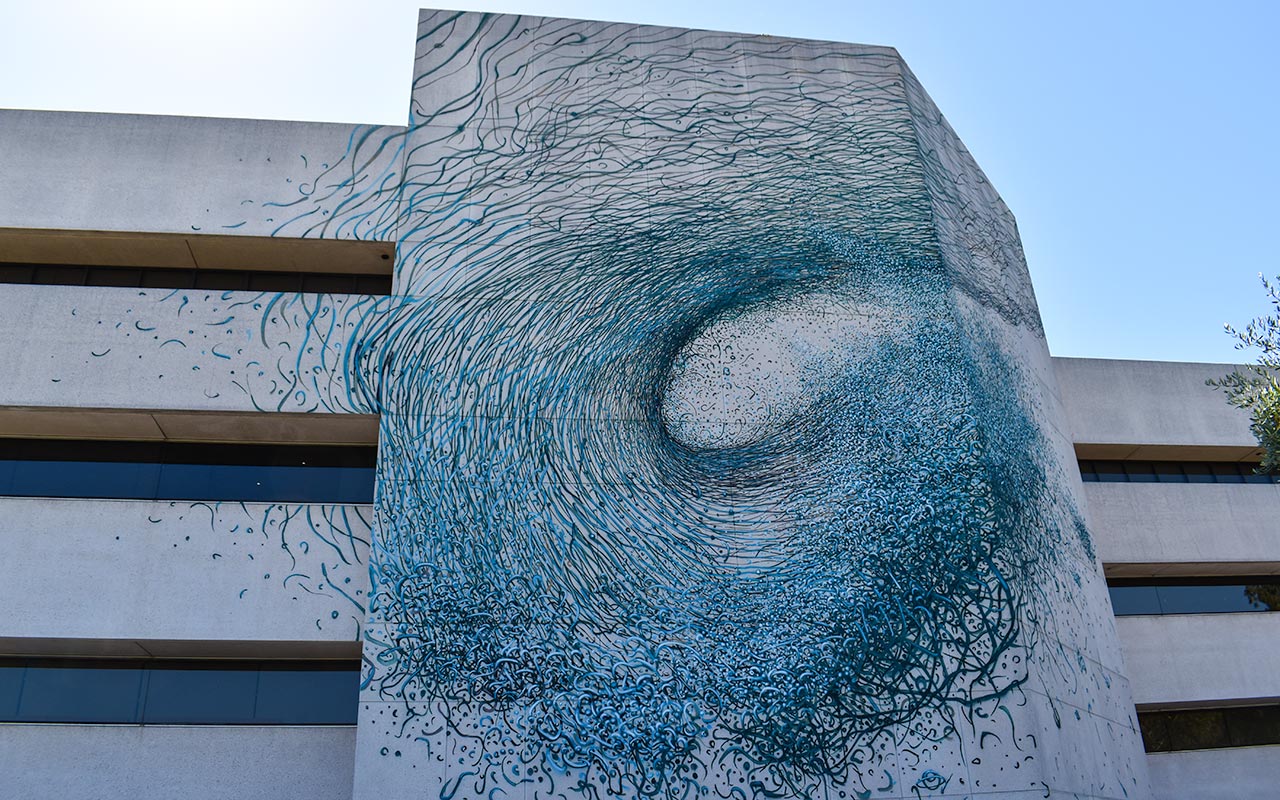 The Water Corporation Building has an appropriate water-based tall mural by Chinese artist DAL East. I took the photo in poor light, unfortunately. I would recommend a visit towards the end of the day.
DAL East has created a remarkable piece expressing the fluidity and strength of water.
YMCA HQ, 60A Frame Court, Leederville
This is just near the Water Corp building and there is plenty to see in a small area. If you go there on a weekend, it's very likely to be quiet. Local Perth artists have transformed this seemingly boring area in a haven of colour and creativity.
Artist: Too Much Colour Crew
Artist: Dolus "Play"
Artist: Newso (Leederville Skatepark)
Artist: Baby Nae "Red Head"
Artist: Zac Freshwater
If you only have a little time for street art, Leederville is one of the best places to visit in Perth. And once you are done, try one of the Leederville restaurants.
Maylands
Maylands is an old residential suburb of Perth, with plenty of charming old houses with overgrown gardens. It's a little out of the way and you can get there on the train but it's worth adding to your Perth travel itinerary.
It also has some of Perth's most well-known street art.
Giraffes by Anya Brock, 38 Eighth Avenue, Maylands
Anya Brock has a unique style, taking monochrome concepts and turning them to colour. Her zebras in South Fremantle is a perfect example.
Here the giraffes stand tall and are one of the most striking Perth sights.
Sullivan Lane, Maylands
Lyric Lane, Maylands
This lane snakes around the back of the BWS store on Eighth Avenue. The colourful mural depicting an old Aboriginal man and a child illuminates an otherwise depressing lane, however I couldn't find anything on the author. It's signed by the name of Withers.
Daek William, Gemma's Health & Beauty Spa, A/208 Wheatley Crescent, Maylands
This suburban beauty salon is adorned by one of the most poetic pieces I've seen. The girl with the dreams in her hair seems nor asleep nor awake, but in a world of her own. Unfortunately, the piece has been vandalised on several occasions.
Maybe looking for street art is one of the most romantic things to do in Perth?
Cafe Mrs S, 178 Wheatley Crescent, Maylands
Carpark, 55 Eighth Avenue, Maylands
I couldn't find an artist name for this eerie presence.
Studio 281, 281 Guildford Road, Maylands
The area between Wheatley Crescent and Guildford Road is one of the best walks in Perth for street art.
Maylands is mainly residential and there are a few good choices for accommodation.
Mount Hawthorn
Mount Hawthorn is mostly residential but for Perth tourism, it has some good examples of wall street art.
"Balance" Kyle Hughes-Odgers, 75 Coogee Street, Mount Hawthorn
Fergus McFudge, Anvil Lane
Ash & Oak, 73 Coogee Street, Mount Hawthorn
The Cabin Small Bar, 174 Scarborough Beach Road, Mount Hawthorn
This gorgeous combination of a blue wren and a rose is a bit of mystery, I couldn't find an artist's name but it captured my heart!
If street art is one of the fun things to do in Perth for adults, this one would have to be my favourite! And you can stop for a drink at the Cabin Small Bar.
Mount Lawley
In the vicinity of Mount Hawthorn and Highgate, Mount Lawley is incredibly rich in street art. Street art is one of the cheap things to do in Perth but so much fun! The lane running parallel to Beaufort Street is well worth exploring to discover the work of Perth street artists.
Artist: Brad Loafer, Behind Cloud 9, 527 Beaufort Street, Mount Lawley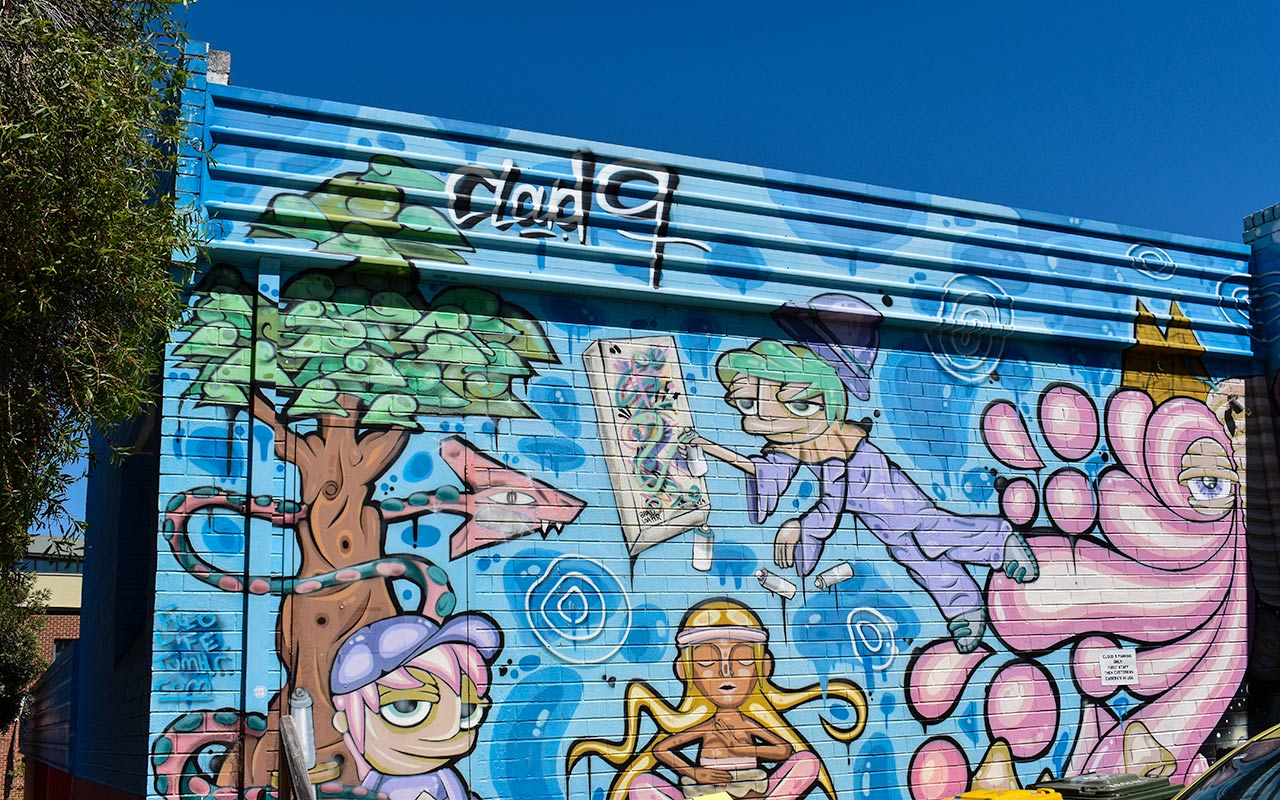 Artist: Hurben "Pixie", 537 Beaufort Street, Mount Lawley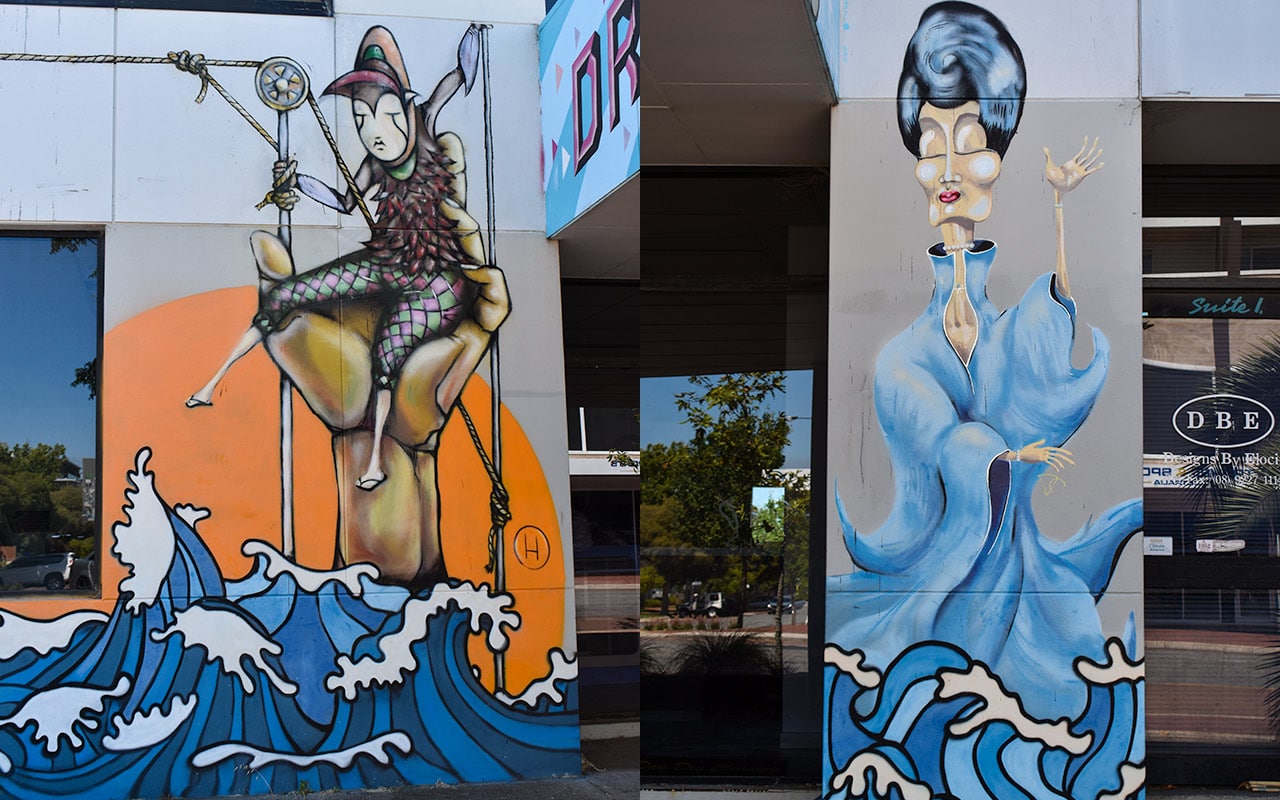 On either side of the entrance to an office building, these two sea creatures were originally created for the 2013 Beaufort Street Festival.
The lane behind Grovesnor Road and the lane between Grovesnor and Raglan Road are somewhere to go in Perth for different murals. I haven't seen them but I will be updating this article on my next trip to Perth.
Mount Lawley has a busy restaurant scene so it's worth staying in the area.
Northbridge
The inner-city suburb of Northbridge is the best place in Perth for nightlife and Asian food. Since my last visit to Perth, it hasn't changed much, it still has that slightly run down and "dead during the day" type of feel. I didn't think of it as one of Perth points of interest however, there is some really interesting street art. It's also one of the easiest walks in Perth to do from the CBD.
Artist "Ever" Nicolas Romero and A.E.L., TAFE Building, Aberdeen Street, Northbridge
Artist "Ever" Nicolas Romero is based in Buenos Aires. This striking piece is called "Migration". The one on the right is "Memory of the Land" by artist AEL.
Behind the same building, there is some more interesting work.
Artist E.L.K, Museum Street and Mandala by Ian Williams, Aberdeen Street, Northbridge
Artist E.L.K created a tribute portrait of the king of Oz hip hop Rob Hunter (MC Hunter) on Museum Street. Nearby on Aberdeen Street is the Mandala by artist Ian Williams.
Artist Pixel Pancho, TAFE Building, Northbridge
I couldn't find a title for this funky character so I just call him "guy with a colander on his head"… at the back of the TAFE building.
Artists Lauren Nannup & Stephen Genovese " Red & White Tail Cockatoos", Cnr Newcastle & William Street
There are a fair few more painted walls and places in Perth. After a good walk, you can choose one of Northbridge restaurants for a good meal.
Perth CBD
I didn't spend anywhere near enough time on a Perth city walking tour and I only found Drew Straker neon art. However, the colours and rendition of the neon effect are so striking that it's a must–do on a Perth city tour, isn't it?
Drew Straker neon art
There are a lot more wall murals, so I know what to do in Perth city on my next visit!
If you are keen to stay in Northbridge, the Foreshore, the Bell Tower and Elizabeth Quay are very close and you have great city views.
Subiaco
The suburb of Subiaco is sometimes listed as one of the top 10 things to do in Perth. I have fond memories of some of the cafés in Subiaco but now I think wall art is a much better Perth must-see!
Artist: Wellshaken, Rear of 361 Rokeby Road, Subiaco
This Morocco-inspired mural sits at the back of Rokeby Road, in a little alleyway. It's both elegant and colourful, and really perfect as an Instagram background! It's often referred to as being behind Meeka Restaurant but that doesn't exist any more so it's best to rely on the address.
Several Perth artists have created for the suburb of Subiaco.
Artist: Anya Brock "Butterflies", Cnr Churchill & Townshend Road, Subiaco
There are two colourful butterflies from the famed and talented Anya Brock.
Artist: Ox King, 11 Olive Street, Subiaco
Soft blue and pink, this is every little girl's dream!
Artist: Sugar Sweet, 17 Olive Street, Subiaco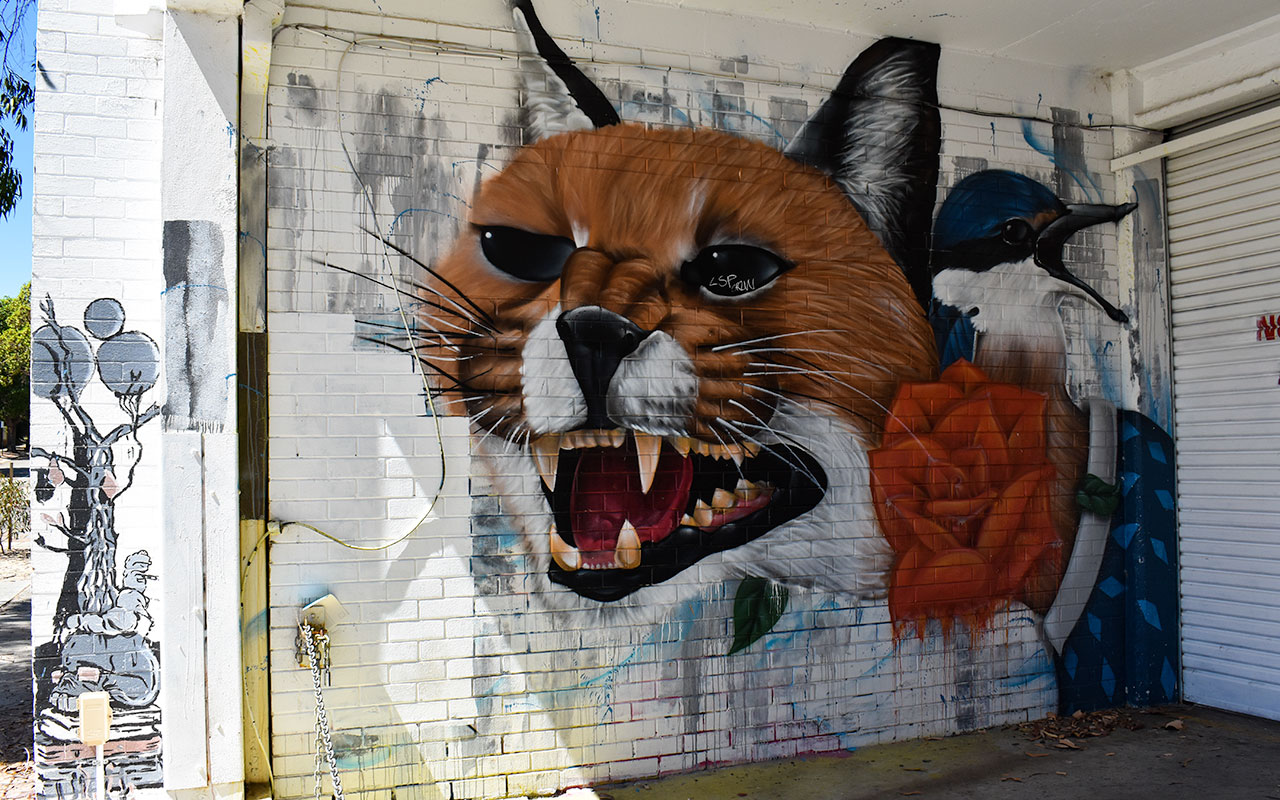 Is this a fox or a cat?
Artist Nick Zafir, 23 Olive Street, Subiaco
This is an eerie vision, the face seems to be unfinished and distressed.
Artist James Giddy "Chicken", Olive Street, Subiaco
The Corner Gallery is on the corner of Olive Street and Hay Street and has a spectacular combination of a pink wall and a cheeky piece by artist Fieldey from New Zealand
Artist: Rahalie McGuirk "Cat of three tails", Corner Olive Street & 256 Hay Street, Subiaco
José Cuervo Tequila Bar, Corner Townshend Road and Hay Street, Subiaco
Subiaco is great for nightlife as well as street art.
Victoria Park
There aren't many Perth attractions and activities in Victoria Park but if you are driving along Albany Hwy, it's worth stopping by. As street art is one of the free things to do in Perth today, I actually recommend visiting a supermarket carpark!
Artist Sheryo and the Yok, Ten Ten Chinese Restaurant, 852 Albany Hwy, East Victoria Park
Artist: Kiara Thomas, Car Park behind the IGA East Victoria Park, 860 Albany Hwy, East Victoria Park
There are a few murals around the carpark of the IGA supermarket. You can find some street art in Perth and do your shopping at the same time! Out of all places, the toilet block is adorned with a piece by Kiara Thomas and one from Nick Zafir.
There are some amazing tourist places in Perth!
Albany Highway being a thoroughfare, there isn't much quality accommodation in Victoria Park, only a few motor lodges. For a quiet area, East Perth is just across the Swan River. There is plenty of parkland and the city is just nearby.
North Fremantle
A Fremantle day trip is a great thing to do when you visit Perth. One day may be short for all the things to see in Fremantle but it is one of the best day trips from Perth. Fremantle tourist attractions are diverse and it's worth doing a little research on what to include on your Fremantle itinerary.
Artist: Alan Bond, Allied Mills, 111 Stirling Hwy, North Fremantle
Technically, this is not street art… But the branding mural on the silo of Allied Mills is an icon of Fremantle sightseeing. The mills tower over Stirling Hwy driving into Fremantle, facing the ocean. Interestingly, it was painted by a Perth businessman, before his successful (and controversial) business dealings in Perth, which included winning the America's Cup.
In my view, it's easy to do Fremantle walking tour and include some street art. The Fremantle to Perth train only takes half an hour and there is a local CAT bus to take to South Fremantle.
Artist: ROA, Old Navy buildings, Canning Hwy, North Fremantle
The black octopus designed by Belgian artist ROA, painted on the old navy buildings, is impossible to miss. It's dark and tortured, and is one of the best examples of Fremantle street art.
Fremantle is a great place to stay in Perth. The restaurants and bars, museums and galleries, the Fremantle markets and the railway station are mostly of walking distance of one another.
South Fremantle
Artist: Graeme Miles Richard, East West Design, 303 South Terrace, South Fremantle
East West Design is a furniture store sitting in a large warehouse. Apart from some roller doors, the building has a long blind wall so it was the perfect place for a 78m fresco.
Keep walking along South Terrace, it's one of the best places to go in Fremantle for street art.
Artist: Anya Brock, 258 South Terrace, South Fremantle
After the giraffes of Maylands, visit Fremantle and meet the zebras!
Missy Moos, a little further down from 400 South Terrace, South Fremantle
I couldn't find any murals right next to the café Missy Moos, but there is a beautiful piece in a lane a little further down from 400 South Terrace.
It's a beautiful mix of blue and purple colours, inspired by Jules Verne's "20,000 leagues under the sea".
South Beach Cycles, 480 South Terrace, South Fremantle
I didn't note the artist for this one but the deep reds and browns make an amazing combination. It's also pretty close to some of the best beaches in Perth!
Wittenoom Street
This is less known for street art places to explore in Perth. Awkwardly wedged between a train line and a hospital, there is a beautiful mural and other street art worth including in your Perth sightseeing.
The area is not super friendly, quite run down and poor. However, you should be fine during the day. The best place to leave your car is at the Officeworks carpark, a little further along Wittenoom Street, once you've crossed the train line.
What's on in Perth?
Street art is a great photography topic when you visit Perth. One of the less known facts about Australia is that street art is popular and celebrated. You may even find some beyond Perth if you take a road trip along the West Australia Coast and Kalbarri. There are many places to do in Perth where you can find creativity and colour. The capital of Western Australia may seem conservative and only interested in the beach but hopefully I have you rethinking your Perth travel guide!
Street art is also present in country towns around WA, including Albany in the South West.
Related Posts
Do you know some great Perth Street Art? Please tell me about it in the comments so I can check it out next time!
Save these secret spots for Perth Street Art on Pinterest!