One of the top attractions in Fremantle, Australia is the prison. It may sound strange to visit a place where people suffered so much but places of incarceration are actually a fairly common tourist attraction in Australia. As the Empire colonised the country in order to incarcerate British convicts, the first buildings are directly related to that history. I find penal colonies of Australia and their history fascinating and I find Fremantle Prison a mine of information about this period. This Fremantle Prison review will help you learn more about this fascinating historical landmark and will help you choose the best tours.
If you are looking for what to do in Fremantle, don't miss this great visit. The prison is one of eleven Australian Convict Sites part of the UNESCO World Heritage, along with Port Arthur in Tasmania. Also in Tasmania, Maria Island is an interesting site.
A Fremantle Prison Review
Fremantle is the port city of Perth, the state capital of Western Australia. It has a more relaxed and multicultural feel than conservative Perth, with plenty of cool street art and a vibrant pub and café culture. As an Australian penal colony, the prison cuts an imposing figure, almost towering over the city. There are several types of tours to explore the prison and you can choose depending on what interests you the most.
This ticket will give you a prison entry ticket and a Fremantle tram tour.
There are plenty of things to do in Fremantle but I strongly encourage you to do at least one tour of the prison. Life as a convict in Australia wasn't easy…
Fremantle Accommodation
It's a good idea to choose something close to Fremantle cappuccino strip as it's convenient and lively.
How to get to Fremantle Prison
Fremantle is only 15 km from Perth. It's a very pleasant drive along West Coast Hwy and Stirling Hwy or you can get there on the train. The Perth to Fremantle train runs every 15 to 30 mins. Fremantle Prison is a 20-min walk from the train station and you can't miss its imposing figure when you arrive. When you look at the Fremantle map, you will see that it's pretty central.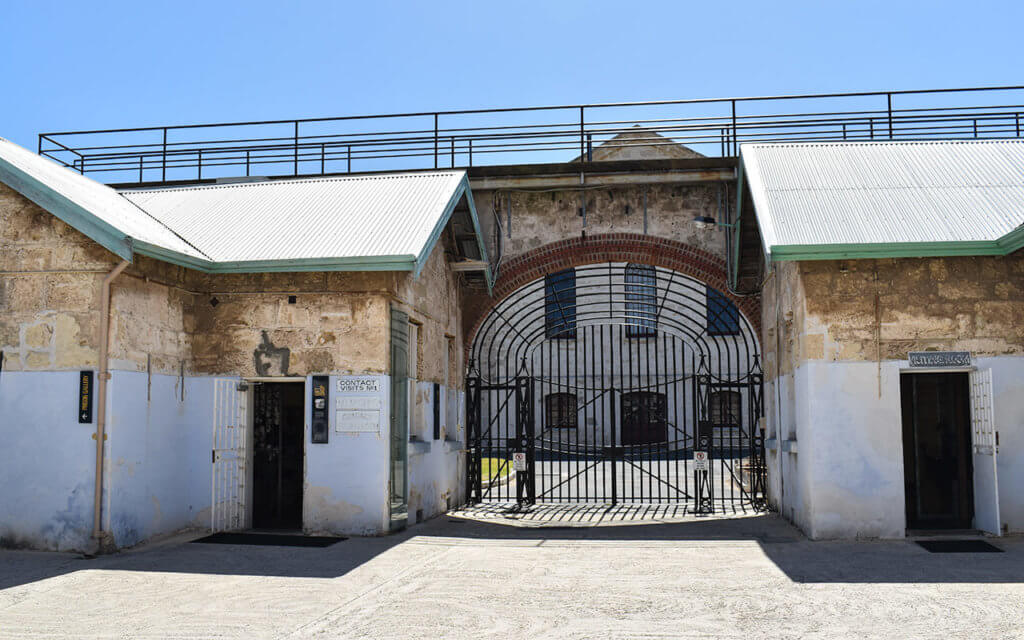 Fremantle Prison Opening Hours
9am to 5pm, 7 days a week, except Good Friday and Christmas Day.
Open until 9pm on Wednesdays and Fridays.
Fremantle Prison History
Western Australia was initially called the Swan River Colony, with a foundation date in 1829. The colony struggled to begin with, due to the harsh living conditions and lack of labour. In order to salvage the colony and assist with development of infrastructure, transportation of convicts from Britain started in 1850, after the practice ceased in the Eastern states of Australia.
The "Convict Establishment" was built by convict labour between 1852 and 1859, using limestone quarried from the site. At the time, convicts stayed at the site of the Esplanade Hotel, on Fremantle's foreshore. The first prisoners moved into the main cell block in 1855 and the Convict Establishment became Fremantle Prison. The following year, convict transportation to Western Australia ended.
Initially, the prison only housed imperial convicts and by 1886, there were only 60 of those in the prison. A women's block was built the following year. In 1890, the population boomed due to the Gold Rush and the prison was busy again, this time with men, women and juveniles… As with many penal institutions, Fremantle Prison was a harsh place, where corporal punishment and psychological torture were used as ways of "reforming" Australian convicts.
Prison Routine
Routine is paramount in order to manage incarceration but not much changed throughout the ages. The day started with an early wake up call (as early as 4.30am during the convict days), a prisoner count, breakfast in the cells. Prisoners went to work in the morning, had some time in the exercise yard and then went to their cells with their dinner… Diet improved in the 1960s but convict life in Australia was hard…
Labour
In the early days, convict labour consisted of chain gangs for public works. As convicts arrived in Australia to build infrastructure, this made complete sense. Things became a little more complicated after the convict period ended. During the second half of the 19th century, prison labour consisted of cooking, washing clothes, cleaning the prison, tailoring, boot making and printing. The prison built new workshops in 1901 to accommodate these activities but in reality, there was little valuable work done, it was more about keeping the inmates busy.
In 1911, outside labour stopped, due to public pressure over discipline concerns. Criminals in Australia had little opportunity to perform valuable labour. The workshops are gone but the buildings still stand today. Some of them now house events like weddings and functions.
Punishment & Gallows
Visit any penal colony in Australia and you will see that corporal punishment was in use, although staff in Freo prison often refused to inflict it… Punishments used at Fremantle Prison included flogging, solitary confinement, a bread and water diet and time in irons. Convict crimes would appear today as fairly minor, often involving stealing property.
The flogging post is still in place in one of the yards and the cat-o-nine-tails is on display. However, its use stopped after 1911.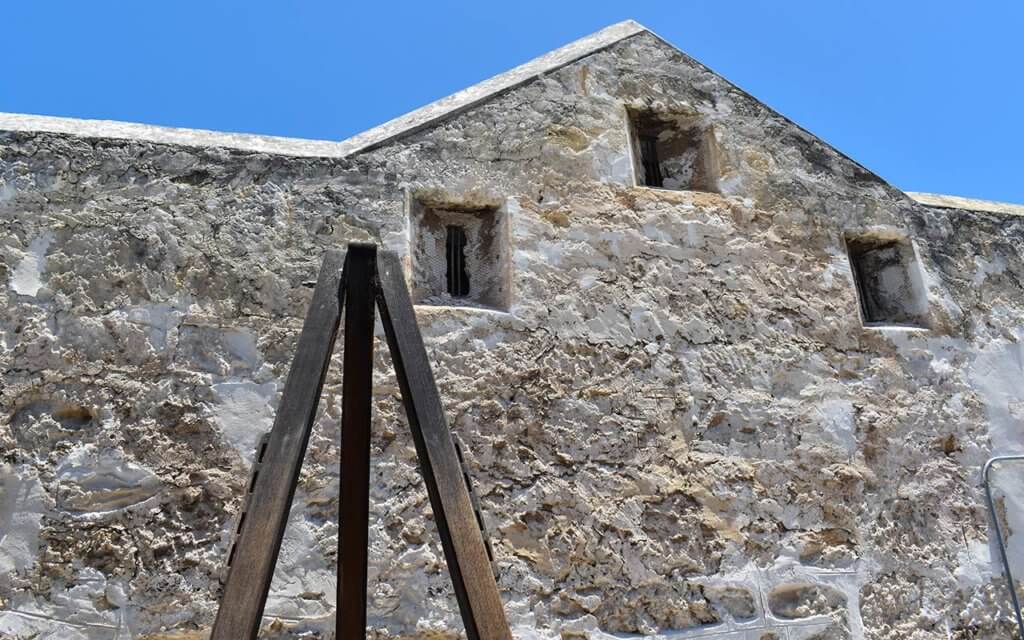 Built in 1888, the gallows room is as creepy as any other. Throughout its history, Fremantle Prison executed 43 men and only one woman, in 1909. The last execution of Western Australia took place in 1964.
Prison Escapes
Even with all its surveillance towers and barbed wire, Fremantle Prison was never escape-proof… Australian convict life was very much about trying to escape and there has been plenty of attempts in its long history. A number of inmates succeeded but by far, the most famous escapist of Fremantle Prison was Moondyne Joe, a bushranger born in England…Convicted of stealing food and transported to Australia in 1853, he received a ticket of leave upon arrival. Moondyne Joe was arrested again for horse stealing and sent to Fremantle Prison. As he kept trying to escape, he kept getting more prison time on his sentence.
After a successful escape and some time on the run, he was caught again and his jailers took extraordinary measures to prevent a new escape.An escape-proof cell was made especially for him , lined with jarrah sleepers and a thousand nails. The cell has been preserved to this day…
For labour, he broke rocks inside the prison and under supervision. The prison governor of the time believed the plan to be perfect and was heard saying to Moondyne Joe, "if you get out again, I'll forgive you".
Moondyne Joe worked behind a growing pile of rocks, obstructed from view. Undetected, he fractured a hole in the prison wall and managed to escape again… After two years on the run, he was caught again. Moodyne Joe received another four years in prison, however, the new prison governor decided to honour his predecessor's promise and granted him a ticket of leave in 1871. I don't think the modern-day prison system would give up on a serial escapist but there you have it!
Prison Riots
Riots and discipline incidents are part of prison life and incidents occurred at Fremantle jail as early as 1854. From race riots in 1909 to strikes caused by poor food quality in 1968, keeping the peace inside the prison remained a challenge. The last and most spectacular riot happened in 1988. Hostages were taken and prison guards were injured.
More spectacularly, a fire broke out and caused $1.8M worth of damage. This event created huge media interest and criticism of conditions of incarceration. Several reviews recommended the closure of Fremantle Prison, but that was the final straw and the jail finally closed in 1991.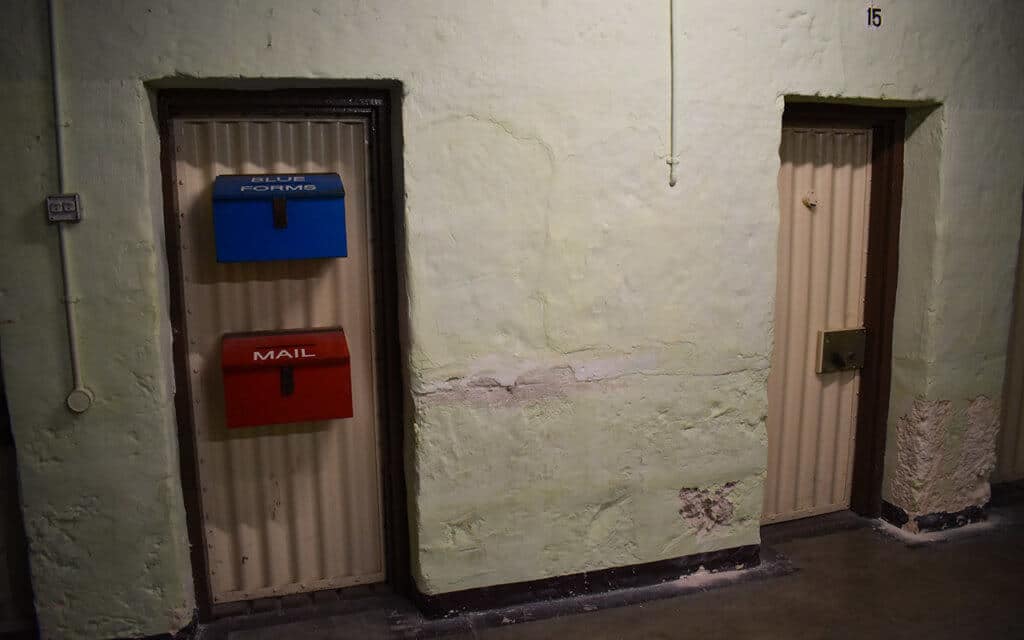 Australian Convict Site – UNESCO World Heritage
The prison was first heritage listed in 1992 and restorations began, mostly focused on the Convict Prison. For a long time, the more recent buildings remained closed to the public. I first visited Fremantle Prison in 1999 and there was only one tour.
Fremantle Prison is now on the list of eleven Australian Convict Sites on the World Heritage List.
Fremantle Prison Tours
Fremantle Prison tour times work so that you can do several tours in a day. As they are quite different and address different times in the history of the prison, it's worth doing at least two.
The Convict Prison
If you only do one Fremantle Prison Tour, do this one. It focusses on the convict period, from 1850 to 1886. The story of the building of the prison, including carving from limestone onsite is really interesting. The chapel is an elegant building.
You get a good introduction to the life of a convict in Australia, including the ticket-of-leave system. This tour does include visiting the gallows and a mock demonstration of corporal punishment. You hear about famous convicts in Australia like Moondyne Joe.
People who research their ancestry through Australian convict records may find trace of their forebears…
Behind Bars
I combined this second tour with the Convict Prison and got to see the more recent part of the prison. You go through the process of entering the prison, the body search, the showers… The guide takes you into the new division, the more recently used exercise yards where Aboriginal inmates painted murals. Going through the kitchen, the workshops, the guide explains the general atmosphere of the modern prison and the state of tension between Australian prisoners and their guards…
The guide also tells the story of the 1988 riots in quite a lot of detail. Maybe because this tour is about the more recent period of the prison, the story feels even more cruel… It's not too hard to imagine the intense heat of the exercise yard, with overcrowding and no shelter from the sun…
The Women's Prison was built after the end of convict period. The walls are nicely painted white but the cells are small and the majority of women who spent time there told stories of poverty, petty crime and prostitution.
On this tour, it's not uncommon for a former inmate or former guard to join in and tell their side of the story…
True Crime
This tour tells stories of specific criminals, more or less famous. From imperial convicts to Irish nationalist prisoners in the old days, there are stories of more recent offenders, including the last person to be executed in Western Australia, serial killer Eric Edgar Cooke.
This tour is not for children under 10.
Tunnels Tour
The Fremantle Prison tunnel tour explores underground. Prisoners excavated the tunnels through hard labour. This is definitely for the more adventurous and you need to be fit, be able to climb ladders and not be afraid of enclosed spaces.
Torchlight Tour
On Wednesday and Friday evenings, this Fremantle Prison night tour takes you through tales of pain, suffering and loneliness. Without being a Fremantle ghost tour per se, this is the hardest of tours to take.
Fremantle Attractions
My first tour of Fremantle Prison was in 1999 and there is a lot more to see today. The initial renovation favoured the convict period but depending on the tour, you can actually see quite a lot of the modern prison now. I recommend choosing at least two tours, depending on your interests. I really want to do the tunnels tour next time.
Related Posts
What to in Fremantle
Western Australia
Perth Itinerary
Western Australia
Perth Street Art
Western Australia
Have you visited Fremantle Prison, how did you find it? Please tell me about it in the comments below!
Save these Fremantle Prison tips on Pinterest!