Albany, Western Australia is a place of historic importance, both in the early days of the Swan River colony and the First World War. The area has some of the best Australian beaches and King George Sound was once a busy whaling centre. Albany attractions are full of history and I listed the best places to visit in Albany in a previous article. Due to its cruel past, I initially had a slight hesitation… Should you visit the Historic Whaling Station, Albany?
Should you visit the Historic Whaling Station, Albany?
This post contains affiliate links. We may receive compensation, at no extra cost to you, when you click on or make a purchase using these links. For more information, please read our privacy policy and disclaimer.
Today, most countries ban commercial whaling. Killing whales for "research" doesn't fool many and only Norway and Iceland still maintain commercial whaling. A few other countries still have some whaling practice for their aboriginal populations but overall, this is something of the past. So why visit the site of such gruesome and abhorrent practice?
On our trip from Perth to Albany, we did just that… Whaling no longer exists in Australia, or in most places, and that's a good thing. But whaling was once an important industry, providing essential and prized products. This part of the world could be only remembered for having some of the best beaches in Western Australia. However, the Albany Whaling Station is the last operation to remain intact. Literally, the place is as it was left when the whaling company closed. The horrific smell, the streams of blood and the whale carcasses are gone, but the buildings and boats have been restored. Instead, you have an interactive and very interesting visit.
You can book a tour from Albany to the Historic Whaling Station.
Whaling is often mentioned when you visit Australia and I've come across different sites in Bruny Island, Port Arthur and Maria Island in Tasmania but these have been completely dismantled and no buildings remain. Whaling is almost like a ghost, it was there but you can't see it…
Discovery Bay became a tourist attraction called Whale World a few years after the closure of its commercial operation. Some say the smell of dead whales lingered for years and some of the workers became tour guides… For this reason, everything is very well preserved and you get a very good insight in whaling in Australia.
Furthermore, there is no glorification of the whaling industry. It was relevant at some point, and whale products were very valuable. It is no longer necessary however, it's interesting from a historical perspective.
History of Whaling in Australia
The Basques, in Northern Spain and South-West France, were the first to hunt whales in the 11th Century. Later on, the Dutch and the British established whaling industries. The Americans and many other nations followed. Norwegian whalers, in particular, became very skilled. In Australia, whaling was one of the first viable industries in the Swan River Colony as Western Australia was initially named. Fremantle was an important whaling centre.
The first whaling company was established in 1837 in King George Sound, less than ten years after the birth of the colony in 1829. A Norwegian company settled in Frenchman Bay in 1912 and it became a serious commercial operation in the 1920s however there were periods of decline, mainly during the world wars. Still, whale fishing became a part of Albany history.
The Cheynes Beach Whaling Company was born in 1952, and was initially allocated a quota of fifty whales. The company mostly hunted humpback whales, but also took some sperm whales and blue whales. At its peak, the company caught between 900 and 1,100 humpback whales and sperm whales in a year.
In 1963, hunting humpback whales was banned, so the focus shifted to sperm whales and some blue whales. On 20 November 1978, the last whale was caught and the company closed its operations a few days later. By that time, the whale quota had been significantly reduced, the licence was renewed year by year and the running costs had become unaffordable. Whale products, once highly sought after, weren't so much in demand. So, the closure was a commercial decision.
Whaling Products
Up until the mid 20th century, whale hunting provided highly prized essential products. Sperm oil was used for lamp oil, candles, soaps, cosmetics and perfumes. Whale oil was used as cooking oil and margarine. Whalebone was used for umbrellas and corsets, whale meat was fit for human consumption. Animal feed and fertiliser were also extracted. So there were lots of uses…
Amber Gris or Grey Amber was the most prized product and was used as a fixative in the perfume industry, but also had many other uses. Amber gris, a solid, waxy and flammable substance is still a slightly mysterious product, formed in the intestine of the sperm whale. Gradually, more modern products such as petroleum, wax for candles and nylon came to replace whale products.
Accommodation in Albany
There is plenty of Albany accommodation to choose from.
Historic Whaling Station
There aren't many whaling stations as well preserved as the one in Albany. In fact, this is the only one in Australia.
Introduction tour
I highly recommend taking the introductory tour. The guide meets at the bench next to an oil tank and takes visitors on a tour, explaining how the Cheynes Beach Whaling Company operated in its day. It is absolutely worth doing in order to get an understanding of the different stages of the operation and the different buildings.
After that, you are free to wander around and see the exhibits of this fascinating Albany tourist attraction at your own pace. I really liked the tour, I was able to get all the information, and then I wandered around taking photos without the crowd… This is why visiting the whaling station is one of the best things to do in Western Australia, you can spend as much time as you want… Albany sightseeing at its best!
The tour runs every hour on the hour, from 10am to 3pm and goes for 40 mns. I recommend a minimum of three hours to cover all the exhibits and enjoy the learning experience.
Flensing Deck
The flensing deck is built over a natural rock slipway. The whales were hoisted out of the water to be processed on land. Flensing comes from a Norwegian word and is essentially the removal of the blubber or fat before cutting up the meat. Whalers developed specialist tools for this gruesome job, several of them are on display in the museum.
Today, the flensing deck looks neat and roomy but it would have dripping in blood and sharks would have hung around the bay. No doubt, hunting whales and processing them is hard and disgusting work… Apparently, some crew members were assigned to shooting sharks if they took too much of a bite out of the prized whales…
Cutting Deck
The cutting deck is above the flensing deck. The large pieces of blubber were hoisted onto this next platform to be cut up and put in the cooking pots. At Albany, the cooking pots are actually under the surface of the deck, so all you see now are the wooden covers. The blubber was boiled to obtain whale oil, which had many different uses.
Still on display is the giant saw used to cut the heads of humpback whales…
Boiler Room
The Whaling Station didn't just catch whales, they processed them to extract various products. So, there is a lot of heavy machinery designed to operate the boilers and conduct other processing. Some of it still works today…
Oil Tanks
The original oil tanks have been transformed into movie theatres, showing short films on whales and marine wildlife every ten minutes or so. The original oil tanks contained up to 60,000 litres of oil… The spirit there is definitely more about conservation, as opposed to exploitation…
Whales
The warehouses behind the oil tanks contain whale skeletons, a sperm whale and a humpback whale. The sheer size of the specimen gives you an idea of how challenging hunting would have been in the old days…
Whale watching Albany is a much nicer way to learn about whales…
Boats and Whale Chasers
Before the whaling industry benefited from advances in technology and thus became way too efficient, the whalers used these agile whaling ships, which couldn't have been much bigger than their prey…
The development of steam powered ships and the explosive whaling harpoon took the industry to a new efficiency and eventually led to over-fishing…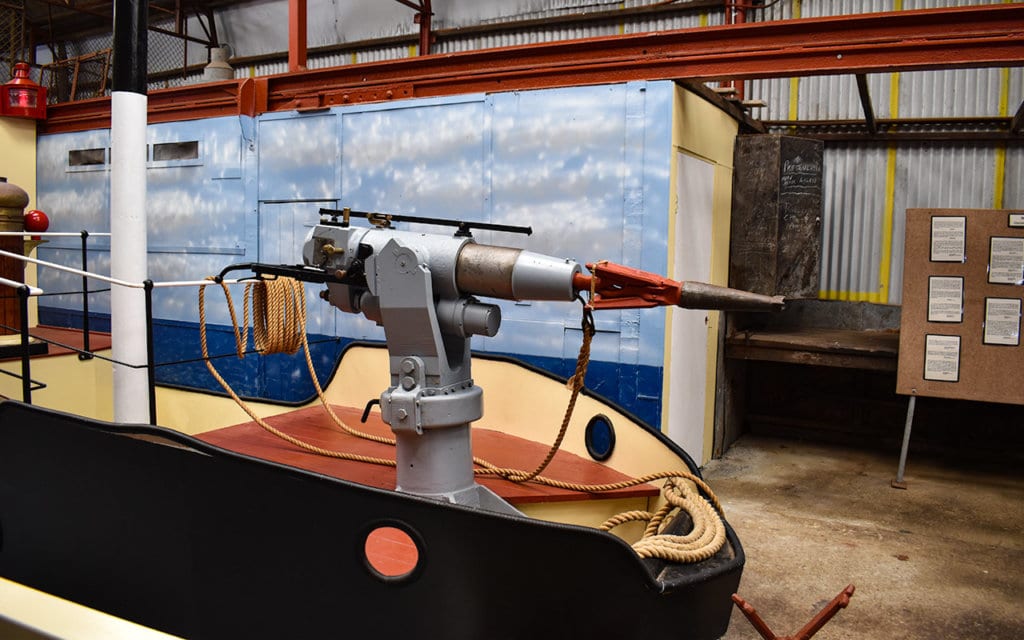 The Cheynes Beach Whaling Company eventually owned three "whale chasers", one of which proudly sits at the entrance of the site. It was the costs associated with these boats that marked the end of the company.
You can visit the Cheynes IV, built in Norway in 1948, including below deck and it's a really interesting insight into life onboard… Imaging 20 crew living on the narrow quarters of this boat… Other ships of the fleet became rescue boats after the company closed, Cheynes III actually became a dive wreck.
McBrides Hut
This bark cottage is very well preserved, complete with furniture and cooking equipment. William McBride worked on an American sealer and decided to settle in Albany in 1869.
He acquired some land near Frenchman Bay and built his little hut there. Incredibly, the hut and its contents were preserved…
This is the humble life led by whale hunters at the end of the 19th century…
Hilda Hotker Shell Collection
This incredible shell collection is on display in the visitor centre and is actually quite fascinating. The idea of admiring a shell collection may seem a little dorky at first but this one was assembled over a lifetime and is incredibly diverse… Beaches in Western Australia have indeed extraordinary resource…
Albany, Australia
There are many more things to do in Albany and its surroundings, and it's worth hanging around for a few days. The Torndirrup National Park is a short drive from Discovery Bay and there are many beautiful Western Australia beaches to explore in the area. We headed back from Albany to Perth after a few days, wishing we'd had more time.
Related Posts
Albany's Historic Whaling Station
Things to do in Kalbarri Western Australia
Save these tips for Albany's Historic Whaling Station on Pinterest!
Have you visited the Historic Whaling Station in Albany? Do you recommend it? Tell me about your experience in the comments below!