West Coast Australia is perfect for an adventurous road trip. Of course, there are plenty of places to visit in Perth and things to do in Fremantle. But if you head north, you will find Kalbarri, a small township on the coast, home to one of the most spectacular national parks in Australia. I recommend dedicating a few days to this wild and rugged stretch of coast. This is the ultimate guide to the best things to do in Kalbarri.
The Best Things to do in Kalbarri, Australia
A few days in Kalbarri, WA will feel like an adventure. First, you have to drive along the coast, along a straight road with not many scenic distractions. When you travel Western Australia, this emptiness is a common occurrence…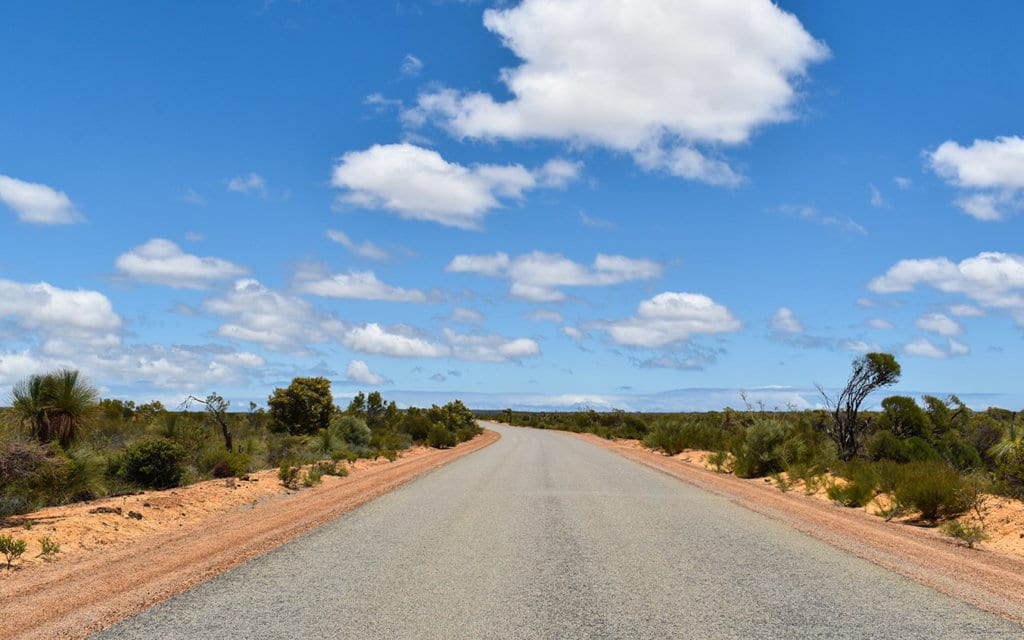 Kangaroos and other wildlife might appear suddenly and the harsh, West Australian sun is an ominous yet essential presence. Kalbarri National Park is a humbling experience, with striking and age-old scenic features. With an inhospitable reputation, the West Australian coast is a gem of rugged wilderness and preserved nature.
How to get to Kalbarri from Perth
The distance from Perth to Kalbarri is about 600km, which makes it a long six to seven-hour drive. The road is pretty straight and in good condition so it's not a difficult drive. However, there are things to see along the way and I recommend stopping for the night. Geraldton or Jurien Bay are good places to stay and it's worth seeing the Pinnacles and Nambung National Park along this iconic Australia road trip.
If you are going on an Australia road trip, I recommend having these road trip essentials with you.
Kalbarri Accommodation
There is plenty of holiday accommodation in Kalbarri and the Kalbarri Beach Resort is quite luxurious but we were happy with something simpler.
There is no accommodation in Kalbarri National Park and camping is not permitted so your best bet is to stay in or around Kalbarri itself.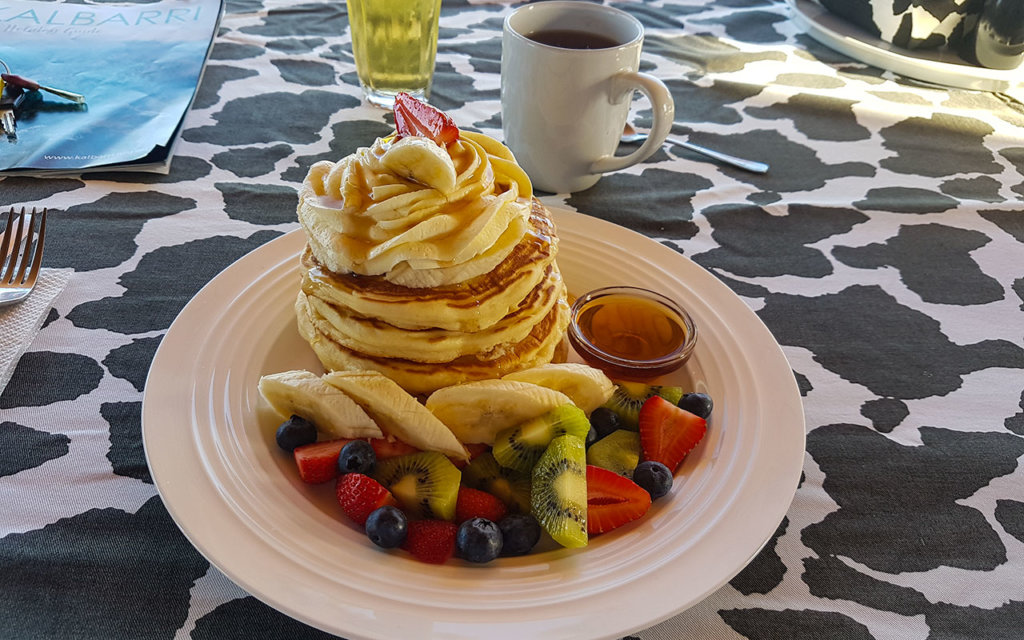 Kalbarri History
Kalbarri and the Murchison River are places of importance to the Nanda people, the local Aboriginal tribe. A main historical fact of Kalbarri's history happened in 1629 when the Dutch ship Batavia was shipwrecked on the Abrolhos Islands. This episode is probably one of the darkest in Australia's colonial history. From Kalbarri to Perth and Fremantle, the shadow of the Batavia is ever-present…
Today, you can take a scenic flight to the Abrolhos Islands.
In the 1940's, Kalbarri fishing became popular and the town is now a sought-after holiday spot on the West Australian Coast.
Best Time to visit Kalbarri, Western Australia
Kalbarri weather is similar to a Mediterranean climate: hot and dry in summer and milder in winter with some heavy rain at times.
The majority of visitors head on a West Coast trip from December to May and the busiest months are in summer and coincide with school holidays. We visited in early January and it was very hot but not too busy in terms of tourist numbers.
If you are interested in wildflowers in full bloom or seeing whale migration off the coast, the best months are September and October.
The Kalbarri Visitor Centre will be able to advise if the flowers are in bloom. Don't forget to pick up a map of Kalbarri as well…
Kalbarri National Park
The National Park is the main attraction in Kalbarri and I thoroughly recommend you dedicate a couple of days to visit it on your West Coast Australia road trip. The gem of Western Australia's Coral Coast is over 180,000 hectares of pristine wilderness, deep gorges and stunning photo opportunities. There are two sides to the park: the coastal park is where you will see the stunning Kalbarri cliffs and the Inland Park is the home of wildflowers, striking rock formations and dramatic gorges.
Kalbarri National Park has some excellent sealed roads and driving around is very easy. If the weather in Kalbarri is sunny, expect some of these views!
Park fees apply, they're about $15 per vehicle.
Kalbarri Inland Park
This is the more famous part of Kalbarri National Park: a rugged, dry and red land, with some surprisingly green and diverse flora. The inland park is known for its deep gorges, delightful lookouts and wildflowers. There are some 800 species of wildflowers in the park. The best time of year to see them is around September and October.
The extraordinary landscape of red rugged cliffs is 400,000 years old and the park covers some 180,000 hectares! The park is remarkably accessible, with some great sealed roads.
There are some 200 animal species roaming the park, including kangaroos, echidna and thorny devils… Usually the best time to see wildlife is at dawn and dusk, but the territory is so big, you'll need a bit of luck!
There is no water available in the park, so you will need to carry your own and have plenty of it. We were there in January and even with hats and plenty of water, the heat was punishing! Hiking early in the morning is highly recommended to avoid to hottest of the day… In fact, some trails even close after 7am…
Whatever the season, I strongly recommend wearing a hat, sunglasses and loose clothing. Sturdy footwear is also very important.
We dedicated a whole day to the inland park and we could have spent more time. It was hot and sunny so long walks were out but we visited the different lookouts and took the Z-bend River Trail.
Nature's Window, Kalbarri
The most famous icon of the inland park is Nature's Window and a Western Australia road trip wouldn't be complete without a souvenir photo. The "window" overlooks the Z-bend gorge and is very popular so you may need to wait your turn.
Carved by the elements over millions of years, the structure is actually a little fragile so climbing all over it is not recommended. The view from up there is terrific!
The Skywalk
We visited the park before the completion of the Kalbarri Skywalk but this promises some stunning views of the Kalbarri gorges.
Z-Bend, Kalbarri
The Z-Bend River Trail is a challenging hike. It's only 2,6km but it is a class 4 and requires a good level of fitness. There are uneven rocks, ladders and some climbing is required. The trail goes down to the river and it's a perfect occasion to experience the cool water…
We did find the hike challenging in the heat but found that even children were participating… It's a very "Kalbarri" experience, rugged and wild, with beautiful scenery.
Ross Graham Lookout
Apart from Nature's Window, this is the most spectacular lookout in Kalbarri Inland Park.
Meenarra Hill Lookout
This was our final stop at the end of the day and the light was dimming. From the lookout, you can admire the Murchison River mouth. After the Batavia shipwreck on the Abrolhos Islands, some of its crew elected to be dropped off nearby.
Kalbarri Coastal Park
We explored the coastal park at sunset and also during the day. It's worth visiting several times if you can in order to get the different colours setting on the cliffs. The cliffs are rugged and spectacular, with colours ranging from dark red to golden in the evening sun.
There are several lookouts to visit and most of them are well signposted. There are boardwalks along the cliffs so it's not a difficult walk. Some areas are very close to the edge though so you do need to be careful.
Natural Bridge
This is the southernmost viewpoint and the natural bridge is easily spotted off the cliffs. There is a boardwalk leading to Island Rock.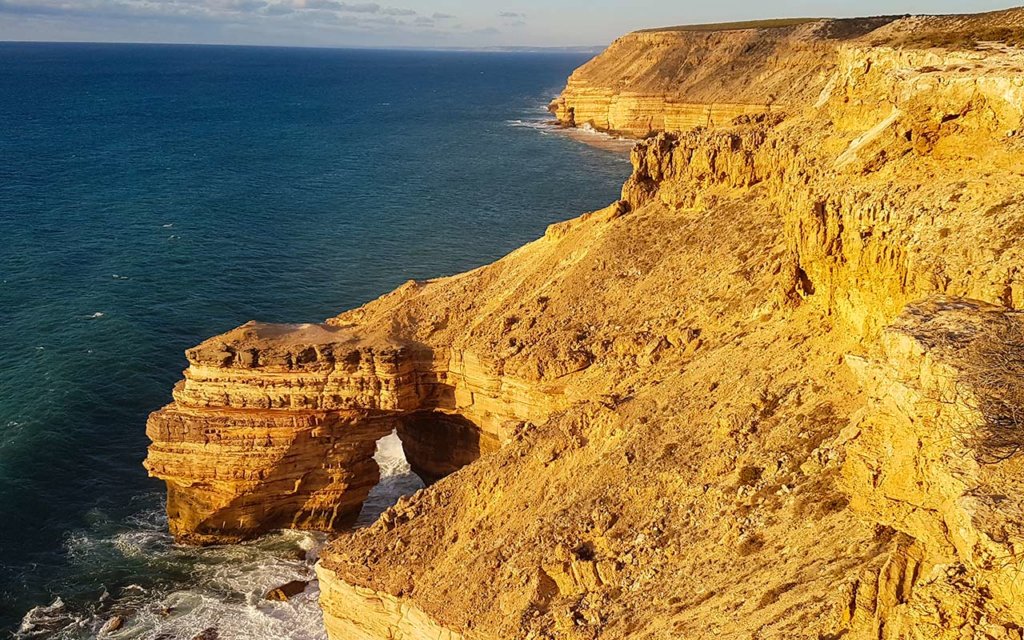 Island Rock
We took the boardwalk from Natural Bridge and watched the sunset.
Bigurda Trail
This coastal trail runs 8km from Natural Bridge to Eagle Gorge and the footpath is quite comfortable.
Shellhouse Grandstand
This is one of the more spectacular lookouts and one of the best to enjoy the sunset.
Eagle Gorge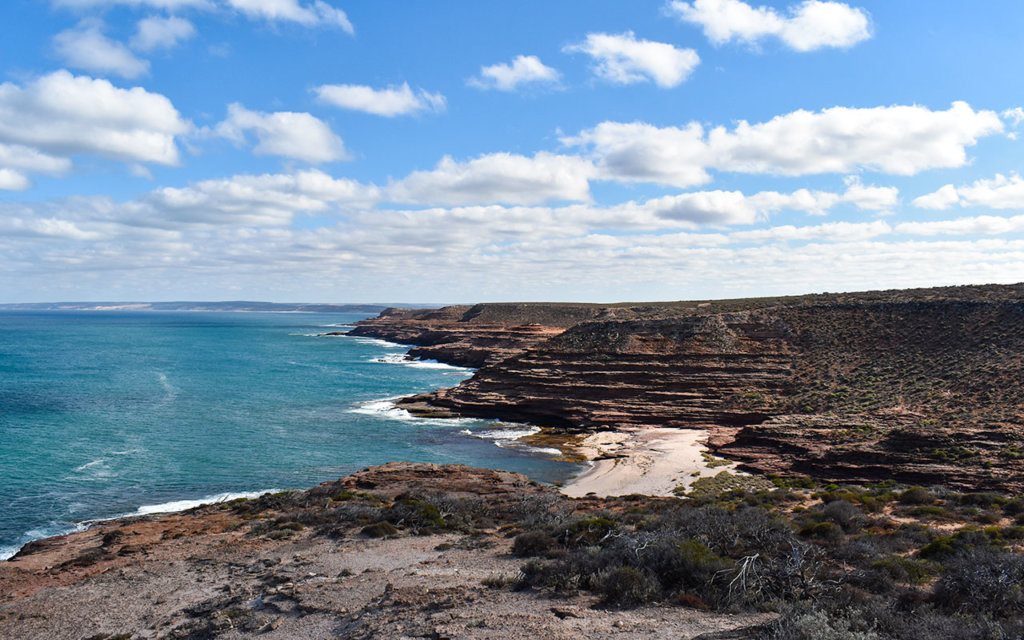 There are other lookouts along the coast. Don't miss Pot Alley, Rainbow Valley and Mushroom Rock.
Red Bluff, Kalbarri
Other Things to do around Kalbarri
Of course, there are other Kalbarri things to do, it's not just the national park. If you are on a trip around Australia, why not try the Kalbarri fishing charters? Here are few reasons why going to Kalbarri is one of the best road trips in Australia.
Blue Holes
This is a pool of water protected by an inshore reef. A Fish Habitat Protection Area, it is home to over 70 species of fish and the ideal spot for snorkelling. No West Coast road trip itinerary would be complete without a dip in the crystal clear waters.
Chinaman's Beach
It's not difficult to find a beautiful beach when you're driving around Australia. Western Australia has some of the most beautiful beaches in the world and the Kalbarri coast is a great place to relax and enjoy the pristine waters… On this Kalbarri Beach, the water is sheltered so it is safe to swim and you are pretty much guaranteed some stunning sunset photos…
Hutt Lagoon
Pink lakes are very popular these days but finding one within reasonably driving distance can be a challenge. Thankfully, Hutt Lagoon is the Kalbarri pink lake and is only 30 minutes south. If you can get some good colour, it's worth including a visit in your Australia road trip itinerary.
First of all, the idea of a pink lake sounds like an artificial gimmick but the colour is perfectly natural. The lake contains a carotenoid-producing algae called dunaliella salina, which is used as a food colouring agent and a source of vitamin A. Carotene is commonly used in cosmetics and it is safe to dip your toes in the water. You'd have to walk on shards of salt though so we didn't attempt it.
The best time to visit Hutt Lagoon is around noon, when the sun is at its peak. In order to capture the best pink colour, you need a sunny day. The view from George Grey Drive is a bit limited, so you need to drive all around the southern end of the lagoon, onto George Grey Road. The Pink Lake Lookout is a bit of a vantage point but it's not very high and only gave a mild advantage.
A cool little detail is the sign "pink lake" covered in salt, you can see it from the road.
Hutt Lagoon Pink Lake Flight
This post contains affiliate links. We may receive compensation, at no extra cost to you, when you click on or make a purchase using these links. For more information, please read our privacy policy and disclaimer.
A better guarantee to see the pink lake in its unique beauty is probably from the sky. There is a Hutt Lagoon Pink Lake flight departing from Kalbarri Airport that also covers the cliffs. A scenic flight is something to do on a road trip around Australia, so why not in Kalbarri?
Western Australia's Coral Coast
A couple of days in Kalbarri is enough and not enough at the same time. We saw plenty when we were there but felt it was worth a few more days to explore deeper into the national park. On the long drive along the coast of Western Australia, Kalbarri is an ideal stopover, along with Coral Bay and Geraldton. We went back to continue with our Perth itinerary and even went to Albany and its historic whaling station. Hopefully, we will be back in the future. We discovered some great street art in Perth, which is also a great experience!
Related Posts
Have you visited Kalbarri? Please share your experience in the comments below!
Save these Kalbarri tips on Pinterest!