The West Coast of New Zealand remained a step too far for several years, but this time, I was determined to make it there and see what the fuss was all about. In this post, I will show you how to explore the West Coast from Greymouth New Zealand.
I had seen some spectacular New Zealand pictures taken on the West Coast and some of the best hikes in New Zealand are on that side as well.
How to explore the West Coast from Greymouth New Zealand
We had several places we wanted to visit and Greymouth's central location on the West Coast made it an obvious choice. Landing typically in Christchurch, getting to the West Coast is a great South Island road trip. Beforehand, I suggest exploring Akaroa, on the Banks Peninsula.
Renting a car in New Zealand was the best option. And off we went to some great South Island destinations!
Also, don't forget to read about road rules in New Zealand.
Arthur's Pass
The most common route for this New Zealand itinerary is via Arthurs Pass, a busy and possibly treacherous road, and the only link from coast to coast. As you leave the easygoing and pleasant Canterbury plain, you catch a sight of the snowy peaks in the distance and the mountain rises. Slowly at first and then quite steeply, the road seems too hard and too narrow for the type of traffic: merchandise trucks and tourist buses bravely climb the steep hills.
The road is quite good but the heavy traffic and number of potentially inexperienced drivers can make it a challenge, especially when the weather gets involved. Many New Zealand South Island tours take this route so it's a bit unavoidable.
And just like that, just a few hours after landing in the "Land of the Long White Cloud", we are experiencing mountain driving in New Zealand.
And we are clearly on the essential link between the East and the West Coast.
As we reached the pass, the South Island weather became ugly: rain, wind and cloud. Not much to see in these conditions and we were left with a serious desire of trying again on a sunny and dry day.
Still, if you enjoy a good road trip, this is one of the best things to do in New Zealand South Island.
The Christchurch to Greymouth drive took between four and five hours, with a few photo stops and lunch.
What to do in Greymouth
This post contains affiliate links. We may receive compensation, at no extra cost to you, when you click on or make a purchase using these links. For more information, please read our privacy policy and disclaimer.
After the descent from Arthurs Pass, through quiet meadows and rural hamlets that seem to be forgotten in time, we reached Greymouth. Locally known as "the big smoke" of West Coast New Zealand, Greymouth has an industrial feel that seems quite out of place in such a remote place, at least to first-time visitors. But this is how Greymouth came to be, through mining…
We didn't find many things to do in Greymouth itself but its location makes it the obvious choice for exploring the West Coast of New Zealand, being roughly in the middle.
Greymouth Hotels
Accommodation in Greymouth is not especially glamorous and consists of motels and motor inns. We were surprised at how busy they were. Spring is a busy season in New Zealand however, I got the impression that the hotels were full of local transit, and not just tourists: truck drivers spending the night on their way to the north or south of the coast.
We managed to find some good Greymouth motels and stayed at two different places: the Scenicland Motel and the Coleraine Suites.
Both places were very clean and comfortable.
With its industrial feel, we felt Greymouth was aptly named but not totally devoid of personality. On our visit, the coastal weather was in full swing: we experienced wind and rain like rarely before. Coming from Australia on the verge of its worst-ever bushfire season, we felt giddy with joy at the prospect of donning raincoats and beanies for a wet walk around town.
Greymouth Beach and Northbreaker
Getting drenched at the beach seemed perfectly reasonable and the Northern Breaker delivered well. Even in terrible rain and wind, the West Coast offered an impressive spectacle.
The wet pebbles of the beach had amazing colours, all in greys and browns. By that stage, we wished we could send some of that rain to the East Coast of Australia.
Greymouth Restaurants
Greymouth didn't strike me as a foodie's paradise, a bit like many medium towns in New Zealand. But you can always rely on quality meat and produce in New Zealand. We had an expensive but delicious breakfast at SevenPenny.
Monteith's Brewery is one of the best Greymouth attractions though. The brand is well known for its range of beers and ciders. Monteith's is a big commercial brand in New Zealand, and whilst not a lot of beer or cider is brewed onsite, the brewery tours are quite popular.
The restaurant is really good and you can sample the various beers and ciders, as well as buying some to take away. I would describe the food as higher-end pub fare, with delicious sliders and burgers.
We really enjoyed the food, the working warehouse atmosphere and tasting the more unusual kind of cider. I wouldn't normally go for a berry cider but this one was not overly sweet.
Driving the West Coast
The West Coast has got to be one of the great drives of the world. Generally, the roads in New Zealand are good, although you need to be mindful of the weather conditions, which can change pretty quickly. The road along the coast is a two-way track, with a fair bit of tourist traffic.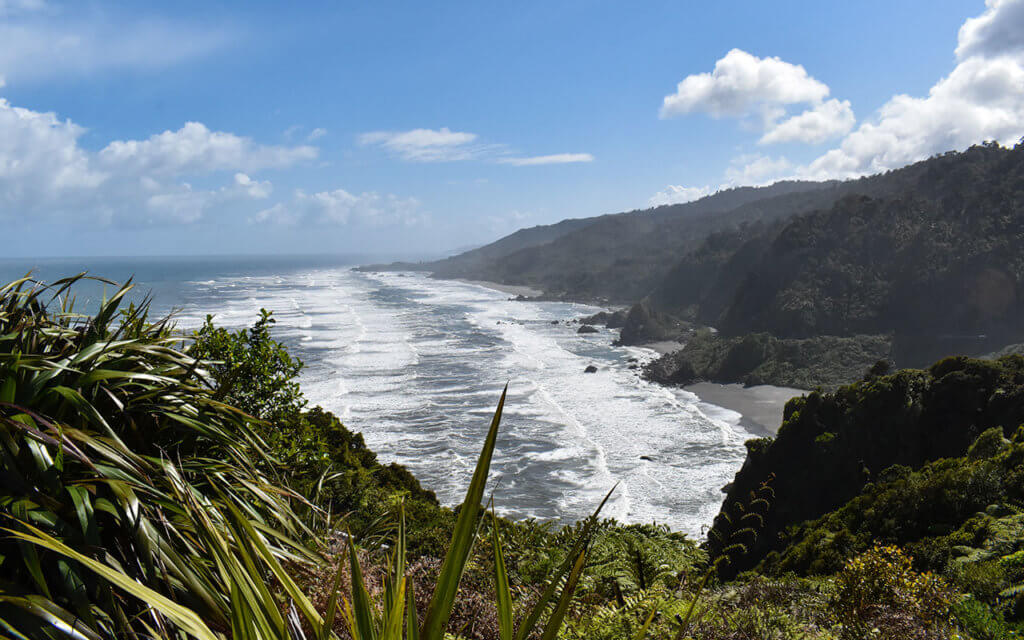 The stretch of land between the ocean and the mountains is pretty narrow and can only accommodate a road, a train track and maybe a few fields.
The "bush" or tropical forest at the foot of the mountains, seemed completely impenetrable.
There are lookouts and places to stop for photos, and they can get busy sometimes with tour buses and campervans.
The New Zealand beaches in that area are a mix of pebbles and dark volcanic sand. They are quite stormy and most probably very cold.
I could have sat there for hours watching the waves crash along the coast but we had planned a whole New Zealand South Island itinerary so it was time to get going.
Punakaiki – Pancake Rocks
We took a day trip towards the north to Cape Foulwind, which is a couple of hours' drive from Greymouth. Along the way, we stopped at Punakaiki, to see the Pancake Rocks. As independent travellers on a road trip, we felt a little uneasy to stop where all the tour buses were, but it is one of the West Coast attractions and well worth seeing.
The Pancake Rocks are a natural formation of perfect sediment layers. The reasons of this phenomenon are largely obscure but the regularity of the layers and combination of colours is fascinating.
The circuit takes about 20 minutes to complete, allowing more time for photographs. Most of it is fairly flat and accessible however, there is a section with a few stairs.
The view of Pancake Rocks against the backdrop of the New Zealand Coast is quite stunning.
Cape Foulwind
We were very keen on some day walks for our New Zealand South Island road trip, and Cape Foulwind was one of the first. British explorer James Cook bestowed its unfortunate name in 1770 after his ship Endeavour was blown off the coast by strong winds…
It's a beautiful stretch of coast, between Tauranga Bay and the Cape Foulwind Lighthouse. The walk is about 3.5km and not too difficult. We started at the northernmost point, near the lighthouse. The path is quite easy, if very close to the cliff. You get amazing views all the way to the other end and some sheep will watch you walk past.
As in several New Zealand hiking trails, a section of the track is a boardwalk, with a viewpoint over a colony of fur seals. You will see them rest and soak up the sunshine, lying on the rocks. As they spend long periods of time at sea, this rest time is very important.
The walk finishes at Tauranga Bay, as always patronised by campervans and sea birds. We walked back from there. Our total walking time for the return walk was around 2 hours.
New Zealand hiking is a great experience and we enjoyed Cape Foulwind so much I added it to my list of best day hikes in New Zealand.
Driving to Cape Foulwind to take a coastal walk, with a stop at Pancake Rocks, a stop for lunch and several photo stops along the way was a very good day trip. We drove back to Greymouth and still had time to spare in the afternoon.
Hokitika
The smaller township of Hokitika is one of the places to visit on the West Coast we really enjoyed. Greymouth to Hokitika is a half-hour drive (36 km) along a straight road. We went there on a recommendation of the locals and were very pleasantly surprised.
Hokitika is smaller than Greymouth and has a more beach town feel to it, much less industrial. The town obviously benefited from the same industrial growth, as some expensive-looking buildings in town attest. But somehow, the presence of coal and merchandise traffic is less prevalent.
The streets are lined with pretty houses and the beach is quite inviting, especially at sunset.
Again, the food scene is limited and prices are on the high side, but we thought Hokitika would be a perfect alternative for your West Coast accommodation. And if you stay the night, you can visit the glow worm dell, just outside of town. This is one of the few places in New Zealand where you can see glow worms for free.
Hokitika Gorge
As far as exploring the West Coast, Hokitika Gorge wasn't that further away on the road to the glaciers.
It's a pleasant drive through the green meadows, showcasing New Zealand's rich pastoral industry.
The road progresses calmly through fields and Hokitika Gorge appears quite suddenly, as a dip in the landscape. The gorge is an example of the beautiful blue colour created by "alpine flour" in New Zealand lakes and rivers. Alpine or glacial flour is a very fine powder generated by the grind of glacier rocks at the bottom of rivers and lakes. It gives an eerie (and highly photogenic) turquoise blue tinge you can't help but want to capture.
The brightness of the colour is somewhat dependent on sunshine though. It was a bit of a grey day when we visited Hokitika Gorge so the result isn't spectacular. Still, it was a lovely drive.
Haast Pass
The other road to return from Greymouth to Christchurch is through the Haast Pass. We drove from Greymouth to Franz Josef in about three hours (175 km), with a few stops to look at waterfalls.
The pass is not as spectacular as Arthur's Pass but it still some good mountain driving. The road was closed due to flooding not long after we went through.
That was our way back to Queenstown and Milford Sound.
Franz Josef Glacier
The reason why most people embark on the long drive along the West Coast is to see the glaciers. If you are after more great New Zealand walks, Franz Josef is a good place to stop.
New Zealand is a major hub for adventure travel activities and Franz Josef has plenty of options. We elected to stay in Fox Glacier but still chose to do the Franz Josef Glacier walk, which is a popular and relatively easy day walk.
On this walk, we got as close to the glacier as currently possible. Since 2008, the glacier has retreated a fair bit so the actual ice is some distance away.
For other things to do in Franz Josef, consider a helicopter tour. We wanted to fly over both glaciers from there but unfortunately, we had to cancel our plans due to the weather. We always try and include a helicopter ride in New Zealand!
Fox Glacier
Fox Glacier is the smaller township over the mountain from Franz Josef. Slightly less busy than Franz Josef, it offers the same types of adventure activities and a view over the glacier. For more leisurely New Zealand walking tours, I recommend Lake Matheson.
We didn't get to see a perfect mirror effect on that day as it was a bit windy but it was a very pleasant walk through the wetlands.
If you are pressed for time, you can skip Franz Josef and head directly from Greymouth to Fox Glacier. Similar helicopter tours are available there as well.
South Island Points of Interest
There are plenty of New Zealand South Island attractions to discover during your West Coast holidays. I haven't explored the north of the West Coast yet, I'll need to design another South Island itinerary for that.
I also need to go back to the North Island of New Zealand as my road trip there was a little hit and miss! If you are doing a road trip, don't miss my list of essentials to take with you. And I also have a list of the most stunning New Zealand lakes.
Related Posts
Things to do in Akaroa
New Zealand
2 Weeks in New Zealand South Island
Have you visited the West Coast of New Zealand? Please tell what I missed in the comments below!
Save these Greymouth tips on Pinterest!