I make it no secret that New Zealand is one of my favourite countries to visit. I have travelled there several times as a couple and I keep discovering new places and activities. From helicopter tours to driving in New Zealand, on our last trip, we completed some great New Zealand walks: the best day hikes in New Zealand.
The Best Day Hikes in New Zealand
On our last New Zealand South Island itinerary, we chose several day hikes of various difficulty levels. We had a lot to pack into the trip and quite a lot of driving. It was fantastic to alternate a driving day with a day in the wilderness…
There are lots of New Zealand tours that will include some walking, but we chose our New Zealand hikes to be autonomous and felt very safe doing so.
Renting a car in New Zealand was the easiest for us and you'll probably need a vehicle to get to some of these walks.
Eventually, I'm sure we'll consider New Zealand to try some of the great walks of the world…
Hiking in New Zealand
New Zealand hiking can be as easy or as hard as you make it. There are short walks, day walks or multi-day walks and the level of difficulty varies. New Zealand hiking trails are well indicated and it's a great country to get started. In New Zealand, hiking is usually called tramping.
The best hiking in New Zealand will take you to vast wilderness areas and will show the most beautiful scenery. Tramping is quite well organised in New Zealand, with guarded huts, clear maps and local knowledge available at i-Site offices.
As with hiking anywhere else, you do need some preparation. First of all, you need a decent level of fitness and you need to dress and equip yourself to the conditions. New Zealand doesn't have snakes or too many dangerous animals so you will generally be safe.
The weather conditions can vary greatly from a day to another and you need to be ready for both rain (it can rain a lot in New Zealand) and sunshine (the sun can be very harsh).
What to pack on a day hike
For a day pack, we carried a light rain jacket, a light jumper, a hat, sunglasses and sunscreen to be ready for anything. I had my reliable hiking boots on and lightweight hiking pants.
| Image | Title | Description | Brand | Buy |
| --- | --- | --- | --- | --- |
| | The North Face Women's Resolve Parka II | Lightweight and designed for your next adventure | The North Face | Buy on Amazon |
| | Icebreaker Merino Womens 175 Everyday Merino Wool Base Layer | 100% Merino Wool, long sleeve, half zip | IceBreaker Merino | Buy on Amazon |
| | Salomon Women's Quest 4d 3 GTX W Backpacking Boot | Salomon 2 year limited warranty | Salomon | Buy on Amazon |
| | Outdoor Research Rocky Mountain Low Gaiters | Water resistant and breathable | Outdoor Research | Buy on Amazon |
| | Osprey Ultralight Stuff Pack | Lightweight, foldable, water resistant, durable | Osprey | Buy on Amazon |
| | LifeStraw Go Water Filter Bottle with 2-Stage Integrated Filter Straw | 2-stage activated carbon filter reduces odor, chlorine and leaves zero aftertaste | LifeStraw | Buy on Amazon |
Of course, we took some food with us, usually a sandwich and some snacks. We also had a generous supply of water. The one thing I didn't have and really missed were gaiters. There are many rivers and fords to cross!
Wanaka
Wanaka is a great base for a few days in South Island New Zealand. There are plenty of things to do and plenty of good day hikes. Lake Wanaka is one of the most stunning New Zealand lakes at any time of the day, and it's not all about that tree!
If you are on a New Zealand road trip, Wanaka is a great place to recharge and resupply. There are several food shops and supermarkets. We stayed in self-contained Wanaka accommodation so we didn't get to the restaurants but there is plenty to choose from.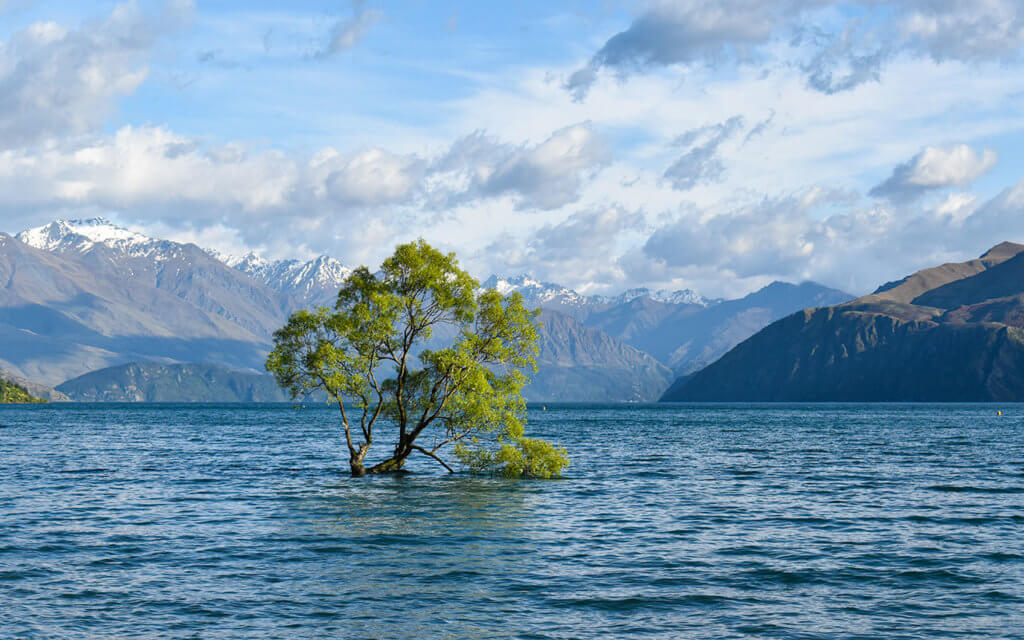 With several nights in Wanaka on our New Zealand South Island tour, we dedicated two days to Wanaka walks. We also took a quick peek at the famous Wanaka tree!
If you are looking for other things to do in Wanaka , there are some good local bars and shops.
Roys Peak New Zealand
Some of the best hiking in New Zealand can be the hardest but the rewards are there. Roys Peak is one of the most popular Wanaka hikes and we were lucky to do it on a beautiful sunny day.
You can go pretty much anytime of the day but the view is really spectacular at dawn, if you can climb before then. Roys Peak is also very popular at sunset, but that would require going down in the dimming light.
As for the best season, I always recommend spring and summer, or even autumn. You can climb Roys Peak in winter but be mindful of the weather conditions, as the track goes through avalanche terrain at around the 1000m mark.
The Roys Peak Track Carpark is only eight minutes from the lakefront and very easy to find, just on the side of the road. Parking is free, however there is a donation box at the start of the track, where hikers are asked to put a two-dollar coin. We got there in the morning, and it was already busy, so make sure you time your arrival right. Toilets are 200m from the carpark. There is a drop toilet at the saddle.
The track to Roys Peak goes through private farmland so you need to be respectful of the surroundings and the sheep. Also, the track is closed from 1 Oct to 10 Nov, to allow for lambing season. The track opens in consultation with the local farmer so it's worth checking with i-Site when you get to Wanaka.
There is no water on the track, so you will need to pack your own. The hike takes about 5 to 7 hours return so you will need to pack a sandwich or some snacks.
The track starts with a steep 4WD track that zigzags across the mountain. Once you are in the conservation, the vegetation consists of wild tussock grasslands, which are quite pretty, all the way to the top.
Technically, the track isn't difficult. At the beginning, it's quite broad enough to accommodate the crowds. It is very steep though and remains that way until the saddle. It's not an easy climb. I actually found it punishing and really struggled towards the end, especially when seeing that other people were practically running up the top!
It doesn't take long to get beautiful views of Lake Wanaka. The colours in the sunshine are absolutely stunning and the higher you get, the most spectacular it gets.
This was such a hard walk and it made me realise that I'm not a very good climber. Maybe I wasn't ever a good climber… Yet, I was determined to make it to the top, I really couldn't bear the thought of giving up and going back down without admiring the view.
When we got to the top, we were duly rewarded. The "top" is actually the saddle and most people stop there. If you want spectacular photos of yourself embracing the air above Lake Wanaka, with Mount Cook in the background, that's as far as you need to go.
At that point, we had climbed about 1300m on 8km distance.
I must admit I was completely spent when I got to that point and had no desire to go further. My husband tried to climb the last 200m, which are even steeper, but it was too hard.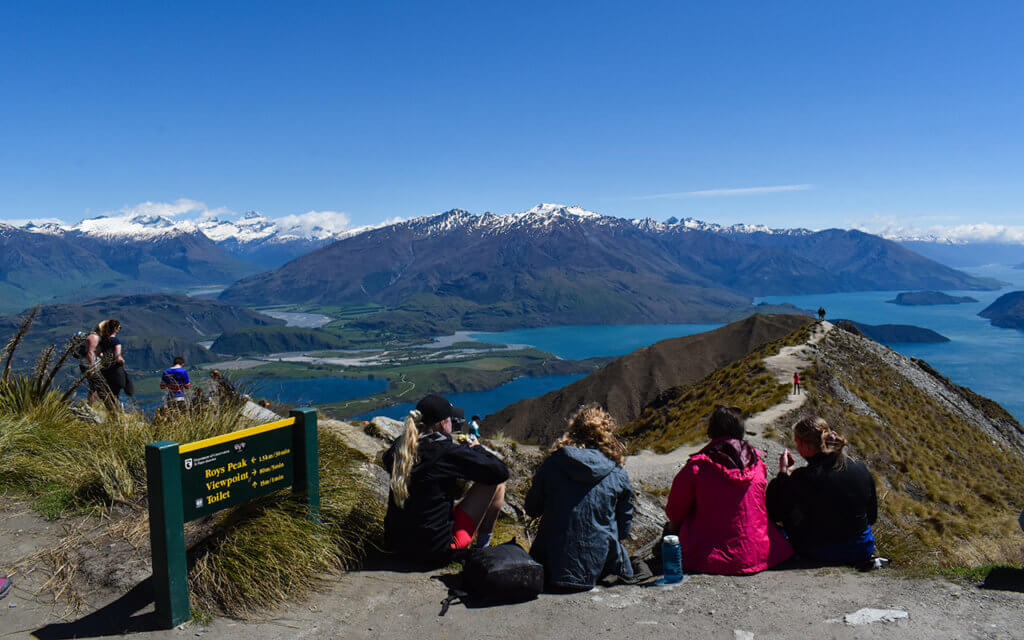 At the saddle, there were a fair few people and we had to queue for photos. It sounds terrible but it was good to have a rest and I found that people were quite disciplined, leaving plenty of space for people to get an unobstructed view and were even helping each other with photos.
We had such a beautiful day, and such incredible views!
The way down is a lot easier, obviously and many people were still climbing. It was fantastic to walk down with those views. Towards the end though, my knees were hurting badly.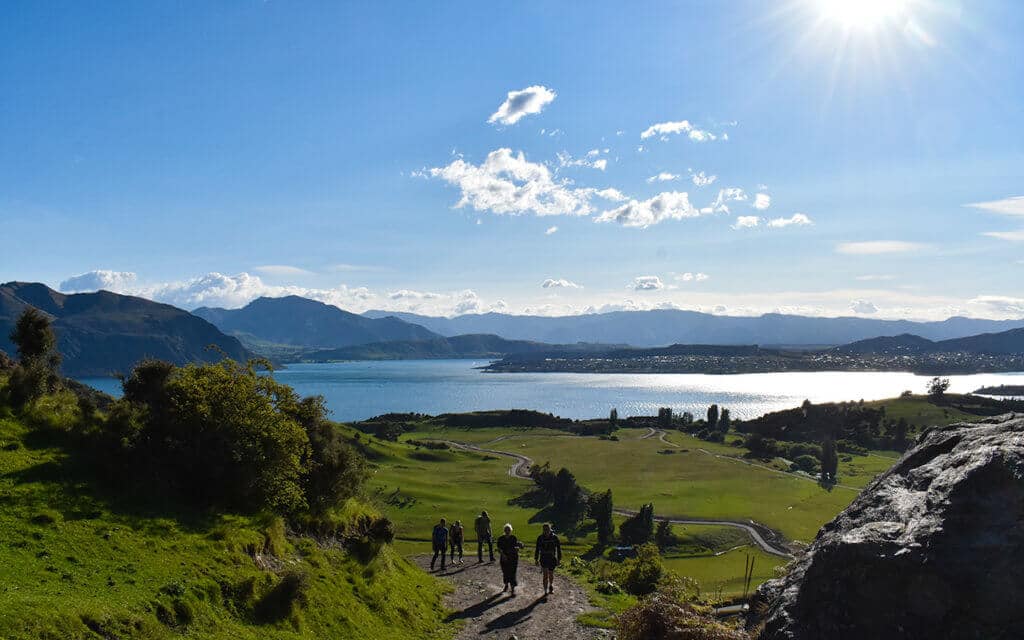 All up, the return walk to Roys Peak is 16km and the climb is 1500m if you go all the way to the top.
Roys Peak has been named as one of the best walks in New Zealand and it is, but it's a hard one. I'm really glad I did it in sunny weather as it was absolutely worth the pain.
Mount Aspiring Hut
Mount Aspiring National Park is one of the larger parks in New Zealand and offers plenty of day walks and multi-day walks for hikers. We chose to go to Mount Aspiring Hut via the West Matukituki Track.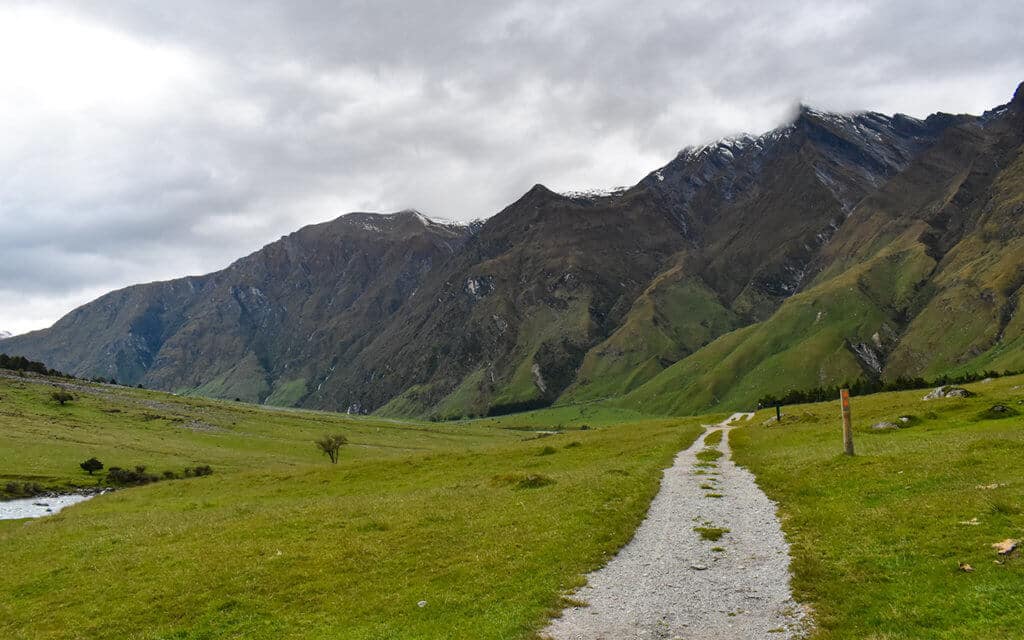 To get there from Wanaka, you need to drive 55km to the Raspberry Flat car park, where you can find toilets and water. It's already a beautiful drive and as you progress, you get a sense of remoteness and wilderness. In spring, the paddocks were full of sheep and the birds were singing loudly…
West Matukituki Valley leads to places beyond the Mount Aspiring Hut but it was enough for a day trip. The track took us past the start of the Rob Roy Glacier Walk but it was closed at the time.
The track is fairly flat, this is an easy grade. There are several styes as this is private farmland. We also had to cross quite a few fords and got our feet wet. Initially, they weren't too deep, but we realised that we weren't going to be able to avoid them.
It was fun though, we ended up having a bit of a competition finding the best way to cross the streams without falling off the rocks! You get used to having wet feet after a while, it's part of the adventure!
The track is fairly narrow and rocky, but easy to follow. You need some good sturdy shoes and to watch your step!
It was brilliant walking through grazing land in spring, lambs were everywhere and watched people go past with curiosity. We even saw wild geese!
The weather wasn't great that day, fairly cloudy, but it wasn't too cold and there was a light wind. The conditions were quite pleasant and the track was nowhere as busy as Roys Peak.
From the carpark, walking to the hut takes about 2,5 hours. The hut is a historic building, with a warden during the hiking season. Bookings are required if you want to stay overnight. When we got there, there were several small groups of people planning to stay the night, including families.
We sat down and ate our sandwiches on a bench, replenished our water supplies and used the facilities.
Prior to arriving to the hut, the track became quite muddy, almost wet. But it wasn't a problem with sturdy hiking boots.
After taking a break at Mount Aspiring Hut, we headed back, crossed the same fords and greeted the same sheep. New Zealand treks can go for several days and there were a few people spending the night at the hut.
We completed the return trip in five hours, almost 20km all up. The hike wasn't technically difficult or too demanding but getting back to the car was still a relief.
The West Matukituki Valley has a stunning grandeur and decided this must be one of the best hikes in New Zealand.
Blue Pools
The walk to get to Blue Pools is probably too short to be a day hike but the place is so stunning I wouldn't leave it out of our New Zealand itinerary… On the drive from the West Coast to Wanaka, across the Haast Pass, Blue Pools is a curiosity… and one reason to train for the hikes in Wanaka.
New Zealand lakes are renowned for their unique blue colour, due to the reflection of the blue sky into the lake waters lined with "glacial flour". In order to achieve that exceptional blue colour, you need sunshine…
We visited the Blue Pools on a cloudy day and I expected to be disappointed. From the carpark, which can get very busy in high season, the walk to the swing bridge above the Blue Pools takes about 30 minutes through the forest.
You get to a first swing bridge, then walk again through the forest to see the Blue Pools. The waters of the Makatora River are incredibly transparent and very very blue…
If you visit after heavy rain, the water might appear a bit muddy though…
West Coast New Zealand
The West Coast of New Zealand is absolutely worth including in your travels, and there are a few good walks. We based ourselves in Greymouth for a couple of days in order to explore the area. We had both foul weather and stunning sunshine…
North of Greymouth is a great coastal drive and we took a day trip to Cape Foulwind. The New Zealand coast is impressive and very dramatic!
Cape Foulwind
We didn't find many things to do in Greymouth, especially in bad weather so we headed north.
Cape Foulwind is a headland on the Tasman Sea with a bit of history. It was initially named Rocky Cape by Abel Tasman and then renamed in 1770 by Captain Cook when his ship Endeavour was blown a fair way off the coast…
Today, Cape Foulwind is an easy coastal walk and one of the best places to visit on the West Coast. The drive from Greymouth to Cape Foulwind takes about 1,5 hours. You can start the walk either at Cape Foulwind at the north point or at Tauranga Bay at the south point.
We started at Cape Foulwind and a leisurely pace took us to Tauranga Bay in 1,5 hours. The path is a fairly easy dirt path and there is a boardwalk along the rocks.
The viewing platform is a great place to look for passing whales and dolphins. The fur colony is busiest from November to January, during breeding season.
In a short amount of time, we had a mix of weather at Cape Foulwind. We started our walk in a beautiful sunshine, which was great for photos of the lighthouse. And then, we got some rain and everything went grey for a while…
We walked back after a picnic at Tauranga Bay and the weather fined up again!
If you are planning West Coast holidays, I highly recommend this walk. It's an easy 3-hour walk by the coast and the views are absolutely stunning!
Fox Glacier
Fox Glacier is a quiet little township dedicated to visiting the largest glacier in New Zealand: Fox Glacier.
This is the ideal place to pick up a helicopter for a scenic flight or even a heli hike. We missed out on our helicopter flight over Fox Glacier due to bad weather so instead we went for a hike at Lake Matheson.
Lake Matheson
You may have seen it on Instagram… On a good day, Lake Matheson and its glass reflection of the mountains is absolutely stunning!
In order to make the best of the place and take the best photos, it's worth taking a walk around the lake.
Lake Matheson is uniquely positioned to reflect both Mount Cook and Mount Tasman, the two highest peaks in New Zealand. The mirror reflection is created by the dark brown water. In order for it to work, you need a sunny and still day, with no wind…
We had a few ripples on the water when we visited so we didn't get the required effect, but taking the circuit walk is still worth it.
You can get to the pontoon for the best view in 40 mins, and the circuit walk around the lake takes 1,5 hours.
It's an easy grade walk, with some steps and lengths of boardwalk. Some of the walk is in the forest, some is on the edges of the lake, with plenty of tall grasses and birdlife.
If you are staying in Fox Glacier for a few days, it's worth going to the lake several times until you get the mirror effect…
Franz Josef
Franz Josef Glacier Walk
This is an easy grade hike to do if you have a few hours in Franz Josef. The Franz Josef Glacier is smaller than Fox Glacier but you can get to on foot. Starting from the carpark, the return walk is 1,5 hours and is quite easy.
Essentially, you walk on the flat bottom of the valley left by the receding glacier, passing a few waterfalls. We encountered a few fords but the streams were pretty thin, so it wasn't a problem. The track is made of rocks and is quite well indicated.
When you get closer to the névé (the tongue of ice of the glacier), the track gets steeper. At some point, you will find a sign showing the reach of the ice in 2009, giving you an idea of how much the glacier has receded. This is quite sobering because the ice seems to be quite far away from that point.
After a bit of climb, you get to the end of the track. Past that point, there is no track, only rocks too dangerous to climb. Even from there, the névé is quite far and you don't actually get to step on the ice.
On the way down, the view over the bed of what was the glacier many years ago is quite grand. This walk isn't the most scenic or satisfying hike I've done in New Zealand but if you need a confirmation of how much climate change is affecting our environment, I recommend you see it first hand.
Queenstown
There are so many things to do in Queenstown and so many adventure attractions, it's easy to only focus on that. But, as we found out, the top things to do in Queenstown can be free and include a day walk.
Ben Lomond Saddle
With a bit of effort, you can find some beautiful wilderness areas on your Queenstown holiday. As we are already familiar with many Queenstown activities, we decided to get outdoors and find one of the best hikes in Queenstown.
Ben Lomond can be confusing… It's the name of a mountain in Scotland, a National Park in Tasmania and a village in New South Wales. Of course, the Ben Lomond mountain was named after the one in Scotland.
Ben Lomond Saddle is a 3 to 4 hours return walk, on a fairly steep but good quality track, if a little rocky. The saddle reaches the altitude of 1,326m and offers some great views over Lake Wakatipu. Ben Lomond Summit reaches 1748m, for a 6 to 8 hours return walk, and from the top you get 360 degree views of the Queenstown area.
We only made it to the Saddle but that was enough for the day and my already tired legs. The hike is not as hard as Roys Peak in Wanaka but it still requires a good level of fitness.
The easiest way to get to the start is by taking the Skyline Gondola from downtown Queenstown. We were on a road trip around the South Island of New Zealand and finding parking proved quite tricky so I would recommend leaving your car at your accommodation if you can.
The Ben Lomond Track starts at the Douglas Fir forest, which is very dark and feels a little creepy. However, the track continues on the side of the mountain, beyond the tree line and you're out in the fresh air.
The typical alpine vegetation is tussocks and grasses, however there are a fair few conifer trees threatening to take over the land. The path is lined by little signs showing that individuals and companies sponsor the maintenance of a plot of land by removing conifer trees.
We also came across some goats along the way, probably there to help with land maintenance as well.
The path is well indicated, however hikers must stay on the walking track, as opposed to the dedicated mountain biking tracks.
When we got to Ben Lomond Saddle, it was very windy. The lonely park bench came in very handy for a rest and a picnic. And the views over the mountains were stunning. At that altitude, we were visited by a number of keas, the local parrot.
The way down is were you really take the views of Lake Wakatipu, central to Queenstown sightseeing. This hike wasn't too busy, and very pleasant even on a cool day. Definitely one of the top 10 things to do in Queenstown!
Glenorchy
Glenorchy is this little remote village at the end of a great drive alongside Lake Wakatipu. Queenstown to Glenorchy is a 45 mns drive. Most visitors to Queenstown don't bother going any further but there are some great Glenorchy walks to experience.
The start of the Routeburn Track, one of the New Zealand great walks, is nearby. We elected to stay at Kinloch Lodge, a charming heritage hotel on the banks of Lake Wakatipu.
Lake Rere
We skipped the Glenorchy hikes and ee stayed at Kinloch Lodge, so we could be as close as possible to the start of the Lake Rere Loop Track. Kinloch Lodge is an extra 26km from Glenorchy and the start of the track is another 11km on a dirt track. On the way, we crossed three fords and the start of the walk is shortly after the farm.
At the carpark, there is a map, a visitor's book and toilets. The walk takes 4 to 6 hours and is 16km long. The trail loops around the mountain and offers great variety of landscape.
I would say the grade is medium. There are some steep sections when you get to Elfin Bay but the rest is relatively easy. The great thing about this walk is that you go through so many different landscapes.
At the start, we walked through the farmer's paddocks, on the banks of Lake Wakatipu, and drew quite a few puzzled looks from the cattle. After the climb at Elfin Bay, we progressed through forest and meadows. We descended towards Lake Rere via the forest and continued towards the river through meadows.
We crossed the river via a cattle bridge and entered the forest. The track followed the river bed and we were in the forest for a while. Towards the end of the walk, we crossed lots of fields populated by sheep.
Along this walk, we only encountered two park rangers, there were no other walkers. The remoteness and variety made this walk one of the best we've had in New Zealand. It was really what New Zealand walks should be: remote and peaceful.
We completed the loop track in 5 hours, including a break for lunch by the river.
Mount Cook
Mount Cook (or Mount Aoraki) is the highest mountain in New Zealand, and a paradise for serious climbers. Thankfully, Aoraki Mount Cook National Park also has some good day walks, with beautiful views of the "cloud piercer".
Thankfully, hiking Mount Cook doesn't have to be too hard…
Hooker Valley Track
The most popular day hike near Mount Cook is the Hooker Valley Track. It's quite an easy walk, with a boardwalk for some of the way. It takes about an hour and a half to walk to the viewpoint facing Mount Cook and Mount Tasman. Note that you have to cross two swing bridges.
We visited Mount Cook on two separate occasions. We took the Hooker Valley Track the first time on our honeymoon years ago and the weather was glorious…
More recently, we picked the worst day to do the walk. The peaks were covered in cloud, it was windy and very wet. Some walkers almost got blown off the boardwalk and I've never been so drenched in my life… This is where I finally understood the need for gaiters when hiking and I will most certainly equip myself properly next time…
The weather was so bad we couldn't see the mountains… Still, it's a good walk but like all hiking, it's so much better in the sunshine…
Still, the Hooker Valley Track and its swing bridges is one of the best things to do in Mount Cook.
New Zealand best hikes
We have many more day hikes to do in New Zealand and I hope to update this list in the future. I really want to do some hiking around Akaroa, on the Banks Peninsula. With the right equipment and the right companion, hiking in New Zealand is one of my favourite adventure activities!
Related Posts
Things to do in Akaroa
New Zealand
Which day hikes have you done in New Zealand? Tell me in the comments below!
Save these day hikes in New Zealand to Pinterest!
LesterLost is a participant in the Amazon Services LLC Associates program, an affiliate advertising program designed to provide a means for us to earn fees by linking to Amazon.com and affiliated sites.