New Zealand is one of my favourite countries to visit and I'm lucky to only live a short flight away. These days, New Zealand self-drive tours are very popular and for good reason. In this article, I will discuss why you should be driving in New Zealand: Tips for your New Zealand road trip.
New Zealand campervan hire is very popular with travellers but hiring a car worked for us and I will explain why.
New Zealand is rich in mountains, lakes, waterfalls and rivers, which make a drive through the country diverse and exciting. Accessing day hikes is also easier if you drive.
Driving in New Zealand: Tips for your New Zealand Road Trip
I am a pretty independent traveller, although sometimes I like the comfort of a tour. For me, a road trip is the ultimate freedom of travel, as we've done in Tasmania, Kangaroo Island and Western Australia.
New Zealand is a very scenic country, meaning that you get enjoyment looking out of the window. Also, many places in New Zealand can only be reached with a vehicle and some of them are downright remote.
Driving New Zealand is not difficult although you need to take certain precautions and be aware of the road conditions and road rules. Campervan rental is pretty popular and I did consider it on my last trip.
Overall, New Zealand is a perfect driving destination. Let me take you through all the considerations…
Car vs Campervan
One of the first decisions to make about your road trip in New Zealand is whether you will hire a car or one of the ubiquitous New Zealand campervans. Campervans are hugely popular and they come in all sizes, from a modified station wagon to a fully equipped RV.
It really depends on what you want your trip to be like and how much planning you want to do. I have laid the pros and cons of renting a car or a campervan in New Zealand to help you decide what's best for you.
Pros of Renting a Car
The best incentive for renting a car in New Zealand is that it only requires every day driving experience. Driving a bigger vehicle takes some getting used to and for a car, most drivers licences are sufficient.
The driving side in New Zealand is left, and that can take some getting used to as well. The driving rules in New Zealand are very similar to most places in the world so it's very approachable.
Most roads in New Zealand can accommodate a 2WD vehicle, meaning you will have a lot of flexibility. On our last trip, we found that some roads simply banned campervans.
We travelled as a couple and a car was largely sufficient to carry our luggage. Also, there is a broad range of vehicles, accommodating all budgets.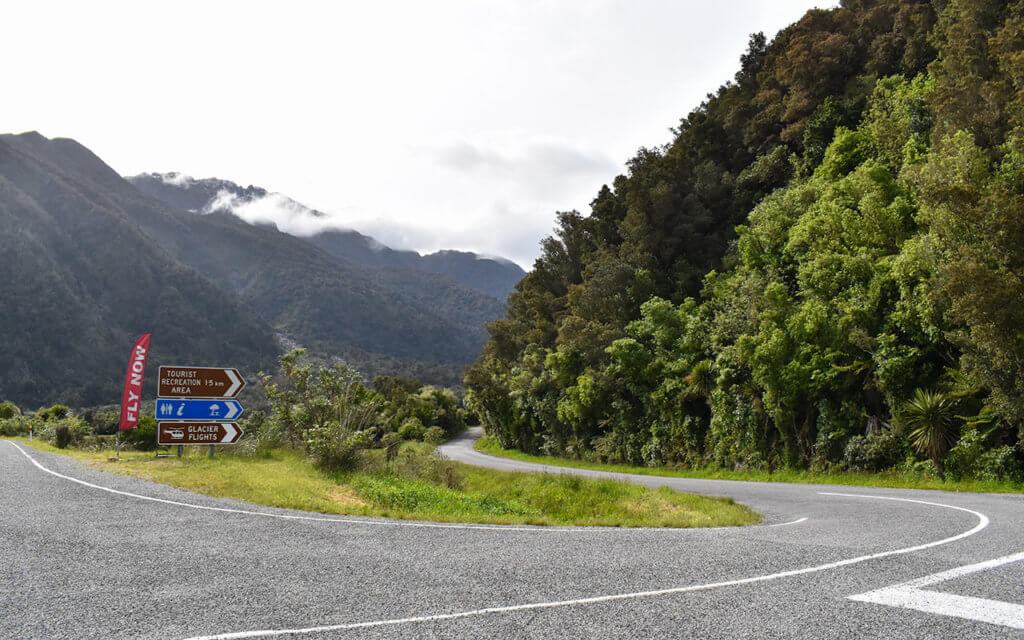 One of the main considerations for us was that we got to sleep in a real bed every night. Of course, we had to figure out where to stay in New Zealand for the whole itinerary.
Cons of Renting a Car
You need to rely on accommodation everywhere you go, which means a bit less flexibility.
Without cooking facilities, you need to rely on cafes and restaurants for every meal, which can add to your budget.
Pros of Renting a Campervan
Your accommodation goes everywhere with you, which gives you a lot of freedom.
If you have a self-contained vehicle (with a toilet and shower), you can freedom camp in some places. When I researched this, I found that freedom camping was very restricted in some places and that authorised sites could fill up pretty quickly.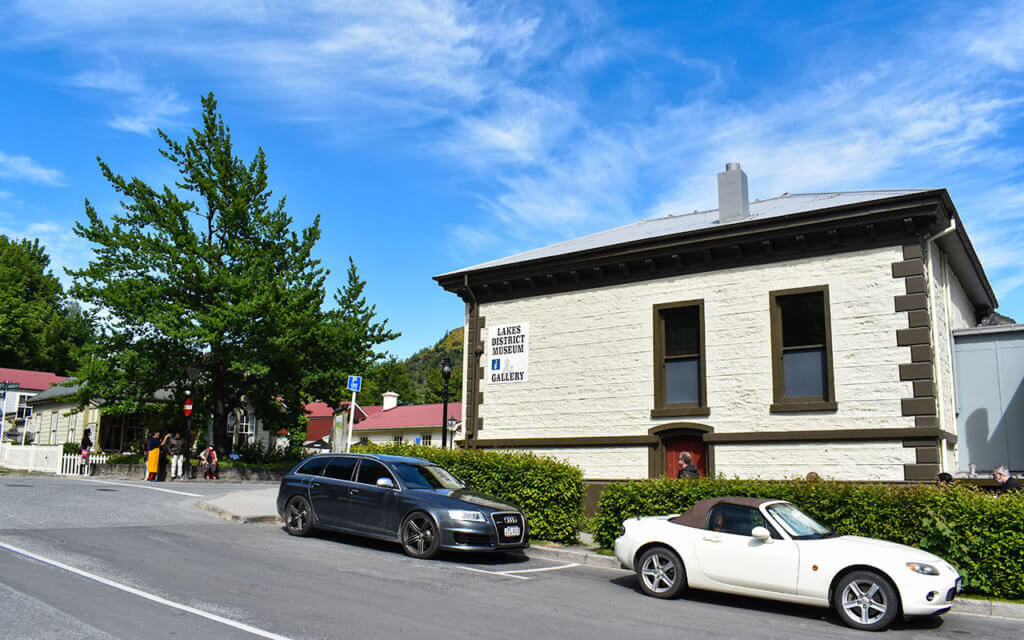 If you have cooking facilities, you don't have to rely on cafes and restaurants, which can save you money.
Cons of Renting a Campervan or RV
When I did the research, I found that campervans were a lot more expensive than hiring a car. The insurance was also very high.
Petrol is expensive in New Zealand and a full tank will cost you a lot more than a car.
Depending on the size of the vehicle, you may have to sacrifice some comfort and space. If you are on a budget, your only choice may be to hire a station wagon with a mattress in the back. Aside from being less comfortable, it also limits your options for freedom camping as only self-contained vehicles are allowed.
You can't just park anywhere to spend the night, so you would be reliant on caravan parks. These can fill up quickly during the high season and you need to book well in advance. And so there goes the idea of total freedom…
Also, some roads can be challenging. We discovered that on our day trip from Te Anau to Milford Sound and driving a campervan would have been a hassle.
Finally, most people don't drive an RV or a larger vehicle every day. The steep and narrow roads of New Zealand can be challenging so think of what is safest for you and your passengers.
Accommodation
New Zealand accommodation is quite diverse, ranging from backpacker hostels to motels and hotels. Generally, quality is quite good, although some motels are a little dated.
Motels in New Zealand will cost from NZD100 to NZD300 a night. A backpackers' hostel can be as cheap as NZD60-80.
Some popular places can be quite expensive, such as Lake Tekapo or Queenstown. Mount Cook accommodation is especially expensive. Depending on your budget, you may have no choice but to stay elsewhere. For example, we used Twizel as our base for Lake Pukaki and Mount Cook.
Accommodation can book up quickly due to the influx of tourists in certain seasons. We had that experience in Te Anau and Queenstown, so I recommend planning your itinerary and booking in advance.
One advantage of staying in accommodation as opposed to choosing the "campervan New Zealand" option is that you are more likely to meet locals and not just tourists. Kiwis are quite friendly and you can get useful local information by talking to the person at the front desk.
Cost of Living in New Zealand
This post contains affiliate links. We may receive compensation, at no extra cost to you, when you click on or make a purchase using these links. For more information, please read our privacy policy and disclaimer.
On our South Island road trip, we were surprised by how costly certain things were. Certainly, the Australian dollar was performing especially poorly at the time, but it certainly impacted our budget.
Even if you secure a cheap campervan hire for your trip, you need to budget well.
Petrol costs in New Zealand can be quite high, between $2.20 to $2.60 a litre. Some tourist towns like Queenstown had the most expensive petrol while other places a few kilometres away were much cheaper. You can drive for a while in New Zealand without finding petrol so you need to fill up before leaving town.
We found restaurant meals to be quite expensive as well. We couldn't find breakfast for less than NZD20 in most places. Mains were around NZD25 to NZD40.
Food & Restaurants
The quality of restaurants in New Zealand has improved. When we went there on our honeymoon ten years ago, many small towns only had a few restaurants and served very standard meals. Apart from some nice places in Queenstown, we weren't particularly impressed.
Now, with the influx of tourists, the quality and diversity of food have improved. Even in small towns, you will find restaurants with creative menus. New Zealand has some excellent meat, seafood and fresh produce, so it's a good start to a good meal!
As some small towns get busy with tourists, so do the restaurants. It's a good idea to book ahead when you can. Many of the South Island destinations we visited required booking in advance and we missed out on a few interesting places.
West Coast New Zealand still has some way to go in the way of great food but we had some very good meals in Te Anau…
Supermarkets are available pretty much everywhere and are well stocked. Look for Countdown, Four Square and New World.
Planning an Itinerary
I know some people love the freedom of just driving and stopping wherever they want. I prefer to do some planning to make sure I get the accommodation and the tours I want. We failed to book a few things on a trip to the North Island a few years ago and simply missed out on Hobbiton and the Waitomo Glow Worms… It was a long drive for nothing and we decided to carefully plan our next New Zealand itinerary!
I would recommend booking accommodation and tours, including helicopter tours ahead in large tourist centres like Queenstown.
There are many things to do in Queenstown so you'll need to think ahead a little bit and decide which ones you want to do! As for the car or camper van hire, don't leave it to the last minute, it will only cost more!
In order to plan best, you need to figure out what matters most in your trip. Is it all about adventure travel or are you interested in New Zealand animals?
Another important factor is to calculate driving times. Whether it's New Zealand North or South Island, there are some pretty big distances. This is where booking accommodation or a spot in a caravan park is important. There is nothing worse than driving a long way only to be turned away when you get there…
New Zealand Roads
Driving around New Zealand, you will see road signs saying "Roads are Different in New Zealand". I agree and disagree with this. As I already live in the region, I am familiar with the New Zealand driving side being on the left. Also, New Zealand road rules are not really different from the ones in Australia.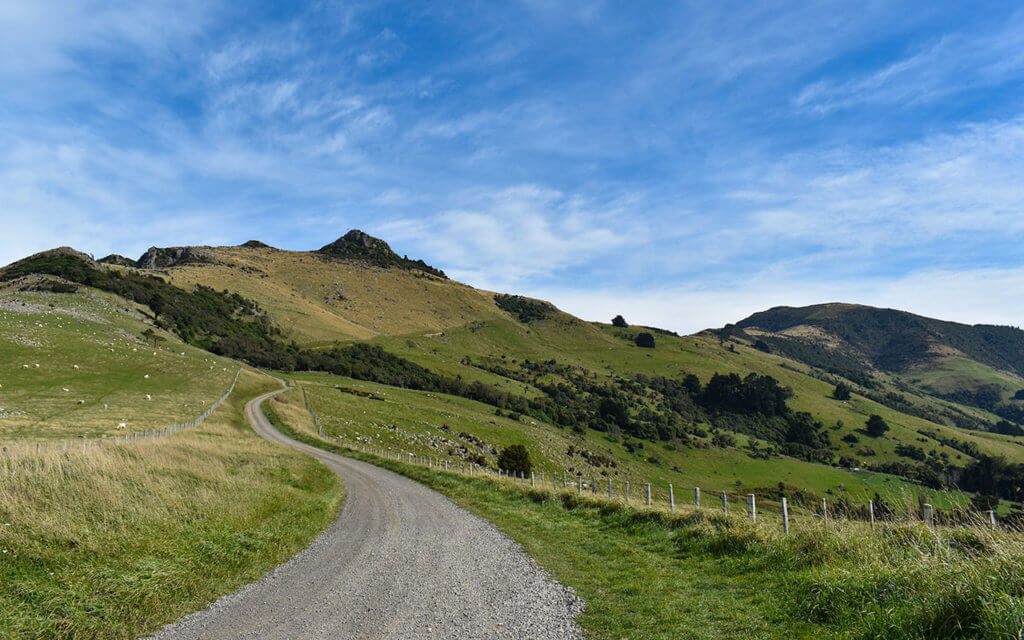 There are no dangerous animals in New Zealand so you don't run the risk of crashing into a kangaroo or having a snake find its way into your car engine… The roads, as this one near Akaroa, on the Banks Peninsula can be quite narrow.
An important courtesy on the road is to let people pass you if they come up behind you. This is especially important if you are in a heavy vehicle. On your New Zealand road trip, you will see vehicles in front of you squeeze a little to the left of the road and indicate to the right. This may seem counter-intuitive but it's a way of saying "please go past me ".
There are plenty of lookouts to take the views as you are driving along. Please don't stop anywhere you want and pay attention to the New Zealand road signs. Many accidents happen because of drivers parking poorly to take photos. The roads of New Zealand are generally well planned and safe so this is very much your responsibility.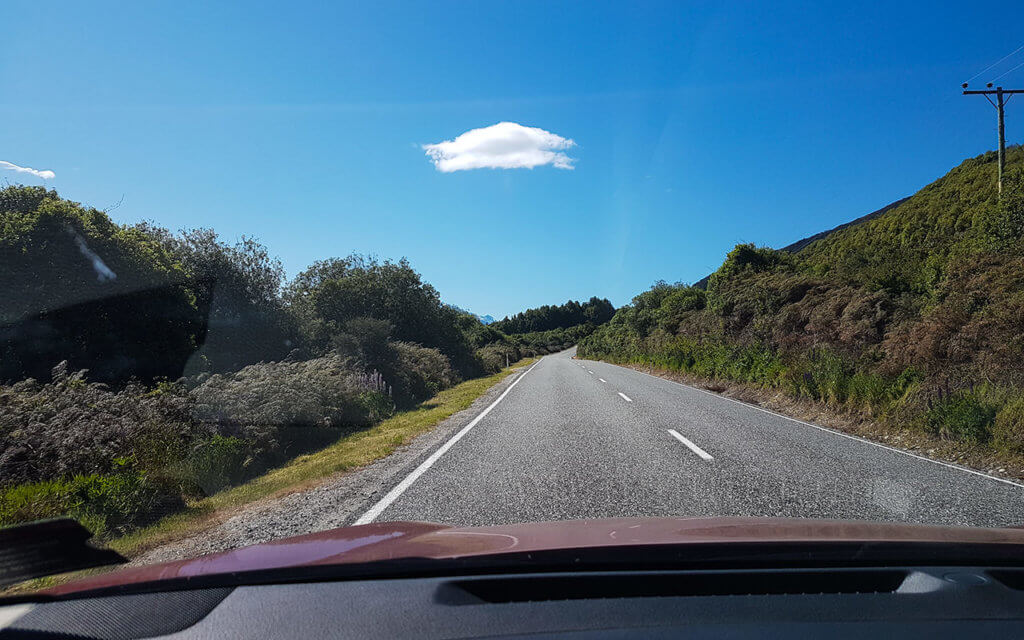 New Zealand has its share of single-lane roads, which is another reason to be extra careful and courteous.
The highest speed limit in New Zealand is 100 km/h.
Overall, self-driving New Zealand is quite easy. Once you are over the driving on the left thing, it is the best way to discover the country, BUT…
There are some very inexperienced drivers… And that's the only real danger I saw. As the country has become so incredibly popular and motorhome hire New Zealand seems to be the thing on many travellers' minds, there has been an influx of overseas tourists with little or no experience in driving.
This is especially apparent on the Milford Sound road. The drive to Milford Sound from Te Anau takes about two hours and is busy with tourists racing to meet their Milford Sound cruise.
On the return drive, we saw several vehicles, cars or campervans, driving dangerously and obliviously. This included a campervan driving on the wrong side of the road, overtaking a long line of vehicles. Thankfully, the campervan had just enough time to pull back into its lane before it crashed into us… it was close!
Considering there is limited parking in Milford Sound, we realised it would have been just as good to board a bus for our Milford Sound cruise from Te Anau. For once, we would have been more than happy to leave the driving to someone else!
Getting off-road is quite easy in New Zealand but this means you need to know how to change a tyre. We did have a puncture on a rocky road but my husband is very good at changing tyres!
South Island Itinerary
On our last trip, we filled just two weeks with a very comprehensive New Zealand South Island itinerary. If you intend to visit both islands, I do recommend you spend more time in the south. In my view, New Zealand nature is at its best on the South Island.
There are so many things to see in South Island New Zealand and some of the driving distances are significant that some people recommend 80% of your time for the south and 20% for the north. We haven't tested this theory but we keep wanting to go back to the South Island!
We enjoyed some great New Zealand walks on the South Island. And on our honeymoon ten years ago, we discovered the beautiful marine wildlife of New Zealand in Kaikoura.
If you want to cover the whole South Island, I would recommend a minimum of four weeks. We explored the West Coast from Greymouth New Zealand on our last trip and it was wonderful!
North Island Itinerary
Our New Zealand North Island itinerary didn't quite go to plan and we were there for less than a week but it was a good learning experience. The North Island is absolutely worth including in your New Zealand driving tour.
Remember, self-drive New Zealand is about discovering wild and remote places and there are plenty of those not far from Auckland!
Adventure Travel
New Zealand is a perfect destination for adventure travel. On our New Zealand South Island road trip, we took hikes, cruises, helicopters and drives in all kinds of weather… There are plenty of Queenstown tours for high adrenaline pursuits.
Wherever you are, the dramatic New Zealand coast will give you a sense of wonderful adventure!
Out of the many South Island points of interest, a Milford Sound day trip is one of the best things to do!
Mountains
Driving through the mountains of New Zealand is a fantastic experience. The roads are usually quite good, but you get a strong sense of remoteness. On our last trip, our first drive was through Arthur's Pass. The weather was terrible but this road is one of the few that crosses the South Island from east to west and we felt that its existence is absolutely essential to the communities of the West Coast.
The mountains are where you will find some New Zealand fauna. Kea are New Zealand native birds with a hooked beak and a tendency to steal things. We came close to them at Ben Lomond Saddle in Queenstown.
Around Wanaka, we experienced some of the best hikes in New Zealand: Roys Peak and Mount Aspiring National Park.
Mount Aoraki or Mount Cook is the highest mountain in New Zealand and it's a stunning sight. We discovered the Mount Cook trails on our honeymoon years ago and we had the most beautiful weather. This time around, the weather was most unkind.
Thankfully, there are other things to do in Mount Cook, such as visiting the Sir Edmund Hillary Alpine Centre.
Rivers
On a previous, shorter trip, we spent several days by the Rakaia River, which is worth including in your New Zealand South Island tour. We stayed on an isolated farm, on the banks of the river. The drive from Methven was excellent and we had to cross several fords.
We even took a long walk and crossed the Rakaia River on foot, although I'm not sure I would recommend it!
Waterfalls
Compared to a drought-affected country like Australia, New Zealand's high rainfall is a curiosity and a joy… We found a few waterfalls during our New Zealand 2 week itinerary. The best ones were the ones we saw on the Milford Sound nature cruise.
Lakes
There are many lakes to include in the best things to do on your New Zealand driving holiday. Many New Zealand lakes have an eerie blue colour, due to the "glacial flour". The grinding of rock by glacial erosion creates a powder in rivers and lakes that take a milky blue colour in the sunshine.
Lake Tekapo and Lake Pukaki are perfect examples and should definitely feature on your South Island itinerary.
Things to Pack for New Zealand
As we travelled by car, our packing was pretty straightforward. I would recommend a few essential items you should always pack for New Zealand: charger pack, cooler bag, rain gear, sun hat, beanie, gaiters, sunscreen, sunglasses and water bottles.
Related Posts
Things to do in Akaroa
New Zealand
Greymouth West Coast New Zealand
This comprehensive road trip packing list for Australia is also valid for New Zealand.
How was your experience of driving in New Zealand? Tell me in the comments below!
Save these tips on driving in New Zealand to Pinterest!