Australia is a big country and, although I have been living here for many years, I am still discovering new places. I had heard great things about Kangaroo Island attractions so when organising our trip, I started my research. A Kangaroo Island trip will blow your mind: wildlife, beautiful nature, great food, historical landmarks… It was the perfect road trip destination for two keen photographers and a 10-year-old. Let me tell you about the best things to do on your Kangaroo Island holidays.
In early 2020, devastating bushfires tore through Kangaroo Island, causing destruction and death. Some of the places listed in this post have been destroyed but will hopefully recover. In time, Kangaroo Island will return to its beautiful self.
The Best Things to do on Your Kangaroo Island Holidays
Aside from the mainland and Tasmania, Kangaroo Island is one of the biggest islands in Australia. If you look at a Kangaroo Island map, you will see that a very large part of its surface is taken by national parks and wilderness. Our Kangaroo Island trip started with a promise!
We had five days in Kangaroo Island, which was plenty and not enough at the same time. Still, we managed to see most of the Kangaroo Island highlights.
If all you have is one day, consider Kangaroo Island tours from Adelaide. This Kangaroo Island day tour will take you to the main attractions. Check out additional information and current tour prices.
For a great road trip destination, have a look at this New Zealand itinerary.
How to Get to Kangaroo Island from Adelaide
To travel to Kangaroo Island, you first need to get to Adelaide, the capital city of South Australia. Since Kangaroo Island doesn't have public transport, most visitors get there by car, then ferry. The drive from Adelaide to Kangaroo Island, or Cape Jervis, where the ferry departs takes about an hour and forty minutes. The road was quite scenic albeit in average condition and we found the land all-around very dry.
There are flights to Kangaroo Island but the timing didn't work for us and the local car rental was going to be more expensive. And the ferry sounded like fun!
Cape Jervis doesn't have much to offer, apart from a lighthouse and the ferry terminal.
The Sealink Ferry
The first step is the Kangaroo Island ferry. Those trips always make me feel as though I'm going a faraway adventure…
Boarding the ferry is an interesting process… After parking the car in the line for boarding, we presented at the office, as required. Actually, passengers have to board the ferry on foot, whilst the driver remains in the vehicle. I thought that was a little odd, but as soon as vehicle boarding started, I understood why…
You have to drive your car in and position it to do a turn inside the hull, as there is only one door… The cars are packed very tightly! Obviously, the attendants are very skilled at directing vehicles, including trucks and buses, to park very closely together. Which is why it's better that only one person exits the vehicle…
The ferry is comfortable, with viewing decks, a large sitting room inside and a bar.
Kangaroo Island ferry cost is fairly high but if you travel with a vehicle, the rate will include two passengers for $98. Additional passengers are extra. To help you plan your trip, check the Kangaroo Island ferry timetable and download the Kangaroo Island ferry prices.
The ferry crossing from Cape Jervis to Kangaroo Island takes about 45 minutes. Therefore, you have time to relax and enjoy the view.
You can do a 2-day tour of Kangaroo Island mixing a ferry crossing and a flight. Check out the additional information and current tour prices.
Where to Stay on Kangaroo Island
As most of the island's surface is dedicated to wilderness, national park or agriculture, Kangaroo Island accommodation is mostly in the east of the island. The same goes for Kangaroo Island restaurants.
This means that you will have to travel some distance most days.
American River Accommodation
American River has lots of birdlife and is a popular place to stay in Kangaroo Island.
Penneshaw Accommodation
Penneshaw is very convenient if you are arriving late or leaving early on the ferry. Most places in Kangaroo Island will be some distance away though.
Kingscote Accommodation
Kingscote, Kangaroo Island is a great location as it has shops, a petrol station and the Penguin Centre.
Kangaroo Island Luxury Accommodation
I saw some beautiful houses with decks on the north side of the island.
Kangaroo Island accommodation fills up pretty quickly so it's important to book well in advance, especially during holiday periods. The ferry books up quickly as well, I didn't have a great deal of choice when I booked our passage.
Driving on Kangaroo Island
The island is big, really big. 150 kms from the east to the west. So you need to be ready to drive a lot. Getting somewhere first thing in the morning might mean a very early start, or coming back late. This means that you may need to drive in the dark. I didn't have any problems with that as the roads are good and not too crowded but you need to take the wildlife into consideration.
We decided on getting to Kangaroo Island by car. I did a comparison between flying from Sydney to Adelaide and from Sydney to Kangaroo Island, and the car hire accordingly. Flying to Kangaroo Island directly didn't work with our schedule and even if we avoided the cost of the ferry, hiring a car locally is quite expensive.
Be comfortable driving on unsealed roads. Kangaroo Island has three major sealed roads and you'll get to use them a lot. However, the rest is unsealed. I didn't find that to be an issue at all at there were no potholes, the roads were quite good. Still, the speed limit on these roads is still high, around 80 km an hour and you need to exercise caution.
The South Coast Highway and the Playford Highway are good quality sealed roads that cross the island from East to West. Hog Bay Road goes all the way to Penneshaw.
As most of the accommodation is at the east end of the island, you will have to take long drives to places like Flinders Chase National Park, Vivonne Bay and Cape Borda.
Cape Willoughby Lighthouse
Our first Kangaroo Island experience was to visit Cape Willoughby, the headland located at the east of the Dudley Peninsula. It's a 22-km drive from Penneshaw on a dirt road and well worth doing.
This Kangaroo Island lighthouse was established in 1852 and is the oldest one in South Australia. Its purpose is to assist with shipping navigation through the Backstairs Passage, which had its fair share of shipwrecks over time.
The lighthouse was fitted with a Chance Bros dioptric revolving lens in 1923, and then switched to electricity in 1959. As a result, there were significant changes to its aspect in 1974 and it was manned until 1991.
Today, there is a Cape Willoughby Conservation Park Visitor Centre.
Opening times:
9.00 to 15.30 Thursday to Monday
9.00 to 17.00 during the Spring, Summer and Autumn School Holidays
You can take a lighthouse tour:
Thursday to Monday: 11.00, 12.30, 14.00
Spring, Summer & Autumn School Holidays: 11.00, 12.30, 2.00, 3.00, 4.00
We didn't get to visit the lighthouse as we got there fairly late in the afternoon however, we were able to wander around the area. We literally had the place to ourselves and only shared the headland with a mob of kangaroos…
Penneshaw
Penneshaw, Kangaroo Island is the little township closest to the ferry terminal. There are some useful services, such a small supermarket, a post office and a petrol station. A small colony of penguins lives at Penneshaw, however, the numbers are quite low these days.
The Penneshaw Beach is known as Hog Bay, after the release of pigs by Nicolas Baudin in 1803. Frenchman's Rock also bears a carving by his crew to mark the arrival. Today, there is a replica on the beach and the original is displayed at the Gateway Visitor Centre.
Penneshaw has some interesting colonial houses and that's where some of the Kangaroo Island fishing tours depart from.
I also recommend stopping by the Kangaroo Island Tourist Information Centre. Apart from housing the original Frenchman's Rock in a glass case, it has a lot of information on what to see on Kangaroo Island. The staff was very helpful in assisting us finalise our Kangaroo Island itinerary. They did suggest we buy an annual pass but I think that's only valid if you live in South Australia, or if you travel to Kangaroo Island several times a year.
Kangaroo Island Food and Drink
You should definitely experience the local food and drink, same as you would on Bruny Island. The experience is fairly similar to that of Bruny Island, with wineries, breweries and high-quality local produce.
Emu Ridge Eucalyptus Distillery
The Emu Ridge Eucalyptus Distillery is on Willsons Road and a short drive from Hog Bay Road and Birchmore Road.
Australian eucalyptus oil has many benefits: antibacterial, anti-inflammatory and anti-viral. There are many uses for personal health and around the home. Emu Ridge manufactures eucalyptus oil products in various forms and the shop is worth visiting to replenish your stocks.
Kangaroo Island Cider
Emu Ridge also hosts Kangaroo Island Cider and tastings. Their ciders, including the non-alcoholic one, are absolutely delicious and perfect for a warm day.
Kangaroo Island Gin
KI Spirits offers a selection of gins and liqueurs. I didn't taste the gins or the whisky, but I really liked their liqueurs and brought some home with me. I was even tempted by the intriguing "snake oil" which is a recreation of the original "tonic" you add to gin…
Kangaroo Island Honey
We didn't make it to any of the honey places, we packed so many other things in our Kangaroo Island trip! However, Kangaroo Island is the only place in the world that has a pure and disease-free Ligurian bee colony. I would definitely put that on my list for next time. Please note that you cannot take bee products like honey and wax across state lines in Australia. So it wouldn't have worked for our return flight to Sydney anyway…
Beer & Wine
With a 10 year-old in tow, the Kangaroo Island wineries weren't on our agenda and I'm not a beer drinker. But the Kangaroo Island Brewery is not too far from Kingscote, the main town of the island and boasts of "hand-built beer"…
For a trip dedicated to tasting wine, I recommend Mudgee and Orange in New South Wales.
Vivonne Bay General Store
Close to some of the most beautiful Kangaroo Island beaches, the Vivonne Bay General Store is one of those all-encompassing stores you only find in the Australian Bush. Apart from a General Store and fishing tackle shop, the store also has a bottle shop and a petrol station, the only one down this end of the island. It is so typical, it's a must-do Kangaroo Island experience.
The shark burger is delicious. Don't worry, there are other types of fish as well…
Oysters at American Bay
A Kangaroo Island food experience would be incomplete without tasting the local oysters… The oyster shack at American River serves local and super fresh seafood and oysters.
Kangaroo Island Wildlife
If you are looking for what to do on Kangaroo Island, it's all about the wildlife… It's great for photographers and great for children. We weren't disappointed. In my opinion, the best Kangaroo Island activities involve the local wildlife.
Seal Bay Conservation Park
Kangaroo Island has a pretty big sea lion colony and Seal Bay is a conservation and observation area. Entry to the park is not cheap but this is as close as you are going to get to sea lions.
The 45-mins walking tour with a guide is the only way you can get to the beach and observe the sea lions in their habitat. You get to see them interact, play, look after their pups and even chase seagulls on the beach…
The guide is quite strict on what you can do and how far you can go but this is understandable: this is a conservation and protection program and sea lions can attack if you get too close to their young.
You get close but not too close. It was great for photography but still required a fairly powerful lens to take some close-ups…
KI Kangaroos
You would expect to find kangaroos on Kangaroo Island… Well, you do… And they're adorable! The Kangaroo Island kangaroos have a warm brown fur and an almost black face. As they have no predators on the island, as opposed to kangaroos on mainland Australia, they're quite placid and approachable.
We saw plenty of them at Cape Willoughby and Cape Borda, where they roamed freely towards the end of the day.
Watching wildlife is one of my favourite things to do when I travel. I highly recommend Bruny Island in Tasmania for this purpose. In Sydney, you can also find wildlife at The Basin.
Kangaroo Island Ocean Safari
I've always wanted to go swimming with wild dolphins and had a very exciting dolphin experience in New Zealand.
So, we looked into Kangaroo Island wilderness tours and found one that offered a dolphin encounter and swimming with seals.
The cruise with Kangaroo Island Ocean Safari starts at Penneshaw. Even though it was school holidays, we had the boat to ourselves.
First, we tried to swim with dolphins. For this exercise, you get in the water, holding onto a rope dragged by the boat. The idea is to be of interest to the dolphins who may swim past and have a look. Swimming behind the boat isn't easy, you get a lot of bubbles and we didn't have much visibility.
The seals are a lot easier to spot, lazing on the rocks…
As soon as we approached, a few of them raised their heads and decided to have a play. They slid in the water as my nephew and I put on our snorkels and fins…
There were 4 or 5 seals swirling in the water around and beneath us and we got a pretty good view. Several times, they came very close and I had their whiskers in my face… Other than that, they swirl and observe. They are curious and candid… They didn't seem to mind our presence, they seemed amused, on the contrary…
If you are interested in booking the Kangaroo Island Ocean Safari, check out the additional information and current tour prices. I highly recommend it!
South Australia has other swimming experiences, such as cage diving with sharks, but I'm not sure I'm game yet!
Birds at American River
American River, Kangaroo Island is a township on the east side of Kangaroo Island, not far from Kingscote.
Whilst the pelican feeding show no longer operates in Kingscote, we found many sea birds on the waterfront.
As I mentioned before, the Kangaroo Island animals are everywhere!
Little Sahara
As part of the multi-generational activities I had to find for our Kangaroo Island trip, I came across sandboarding at Little Sahara.
Kangaroo Island has its share of sand dunes and you can hire boards to slide down, which is a fun activity for a 10-year-old. Little Sahara is just off the South Coast Road, so it's easy to stop on the way to Vivonne Bay and Flinders Chase National Park.
Unlike the Sahara Desert, the sand dunes are gold/yellow, meaning there is no water underneath them. My nephew enjoyed sliding down the dunes and it was a nice photography spot, with views extending all the way to the ocean.
Flinders Chase National Park
Flinders Chase is the Kangaroo Island national park. The park covers most of the western part of the island and the entry is 110km from Kingscote, so you need an early start to get there.
Visitor's Centre
The first stop is the Visitor's Centre, where we purchased our entry ticket for the day: $22. You can also buy a two-day entry pass (for two consecutive days) if you wish to come back. We didn't have time for a Kangaroo Island hike in the park and were able to see most things in a day. A Kangaroo Island walk would be great, I hope to give those trails a go sometime soon!
The Visitor's Centre is a good place to get your bearings: you can learn about the Kangaroo Island wildlife, flora and history. There is also a cafe and a gift shop.
There is a trail behind the Visitor's Centre called the Heritage Walk, where you might see some koalas and other wildlife. You can do a round trip back to the Visitor's Centre in 20 minutes or so, or go all the way to the Platypus Pools. We didn't see any koalas in the trees that day but it's a great introduction to the bush flora. There are plenty of grass trees and the bush is beautiful and healthy.
Cape du Couedic
The Cape du Couedic Lighthouse was built in 1909, on the south-west tip of Kangaroo Island. It's now automated and you can stay in the lightkeeper's cottages.
There is a fairly large carpark below the lighthouse and a view over the Casuarina Islets, also known as "The Brothers". As with many lighthouse locations, the place is very windy and there is a feeling of isolation, and "end of the earth"…
In the early days, there was no road to reach Cape du Couedic, and supplies arrived by sea.
From the car park, there is a boardwalk to get to Admiral's Arch.
Flinders Chase National Park is one of the Kangaroo Island highlights on this two-day trip. Check out additional information and current tour prices.
Admiral's Arch
If you follow the boardwalk and stairs around the cliff face, you get to Admiral's Arch, a natural rock arch created by swell, rain and wind. It's one of the Kangaroo Island highlights. Along the way, there are plenty of opportunities to spot New Zealand fur seals relaxing and playing in the rock pools below. They are quite dark in colours and don't necessarily stand out against the black rocks.
From the boardwalk, you can also spot dolphins and whales…
At the end of the boardwalk, there is a viewing platform overlooking the arch. Admiral's Arch is an impressive photo spot at sunset however, that would mean having to leave straight after as the park closes. Also, you would need to drive back at night, which presents the risk of animals crossing the road…
Remarkable Rocks
Further along the coast are the aptly named Remarkable Rocks, one of the most spectacular things to see in Kangaroo Island. Those giant granite boulders are sitting on top a dome of lava and have been shaped by wind erosion. The oddly sculpted rocks are covered in parts with gold-orange lichen, a colour reminiscent of the Bay of Fires in Tasmania.
From the road leading up to the rocks or the boardwalk or up close, these rocks make for stunning photo opportunities.
Again, sunsets and sunrises are especially good times but you need to decide whether you want to drive in the dark…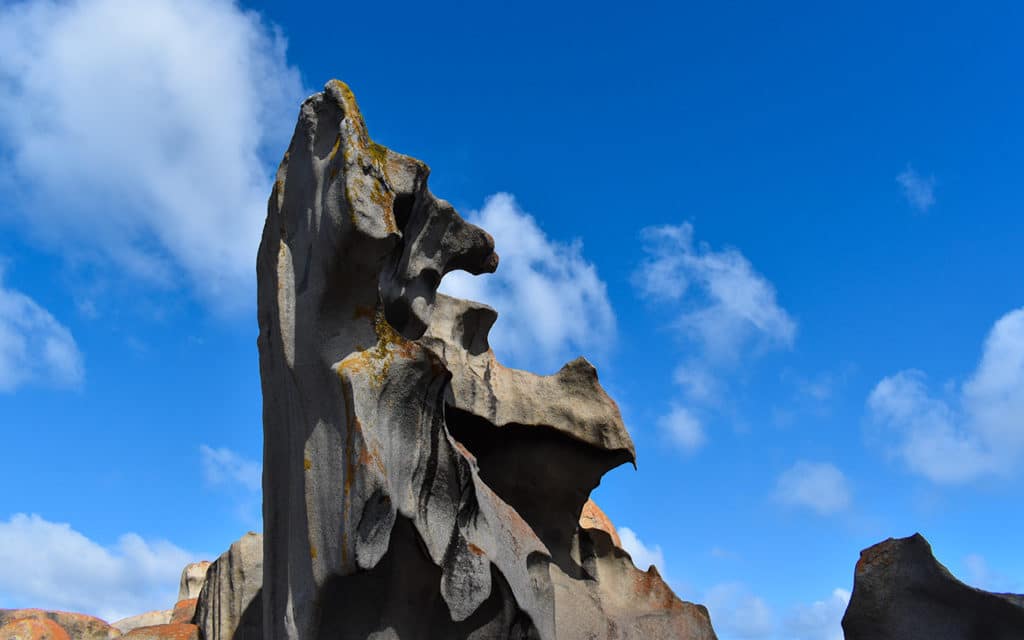 The place is quite busy with tourists and required a little patience to take unobstructed photos. It's easy to get around but you need to exercise caution, especially if it's windy or wet. There are signs indicating that you really shouldn't attempt to go down to the sea level, people have drowned in the past.
Remarkable Rocks is a great vantage point over the coast, with views of Cape du Couedic and Weirs Cove.
Weirs Cove
Weirs Cove is at the end of an unsealed road that turns left when you approach Cape du Couedic. The road is on a cliff and when you get to the lookout, the cove appears to be a perfect shape with the most beautiful blue colours. Remarkable Rocks are visible in the distance.
Supplies arrived at Weirs Cove before the road to Cape Couedic Lighthouse was built. The old storehouse remains and has even been renovated to prevent it from crumbling altogether. The limestone structure has no roof but steel beams now maintain the integrity of the walls.
Standing at the lookout, I got a sense of how isolated the place must have been in the early days, and even until the automation of the lighthouse. This always feels strange to me, that people would go and live in such isolation… That's part of the Kangaroo Island experience!
Supplies were brought in every three or four months and hoisted on the cliff by a flying fox…
Ravine des Casoars Wilderness Protection Area
After touring the south side of the Flinders Chase National Park, we wanted to go to Cape Borda. The afternoon was advancing but I didn't want to miss another lighthouse… The easiest way to go to Cape Borda was to take the South End Highway towards the north and meet the Playford Highway. However, there is a shortcut through the wilderness area. I loved going through the wilderness near Cradle Mountain in Tasmania so I thought it would be a good experience.
The Ravine des Casoars is a gorge and drainage basin. There is a walking trail and a very isolated beach which you can hike to. We elected to drive on Shackle Road, through the wilderness and reach Playford Highway and Cape Borda Lighthouse. I enquired about this road at the Visitor's Centre and they didn't encourage me to drive it… It's understandable, the place is very isolated, we didn't meet a single vehicle and the road was very corrugated…
Shackle Road
It wasn't the easiest drive as the car slid a bit in places, and I wouldn't attempt it in the rain. But, I drove carefully and it all went well.
The expedition led by Nicolas Baudin named the Ravine des Casoars around 1800-1803. Casoar means cassowary in French however, Nicolas Baudin actually mistook some Kangaroo Island emus, which are now extinct.
If you are confident with the drive on Shackle Road, it's a beautiful crossing in an untouched wilderness area. Most of the area burned down in 2007 because of lightning strikes and you really couldn't tell, nature recovered beautifully…
Cape Borda
I was glad to reach Playford Highway as the road is easier to drive. We arrived at Cape Borda in the late afternoon and missed the visit of the lighthouse. Instead, we took the self-guided tour of the grounds and had a look at the museum.
Cape Borda Lighthouse was built in 1858 to assist navigation in the Investigator Strait. It's an unusual lighthouse, short and square. The cliffs around Cape Borda are so high, there was no need for a round tall tower as we usually know lighthouses to be.
The lantern is still in service and was automated in 1989.
As the day was ending, the kangaroos started coming out… Kangaroo Island wildlife is everywhere!
The museum has some interesting historic lighthouse equipment, tools, radios and whale bones…
We drove past the cemetery, where lightkeepers and their wives are buried. Many children who didn't receive adequate medical care in this remote part of the word are also there.
Scott Cove
Before heading back to our lodging in Pennington Bay, we stopped at Scott Cove. In the early days of the lighthouse, supplies arrived by boat at Harveys Return.
There is a beautiful view over Cape Torrens in the distance and the location of the Fides shipwreck in 1860.
Night fell as we drove… For a while I wondered if we'd encounter wildlife on the road but it was all clear on the highway. After all, it's part of the Kangaroo Island experience… But we only saw kangaroos on the unsealed section of Playford Highway, on our way from the Ravine des Casoars.
Beaches
Kangaroo Island is not all rugged coastline and dramatic cliffs. There are some beautiful beaches and you can easily take a break and lie on a secluded beach…
Vivonne Bay
Vivonne Bay was voted Australia's most beautiful beach a few years ago and it's easy to understand why… This seemingly endless stretch of white sand, softly curving around turquoise waters, is a dream… We had the beach to ourselves and I can't imagine there would be enough people on Kangaroo Island to make this beach look busy…
The beach has toilets, barbecues, picnic areas and there is safe swimming near the jetty and boat ramp. As it is the only safe harbour on the south coast of Kangaroo Island, Vivonne Bay gets busy with crayfishing boats from November to May.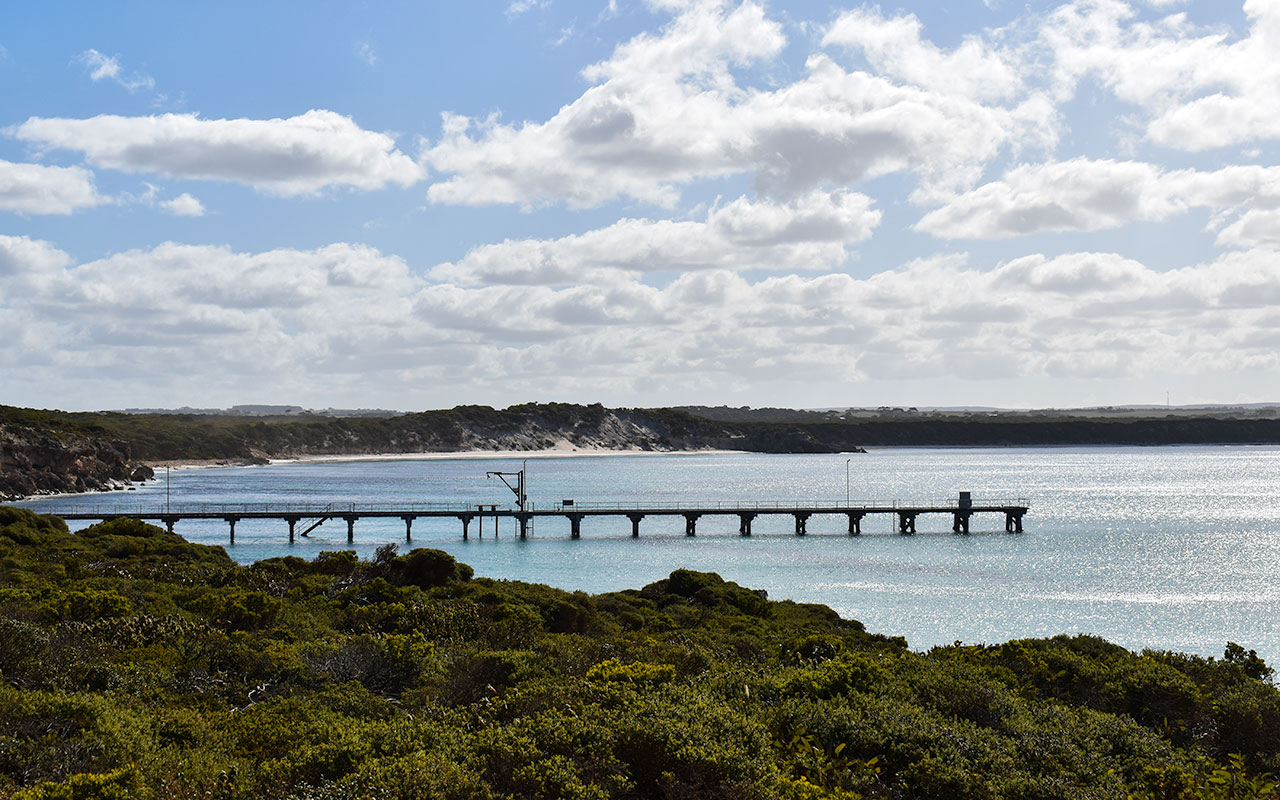 Snelling Beach
The north side of Kangaroo Island is the more rural part, with farms and paddocks. Along the North Coast Road, you can drive down to Snelling Beach.
Snelling Beach is a small white sand cove with very spectacular sunsets. The drive down to Snelling Beach is incredibly scenic. Progressing through green paddocks, the coast appears as you drive past the architect mansions.
We noticed at that point that everything had an orange tinge, due to previous bush fires.
The road steeps towards the beach so you need to drive slowly but the view is spectacular!
Stokes Bay
A little further is Stokes Bay. Known for its rock pools and rock tunnel, a trail that finds it way between boulders to discover a sandy beach, it's also very beautiful at sunset.
We didn't hang around too long at Stokes Bay, too beat after a long day… but we did catch the last sun rays!
Final Thoughts on Kangaroo Island
Like many destinations in Australia, Kangaroo Island is quite easy to travel around and there is plenty of information available. However, there are certain Kangaroo Island facts you need to take in consideration for a successful trip.
I'm glad we booked ahead but felt we didn't have a lot of choice in terms of accommodation and ferry times, so next time I would book even further ahead.
Pack a picnic and water supplies for the day. The island is big and you won't find food in the more remote places. Some cafes might be closed during the off-season so pack what you need for the day.
Also, if you are doing a self-drive, keep an eye on your petrol gauge. Most petrol stations are located in Penneshaw, Kingscote and American River and you need enough petrol to come back.
Overall, it was a fantastic experience and I would go back in a heartbeat!
Is Anything Like Kangaroo Island in Australia?
In my opinion, Kangaroo Island is quite unique however Australia has many great locations. For coastal activities, I recommend Batemans Bay and the Bouddi National Park in New South Wales.
For great road trips in Australia, try Namadgi National Park near Canberra, the Great Ocean Road in Victoria and a drive to Jervis Bay in New South Wales.
Related Posts
Maria Island Day Trip
Tasmania
Have you experienced Kangaroo Island? Please tell me about it in the comments below!
Save these tips for your Kangaroo Island holiday on Pinterest!