Tasmania is one of these places in Australia I keep going back to. Since I discovered it on my mini-moon ten years ago, I keep adding to my list of places to visit on a Tasmania road trip. Eventually, I will see it all!
I find my Tasmania holidays always relaxing and exciting. Whether you like history, food, wildlife or nature, so many activities in Tasmania will take your breath away and have you asking for more.
Whether you take a quick Tasmania getaway or a longer itinerary, you can use this list as a guide to help you make a selection of places to visit.
The Best Places to Visit on a Tasmania Road Trip
There are many things to see in Tasmania and this guide is what I have seen so far, I will be adding more on my next trip. I hope you enjoy my Tasmania photos!
If you enjoy road trips, I also recommend New Zealand as a destination. I have some great tips for driving in New Zealand as well as mainland Australia.
Where to Stay in Tasmania
I have made some recommendations for places to stay in Tasmania, in each paragraph. Some of the best hotels in Tasmania are in spectacular locations so read on…
Hobart
Hobart is the capital of Tasmania and a likely starting point when travelling around Tasmania. At the foothills of Mount Wellington and on the banks of the Derwent River, Hobart is an interesting mix of heritage buildings and more recent and less-attractive ones…
Established in 1803 as a penal colony, Hobart has a number of historic landmarks, such as the Cascade Female Factory, the Cascade Brewery and Mawson's Hut Replica.
There is also a decent food scene in Hobart, bars and restaurants to enjoy in Salamanca, and if you are there on a Saturday, a lively market, which you should include in your Hobart sightseeing.
Enjoying a stroll on historic Battery Point and some seafood on the waterfront is one of the top things to do in Hobart. If you can block out the unfortunate 1960s architecture, Hobart has a nice historic feel and is worth a day or two.
If you need some guidance on what to do in Hobart or to save some time, I recommend taking a city tour, it will take you to all the main places of interest. Check out additional details and get current tour prices.
Hobart Accommodation
There are plenty of places to stay in Hobart, for all budgets. In my opinion, some of the best hotels in Hobart are close to the waterfront, however you can find nice places in the suburbs as well.
MONA
The Museum of Old and New or MONA is probably one of the most intriguing attractions of Tasmania. A contemporary art museum, MONA holds the $110M art collection of David Walsh, a poker multi-millionaire and a proud Tasmanian.
The exhibition program will keep you busy for an entire day so take your time to absorb the experience. You can access MONA by ferry from Brooke Street in Hobart. It's a nice way to see the Derwent River and the views over Hobart, and there is very little parking on-site anyway.
The building has no windows, an eerie staircase descends into the ground and you then use a series of tunnels and stairs to view the different exhibits. There is a sense of the outrageous, the art installations are thought-provoking and puzzling. Whether you are into contemporary art or not, MONA is on my list of places to visit in Hobart. In my view, it's a sensory experience as well as an art exhibition. Be prepared to be dazzled, overwhelmed, surprised and mystified!
The MONA complex also has luxury accommodation, a restaurant, bars, the Moorilla winery and the Moo Brewery.
You can combine a city tour of Hobart with the ticket to MONA, including the ferry, which departs from the wharf, close to the Hobart tourist information centre. Check out additional details and get current tour prices.
Bruny Island
To discover the South East tip of the Apple Isle, on the edge of the Southern Ocean, a Bruny Island day trip is a minimum. There are many great things to do on Bruny Island so don't hesitate to stay longer.
The drive from Hobart to Bruny Island is only 45 mins and the ferry to Bruny Island is only 15 mins.
Named after the French explorer Bruni d'Entrecasteaux, Bruny Island is really two islands connected by an isthmus, North Bruny and South Bruny. Bruny is a rich and diverse experience and one of my favourite places to go in Tasmania.
The North and the South are quite different but the experiences you can enjoy include: take one of the Bruny Island cruises on the edge of Southern Ocean, visit a lighthouse, discover some pristine beaches, spy on unique and plentiful wildlife, do some bushwalking and enjoy some great local food and seafood…
I thoroughly enjoyed my visit to the Cape Bruny Lighthouse and I recommend you take a tour. Check out additional information and current tour prices.
Bruny Island Accommodation
We stayed in Alonnah, which is quite central to the island, and it was perfect.
If you're not sure about how to get to Bruny Island but still want a great experience in a day, Bruny Island tours run daily from Hobart. Check out additional information and current tour prices.
Port Arthur, Tasmania
If you are interested in Australia's convict history, Tasmania has five of the eleven World Heritage Convict Sites. Alongside the Fremantle Prison, Port Arthur in Tasmania is part of this list and a most interesting visit.
The drive from Port Arthur to Hobart is only 90 mins and this is where the most hardened criminals and repeat offenders were held, at the time when Tasmania was known as Van Diemen's Land. Port Arthur was a place of brutal punishment, including for boys as young as eight.
Yet, it's a place where you learn about the past history of Tasmania, as well as extraordinary stories of its residents. Port Arthur is worth at least a day, and I recommend taking the 40-minute introductory tour, in order to get your bearings. You can wander freely about the grounds and even take a 20-minute cruise past the dockyard, Point Puer (the boys' prison) and the Isle of the Dead.
Port Arthur tickets are valid for two days as there is quite a lot to see. the 40-minute introductory tour and cruise are included in the Port Arthur entree fee. Check out additional information and current entry prices.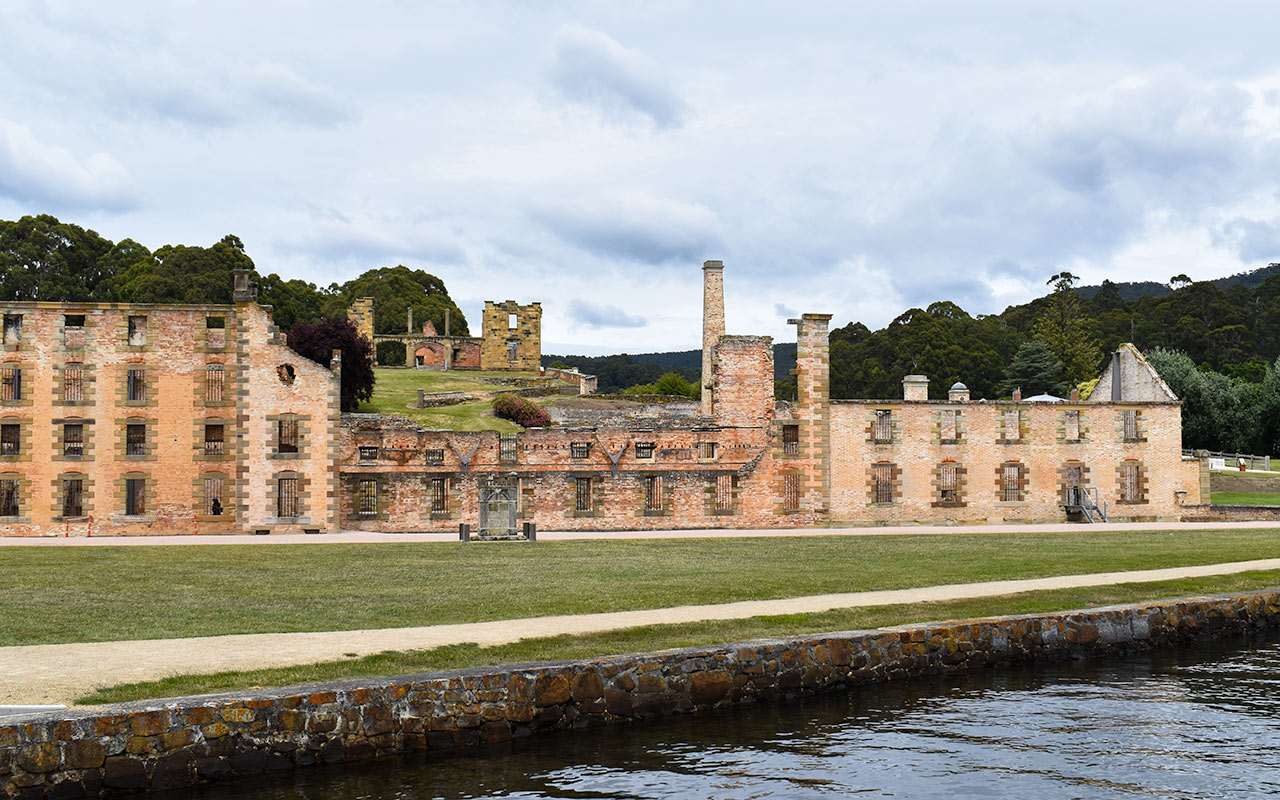 There are some 30 historic buildings to see and you can refresh at the two Port Arthur restaurants. Port Arthur is a fairly sad place, and some of the stories might give you a bit of a shiver but it is one of the most important places of interest in Tasmania. I went to Port Arthur twice and learned more each time!
For more Port Arthur tours, there is a day tour from Hobart and the Port Arthur Historic Site Ghost tour.
Port Arthur opening hours are from 9 am to dusk, the houses and buildings close at 5 pm.
Port Arthur Accommodation
Port Arthur is an hour away from Hobart so it's worth staying in the area if you don't want a long drive.
There are other Port Arthur apartments and Port Arthur Motels but they seemed less comfortable.
Maria Island
Off the East Coast Tasmania, about 2-3 hours drive from Hobart, Maria Island is a beautiful island. A haven of pristine nature and wildlife, it's perfect for a day trip of exploring. The Encounter Maria Island Ferry leaves from Triabunna, Tasmania and takes 30 minutes to Maria Island. There are no motor vehicles, no shops, so you need to be self-sufficient for the day.
The Darlington Probation Station is a World Heritage Convict Site and has 14 buildings you can visit.
Bushwalking and cycling are great ways to visit Maria Island National Park. You would need a couple of days to walk from the township of Darlington to the other end of the island at Haunted Bay, and back again. So hiring bicycles is a good idea. Maria Island is also a good place to dive and snorkel.
Maria Island accommodation is very basic and there are free campsites if you want to stay overnight. However, I took a day trip there and thought it was enough to see most places.
We stayed in Orford, Tasmania.
Another major reason to visit Maria Island is to view the wildlife. Numerous birds, wombats, kangaroos, wallabies, tasmanian devils, possums and echidnas roam the island freely. Curious wombats even hang around the Darlington Probation Station hoping for a handout but it's best to leave them be…
Don't miss the Painted Cliffs at Hopground Beach on your Maria Island walk.
There are Maria Island tours from Hobart. It's a long day (9,5 hours) but Maria Island is a unique combination of wilderness, wildlife and convict history so it's worth considering. Check out additional information and current tour prices.
Winery Tour
Thanks to its cooler climate, Tasmania wine regions produce wines that are distinctively different from the ones on the mainland. Tasmanian pinot noir is famous around the world and I really enjoy Tasmanian sparkling wines, and you should definitely visit a winery or two in your wanderings.
The best wineries in Tasmania are in the Tamar Valley and on the east coast. There are also some wineries near Hobart.
Wineglass Bay & Freycinet National Park
With its dramatic pink granite peaks, secluded bay and white sandy beaches, Freycinet National Park is definitely one of the best things to do when travelling around Tasmania. The iconic Wineglass Bay, with its perfect sandy cove is one of the most beautiful beaches in Tasmania. There are short walks across the park for various levels of ability, which means you are guaranteed some great views.
The Wineglass Bay Lookout walk is a bit of a scramble and very busy with tourists, but the views are worth it, especially on a sunny day. Considering the place gets so busy at times, it is well worth trying to get away from the crowds on some of the bush trails.
The jagged granite peaks are called the Hazards and Wineglass Bay is one of Tasmania's most photographed views.
You can walk to Wineglass Bay in about 90 mins. For a complete Wineglass Bay walk, you should allocate 4 to 5 hours.
Freycinet National Park and Wineglass Bay should be on every Tasmania tours. You can take a day trip from Hobart to Wineglass Bay if you are not motorised. It's a long day (11 hours) but you won't regret it. The tour also takes you to a place where you can enjoy incredibly fresh seafood! Check out additional information and current tour prices.
Freycinet National Park Accommodation
Wineglass Bay accommodation can be expensive but quite luxurious.
Bicheno & Denison Beach
A quaint seaside town, Bicheno, Tasmania is very reminiscent of days gone past. It feels a little old-fashioned but the fishing industry is still very active so it's worth indulging in a seafood lunch in one of the Bicheno restaurants. There is a penguin colony however Bicheno's main attraction is a blowhole… Not too high on my list of Tasmania tourist attractions but it's worth a photo or two if the blowhole is performing…
I didn't find many things to do in Bicheno but further to the north lies beautiful Denison Beach: a peaceful and deserted stretch of East Coast Tasmania. Denison Beach is hidden behind the dunes and was completely deserted when I went there.
Accommodation in Bicheno, Tasmania
I noticed that much of the accommodation in Bicheno tends to be a little old-fashioned.
St Helens & the Peron Dunes
St Helens is the gateway to the Bay of Fires and Binalong Bay. It's the last major centre with shops and petrol before heading north to one of the most extraordinary places to visit in Tasmania: the Bay of Fires. But before you head out, take the opportunity to the Peron Dunes. Just off the St Helens Point Conservation Area and close to the beach, Peron Dunes offer a lunar and pristine landscape.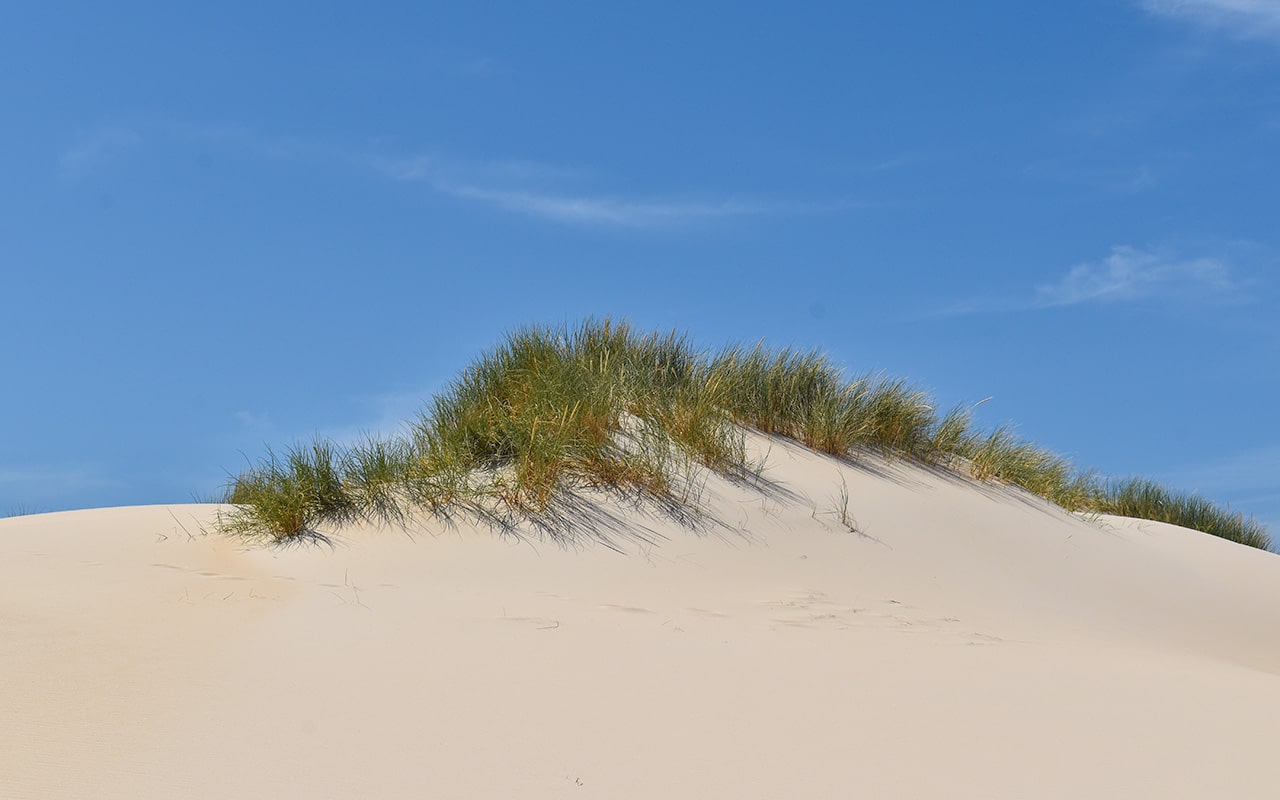 If you have the right vehicle and the right experience, it may possible to visit the dunes and beach by 4WD but I was happy just walking around.
Accommodation in St Helens, Tasmania
As is true with most of this area, St Helens accommodation is fairly standard but it's a good area to stay for a few days or overnight.
Binalong Bay
Binalong Bay is at the southern end of the Bay of Fires. Initially a fishing hamlet, with white sands and perfect blue waters, Binalong Bay is a very picturesque and charming little township. It's a good place to stay if you are visiting the Bay of Fires. We stayed at Bella Costa and enjoyed fantastic views of the bay.
There is no Bay of Fires accommodation north of Binalong Bay, unless you want a very luxurious villa.
Bay of Fires
The Bay of Fires stretches 50 kms from Binalong Bay to Eddystone Point and is one of the most extraordinary places to see in Tasmania. Crystal clear waters and white sandy beaches contrast with the orange lichen covering the granite boulders.
The Bay of Fires was named after the fires lit on the coast by local Aboriginal people, and not by the orange on the boulders. Whilst being an extremely popular destination due to the fantastic photo opportunities it presents, the Bay of Fires feels remote and peaceful. Beyond the photos, it is worth wandering around the Gardens and spending some time swimming in those pristine waters.
Ansons Bay & Eddystone Lighthouse
Most people visiting the Bay of Fires stop at a location called the Gardens and don't make it any further. That's what I did on my first visit. However, it is worth driving further up the coast to Eddystone Point. You will need to drive through the forest and pastoral land, and cross to the coast again. Most of the road is unsealed but present no issues for a normal vehicle.
The drive past Ansons Bay, Tasmania will take you to Eddystone Lighthouse. The coast has some beautiful granite with different colours, including the trademark orange. I also recommend driving to Picnic Rocks on Deep Creek Road.
The road is unsealed but again very manageable for a car. This has to be one of the best beaches in Tasmania and there are several places where you can stop. After a reasonably long drive, I was surprised to find beach shacks and even a campsite.
Bridestowe Lavender Estate
Brisdestowe Lavender Estate is a lavender farm that has been in operation for a long time and was started with genuine French lavender plants. Today, it's lavender fields rival those of Provence…
The perfectly aligned rows of tiny purple blooms line towards the horizon and the essence floats in a haze in the evening light… If you are looking for romantic photos or just an Instagram snap, Bridestowe is probably on your list of places to visit in Tasmania.
For a $10 fee, you may wander in the fields and even take a guided tour. There is a cafe, a lavender ice-cream truck and a very well-well-stocked gift shop, where you can buy lavender based cosmetics and iconic lavender bear.
Lavender flowers are at their best in December-January and Bridestowe is certainly a very pretty location. However, you need to be prepared for the crowds… The shop and the fields get really overrun and it can be a little difficult to get a people-free photo…
I enjoyed my visit at Bridestowe lavender farm but it's a lot of work for a few pretty photos… Still, lavender fields deserve a mention in the best places in Tasmania! And the ice-cream was nice…
Tamar Valley
Few places embody the "dairy country" label more than the Tamar Valley… The green rolling hills, the farms and paddock… It's almost as if dairy products come out of the land… Not really, but you get the idea. The Tamar Valley is a great self-drive itinerary between Launceston and the Bay of Fires, for example.
The Tamar Valley is one of many great places in Tasmania and can include a winery tour. Don't miss Derby, a little township steeped in history, with a funny fish painted on a rock…
Launceston
Another likely gateway for visitors, Launceston is the second-largest city in Tasmania, although it is a regional airport, unlike Hobart. Launceston has a fairly quiet feel, sitting on the Tamar River estuary, and plenty of charming mansions on its hillsides. The Cataract Gorge and its scenic chairlift are among Launceston attractions.
Launceston Accommodation
There are several historic buildings in the centre of Launceston where you can stay. Many houses have an old world charm.
Sheffield
Sheffield, Tasmania is known as the "City of Murals". The small, seemingly sleepy town has a lively art and craft community thanks to the murals painted all over town. The initiative was designed by the local community in order to save the town from oblivion and it now attracts some 200,000 tourists every year.
Sheffield is a pleasant little town and the gateway to Mount Roland and Cradle Mountain.
Cradle Mountain
Cradle Mountain – Lake St Clair National Park is part of the Tasmanian Wilderness World Heritage Area. Visiting this pristine nature area is certainly a highlight of travelling around Tasmania. You can experience Cradle Mountain in a day, by taking a 2-hour walk around Dove Lake, however, there are many more options, from climbing all the way to Cradle Mountain, or digging deeper into the old-growth rainforest.
Things to do in Cradle Mountain are mostly to do with hiking and outdoor activities.
The Overland Track, a world-famous 6-day trek and one of the best walks in Tasmania, also starts at Cradle Mountain. For nature lovers, Cradle Mountain is home to Tasmanian devils, quolls, platypus and echidna as well as countless bird species. In spring and early summer, wildflowers are in bloom: waratahs, orchids, banksias, hakeas, leatherwoods…
You can visit as a day trip from Launceston to Cradle Mountain. You'll get to see more than Dove Lake with an experienced guide. Check out additional information and current tour prices.
Cradle Mountain Accommodation
Accommodation in Cradle Mountain can be expensive and the luxury tag isn't always deserved, but there isn't a lot of choice around.
Tasmania Wilderness
Tasmania has significant parts of its territory listed as wilderness: untouched and protected. Admittedly, going into the wilderness can involve some travel into the depths of Tasmania. However, if you drive from Cradle Mountain to Derwent River, the road crosses through the wilderness and you can experience the stillness of undisturbed nature, the soft flow of the wind across the plain.
There is a good road from Cradle Mountain to Hobart running through the wilderness. I highly recommend stopping at the Vale of Belvoir lookout for beautiful views all the way to Mount Roland.
How to Combine Tasmania with the rest of Australia?
Travelling to Tasmania is often combined with visiting Victoria, which has some really beautiful scenery. I had a great time at the Great Ocean Road and the Grampians. A less known but equally great trip is goldfields town of Sovereign Hill.
Related Posts
Things to do in Bruny Island, Tasmania
Port Arthur Tours
Tasmania
I know there are many more Tasmania highlights. Do you have other suggestions on what to see in Tasmania? Tell me about your experience in the comments below!
Save these Tasmania road trip tips on Pinterest!