Melbourne is the second-largest capital city in Australia and a serious contender for Sydney in the popularity stakes. If you are keen on some Melbourne sightseeing for the first time, choosing where to start might be a bit of a challenge. To get you started, I have found the best way to spend 2 days in Melbourne.
The Best Way to Spend 2 Days in Melbourne
I have visited Melbourne many times with different purposes and you could spend a lot more than two days but there are some essential Melbourne experiences you shouldn't miss.
You may have heard a few things about the Sydney/Melbourne rivalry. It does exist, which I find a little puzzling, since both cities are so different. Melbourne is known for its cool architecture, its hip cafés and thriving food scene. Street art is a major aspect of Melbourne's busy cultural life.
Generally, Melbourne has a more urban and cultural feel than Sydney, but it is full of charm and energy. The only downside might be the Melbourne climate, which tends to change quickly, so much so that you can sometimes expect four seasons in one day. Here are some fun things to do in Melbourne for couples or solo travellers.
As a first step, I recommend visiting the Melbourne tourist information centre to pick up a Melbourne tourist map so you can get your bearings.
Where to Stay in Melbourne
There are many places to stay in Melbourne, but if you are limited in time, I recommend choosing a central location and maybe trying to get a bit of a view. I selected these hotels based on location, views and budget.
Melbourne Boutique Hotels
With its high rises buildings all over the city, Melbourne has a lot of very standard hotels and it's easy to get lost in the choice… Jazz Corner Hotel is a stylish jazz-themed hotel with great views. It's near Flagstaff Gardens and only 10-15 mns from the heart of the city.
I stayed in that area on my last trip and it could be the best place to stay in Melbourne as it's within walking distance of the many restaurants, Southern Cross station and yet it's pretty quiet.
Best Melbourne Hotels for Views
Located between Queen Victoria Market and Old Melbourne Gaol, in a quiet area of town, Imagine Lighthouse has some stunning views from the top floors.
Southbank Hotels
If you want a good location, hotels in Southbank across the Yarra River, are pretty similar to the ones in the CBD. A high-level room with a view at Imagine Marco should be a treat.
Docklands Hotels
Located on the other side of Southern Cross Station, the Docklands area is popular with business travellers and have great views of the city. Very close to the station, Travelodge is a good option. A bit more expensive is Peppers Docklands, great location and spacious rooms.
Luxury Hotels Melbourne
A short stay in Melbourne, with all the great restaurants and shopping, should be a bit of treat. For special occasions, the Langham Hotel in Southbank, on the Yarra River. It's a classic hotel and still fairly reasonable.
The QT Melbourne is in the city, in an excellent location close to restaurants and laneway bars. It's modern, stylish and has big rooms.
Melbourne Apartments
If you like self-contained accommodation or are planning to stay more than 2 days, there are plenty of services apartments in Melbourne. Adina on Flinders is mid-range and close to restaurants and bars, with spacious apartments.
For a quiet location and very good prices, Docklands Private Collection of Apartments is ideal.
Cheap Accommodation Melbourne
If you are on a budget, I have a couple of very well priced options in the CBD. The Space Hotel is near Melbourne Old Gaol. It's a hostel with a bar, gym and roof terrace. Small dorm rooms for 6 are clean and very reasonably priced.
City Tempo is near Queen Victoria markets and Flagstaff Gardens. Very clean studios, great prices and location.
Wander the Laneways
The laneways in Melbourne are famous. As a matter of fact, the laneways are that good, more things happen in there than on the main streets! The laneways are the heart and soul of the city and should definitely be on your Melbourne itinerary. That's where the cultural vibe and nightlife is. You can do a lot in the Melbourne lanes, from shopping for unique fashion, having a casual but delicious breakfast or fine dining, enjoying a coffee at the end of the day, discovering newly painted street art or simply taking in that cool Melbourne vibe…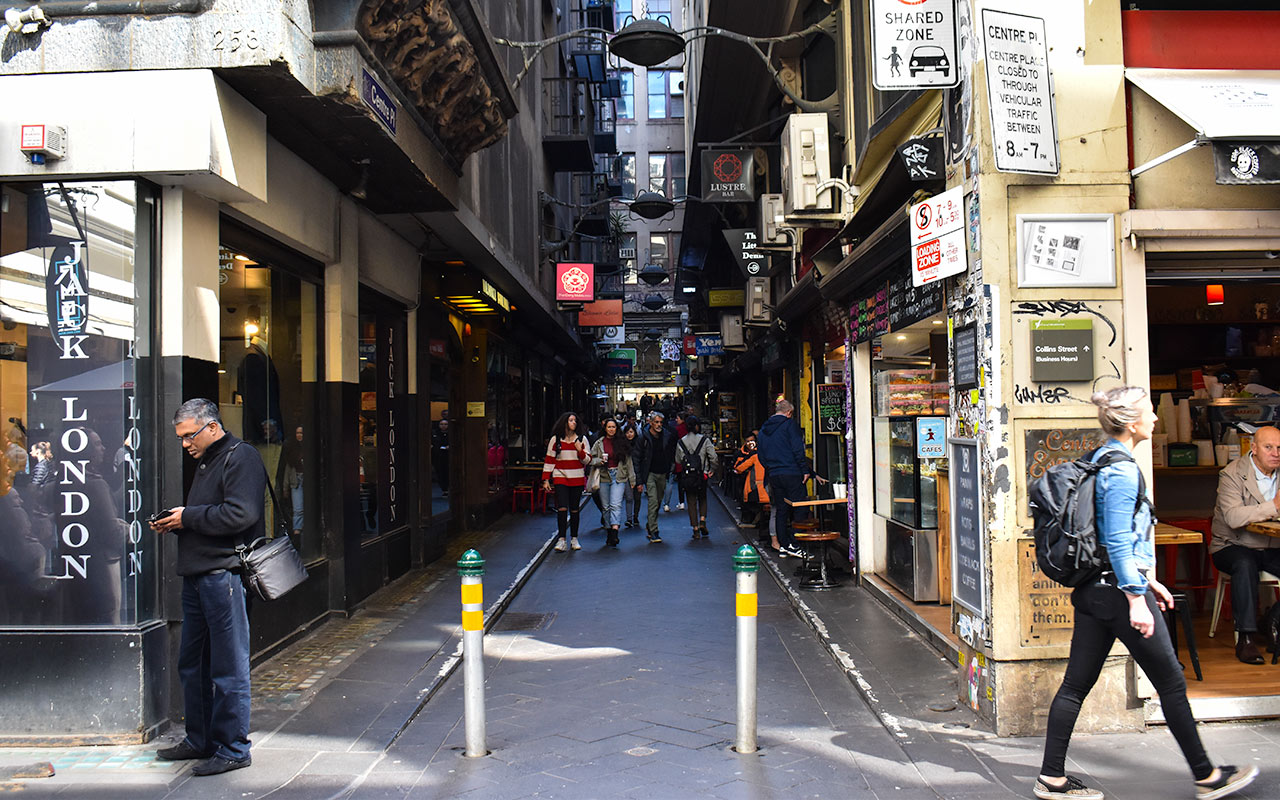 Degraves Street is one of the best Melbourne laneways. It goes from dead quiet in the morning, which is great for viewing street art, to bustling with Melbourne laneway cafes, restaurants and bars open late at night.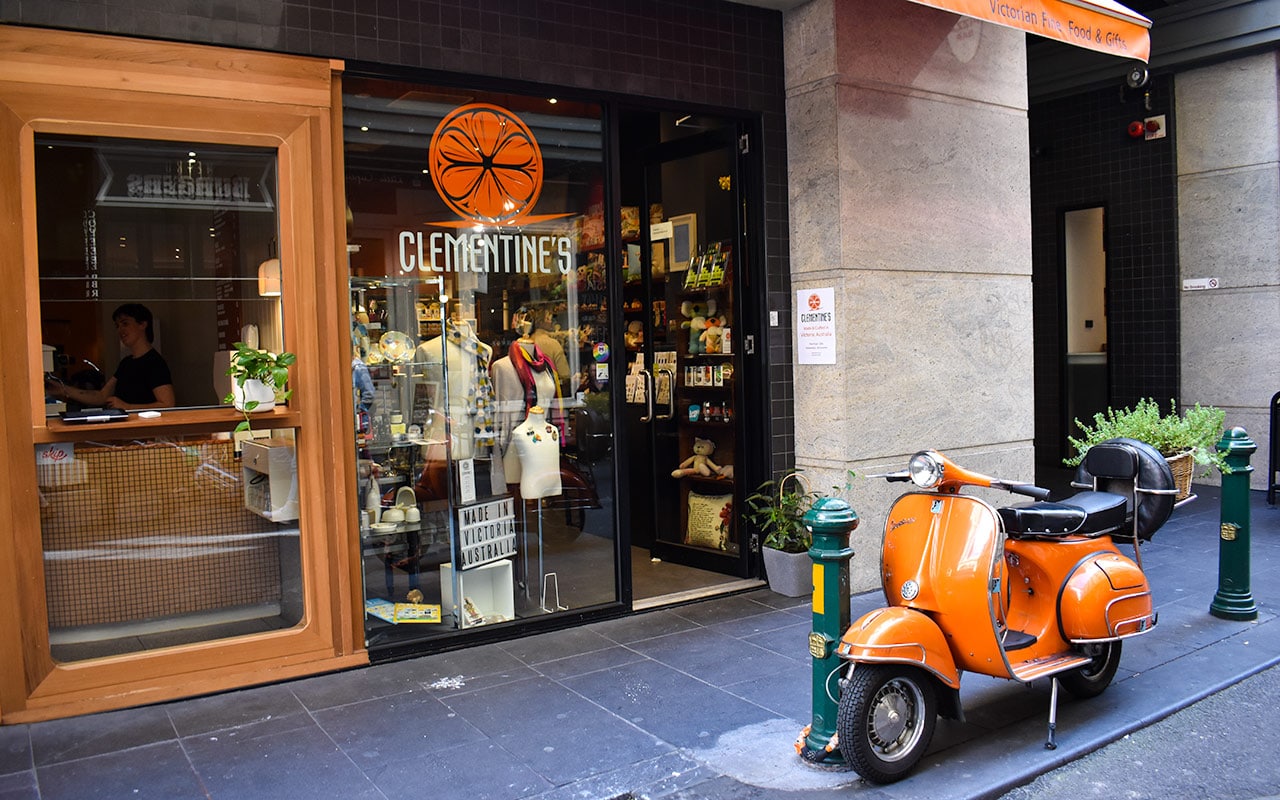 In my opinion, the best laneways in Melbourne have great charm because they mix local life so well. It is the territory of hospitality workers having a cigarette break, of students having a chat sitting on milk crates, and of dressed up professionals waiting at the door of a swanky bar. The laneways are the cosy heart of Melbourne, where you can seek shelter from the famous cold and rain that may appear at any moment.
I was taken aback by the laneways on my first visit, they were so cool and European. They had that slightly louche vibe, which makes you hesitate a bit when knocking on a dark door to be let into an equally dark bar… And in true prohibition style, the light shines and the place is bustling and swinging…
To learn more, I recommend taking this Melbourne laneways walking tour to get all the secret stories. Check out the additional information and current tour prices.
Go Back in Time in the Arcades
The arcades are another unique feature of the Victorian capital and should definitely be on your list if you only have two days in Melbourne. In a way, the arcades are the more upmarket and Victorian version of the laneways. And sometimes, they mix quite well. Indeed, you may walk through the elegant gate of a Victorian arcade and walk out through a laneway covered in graffiti…
Royal Arcade
The Royal Arcade is at 331-339 Bourke Street and was built in 1869. It connects Bourke Street Mall, Little Collins Street and Elizabeth Street
Block Arcade
The Block Arcade is the grandest and most beautiful Melbourne arcade. At 280-292 Collins Street, it is home to the Hopetoun Tea Rooms and Haigh's Chocolates. The arcade is modelled on Milan's grand Galleria Vittorio Emanuele and was built around 1891-1893. The floor mosaics are beautiful and this arcade is the perfect place for a high tea…
Walk Arcade
The Walk Arcade is at 309-325 Bourke Street, and connects Bourke Street Mall and Little Collins Street. Going across the arcade will take you to a laneway called the Causeway.
Melbourne walking tours also include the arcades. Check out the additional information and current tour prices.
Crane Your Neck at Melbourne's Skyscrapers
Coming from Sydney, where nothing is really that high, spending 2 days in Melbourne nearly gave me a sore neck! Some say that Sydney is asleep when it comes to daring, modern architecture and I have to agree.
There are some stunning buildings in Melbourne… I wasn't looking for anything like that when I spent time in Melbourne but it was worth a few photos…
Melbourne can now compete with New York and Chicago when it comes to heights…
Soar at the Eureka Skydeck
Speaking of tall buildings, it's hard to miss the Eureka Tower… Finished in 2006, it stands at 297m and is the second tallest building in Australia. The Eureka Skydeck is a 360 viewing platform over Melbourne and its surroundings.
First, I'll give you a few figures to dazzle you:
360 views over Melbourne
285m above ground
88th floor
38 seconds, that's how much time the lift needs to take you there…
The Best Views of Melbourne
After the quick shot up the tower, you can get around the space freely, there is a cafe, toilets and a desk where you can collect your photos. I didn't actually hesitate to do this fairly touristy thing, I can comfortably say it's one of the best things to do in Melbourne at night. The best time to visit is just before sundown. I loved seeing the city turn on its evening lights although the amount of light inside the Melbourne observation deck made it a little difficult to take good photos.
The Edge
The other attraction at the Eureka Skydeck is the Edge. It's a glass cube that literally edges off the side of the tower and hangs almost 300m above Melbourne streets. It's a bit like the one on the Aiguille du Midi in the French Alps. They make a big deal out of it with spooky noises when you're in the cube so make sure that this is something you are comfortable with. You get great views and yes, the ground is a long way away when you look between your feet. There is an extra charge on top of the Eureka Deck price.
Apart from feeling a little dizzy from the height and slightly embarrassed to be in such a tourist thing, I liked the views but you get the same ones from the viewing platform, really. The one thing I didn't like was that cameras weren't allowed in the cube, not even phones. They do offer to take a photo of you, which you have to pay extra for. So don't feel bad if you don't do this part of the Eureka Skydeck.
It's Cold Up There!
A portion of the viewing platform is open-air, protected by a net so things or people can't fall off. The wind and the temperature were very different at 300m than they were at ground level but what a sight!
I don't regret visiting at dusk, the changing colours were beautiful however I wish I had arrived a little earlier. Most of the photos were taken around dusk and night time and I'm sure it's worth visiting during the day.
If you want to make sure you don't miss out on the best light hours during the day and at night, there is a "sun and stars" ticket to accommodate two visits in the same day.
I'm very pleased to include the Eureka Tower in this Melbourne travel guide. Check out additional information and current prices for Eureka tower tickets.
Explore the Queen Victoria Market
Queen Victoria Market is a major landmark in Melbourne and the largest open-air market in the Southern Hemisphere. Also known as "Vic Market" or "Queen Vic", it was built on the site of the Old Melbourne Cemetery between 1860 and 1936, and is now the largest and the most intact 19th-century market.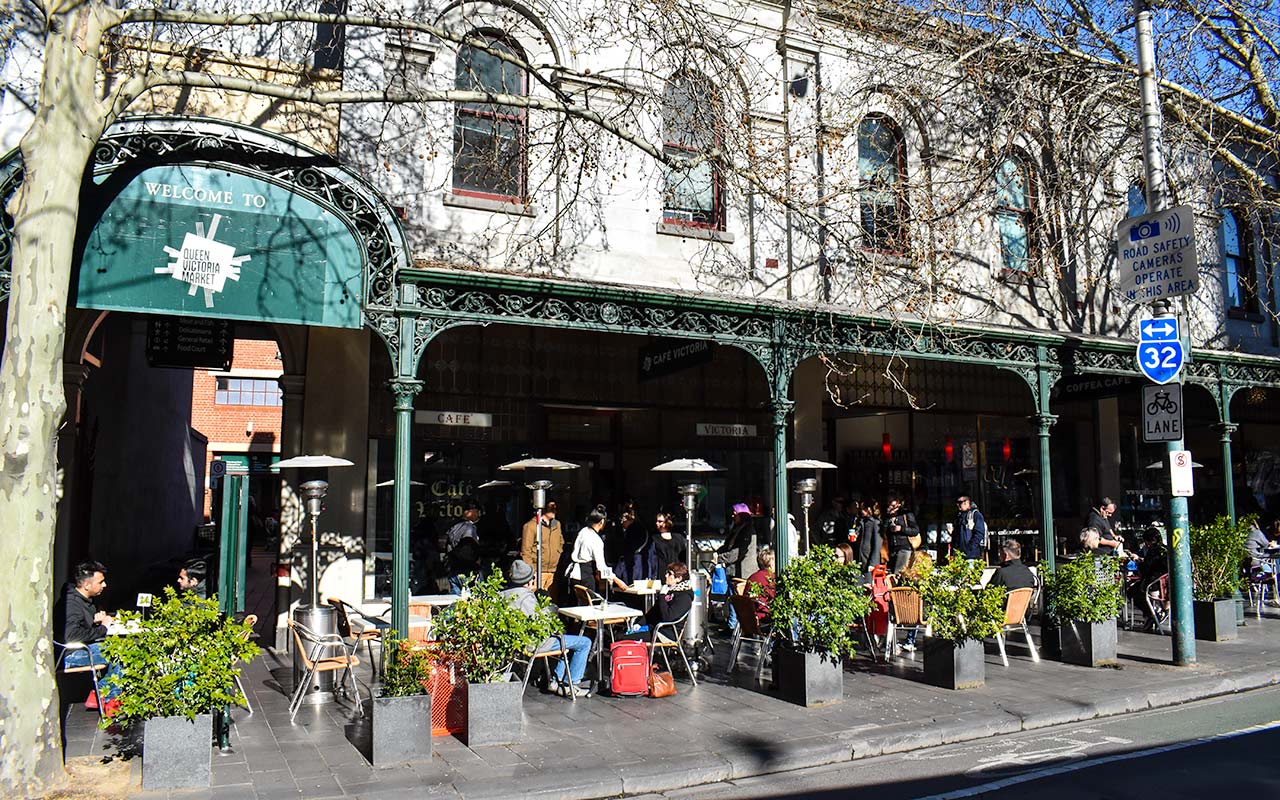 A Rich and Diverse Market
Living in Sydney, I am actually very envious of this market. It's one of the best places to shop in Melbourne when it comes to food. The choice of produce is excellent, there is a real-life in and around the market, and you do travel back in time. The market is on the corner of Victoria and William St, just north of the CBD. Queen Victoria Market occupies two city blocks and lies over 7 hectares, so you would need several hours to see it all.
There is a general market, a fresh produce market and an indoor hall. If you only have 2 days in Melbourne, the must-see area is the Dairy Produce Hall.
All in Art Deco charm, the Dairy Produce Hall has a fantastic range of produce, ranging from bread, cakes, sausages, wine, cheese and spices, as well as country-specific shops. The shops are enclosed stalls with large display windows and it's a feast for the eyes…
If you are wondering where to go in Melbourne for a tasty breakfast and coffee, why not try the markets? It's great to experience the Melbourne culture, with people playing music and enjoying a coffee…
For a more in-depth experience, you can take a foodie tour.
Queen Victoria Market Hours
Queen Victoria Market opens daily except Mondays and Wednesdays. There is a Victoria night market and summer markets on Wednesdays.
Tue-Wed-Thu 6am to 2pm
Fri: 6 am to 5pm
Sat: 6am to 3pm
Sun: 6am to 4pm
Queen Victoria Market's reputation goes well beyond Melbourne, there is no equivalent in Sydney. In fact, the market is on the Victorian Heritage Register and on its way to join the UNESCO World Heritage List. In the meantime, it's one of the great places to see in Melbourne.
Be Spooked in the Old Melbourne Gaol
My first trips to Melbourne were about cool cocktail bars and boutique shopping. Living in Sydney, I thought I had all the historic buildings back home… Wrong! The Old Gaol in Russell Street in one of my new Melbourne places to visit.
The Old Melbourne Gaol Building
A bluestone building with a courtyard, next to the City Police Watch House and the City Courts Building, the Old Melbourne Gaol has been a prison since the early days of the colony.
From the outside, the building looks small and out of place in the streets of modern Melbourne, but it must have cast a mighty shadow in its heyday. Victorian society, in England and its colonies, was obsessed with criminals and how to reform them.
Inside the Prison
Between 1842 and 1924, the prison housed Melbourne's most dangerous criminals, petty offenders but also the homeless and the mentally ill. Even children as young as three spent time in Old Melbourne Gaol. Also, no less than 135 people where hanged at the prison, including the famous bush ranger Ned Kelly.
Some areas of the gaol are now part of the RMIT University Campus and not all is open to the public. The section open to visitors is the main gaol, on three levels.
The prison is dark and daunting, and the blue stone has an eerie sheen. Visitors are encouraged to stay quiet and respect the place and its painful history.
The cells are small and claustrophobic, however the gaol is remarkably well preserved and there are plenty of displays to tell the sometimes sad and moving stories of the people who came to stay in the prison, and those who were hanged in the gallows.
Convict History
The fascination most Australians have for their criminal past can be puzzling to visitors, however I found the Old Melbourne Gaol to be a really vivid account of what life was like in the young colony of Victoria and one of the great Melbourne highlights.
If you have more time in Melbourne, you can take a tour of the City Police Watch House, which will give you an idea of what it was like to be arrested in put in jail…
The City Courts Building, which was in operation between 1911 and 1994, is also open during Victorian school holidays. And if you are into jails, there is a very good specimen in Fremantle, in Western Australia.
You can join the Melbourne gaol tour, check out additional information and current tour prices. And if you are game, there is even a Melbourne gaol ghost tour.
Melbourne Shopping
Shopping in Melbourne is really good and that was a focus of my first visits several years ago. Again comparing to Sydney, the Melbourne boutiques are really good. Some good Melbourne shopping streets are: Chapel Street in South Yarra, Bridge Road in Richmond or Sydney Road in Brunswick. The city is also where you will find some of the best shopping in Melbourne
The Victorian arcades have some of the best Melbourne fashion boutiques. I would say that the main difference the other Australian capital cities is the fact that Melbourne shops tend to have plenty of private labels and unique items.
Away from mainstream fashion, Melbourne offers a diverse and exciting shopping experience. Not only the shops are good, but Melbourne has the right culture around shopping. I felt that shopping was an experience that people value and enjoy, as opposed to a practical and rushed endeavour.
Relax at Southbank & the Yarra River
The Yarra River runs through Melbourne, just south of the CBD, and Southbank is a good area for nightlife with great views over the city.
In order to soak up the atmosphere, I recommend trying one of the places to eat on Southbank while enjoying the view over the Melbourne skyline. There are also many bars in Southbank
Search for Melbourne Street Art
Melbourne is famous for its street art, which is becoming very popular around Australia, including in Perth. As it turns out, street art is so prevalent in Melbourne that it will be hard to avoid it.
Wall art in Melbourne is lively and raw and in some places, you can see Melbourne street artists at work. Some of the best street art in Melbourne is in the CBD.
The main areas of Street Art in Melbourne CBD are:
Blender Lane
Near 104-106 Franklin Street
Hardware Lane
Cnr of Little Bourke Street
Union Lane
Cnr of Little Collins Street
Tattersalls Lane
Between Lonsdale Street and Little Bourke Street
Crossley Street
Between Bourke Street and Little Bourke Street
Meyers Lane
Between Bourke Street and Little Collins Street
Duckboard Lane
Off Flinders Lane, it wraps around a block
AC/DC Lane
Between Flinders Street and Flinders Lane
Hosier Lane
Between Flinders Street and Flinders Lane is Hosier Lane, a very famous Melbourne street for wall art. Rutledge Lane is off Hosier Lane and wraps around a block. Some of the best Australian street artists do some work here!
Hosier Lane street art changes often as graffiti artists come in and do their work.
Degraves Street
Between Flinders Street and Flinders Lane.
During the day, Degraves Street is full of laneway cafes and restaurants with tables lined in the middle of the street. Therefore, the best time is to visit in the morning. Indeed, there are some interesting displays along the way and in one small lane just off the street.
Beaney Lane
Off Russell Street
Rankins Lane & Warburton Lane
Off Little Bourke Street
Warburton Lane
Off Little Bourke Street
Caledonian Street
Between Lonsdale Street and Little Bourke Street
Melbourne street art tours are a good idea if you don't have a lot of time. Check out additional information and current tour prices. Alternatively, you may be able to find a Melbourne street art map at the tourist office.
Visit a Park
Whilst the centre of Melbourne has a very urban feel, there are some spacious and green parks around, where Melburnians like to enjoy a walk or a picnic.
The Flagstaff Gardens are in the Northern part of the city, not far from Queen Victoria Market and are the oldest park in Melbourne. First established in 1862, they are a popular and well-maintained garden, with a broad range of tree essences and flowers.
Take a Tram
Melbourne has a very efficient network of trams. A Melbourne trip wouldn't complete without a ride on the tram. The great thing is that trams within the CBD are free. If you wish to travel further afield, the best way is to use a rechargeable Myki card.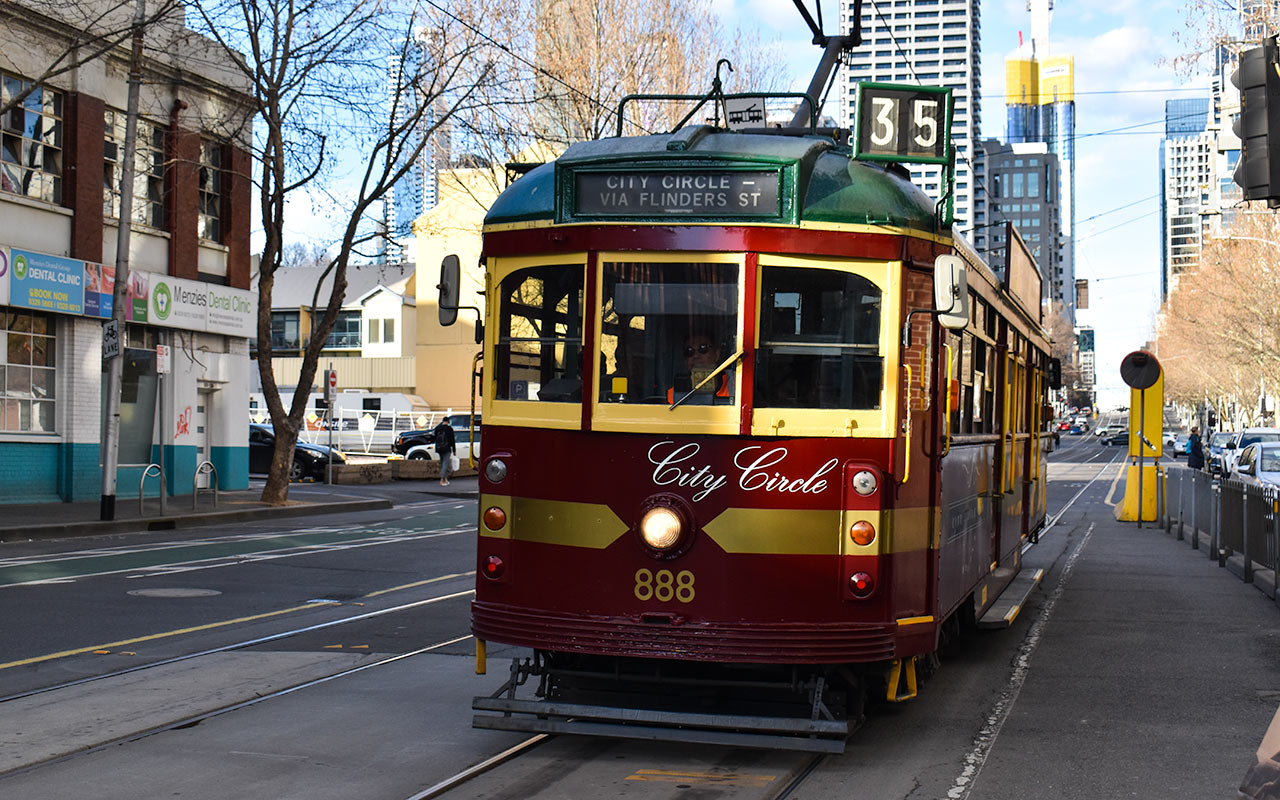 Tram 35 is a free hop-on, hop-off service which loops around central Melbourne. There is an audio commentary pointing out the main landmarks and attractions, and you get to travel in a heritage tram!
Beyond Melbourne
If you want to explore further afield after 2 days in the city, I strongly recommend adding some Melbourne day tours to your itinerary. These day trips from Melbourne can also be extended into longer weekends. Geelong is only an hours' drive and a nice coastal town.
If you are wandering further, Victoria's Silo Art Trail is a fantastic road trip.
The Great Ocean Road
The Great Ocean Road is one of the greatest drives in Australia and I loved my time there. If you want to do it in a day, which is possible, but a long day, I recommend taking a tour from Melbourne. Check out the additional information and current tour prices.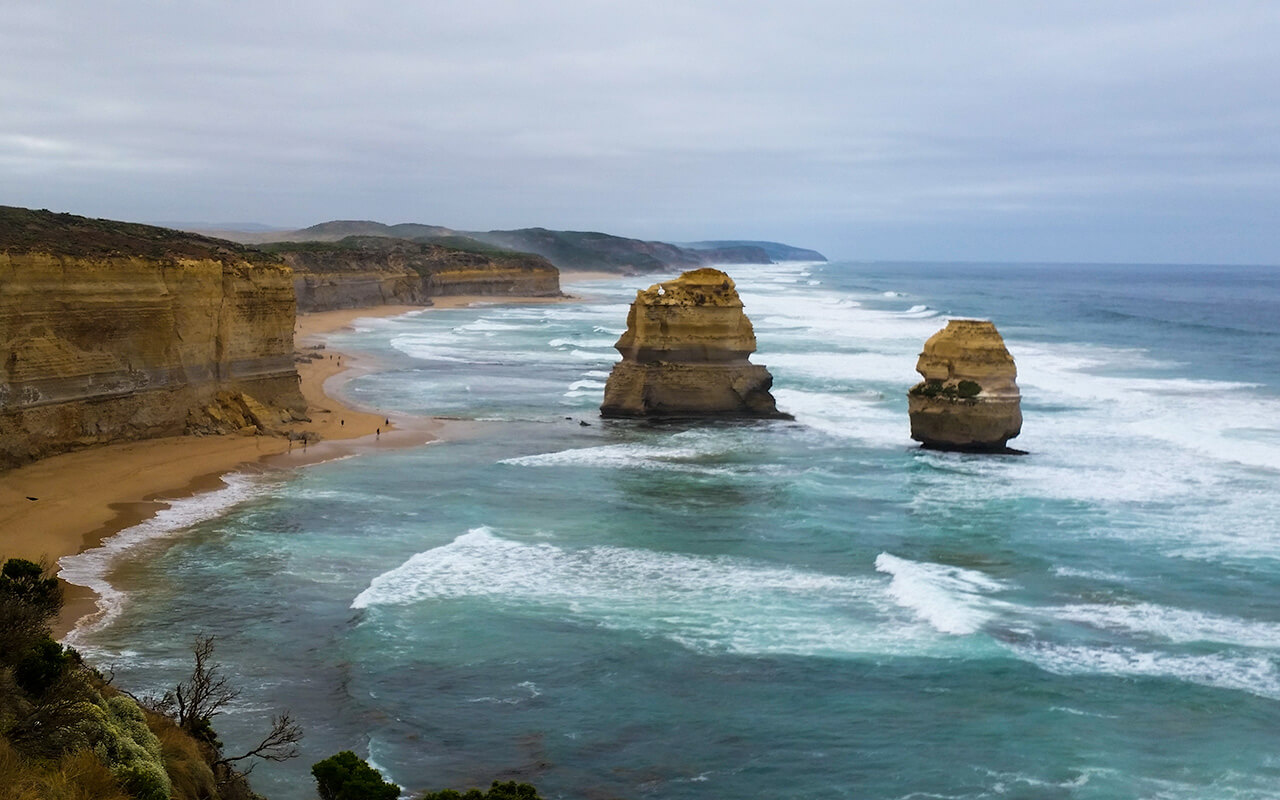 Philip Island
Southeast of Melbourne is Philip Island, a pristine haven for wildlife. There is a day tour from Melbourne that combines a food tasting adventure with wildlife watching. Check out the additional information and current tour prices.
Wilsons Promontory National Park
The Prom, as it is known locally, is a fairly long drive from Melbourne but you will be blown away by the gorgeous scenery and the pristine beaches. Check out the additional information and current tour prices.
Sovereign Hill
I came across Sovereign Hill almost by accident and had a wonderful time visiting this preserved Goldfields town. It's only two hours west of Melbourne near Ballarat so it's easily done as a day trip. Check out the additional information and current tour prices.
If you are driving, you only need to buy the entry ticket. Check out current prices.
Grampians National Park
I visited the Grampians National Park when seeking an escape from Melbourne and it was an adventure! You can see the highlights as a day trip from Melbourne. Check out the additional information and current tour prices.
I actually combined my tour of the Grampians with a cookie-decorating class with Miss Biscuit, which was fun!
Related Posts
Old Melbourne Gaol
Victoria
Grampians National Park, Victoria
Is this enough for you to do in Melbourne? Or would you have other suggestions? Please tell me in the comments!
Save these tips for 2 days in Melbourne on Pinterest!