I'm a baker. I have done a lot of cooking in my time but I have a strong preference for creating desserts and sweets. It has come to the point where I have to have three or four small desserts when I host a dinner party. Therefore, I've been on the lookout for a baking-related creative outlet and decorated cookies have come to my attention. Like many makers and creators, I can spend hours trawling through Pinterest and marvelling at the edible creativity available…
I thought I would take a class, to get started and find out what the fuss is all about. Miss Biscuit is a leader in the field, both as a creator and a teacher of all things royal icing. I missed the classes in Sydney and after having spent too much time researching the options online, I had to do it! So I booked a class in Melbourne and decided to make a trip of it, with plans to visit the Grampians and Sovereign Hill over the weekend. Read on, and let me tell you what it's like making decorated cookies with Miss Biscuit.
The Class
Julia Day runs a store and commercial kitchen in the Melbourne suburb of Seddon. The spacious kitchen is above the store, roomy and full of light. I was fortunate to attend a class with small numbers, which made the experience all the more enjoyable.
There is a nice atmosphere in the class, people are eager to learn and everything was ready for us. Miss Biscuit aprons were even provided.
There is a lot of information flowing, so I recommend bringing a notebook and pen, in order to take a lot of notes.
Miss Biscuit is Julia Day, a former speech pathologist turned cookie decorator after spending too many hours on Pinterest… I LOVE a good "follow your passion" story and this is one of them. Hats off to Julia for following her dream and creating a new life for herself! Can you tell I'm inspired?
The Biscuit Dough
There is no actual baking in the class, the biscuits are already made. But that's the easy part, the recipe is well researched and tested, and the biscuits don't spread when baked. The recipe can be adapted to allergies and special dietary requirements. However, Julia demonstrates the making of the dough, so you can get an understanding of how it is supposed to feel.
Rolling the Dough
If you struggle with uneven rolled dough, you are normal. As Julia pressed the dough onto to the bench, a most important question popped loudly into my head: "How do you ensure the dough is evenly spread, in order to have even cookies?" The Joseph Joseph rolling pin will do that for you. It has a set of "wheels" on either side to leave an even space under the barrel. Genius, quite simply.
Cutting
There are so many options for cutters and Miss Biscuit has a wall full of them. Julia explains the differences between tinplate and plastic cutters, and there's a tip: beware of round shapes, they tend to stretch when you handle them, so it might be an idea to start with other shapes.
Royal Icing
The Royal Icing is really what makes the decorated cookies, and that's also the most challenging part. Miss Biscuit's recipe has been researched, tested, tweaked, so it really works, but it's still a trial and error process when you try it at home. Indeed, getting the consistency right is a challenge but the one Julia made was perfect!
Royal icing is made with simple ingredients and will give you both the outline and the flooding consistency.
You make the royal icing in the stand-up mixer and add water to create the outline consistency, which should feel like cake batter. After taking what you need for the outline, you add more water to create the flood consistency, which should feel like pancake batter.
Colouring
Once you have your various consistencies, you need to colour them. Using colouring gel paste, you mix a tiny amount to the royal icing. A little goes a long way and the colour continues to develop after mixing so there is another opportunity for trial and error.
Outline
Decorating always starts with an outline. Without it, the flooding would simply escape and leak over the sides of the biscuits. For the outline, you need piping tips of various sizes.
Flooding
Flooding is tricky, you have to find the right balance, and figure how much is enough. The flooding should cover and hide the outline but if you add too much, it will leak over the sides. Once you have filled the space with a flood, you work it with a very fine tip to even it out.
As part of the class, you learn the wet on wet technique.
The Step by Step Process
When I made my first batch at home, I really needed to work out the steps in advance, to make sure I didn't miss anything. Here is an outline of the basic steps so you don't miss anything:
Prepare cookie mix
Roll out
Cut shapes
Bake cookies
Prepare royal icing mix
Add water to create outline consistency
Add colour
Take out quantity for outline consistency and set aside
Add water to create flood consistency
If you need to create several colours out of one batch, you will need to split the quantities after you've created the outline consistency, add colour, then add water for the flood consistency.
Decorating Step by Step
The sequence is pretty simple:
Outline
Dry
Flood
Dry
Repeat
Depending on your design, you will need to repeat this process several times. You need to allow a minimum of thirty minutes between layers.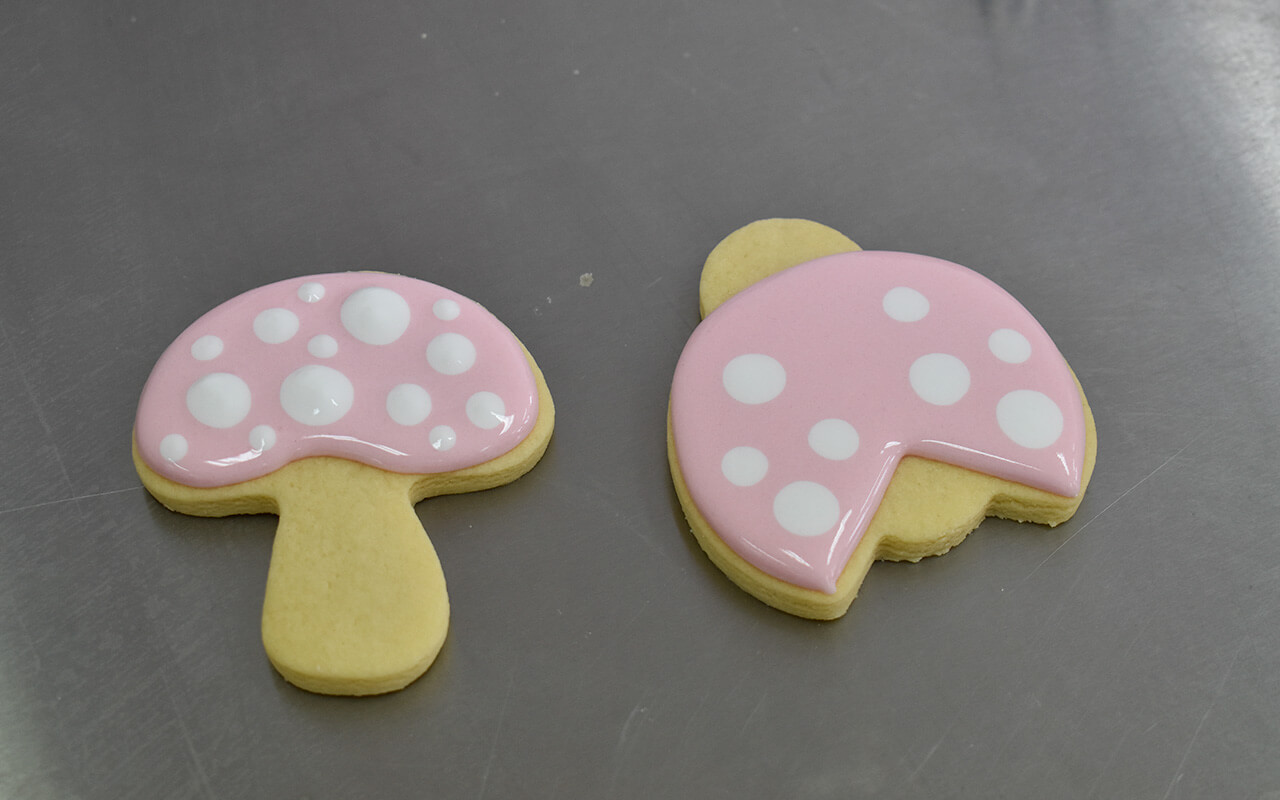 Drying
Drying is a very important part of the process. For this step, you need special equipment.   You need to use a dehydrator, or you can create a makeshift solution with drying racks and a pedestal fan. However, a dehydrator will create a better finish.
The cookies need a minimum of 3 to 4 hours in the dehydrator. After that, you need to leave them to air dry overnight.
Bagging and Conserving
You need to use food-grade bags, and heat seal them. And then, your lovely handmade food gifts are ready!
Equipment Required
Starting your biscuit decorating practice is not too difficult, and you probably have most of the ingredients and equipment in your pantry already but you need to get a few specialist tools:
Baking
Stand up mixer with a paddle
Baking trays
Baking paper
Plastic wrap
Rolling pin
Cutters
Royal Icing
Stand up mixer
Dehydrator
Gel paste colour
Decorating
Piping tips
Plastic wrap
Disposable piping bags
Squeeze bottles
Pin tool
As you progress in your practice of decorating biscuits, you can acquire more and more tools, such as stamps, stencils, edible paints and brushes, but this list contains what you need to start baking and decorating.
Ingredients
The ingredients required to bake cookies and make royal icing are surprisingly simple, and you probably already have most of them in your pantry:
Biscuits
Flour
Eggs
Butter
Caster sugar
Vanilla extract
Baking powder
Salt
Royal Icing
Egg white powder
Water
Lemon juice
Pure icing sugar

Tips and Tricks
There are so many tips and tricks Julia can teach you. And that's where the value of the course is. Julia is incredibly knowledgeable about creating beautifully decorated cookies. The course includes the recipes for vanilla cookies, chocolate, gingerbread cookies and royal icing. You also receive an invitation to a secret Facebook group where you can share your successes and mishaps. My first batch wasn't that successful but I received a lot of encouragement.
Making decorated cookies with Miss Biscuit was a blast, I look forward to some very creative times in my kitchen.
Have you attended a cookie decorating course with Miss Biscuit? Please share your experience in the comments below!
Related Posts
2 Days in Melbourne
Victoria
Grampians National Park – Victoria