At the tail end of a cold and dry winter in Sydney, it was time for a weekend getaway. After a while, the daily grind does get to you and I sensed my husband needed a break from work. Normally, we like to escape to the Mudgee Wineries, but this time I felt like making a change, so I researched the best things to do in Orange, NSW
Things to do in Orange
Orange is a fairly large country town in Central West NSW and one of the lesser known Australian wine regions. The distance from Sydney to Orange is only 254 km and a 4-hour drive through the Blue Mountains, which is about the same driving time from Sydney to Mudgee.
We'd never visited the wineries in Orange and thought we'd plan a 4-day weekend from Sydney.
Compared to other places to visit in NSW, like Jervis Bay, Berry, Berrima or Kangaroo Valley, Orange feels much bigger in size and complete with issues finding parking!
Orange Accommodation
The Orange accommodation tends to be fairly standard, however you can make a selection based on your budget and the location you want.
Hotels in Orange, NSW
The Ibis Styles Orange is a simple but reliable hotel at the entrance of Orange. The rooms are spacious and some of them have a small kitchen, which can be handy.
The Mercure Orange is a more upmarket option. The main advantage is the location: it's in the centre of town and within walking distance of some of the restaurants I mentioned earlier. Check out the additional information and accommodation prices.
The Best Western Plus Ambassador Orange is the same standard as the Mercure and is on the way into town, so you may need to drive in. The rooms are nicely appointed and spacious. Check out the additional information and accommodation prices.
Luxury Accommodation Orange, NSW
De Russie Boutique Hotel is an apartment hotel, with a more luxury feel. It's perfect if you want some more luxurious comfort on your Sydney getaways. It's also reasonably central to Orange. Check out the additional information and accommodation prices.
Drive around Orange
One of the things to do in NSW is to take a drive and we enjoy that on our shorts trips from Sydney. We did a fair bit of driving on this weekend away and it was thoroughly enjoyable.
Our first impression of Orange, NSW is that it feels much bigger than Mudgee. With a population of 40,000 people, it feels like a more established town, with outer suburbs and large shopping outlets we normally see in Sydney.
A quick lapse around the centre of town revealed quite a few nice buildings. As with many country towns in Australia, there is always a crossroad with a pub on every corner. I was especially taken by the Royal Hotel, with its renovated Art Deco facade. Unfortunately, the inside only has a TAB, so we had to go elsewhere.
Apart from the typical 19th century buildings such as libraries, banks and old pubs, we noticed the streets were lined with elegant houses, dating back to the 1920's. Obviously, Orange must have been quite prosperous around that time.
Orange was first established around 1830 by graziers and kept on growing, especially with the discovery of gold in the area.
Mount Canobolas
Before hitting the wineries, which is a great way to relax for us, we took a drive through the countryside. Orange being a grazing and fruit-growing area, the countryside is very pretty.
Mount Canobolas is a former volcano and the highest mountain in the area and stands at 1,395m. The top is a little disappointing, it's only a car park with some radio transmission towers. The view from there was also a little underwhelming, although you get to see far in the distance.
Our weekend trips from Sydney usually include some scenic walks and there are some hikes around Mount Canobolas.
The drive up to Mount Canobolas is nice, very typical of the Australian bush, with plenty of colourful birds flying around.
Lake Canobolas
We continued on to Lake Canobolas on our drive. It's a nice spot, perfect for picnics and lazy days by the water. There is a cafe there, said to be quite nice, however we didn't eat there.
I wished spring was more advanced on our visit, as the trees were still quite bare.
Lake Canobolas won't count as a major Australia tourist attraction but it's nice to include in one of your NSW getaways.
Wine in Orange
NSW wineries are the reason why we took this road trip to relax and be together again. We both love tasting and buying new wines. In my opinion, the best Australian wine is found in cellar doors!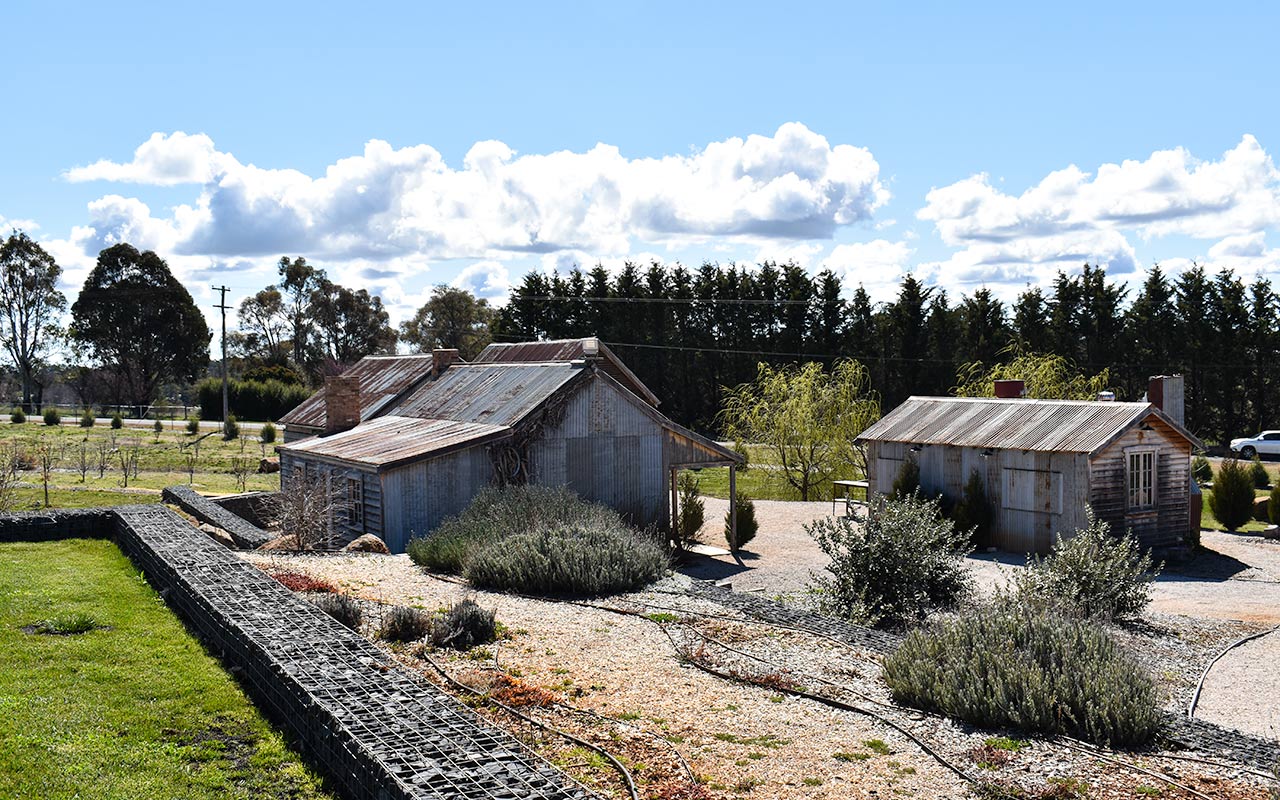 Wines from Orange, NSW (as opposed to Orange wines) do not feature heavily in urban liquor stores. It seems that the local wine growers sell a lot of their grape production to other wine regions, so what you find in cellar doors tends to be a little bit unique.
Orange is famous for its high altitude white wines, especially chardonnays. This delighted me greatly as a usually prefer a white wine.
I don't normally like Australian riesling, but I had some very nice surprises in Orange!
Wine Tasting Conditions in Orange
Note that there is a $10 tasting fee in pretty much all the wineries in Orange, NSW. This fee is redeemable with a purchase and since we bought wine in every winery we visited, we were never charged. It's more targeted at Orange wine tours who turn up in a bus and don't buy anything.
Wine tasting is a little more formal in Orange. We were used to Mudgee or the Hunter Valley wineries, where you taste wine over the counter and where you can choose which wines you taste.
In Orange, you are invited to sit down and go through the whole list of wines on offer. This explains the $10 fee as you get quite a bit of wine but it also means you need to manage your alcohol intake a little more carefully. Considering wine tasting tours might be an option so you don't have to drive.
Wineries in Australia can be very small or very large. What we found in Orange tended to be on the smaller side.
Our experience with New South Wales is always a positive one so read on!
Orange Wineries
Montoro
Montoro was our first stop. A small but welcoming cellar door, just by the side of the road. We were greeted by a friendly dog in the carpark. Montoro specialises in shiraz vines and the wines are quite expensive, starting around $30.
There is a white shiraz available, only designed because the owner's mother in law didn't like red wine. It's not the best Australian shiraz I've had but it goes well with seafood so we did get a bottle.
The other attraction was the dog, who greets visitors and walks them back to their cars. But Bailey also knows a lot of tricks, and reacts to the names of his dog friends and cousins…
De Salis
Getting to De Salis requires a bit of a drive up the hill, but the views are absolutely worth it. The cellar door has a lovely deck with views over the vineyard and another friendly dog. The Australian sparkling wine we started our tasting with was beautiful but out of budget ($90 a bottle).
De Salis has some beautiful Chardonnays and Fumé Blanc.
Philip Shaw
Philip Shaw is more reasonably priced and a beautiful winery to hang out for a light lunch. The grounds are beautiful and we were lucky to find white blossoms everywhere. It also feels like a more established winery, with more staff, a bit like the experience you get in the Hunter Valley.
Still, it was a very pleasant hour or so of wine tasting.
Colmar
Colmar has to be our favourite winery on this trip! The cellar door is simple, with table and chairs, but quite roomy. Colmar was named after a wine town in Alsace, in France. Alsace is famous for its white wines: Gewurtztraminner…
Normally, I don't like Australian versions of these grapes, I tasted some pretty bad ones when I first arrived in this country. However, Colmar has produced some beautiful examples of those varietals.
Borodell
Borodell is a very elegant winery, complete with a helipad. The large lawn makes it ideal for weddings and events. It's also a lovely spot for lunch.
Heifer Station
Heifer Station comes highly recommend and has a busy and pleasant cellar door. The inside of the barn feels very cosy, with long tables and comfortable couches by the fire. Outside, you can sit on tables and kids will be entertained by the farm animals on display.
There are some tables outside if you want to linger around for a light lunch.
Initially, the cellar door looked a little too organised and busy to be genuine but the wines are really good.
Mortimer's
Mortimer's is another Orange winery with a strong popularity vote. The cellar door is located in the former school of the March township. The school was established in 1875 and still has old photos and school records. Although not original, the building is charming and the wines are quite good.
We had a good conversation with the guy behind the bar however I felt that the popularity of Mortimer's is more due to its setting.
Ross Hill
Another good winery with a deck in the sun is Ross Hill Wines. We loved the rosé and many more. It was close to lunch time and I was beginning to fade after a number of wineries. Some Orange wineries offer tasting plates to go with the wine and we thought we'd give that one a try.
At $25 each, it was pretty expensive. Also, we both felt that the food on the plate distracted a little from tasting the Australian red wine.
Rowlee
A small winery recommended by the sommelier at Racine Restaurant, we didn't spend much time at Rowlee but the wines are really good.
Normally, they don't have many wines on offer, but they had a record eight to taste that day. Quite an achievement for a single vineyard winery!
Australian wine brands from Orange don't appear as much in restaurants and liquor stores so discovering all those cellar doors was a fantastic experience.
Small Acres Cider
Orange is not all about wine. I don't mind a cider from time to time, although what you find in liquor stores can be overly sweet.
The cellar door isn't much to look at and the winery dogs looked old and tired… but the cider was worth it. Both the apple cider and pear cider are really good, and have that more rustic, less sugary taste that you normally find in Europe.
Restaurants in Orange
Restaurants are one of the best things to do in Orange, NSW and something we love to do as a couple. Whilst the produce is there, food quality can be a little hit and miss in rural NSW but Orange has some great restaurants. In my research, I was pleased to discover that Orange also has some reputable Asian restaurants so we ventured…
Orange gets busy on weekends and I recommend booking ahead. We missed out on a few places due to being Father's Day weekend…
If you visit in autumn, you may catch Orange food week.
Our romantic weekend getaways always include some new and quirky food so read on…
The Lord Anson
The Lord Anson is in downtown Orange and was perfect for an arrival lunch. The pub is nicely renovated with a nautical theme.
We had a burger and sausages and mash, and they were both delicious. Both were really well made, with proper beef mince and sausages.
Scrumptious on Summer
We never eat out for breakfast so going away on a romantic weekend was a good reason to try the recommended cafes in Orange.
Scrumptious on Summer comes highly recommended and the hearty breakfasts are delicious if a little expensive. They are sizeable though to you need to turn up early or plan a late lunch!
Bills Beans
Bills Beans has a reputation for excellent coffee in Orange. We went there on the Monday morning before heading back to Sydney and there was a long line for takeaway coffee… Delicious coffee, delicious hot chocolate and tasty bacon and egg roll.
Factory Espresso
We went sent there with the promise of the best coffee in town. The coffee, hot chocolate and bacon & egg rolls were all very good, and the place has a nice vibe. Interestingly, Factory Espresso is also a comedy club…
Mr Lim's
Mr Lim's has a very good reputation as a Korean and Chinese restaurant. I was a little defeated by all the food and wine over the long weekend by the time we got to Mr Lim's but the food is delicious and the local wines go very well with it…
Raku Izakaya
Not being able to get into Mr Lim's on the Friday night and not knowing we would end up there anyway on the Sunday night, we decided to try the Japanese restaurant. Very good choice, with excellent wagyu beef and even nice dessert…
Racine
Racine is a charming restaurant is set amongst the vines, which is lovely for a spring lunch.
The food is a little fancy but the sommelier at hand had some very good advice, including on some of the local wineries…
Sister's Rock
This restaurant is at the Borodell winery, and the setting is really beautiful. The food is both refined and rustic in its flavours, and we loved the rosé…
The only downside of Sister's Rock is that they seem to accommodate large groups…
Shop for Old Wares
NSW tourist attractions in small country towns can often be dusty Antique stores and Orange is no exception. Darcy's Old Wares is in Lucknow, a small township full of mining shafts, just outside Orange.
We got a break from Australian wineries and explored the warehouse full of mid-century wares…
The shop front is so amusing we couldn't help but have a wander through the piles of mostly mid-century wares…
Visit a Mine
The first discovery of gold in Australia happened in Orange, in a location called Ophir. From 1851 to the 1940s, gold was mined on a semi-regular basis in the region, and contributed greatly to the prosperity and development of the area.
The best places to visit in NSW often have that historic reference to the goldfields and the Lucknow mines feature amongst Orange attractions.
The township of Lucknow is only 9 km from Orange and still have some very visible mine shafts. The Wentworth Mine has been renovated and is open to visitors the first weekend of every month, between 10am and 2.30pm. The visit takes about an hour and requires a degree of fitness, I assume to walk up stairs and narrow mining corridors…
It wasn't the right weekend when we were there unfortunately, next time hopefully….
Drive Ophir Road
Ophir is where a "commercial quantity of gold" was first discovered in Australia in 1851. This event started the Australian Gold Rush and is commemorated by an obelisk near the camping grounds. The obelisk isn't super easy to find, we missed it the first time, but the river is actually where the gold was found…
This is a mild piece of trivia and we weren't specifically interested in the goldfields history of Orange, NSW but the area is quite beautiful.
Ophir Road is a 27 km loop road north of Orange. The drive goes through what were goldfields in the 19th century and farm land.
With a forecast of morning frost and fog, we got up early to take the drive. The scenery was absolutely spectacular…
If you are looking for what to do in Orange on a romantic road trip and you happen to get a forecast for fog, it is absolutely worth the early start…
In winter, Orange is one of the few places to see in NSW where you can actually find snow…
The land still bears the scars of mining exploitation…
This was an odd sight… We drove past what looked like a dog hanging in a tree. We assumed it was a fox or a dingo killed by a farmer for attacking sheep… But on closer inspection, it was a domestic dog…
We asked a local and she offered that it might have been a statement made by a farmer to someone who would let his dog run around and kill sheep…
Drive to Millthorpe
If you are looking for what to do in Orange, NSW, other than the wineries and the restaurants, the thing to do is actually to go beyond Orange!
Millthorpe is only 24 km away and worth a visit on your weekend escape. Nothing much has changed in Millthorpe since the goldfields heyday…
Pym Street, where all the main stores and pubs were, looks pretty much the same.
The train station is now a café, and the train comes in from Orange once a day. So you can take a day trip to Millthorpe.
The Goldfields Museum has a collection of items dating back to the goldfields.
Slow Wine & Co was the final cellar door of this couples getaway. If you head to Millthorpe, do visit, the Pinot Grigio is delicious!
I don't have a particular thing for graveyards but this one looked interesting, on the side of the road, with its three churches…
There is a sign to the grave of John Lister, who was involved in finding the gold at Ophir…
Carcoar
Before making the trip from Orange to Sydney through beautiful countryside, we went to Carcoar, another small, forgotten-in-time village. Although less developed than Millthorpe, it is quite charming.
The train station didn't seem to be functioning but you have some nice old buildings. Also, the brook running through the town is quite photogenic.
Carcoar is a little further out from Orange and it didn't feel like the village benefited much from tourist traffic, but they may bring back the train in the future…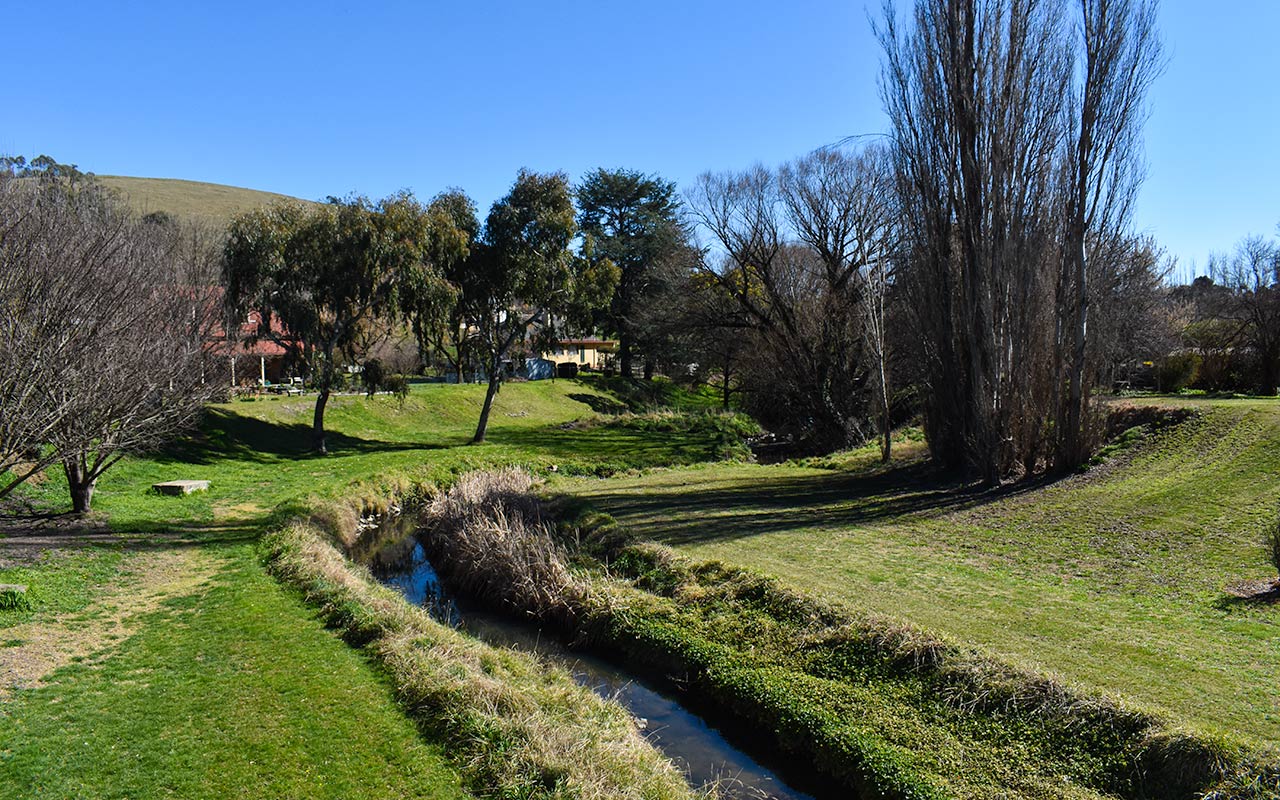 Romantic Getaways from Sydney
Our weekend in Orange was a success and I highly recommend it for a few days if you are trying to get out of the city. With good food, good wine and beautiful scenery, Orange should definitely be on your list of NSW places to visit.
What is the best time to visit Orange, NSW? Spring is always nice, of course. However, I've had some really nice times in country NSW in autumn or even winter.
Related Posts
Have you experienced Orange, NSW on a romantic getaway from Sydney? Tell me about your experience in the comments below!
Save these travel tips for Orange NSW on Pinterest!