Morocco is a fascinating and exotic destination with many different reasons to visit. With a rich and ancient artisan tradition, the temptation of unbridled shopping is everywhere. The markets are full of items for sale and it's hard to know where to start.
Also, the handmade arts are strongly valued in Morocco and contemporary artisans are adapting age-old know-how in order to craft beautiful wares. Indeed, you have the choice between an artisan or a modern shopping experience. With many trips to Morocco stamped in my passport, I have crafted the ultimate Morocco shopping guide to help you decide how to spend your money.
This post contains affiliate links. We may receive compensation, at no extra cost to you, when you click on or make a purchase using these links.
In order to help you find the best shops in Marrakech, which is where you are likely to find the best shopping, taking a shopping tour is a good idea. You don't have to buy you do the tour, but you will at least get an idea of where the best shops are and what prices you should expect to pay. Check out the additional information and current tour prices.
Are you interested in viewing the crafting of products? It's not always easy to find workshops in the medina and you may not be able to just wander in. There is also a tour that will show you around the different crafts and view how they are made. Check out the additional information and current tour prices.
Ceramics
Ceramics are a highlight of any shopping experience in Morocco. The bright colours and intricate designs are a fascinating attraction of the Medina, however, there is a long history and tradition of ceramics in Morocco. Practised for thousands of years, the art of ceramics has strong influences from Islamic and Spanish invaders.
Throughout the markets, the range of styles, colours and shapes can be overwhelming. Mostly, you will find floral and geometric patterns with fine details, deep colours and intricate designs. The objects you can find range from the very small to the very large: tajine dishes, bowls of all sizes, jars, ashtrays, plates, vases, platters, tiles and boxes. The choice often comes down to how much you can carry home and I tend to buy smaller objects.
The main ceramic manufacturing centres are in the cities of Fes and Safi, and those names also refer to typical styles of Moroccan pottery. However, ceramics are available everywhere in Morocco.
The range available in the Medina is of the handmade artisan kind, but contemporary creations are also available in the more upmarket stores, such as the ones in the Rue Majorelle in Marrakech. Ceramics often have that slightly rough and handmade feel, which is part of their charm.
Carpets & Rugs
Another ancient tradition of Morocco still passed on from mother to daughter in far-flung villages, is the crafting of rugs. Usually made of wool and carefully knotted or weaved by hand, rugs are everywhere in Morocco and represent a very important part of the Moroccan art of living. There are many sizes and styles, often created by Berber tribes, and a rug can be a wonderful addition to a home.
Shopping for rugs is a careful and considered endeavour though. You have to do your research and have a good think about whether such an item would fit into your home. Also, prices can vary wildly and you need to prepare for a hard negotiation. One very valid reason to add a Moroccan rug to your shopping list is the fact that a good quality carpet will last a lifetime…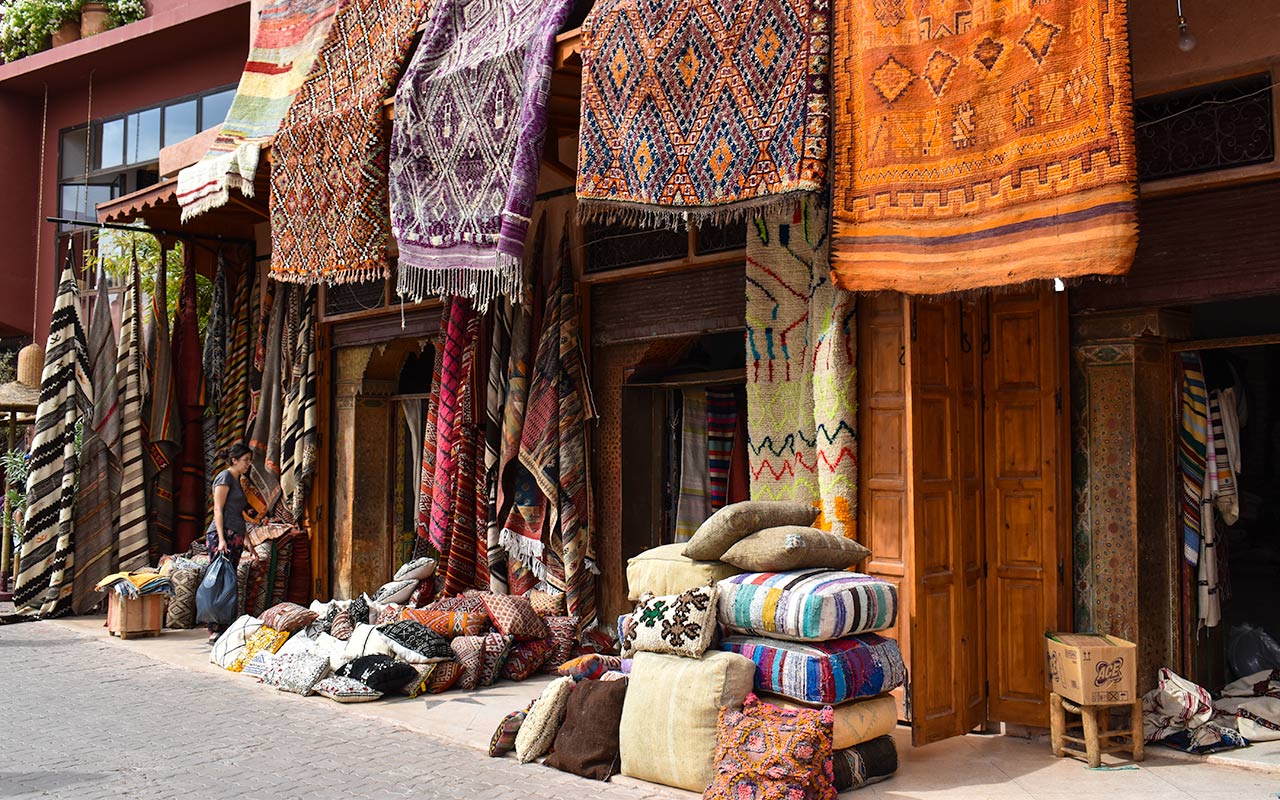 Brassware
Moroccan artisans have been crafting metal objects for centuries and the art has been especially prevalent since the 12th Century. The different metals used include copper, silver, lead, tin, nickel and aluminium, however, the most common one is brass. Fes and Marrakech specialise in crafting fine homewares, especially lamps and mirrors.
You can find some beautiful light fixtures and the decorated mirrors were a favourite of mine as a child.
Babouches
The rows of those traditional leather slippers lined up in tiny shops make for great photography… To me, it is one of the most iconic images of Morocco… When I shop in the Medina, the colours and textures fascinate me, I can spend hours selecting my favourites.
I don't know many people who admit to wearing slippers at home but in my opinion, the Moroccan babouches are the most comfortable thing… They are the only thing I collect from Morocco, I have to buy several pairs on each of my trips. Because they are light and can pack flat, they are the ideal footwear on aeroplanes!
Pillow & Cushion Covers
With many styles and iterations, pillow covers are a good compromise if you are looking to add that tribal feel to your home. They are also easy to transport and a more discreet statement in a decor than a large carpet.
Leather
Leather is another symbol of traditional Moroccan craft and there are so many possibilities: clothing, handbags, shoes and homewares. The tradition of tanning and dyeing leather goes back many centuries and even today, the tanneries of Fes still use a technique perfected in the 13th Century.
In Morocco, you can find handbags, wallets, belts and shoes of all styles. In the Medina, the quality can be a little average but there are some very fine leathers in the chic stores of Marrakech. My pick? I always buy a small wallet when I travel, to hold local money. I am spoilt for choice in Morocco. Last time, I also treated myself to a beautiful suede jacket from this store.
Homewares
The handmade arts of Morocco are very well utilised in the design of homewares, big and small… When travelling in Morocco, you will have plenty of opportunities to find objects to bring home as decorative souvenirs. There are too many to list here but if you like a bit of a treasure hunt, Morocco is for you! I have a soft spot for tadelakt boxes and dishes, they look lovely in my bathroom!
Tea Sets & Glasses
When travelling in Morocco, you will certainly taste the mint tea and experience a central element of Moroccan hospitality. Wherever you go, mint tea is on offer, served in small glasses adorned with intricate details. Mint tea is made very simply, with green tea mixed with mint leaves and steeped in a small silver or brass teapot.
The set is complete with a matching tray and decorated glasses. Traditionally, mint tea is very sweet, but these days, cafes serve the sugar on the side, so you can dose it yourself.
Those were my Achille's heel on my last trip… I bought 2 sets of glasses when I already have some at home but what can I say… I fell in love with the colourful patterns, when my glasses at home were plain handmade glasses. They're equally beautiful, with a light aqua colouring and tiny bubbles in the glass, but I guess that's how you start a collection!
Admittedly, glasses are not the easiest thing to transport but you can count on merchants to package your purchases for travel!
Thuya Wood
Morocco is home to forests of thuya trees, especially around Essaouira. Thuya is a type of cypress and a fragrant and precious wood. Moroccans artisans craft an endless range of objects such as boxes… However, the best use is made through the fine art of marquetry. However, the harvesting of thuya has been abusive in the past and the essence is getting a little scarce, so you're unlikely to find large objects these days.
If you are mindful of how sustainable and ethical your shopping is, you may want to buy something else. Personally, I received a huge amount of thuya objects when I was a child and I'm a little over it… I might have to explore it again next time and see if I find something to my taste…
Antiques
With its long history and many diverse cultural influences, Morocco has a very good stock of antiques. Marrakech has some very reputable antique stores, including in the Medina. There, you can find unique objects that travelled through time and tell a story…
I find the Tuareg objects very interesting, however, this type of shopping is serious business. As this is Morocco, haggling is expected but you need to do some research before shopping.
Paintings
Morocco has a lively and sought-after art market. Some contemporary artists are highly rated on the international art market. In the Medina, you are likely to find much cheaper paintings of much lesser artistic value, but these little naive scenes make a nice souvenir. I found some charming blue and white street scenes in Chefchaouen, and didn't buy them… I regret it now but I can always go back!
Painted Wood
This is another blast from the past for me… Those mirrors framed in painted wood made their way into my dolls' house!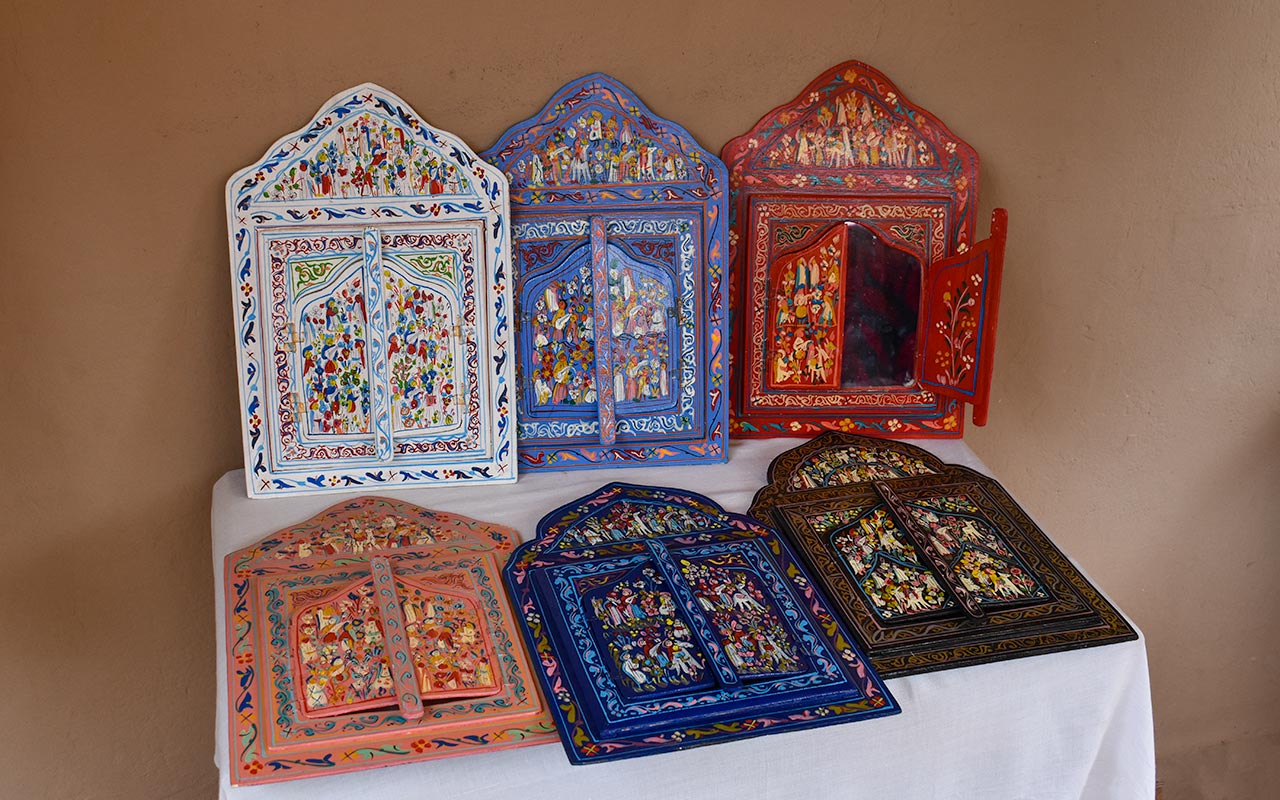 Textiles
Moroccan women produce some very fine embroidery or weaving, and some of it can be quite expensive. In Rabat, there is women's coop in the Oudayas quarter, where you can buy some high-quality items. In a world of mass-produced fashion, a trip to Morocco is an opportunity to find some beautiful handmade textiles in rich colours. If you are crafty, some of those textiles can be used to create your own soft furnishings.
Clothing
Moroccan fashion is associated with long, flowing garments and there is plenty to choose from. Whilst the quality of cheap garments can be pretty low in the Medina, there are some designer stores where the traditional silk trimmings are used to adorn high-quality garments. La Maison du Caftan in Marrakech is a temple to fashion temptation!
Jewellery
There are different styles of jewellery in Morocco and plenty of choice! The world of jewellery shopping in the Medina can be tricky to navigate… There are lots of fake antiques and the quality of the silver can be questionable.
Also, some sellers swear to genuine stones including polished amber but this incredibly fragrant tree resin has become quite rare in Morocco. So, don't be fooled but enjoy the shopping, there are some great statement pieces around!
Purses & Handbags
In Morocco, the markets offer a huge amount of locally designed purses and handbags. I really hesitated over these hessian clutches decorated with colourful pompoms… but I couldn't decide on the colour.
Baskets & Wooden Spoons
Basketry is plentiful in Morocco, from the small to large. I love the plain palm fibre ones with leather handles and I have a small one at home. I briefly considered a larger one but already had many purchases to take home… They can get pretty bulky but if you are a basket person, these are probably the best you can find…
The wooden spoons and other kitchen items are easy to pack and looking at this photo gives me a slight sense of regret…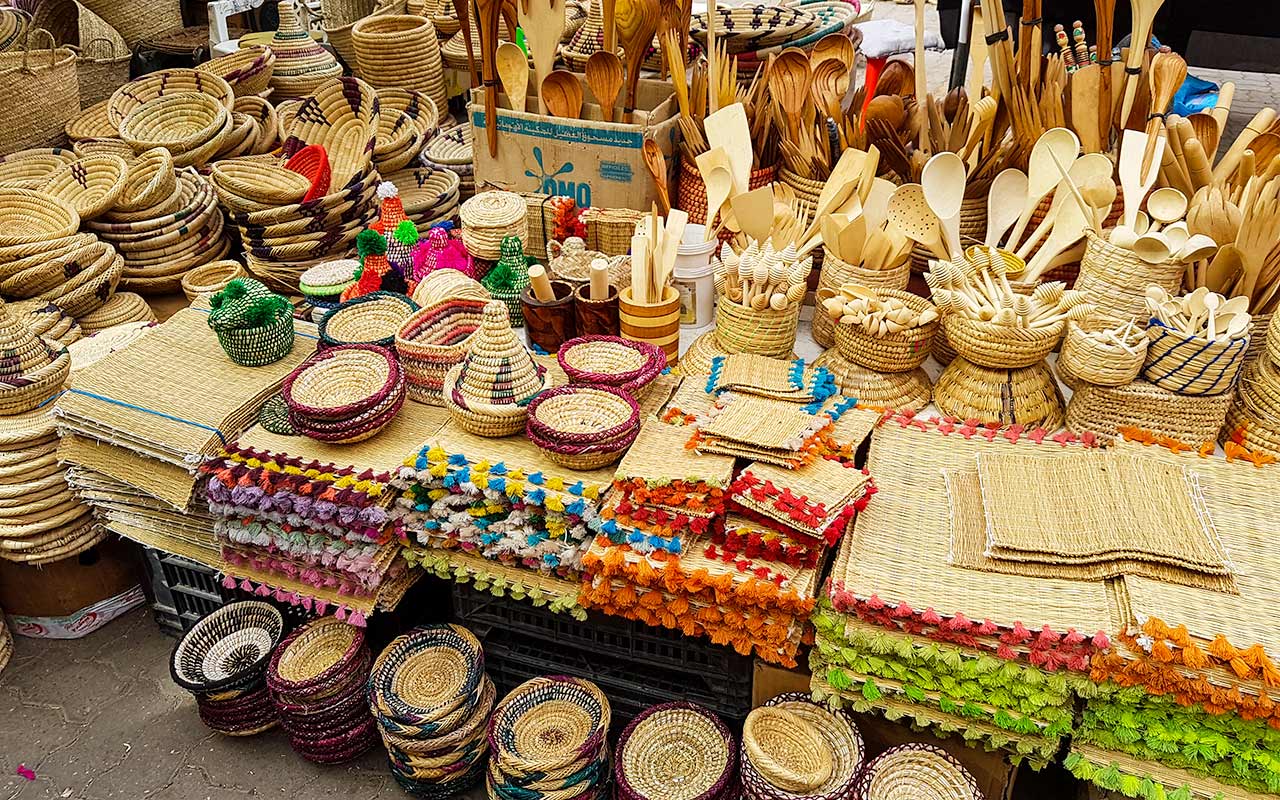 Cosmetics
A journey to Morocco wouldn't be complete without experiencing the rich fragrances of Morocco. My childhood memories are full of orange blossom, mint, roses, amber and various spices… These days, you can take these smells home through locally made cosmetics. A visit to a well-appointed spa will introduce you to new body care products such as ghassoul and savon noir…
In the markets, look for cosmetic rose water and orange blossom water. As for the make-up department, kohl and face tint can be found in the medina.
In Chefchaouen, you need to spend some time in La Botica de la Abuela Aladdin and shop for oil perfume and musk.
Argan Oil
Argan Oil is an extraordinary success story in Morocco… The oil is produced by pressing the kernels contained in the fruit of the argan tree, a dry shrub tree endemic to Morocco. The women's cooperatives producing the oil hold a strong social function and it's important to buy from the right suppliers.
Culinary argan oil is everywhere but a lot of cheap brands mix sunflower oil and some places falsely advertise themselves as women's cooperatives.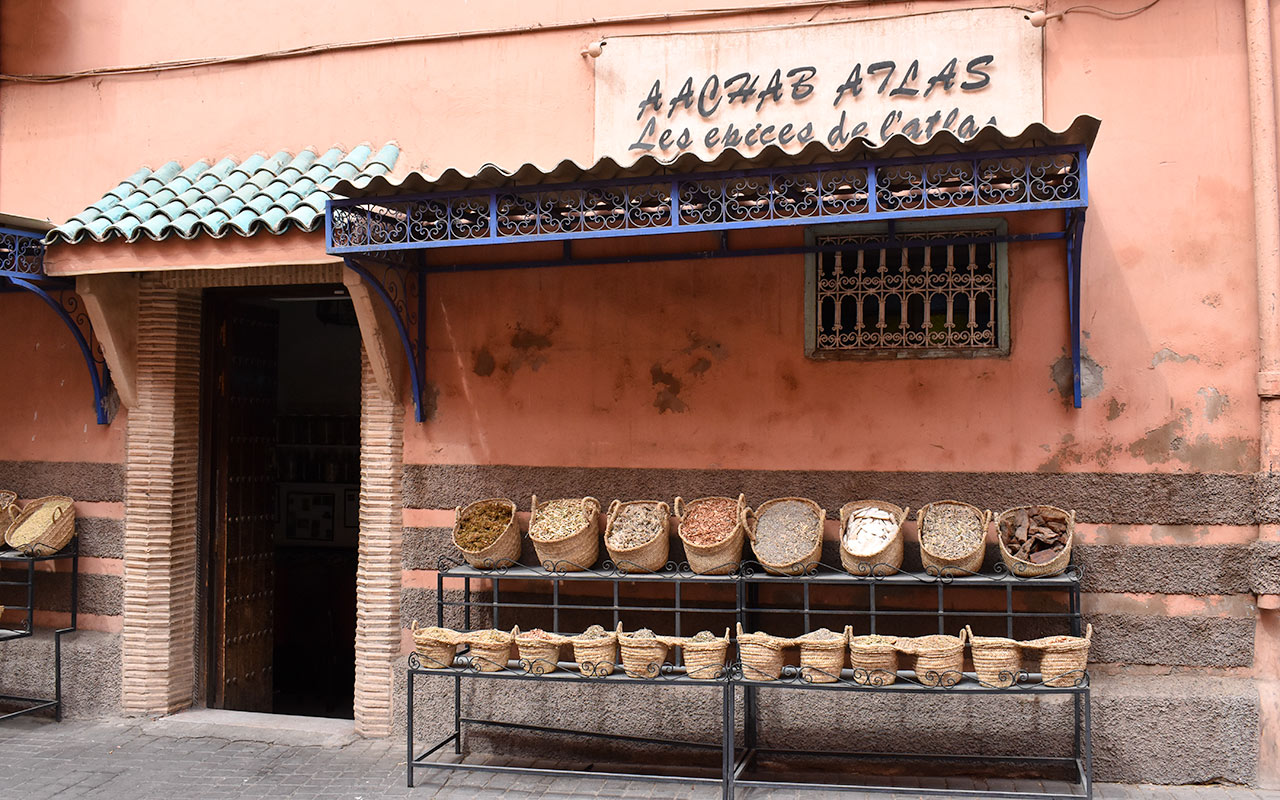 Argan Oil has a nutty taste and is quite expensive. In Morocco, argan oil is used for dipping bread, in couscous and salads, and has some demonstrated health benefits. The cosmetic oil is used in face, body and hair products. Those products are widely available outside of Morocco but if you buy pure Argan Oil, you can actually mix your own oils.
Olives, Dates & Sweets
Food should definitely part of your Morocco shopping experience. The local markets have plenty of stalls where you can buy olives, dates, peanuts, dried figs and various sweet biscuits and cakes… Come on, indulge a little… Morocco has a very fine art of living, the small details of hospitality are very important.
Olives are offered as an appetiser in most restaurants and there are so many flavours available in the Medina… I recommend you sample those snacks as everything is fresh and flavoursome.
Morocco is famous for its sweets mixing spice and floral flavours. There are some great patisseries in the Casablanca Habbous medina and also in the Gueliz district of Marrakech.
Spices
Spices are an essential part of the culture and local cuisine and should definitely be part of your Morocco shopping! In Marrakech, the Place des Epices has many stores laden with colourful spices. I see it as exciting as shopping for shoes…
The colours and smells are a magnet and I often go overboard, however, authentic spices make such a lovely gift! The spices available in Morocco include ginger, black and white pepper, paprika, cayenne pepper, cinnamon, cumin, saffron, anise, nutmeg, fenugreek… and of course the complex ras el hanout!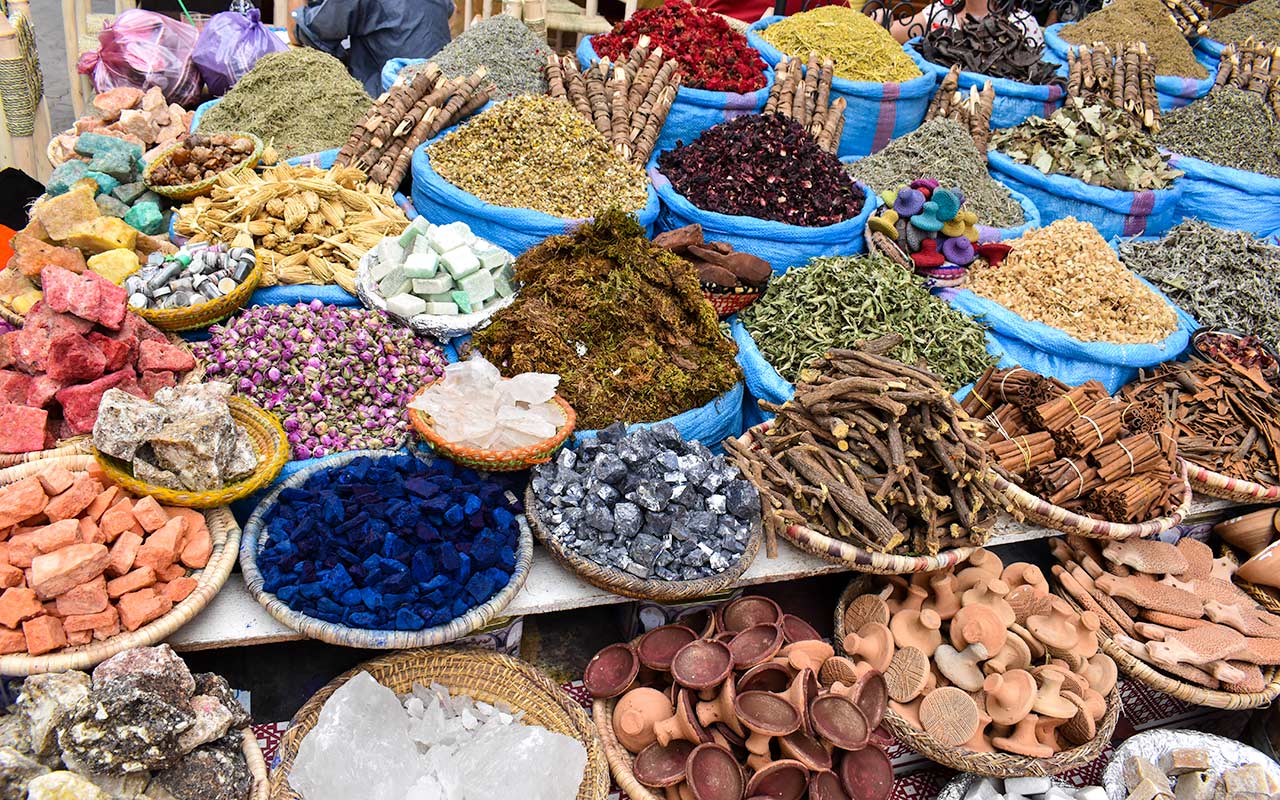 Remedies
This may be for the more adventurous traveller… but why not try the various teas and herbal remedies available in the Medina? This funky stall in Essaouira has plenty to choose from!
Shopping in Morocco
Shopping in Morocco can be a fun and enriching experience, where you get to mingle with the locals. I will be writing more about the art of haggling in Morocco. You can trust this guide as I have bought most of the things listed above: some I use every day and some things were more impulse purchases…
To give you a good idea of prices, I recommend visiting the Ensemble Artisanal. Only a few minutes from the Koutoubia, this state-sponsored shopping complex has the same things that you find in the medina but the prices are fixed and quite fair. Once you do that, you are ready to haggle your way through the medina. I have more information on the things you need to know before travelling to Morocco and also 20 reasons why you should visit Morocco. If you are intending to drive in Morocco, I have a comprehensive guide here. Trust me, there are some spectacular roads…
For more city guides on Morocco, check out these posts on Chefchaouen and Tangier. On the Mediterranean Coast, I recommend checking out the Spanish Enclaves and the Controversial Spanish Islands.
Do you have favourite buys I could add to my Morocco shopping guide? Please tell me in the comments below!
If you are looking for more ideas on Morocco, please check out my Pinterest board.