When planning a trip to Morocco, questions often arise around what to wear in Morocco, and how modest you need to be, especially for female travellers. I always take the view that it's best to be comfortable when travelling. Here is a list of what to pack for Morocco…
What to Pack for Morocco
When I pack clothes for Morocco, I also bear in mind what's appropriate or what's the best travel purse… Don't worry, it's easy and if you haven't packed everything and are wondering what to do in Marrakech, Morocco is a wonderful shopping destination!
While it can be hard to pick the best time to travel to Morocco, I have the ultimate Morocco packing list. Read on, and you'll know exactly what to pack for Morocco!
Morocco Dress Code for Women
Officially, there is no Morocco dress code for tourists. However, Morocco is a Muslim and fairly conservative country so respecting some simple rules apply. In Morocco culture, women tend to cover up, with long gowns covering their arms and bodies. Many women wear scarves to cover their hair but often it is more a modesty thing rather than purely religious.
There is absolutely no expectation that female tourists should cover their hair but short skirts and skimpy tops are not recommended. Put simply, wearing too little in Morocco will attract unwanted attention and cat–calling. In my experience, the best travel clothes for women visiting Morocco are to be comfortable and reasonably modest.
You will find that Moroccan clothing tends to be a little flowy and not revealing. You should cover your shoulders and show no cleavage. If you are wearing tight pants like jeans, it is a good idea to combine that with a tunic top that covers your hips.
Morocco Dress Code for Men
Choosing travel clothing for men visiting Morocco is easier than it is for women. Yet, there are certain things to bear in mind about the ideal Moroccan attire. Moroccan men can dress a little more formally than a tourist might expect. By formal, I don't mean dressy. I just mean that neat pants and collared shirts are probably the best travel clothes for men.
T-shirts and shorts can be regarded as too casual. Again, there is no formal Morocco dress code but locals will greatly appreciate if you dress respectfully.
If you are wearing shorts, I recommend long ones and keeping a long sleeve shirt in your travel day pack is a good idea.
The Best Time to Visit Morocco
Morocco climate is quite diverse and picking the ideal time to visit can be difficult, depending on where you want to go and any specific activity of choice. Morocco seasons are pretty well defined, spring and early autumn are great times to visit. However, winter is a good time for visiting the desert and Marrakech. And why not take a beach holiday in summer along the Atlantic Coast?
Spring: March, April, May
Spring is often the best time to go to Morocco. The temperature in Morocco in March, for example, is still mild but the sun is already warm. You can still expect some light rain so a light waterproof jacket is a good idea.
If you are considering a desert tour in spring, Morocco in May can be quite warm but some appropriate Sahara clothing like quick–dry pants are a good idea.
In spring, you can also start considering comfortable walking sandals for travel.
Summer: June, July, August
If you visit Morocco in June, it will already be quite hot so you definitely need a summer holiday packing list with some quick-dry clothing. You will still need to dress modestly when visiting markets so pack some lightweight clothing for hot weather.
If you are lucky to stay in a hotel or a riad with a pool, or stay by the beach in Essaouira, don't forget to pack your swimsuit, board shorts and a towel. I particularly like Turkish cotton towels. Some summer yet sturdy footwear should also be on your packing list. For me, the best travel sandals are Birkenstocks.
Morocco in July is quite busy with tourists, including domestic ones and may not be the best time to go to Marrakech, for example.
If you go to Morocco in August, you will find that many things close for several hours around midday and reopen later in the afternoon.
Autumn: September, October, November
Travelling to Morocco is September is a great idea, as some of the summer heat stills lingers without being overbearing. Also, a lot of European tourists are gone. I've also been to Morocco in October and the weather starts to cool a bit so some long sleeve shirts and light jumpers are required.
If you visit Morocco in November, it is likely to rain, especially in the North, around Tangier, Chefchaouen and Tetouan. I recommend using a waterproof travel backpack or alternatively, a travel safe backpack.
Winter: December, January, February
It may seem like a less obvious time of the year for travel but Morocco in winter is actually really nice. In fact, it's the best time to visit Marrakech. It's not as hot and the Atlas Mountains are visible in the distance, which doesn't happen all year long. Morocco in December is usually quieter, with less tourists.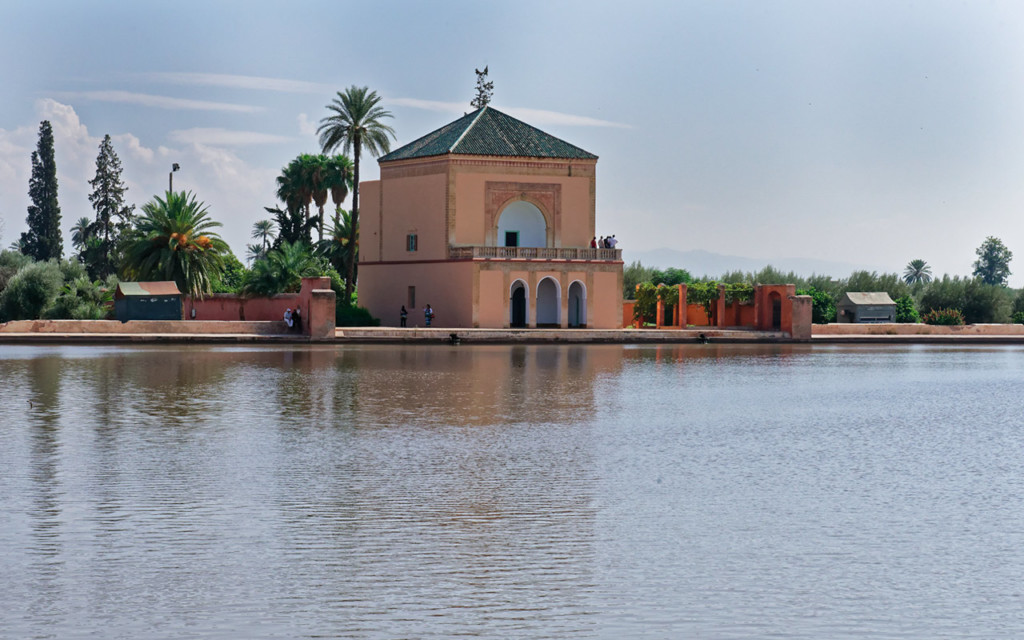 The temperature in Morocco in January can be cold, especially at night. However, it's quite nice during the day when the sun shines.
I recommend packing a reasonably warm jacket. Also, if you are travelling to the Sahara desert, gloves and a woolly hat are certainly not out of place.
Day Pack or Cross Body Bag?
Morocco is a wonderful place to explore on foot. With typical streets and bustling markets, you can spend hours walking around. For this purpose, you generally have the choice between a crossbody bag or a daypack.
I quite like crossbody bags for travel. Mine is an anti–theft travel bag, with secured zippers. I like to be able to reach for my camera easily and have my phone nearby. For me, the best crossbody bags for travel to Morocco should be big enough to contain my DSLR camera, a guidebook, my sunglasses and my best travel water bottle. I like to have pockets but not too many and a travel purse, to have some small cash handy.
Carrying an ultralight daypack is also a good idea in case you do some shopping along the way (very hard to avoid, trust me…)
As an alternative, the best day pack for travel should be reasonably sturdy and waterproof.
Essentials For a Day
An anti-theft backpack is a good idea when you travel around Morocco. I've never had problems with theft but I know it happens a fair bit in touristy places. A travel pouch or a secure travel wallet is also a good idea but I find those bulky, I prefer to store important documents like passports and credit cards in an inside pocket of my travel handbag.
The essentials I carry with me for a day of exploring are: a travel water bottle, sunglasses, a hat, some sunscreen, a guidebook, my DSLR camera, a charging pack, a light jumper or jacket and a light scarf.
A water bottle with filter for travel should go on your carry on your packing list. Bottled water is readily available in Morocco however, there are growing concerns over the pollution caused by plastic so it's best to take a travel water bottle with you and refill. Make sure you have a portable water purifier with you though.
Shoes
The topic of shoes is very important when you visit Morocco. I have seen a lot of tourists struggling in heels or flimsy sandals in the dusty streets of Marrakech. In Morocco, even in cities, the ground can be uneven and dirty. And if you have a tendency to twisting ankles like I have, the best shoes for travel in Morocco should be closed-toe and have a reasonably solid sole.
I know that finding stylish walking shoes can be a bit of a struggle but I'm happy to forgo that particular aspect when I'm exploring the bustling souks of Morocco. My recommendation is to get the best waterproof walking shoes you can find. Sneakers are fine in dry weather, but you will easily step into puddles without warning.
The best time of year to go to Morocco being spring, I recommend packing a good pair of walking sandals for travel. For me, the best walking sandals for women and men, should be contoured and somehow protect your toes.
I also recommend packing a pair of flip flops. Moroccan tiles are beautiful but they can make shower floors a little rough sometimes.
Luggage
Having the right luggage could make or break your trip to Morocco. The main reason being that Moroccan buildings tend to have steep and narrow stairs and a traditional suitcase can be very impractical. As much as I love my Tourister medium suitcase, it simply wasn't appropriate for the riads of Morocco…
It was heavy and fairly bulky, and I always had to rely on someone else to carry it up the stairs for me. Still, it's very reliable on long haul flights!
My recommendation for Morocco would be to pack light and pick a travel backpack with wheels. This way, you have some flexibility. You can roll your luggage through airports and still be able to carry it on your back when you need to.
You could go with a traditional backpack option but personally, I don't want to carry my luggage on my back all the time. Nor do I think it's absolutely necessary when you travel through Morocco.
In order to pick the best-wheeled backpack for travel, you need to pay attention to how sturdy the wheels are. As with the best carry on backpack, you need it to be sufficiently roomy to fit all your stuff. Don't forget that the luggage will need to sustain a tough ride in the hold of an aeroplane.
Just like the best anti–theft travel bags, it also needs to have solid fabric and be waterproof.
In order to make your packing easier, I also recommend using packing cubes. The best packing cubes should be lightweight, washable and have quality zippers.
Finding the best toiletry bag for travel is a challenge for me as I tend to carry too much…
Essentials
Even if your trip to Morocco is only a weekend in Marrakech, you need to pack some essential travel items.
Ear-plugs, eye drops, hand sanitiser, anti-diarrhoea tablets, electrolyte tablets are must–have travel items for your travel toiletries list. Sunscreen and insect repellent can be expensive in Morocco so I recommend adding those to your summer packing list.
If you are staying a bit longer, packing a portable water filter is a good idea.
Cameras and Electronics
Morocco is a very photogenic destination so if you are using more than your smartphone, these are the essentials: camera, power adapter/portable charger (lightweight powerboard with USB ports), camera cleaning kit, camera bag, memory card.
If you are carrying a fair bit of equipment, try and find the best camera sling bag for travel. Again, a camera sling bag would be my personal choice or a waterproof camera bag as an alternative.
The Ultimate Travel Packing List for Morocco
Once you have decided what is the best time of year to visit Morocco, you now know how to dress in Morocco. Don't forget to read my other Morocco travel tips and let me know what else you would pack.
Also, if you travel light, it's easier to drive around Morocco and tackle those amazing roads…
Related Posts
Do you pack any other items when you travel to Morocco? Please tell me in the comments below!
LesterLost is a participant in the Amazon Services LLC Associates program, an affiliate advertising program designed to provide a means for us to earn fees by linking to Amazon.com and affiliated sites.
Save these Morocco packing tips on Pinterest!