Sydney is a great place to live and there is plenty to see and do. If I'm being really honest, Sydney is such a diverse city that you don't really need to live the metropolitan area to take a break and get away from it all. Still, it's nice to go somewhere new and get that feeling of renewal. Whether you go away from an overnight trip or for a long weekend, and regardless of how many kilometres you travel, it's one of the best things you can do feel refreshed. Having lived many years in New South Wales, I have the ultimate list of the best weekend getaways from Sydney to help you plan your next trip. These destinations are amongst the best places to visit in NSW!
The Ultimate List of the Best Weekend Getaways from Sydney
The best weekend getaways don't have to be far and you can choose some weekends from Sydney less than two hours' drive away.
The first thing to ascertain when you plan a weekend getaway is how much time you have and how far you want to go. These are perfect for a classic two-night weekend, and can even be done as an overnight getaway.
I also like the option of driving further away and there are some great options for a four-hour drive. Generally, I like to allow three nights for those, as the drive can take up to half a day. Some of my favourite getaways are in this category as I feel like I'm on holiday and the weekend feels much longer. In this list, I discuss places in NSW I have visited once or more, and how they would suit your needs.
Accommodation in New South Wales
My favourite way to finding accommodation when I travel away from Sydney for a few days is to use holiday rentals. There is plenty of choice and locations and it suits every budget.
Blue Mountains, NSW
Just two hours from Sydney, the Blue Mountains are a very popular day trip if you want to get away from the city. It's also one of the most popular weekend trips from Sydney. One of the first tourist destinations in New South Wales, the townships of Katoomba, Leura and Blackheath are easy to reach on the train. The Blue Mountains are famous for their blue hues, deep valleys and ubiquitous waterfalls. A Blue Mountains getaway is perfect for those who enjoy hiking, with many trails of various difficulty.
One of my favourite things to do in the Blue Mountains is to drive to all the lookouts to capture the endless eucalyptus forest from different angles, one was actually visited by Charles Darwin himself! Echo Point Lookout in Katoomba is a popular spot for the mandatory photo of the Three Sisters rock formation. Finally, Scenic World is one of the best attractions in the Blue Mountains for all ages, utilising some of the old mining infrastructure.
You can experience what is one of the best short getaways from Sydney with an overnight trip however if you want to try some Blue Mountains hiking, I would recommend staying two nights minimum.
A weekend in the Blue Mountains is best for those who enjoy a romantic road trip, hiking and are keen to discover some Blue Mountains waterfalls.
Mudgee, NSW
Less famous than the Hunter Valley, Mudgee is actually a fantastic wine town in NSW. Centered around a small country town, Mudgee wineries have been producing some of the best Australian wine since 1850. Mudgee is a four hour drive from Sydney, through the Blue Mountains and the mining towns of Sofala and Hill End.
This country town is an ideal destination for those looking for a foodie experience, as well as tasting the Mudgee wines. Paired with the local wines, the food scene is very creative and there are some excellent restaurants in Mudgee. One of my favourite things about Mudgee is that most of the wineries are small and family-owned. You can easily talk to the winemaker and learn about the characteristics of the wines. The town is surrounded by hills and it's easy to find a place with a view to unwind at the end of the day.
I love Mudgee for a long weekend. The drive from Sydney to Mudgee is four hours so I recommend staying a minimum of three nights. Other things to do in Mudgee include visiting the olive groves and whisky distillery.
A weekend in Mudgee is best for those who enjoy food and wine.
Orange, NSW
It took some effort to pry me out of my beloved Mudgee for a wine tour but I finally gave Orange a try and it's one of the best weekend escapes from Sydney. A medium-sized town of the central west area of regional NSW, Orange is famous for its cold climate wines. If you love white wine, you are in for a treat, as Orange produces some of the best ones in Australia. Wineries in Orange encourage you to taste their whole range of wines, meaning you need to pace yourself.
The food scene is also superb, with some excellent restaurants, showcasing the local fresh produce. Whilst most restaurants in regional NSW tend to follow a European menu, we discovered some excellent Asian restaurants in Orange.
For other things to do in Orange NSW, you will find small towns such as Carcoar and Millthorpe, that don't seem to have changed much since their 19th century heyday. Orange is where the first discovery of gold was made and the surrounding countryside still bears the marks of field exploration. If you enjoy driving, I highly recommend touring Ophir Road, the views are stunning.
A weekend in Mudgee is best for those who enjoy food and wine, and some great drives. Sydney to Orange is a four-hour drive so I recommend three nights to enjoy some great NSW wineries and one of best Sydney weekend trips I've had recently!
Canberra, ACT
The federal capital of Australia is a three hour drive from Sydney and drags a bit of a boring reputation. Creating a capital ex-nihilo, sort of halfway between Sydney and Melbourne was a daring undertaking. My first visits to Canberra left me a little non-plussed but gradually, I began looking forward to visiting and doing things I don't normally do in Sydney.
Canberra is quiet and easygoing, which is a nice change from ever-busy Sydney. Over the years, I found some very good restaurants in Canberra but most of all, I enjoy the museums. The National Gallery and the National Portrait Gallery have rich permanent collections and regularly host unique exhibitions. Canberra is also a great place to learn about the formation of Australia as a colony and a sovereign country. The Australian War Memorial is an extremely well-curated museum detailing the military commitment of Australia throughout various armed conflicts of the past and present.
A weekend in Canberra is best for those who want to visit some museums and learn about the Australian Federation.
Jervis Bay
A marine reserve and a national park, the unique natural harbour of Jervis Bay was once destined to be a naval base. For this reason, Jervis Bay Territory is technically outside of New South Wales. The army still has a firing range, but the rest is pretty much left to nature. Jervis Bay has my heart and is one of the best beach holiday places in NSW. The famous Hyams Beach boasts the whitest sand in Australia and there are many pristine beaches around the bay. The Booderee National Park offers crystal-clear waters, secluded beaches and some historic relics. My favourite place to laze in the semi-shade is Murrays Beach, one of the best beaches in Jervis Bay in my opinion, because the water is perfect and dolphins occasionally swim by…
There aren't many attractions in Jervis per se but there are a few trails to explore and you shouldn't miss the ruins of Cape George Lighthouse. For a true local experience, pick up some seafood at Huskisson to enjoy with a glass of wine at dusk by the beach… Finally, whale watching in Jervis Bay is one of the best things to do in winter.
A weekend in Jervis Bay is best for those who want a beach getaway. Driving from Sydney to Jervis Bay takes about three hours and my preference is to stay three nights.
Kiama, NSW
The charming little town of Kiama is only two hours south of Sydney. Apart from visiting the lighthouse and the famous blowhole, it took me a while to spend time there and get to know the area. Which is a shame, because when I finally spent a few days in Kiama, I loved my time there. Kiama has a selection of pristine beaches, a volcanic rugged coast perfect for photo opportunities and a well-preserved rainforest.
If you are into hiking, the absolute highlight is the Kiama Coast Walk, a 22-km coastal walk. I did it in two sections and it's one of the best coastal walks in NSW in my opinion.
Batemans Bay, NSW
A little further south of Jervis Bay, Batemans Bay is one of the great short breaks from Sydney. A popular town on South Coast NSW with some great beaches: Rosedale Beach and Surf Beach have crystal clear waters. One of the coolest things to do in Batemans Bay is to visit Pebbly Beach a little further out of town. After a drive through a beautiful eucalyptus forest, you may see kangaroos hanging out on the beach, a slightly unusual but very Australian sight…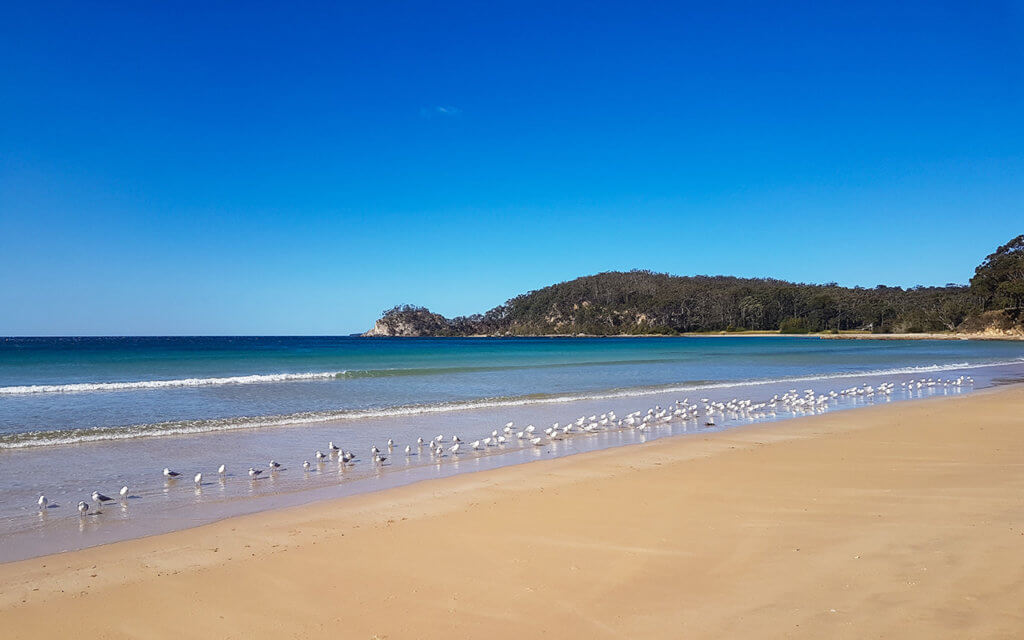 Near Batemans Bay, I also recommend visiting the Mogo Zoo and the Colonial Gold Rush village, where you can try and find your own gold… Driving from Sydney to Batemans Bay takes about four hours. Alternatively, it's a great getaway from Canberra, only two hours away and the drive through Monga National Park is beautiful.
A weekend in Batemans Bay is best for those who want a relaxing getaway by the beach.
Mollymook, NSW
The NSW South Coast has no shortage of beautiful beaches and relaxed coastal towns. I spent a very relaxed weekend in Mollymook Beach not long ago and was charmed by the place. It's a charming, slightly sleepy little town and it's a great getaway from Sydney.
One of the best things to do in Mollymook is to dine at Rick Stein's Bannisters restaurant, a great destination for foodies. If you fancy some more strenuous activity, I recommend climbing Pigeon House Mountain for some stunning views of the area.
A weekend in Mollymook is perfect for those who are keen on Australia beach holidays with great food and wine! There are plenty of nice places to stay on the South Coast.
Berrima, NSW
Located in the heart of the NSW Southern Highlands, Berrima is a charming Georgian village that comes to life on weekends and is one of my favourite short trips from Sydney. You can visit for a day trip from Sydney, only two hours' drive away. However, the area has a lot to offer if you are interested in exploring local markets and historic buildings. I love shopping for locally made produce in Berrima and support talented artisans.
Berrima has a few interesting historic buildings, such as the courthouse and the old gaol. Also, don't miss wine tasting and lunch at Bendooley Estate.
Berrima is one of the best weekend getaways from Sydney for those who want to spend some time in country NSW.
Berry, NSW
On the NSW South Coast, slightly inland, is a lovely yet bustling little village called Berry. Surrounded by lush rolling hills, Berry is the perfect embodiment of the NSW regional town and perfect for a weekend escape. It gets busy with Sydney visitors on the weekend and has some great shopping. If you are looking for homewares or quirky toys, Berry is the perfect place for you.
Also, there are some good cafés and restaurants in Berry for a relaxed lunch. The Berry Donut Van is a local institution and draws crowds from afar for good reason: their donuts are delicious! If you enjoy a good road trip, the drive across Berry Mountain to Kangaroo Valley is one of the best things to do in Berry NSW.
A weekend in Berry is perfect for those looking to experience a lively and charming NSW country town. The drive from Sydney to Berry is only two hours.
Kangaroo Valley, NSW
Close to Berry, just a short yet spectacular drive across the mountain, is the quiet village of Kangaroo Valley. One of the prettiest valleys in NSW, this is the home of pure green peace and quiet. Kangaroo Valley is often favoured for weddings and peaceful getaways. The township of Osborne is small and quiet but you can get a good meal at the General Café.
One of the best things to do in Kangaroo Valley is to visit Fitzroy Falls in the Morton National Park. The drive from Sydney to Kangaroo Valley is only two hours and is perfect for those who want to disconnect for a weekend. You can easily combine a visit to both Berry and Kangaroo Valley for a Sydney long weekend.
What to pack for a Sydney Getaway Weekend
All of these weekend destinations only require a carry-on bag. I always favour packing light as much as possible. Also, I favour comfortable clothing and good walking shoes. And of course, I pack my camera!
Best Weekend Trips from Sydney
So now you have some great options for a romantic getaway from Sydney. This list is yet to be completed, I need to revisit some places and discover new ones. Do you have a preferred destination for a weekend away from Sydney? Tell me in the comments below!
Related Posts
Relaxing Weekend in Mollymook NSW
Best Things to do in Orange NSW
Save these weekend getaways from Sydney on Pinterest!
LesterLost is a participant in the Amazon Services LLC Associates program, an affiliate advertising program designed to provide a means for us to earn fees by linking to Amazon.com and affiliated sites.