Berrima is a charming and well-preserved Georgian village located less than two hours south of Sydney, in the Southern Highlands NSW. Whether you are visit for a day or spending a relaxing weekend away from Sydney, here is my list of the best things to do in Berrima, NSW.
The Best Things to do in Berrima NSW
First established in the 1830s and mostly built by convict labour, Historic Berrima is rich in heritage buildings: the Berrima Gaol and Court Room and Berrima Church. Furthermore, there are plenty of well-preserved stone cottages, which give the place a rustic feel. Nestled on the Wingecarribee River, it's a small historic town on the way to Canberra and a delightful destination for a day trip.
Thankfully, Berrima no longer has heavy traffic going through it. As a result, the place lends itself very well to casual wanderings. The mix of well-preserved and run-down buildings shows the history of the place as well as a contemporary lively atmosphere.
Accommodation in Berrima NSW
This post contains affiliate links. We may receive compensation, at no extra cost to you, when you click on or make a purchase using these links. For more information, please read our privacy policy and disclaimer.
If you are looking to stay a weekend, you will find that Berrima accommodation is probably available in neighbouring towns, which are really not far away.
Look for Bowral accommodation or Mittagong accommodation, two small towns within a short distance from Berrima.
Driving to Berrima
Berrima Restaurants
Berrima does café culture very well. There is a range of cafes offering seasonal fare, tea, coffee and cakes. It's an ideal setting for a catch up with friends. In the middle of town, the General Store is a reliable Berrima café.
Surveyor General Inn
The Surveyor General Inn is an elegant convict-built establishment in the centre of town. It is the oldest continuously licensed inn in Australia. It has been a pub and a hotel for 150 years. The building stayed in the Harper family, the original owners, for over a hundred years. Before the gaol was built, convicts were chained together in one of the cellars.
The building went into decline in the 1960s but has been renovated by the current owners. The accommodation is still under renovation.
I chose to have lunch at the pub this time, for a change from the cafés. A simple burger with cider, with good quality ingredients…
Peppergreen Estate
Peppergreen Estate is a cellar door and lunch there is a little more expensive but you can taste some local wines.
Stock Your Pantry
Berrima offers a great range of locally-run shops, with a good selection of gifts and homewares. I always make a stop at Mrs Oldbucks Pantry, where I find delicious jams and mustards…
There is also a range of teas and sweets.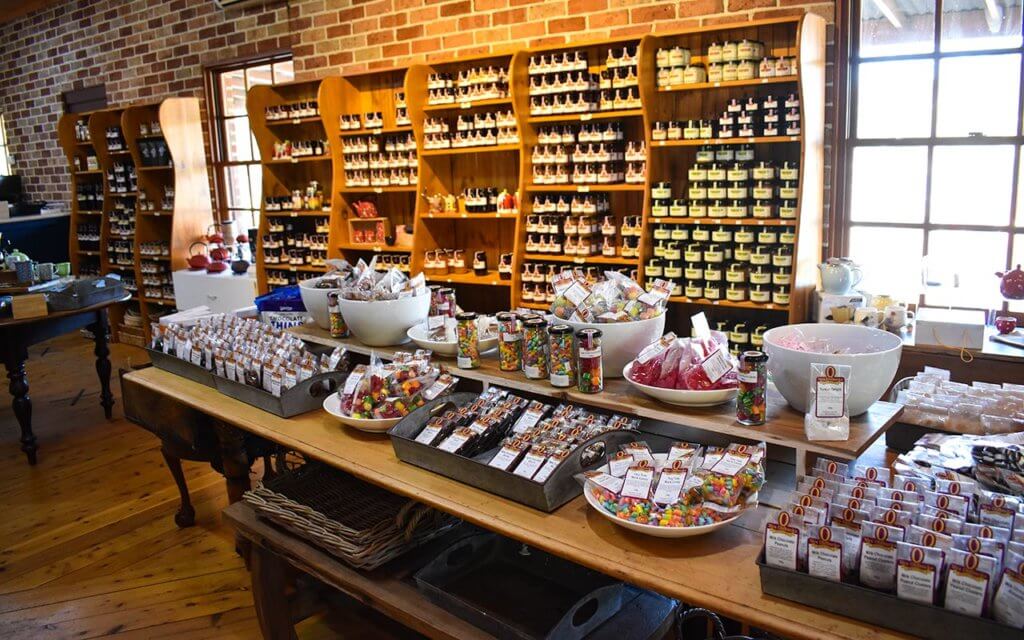 Further down the street, the Little Hand Stirred Jam Shop also has a range of locally made products. Their ice-cream is the perfect treat in summer.
A relative newcomer is Two Skinny Cooks – Larder Door, they sell a range of handmade products under their own brand: pates, soups, curries, casseroles, relishes and sauces. Furthermore, they stock quality Italian brands for fresh pasta and risotto mixes.
If your sweet tooth is that much more serious, don't miss the Lolly Swagman.
This tour from Sydney will introduce you to the best of Southern Highlands food and wine.
Southern Highlands Restaurants
Berrima's dedication to good food wouldn't be complete without a fine dining option. If you are looking to indulge or celebrate a special occasion, head to Eschalot Restaurant. Set in a beautifully restored stone house, they serve delicious and stylish food.
The Gumnut Patisserie is well known is the Southern Highlands for its fine cakes and indulged on my last trip.
The patisserie is located near the old post office and has a few tables outside.
A little further out of town, towards Bowral NSW, Berkelouw Books have a bookstore that doubles as a restaurant… Imagine dining on hearty food amongst bookshelves, in a large room warmed up by an open fire… That was a pleasant experience on my last trip…
Bendooley Estate, a Southern Highland winery, runs the restaurant in the Berkelouw Book Barn and the food is really good.
Visit the Galleries
A casual walk around Berrima will undoubtedly take you to some galleries. At the Bell Gallery, you can experience (and purchase) local artwork. The Berrima Village Pottery is also worth a visit. I found a great antique store on my last visit.
In case you are visiting in spring, don't miss the Bowral Tulip Festival.
Historic Berrima
In the early years of its establishment, Berrima enjoyed a certain development and prosperity, being on the Old Hume Hwy. There are a few historical buildings worth seeing.
Berrima Courthouse
This imposing sandstone building was designed by colonial architect Lewis Mortimer and completed in 1838. Central to the life of Berrima for many years, tours are available and there is a sound and light show.
Berrima housed a German detention camp during WWI.
If you are staying for a weekend, I recommend visiting Berry and Kangaroo Valley, two small towns within an hour's drive. Further down the NSW Coast, Jervis Bay and Batemans Bay are fantastic for a beach holiday. If you are visiting the coast, don't miss Kiama!
Related Posts
For more wine and food destinations in New South Wales, have a look at Orange and Mudgee.
If you have suggestions of things to do around Berrima, I would love to hear them, please leave me a comment!
Save these tips for Berrima NSW on Pinterest!