I discovered Akaroa a little by accident. My husband and I were at the tail end of a New Zealand itinerary and looking at the South Island map, it looked intriguing. We hadn't found many things to do in Christchurch so we decided to drive on. We were charmed with the Banks Peninsula, its beautiful scenery and historic connection to France, which was completely unexpected in this part of the world. If you are planning a New Zealand South Island itinerary, you shouldn't miss this little gem, and I have put together this list of the best things to do in Akaroa.
In the end, we thought visiting Akaroa and the Banks Peninsula was one of the best things to do around Christchurch.
The best things to do in Akaroa, New Zealand
The Banks Peninsula has a striking geography, the result of two giant volcanic eruptions some eight million years ago. A sheltered harbour is surrounded by steep rolling hills and secret bays dot the edges. This is what attracted me on the drive years ago, it seemed like an unusual scenery.
British explorer James Cook first sighted the peninsula in 1770 and mistook it for an island. He named it after naturalist Sir Joseph Banks. In 1838, a French whaling captain negotiated the purchase of the peninsula from local tribes and formed a whaling company.
In 1840, he returned with a boat load of settlers. However, the land had just been claimed as British territory under the Treaty of Waitangi. The French only stayed until 1849, when their land was sold and the British extended their settlement. Interestingly, the French left their mark on the place and the expression of French culture is still celebrated in Akaroa.
Today, Akaroa is a charming little town that maintains a French feel through street names and French food. The Banks Peninsula is one of many South Island destinations for cruise ships but when they're out of town, it's quiet and peaceful.
The harbour is home to thriving sea life, including orcas, seals and the unique Hector's dolphin, the smallest and possibly rarest dolphin's species in the world.
Driving to Akaroa
Akaroa is only 80km from Christchurch. It's a great place to take a drive for half a day or more, generally driving in New Zealand is a great experience. We only spent a short amount of time there in our last South Island itinerary but I would like to spend more time there. Akaroa is great for a long weekend of outdoor pursuits and animal encounters.
Renting a car in New Zealand is easy, we picked ours up at Christchurch airport. A New Zealand campervan is also an option.
I recommend driving from Christchurch to Akaroa, thus having the flexibility to explore the Banks Peninsula. If you are not motorised, there are some tour options from Christchurch.
Take a walk around town
Akaroa expresses her French identity through its architecture and street names. France being so far away, I was quite surprised at the discovery, especially since the French officially only settled here for less than ten years…
There are plenty of houses painted in pastel colours and other stone cottages.
Dolphins
Akaroa Harbour and the waters around the Banks Peninsula are home to Hector's dolphins. A rare, short and stocky breed of dolphins, Hector's dolphins have a distinctive appearance: black and white markings, a black and rounded dorsal fin and a short snout.
As with every dolphin species, they are a playful and curious animal and there is an opportunity to go swimming with them.
This is an activity I've done in Kaikoura and Bruny Island in Australia, and it's a lot of fun. You need to be a reasonably good swimmer and be respectful of the dolphins, as they are the masters of their environment. Dolphins are genuinely curious of the awkward creature that a human is in water… The game is to attract their attention so they come close to have a look.
Don't even try to touch them, they are too fast and agile in the water… These Akaroa tours are best done when it's sunny as there is better visibility in the water. The South Island weather can change quickly so I recommend you check the forecast the day before.
Penguins and sea lions
If you are interested in eco-tourism and wildlife, the Pohatu Penguins Scenic Nature tour combines local history, outdoor exploration, scenic photography. Penguins and sea lions are also Akaroa attractions and in season, you may see them frolicking on New Zealand beaches…
French Cemetery
I had no idea about what to do in Akaroa on my first visit and I had no idea about its prior history. The French-themed shops and street names were a complete surprise… How is it possible that the influence would remain after such a short period of time? Obviously, the settlers' descendants have kept the French spirit alive.
The French cemetery is tucked away on a hill behind the main street. It's almost like a secret spot and it's is quite moving.
Drive to Godley Head Park
For things to do near Christchurch, I recommend getting out of Akaroa and visiting the beautiful Banks Peninsula. As always with New Zealand, it doesn't take much to find remote places to relax.
Godley Head Park is a coastal defence battery built in 1939, on the eve of WWII. There is a run down bunker left and not much else but today, it's a nice coastal walk.
Lyttelton
Lyttelton is a small port on the north side of the Banks Peninsula and one of the South Island point of interest. An important point of entry to the province of Canterbury in colonial times, the township of Lyttelton has a number of historic buildings and an old-world feel. Unfortunately, the 2010-2011 earthquakes damaged a lot of buildings.
The drive from Godley Park to Lyttleton is very beautiful and has stunning views over the peninsula.
The working harbour is small but still full of imported goods…
Summit road
The easiest and nicest thing to do in Akaroa is to take the Summit Road. The road follows the ridge of the volcano and has great views. There are several Banks Peninsula walks I would like to explore next time and add to my list of best day hikes in New Zealand.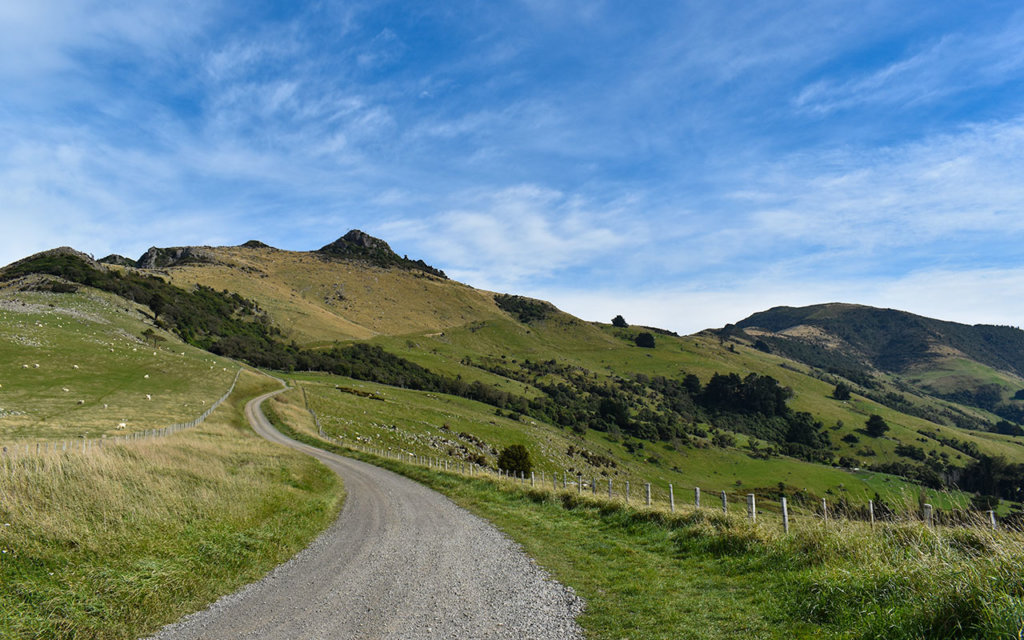 Tours from Christchurch
If you run out of things to do in Christchurch and want to explore Akaroa from there, you can take a tour. I am a big fan of helicopter tours and one of the fun things to do in Christchurch is actually to take a scenic flight to Akaroa. This is guaranteed to give you some amazing New Zealand pictures!
More simply, you can combine a coach tour with a 2-hour nature cruise, with a hotel pick up in Christchurch.
The Banks Peninsula
I really recommend you include this area in our New Zealand South Island road trip as well as some of the stunning New Zealand lakes. Driving around for a few days will do but there is plenty to discover if you allow more time.
Related Posts
New Zealand Helicopter Tours
2 Weeks in New Zealand South Island
Have you visited Akaroa? Tell me about your experience in the comments below!
Save these Akaroa tips on Pinterest!