New Zealand is one of the best destinations in the world for adventure. So when you visit the "land of the Long White Cloud", why not try something unique and adventurous? I discovered helicopter tours on my first New Zealand itinerary and I am hooked! This is my guide on how to choose a New Zealand helicopter tour. I always include them in my New Zealand South Island tours.
How to choose a New Zealand Helicopter Tour
The main reason why you would choose to include a helicopter ride in your New Zealand tours is because this country has such diverse and beautiful scenery that it is well worth seeing from above. A trip to New Zealand is always an adventure, so why not treat yourself?
Whilst the country doesn't seem to be too big, there are some serious distances to get to places, and it means you may need to spend a fair amount of time driving in New Zealand or sitting on a bus. We experienced this on our New Zealand South Island itinerary.
New Zealand, and that's its charm, has a lot of very beautiful but very remote places. If you want to visit these places whilst limiting your travel time, sometimes a helicopter is the most convenient mode of transport.
Helicopters are quite commonly used in New Zealand, due to the sheer remoteness and size of land properties. This means that there are experienced pilots and companies with a good safety track record.
My personal experience with this has been that safety is paramount and that travellers taking part in this experience are very well briefed. More on that below…
Taking a helicopter tour in New Zealand means you are able to reach and see places in a safe and comfortable way. How often can you get to an alpine glacier in less than 15 minutes?
Helicopters also don't require any particular level of fitness. All you need to do is to climb on board, observe the safety rules, dress appropriately and the pilot (and his machine) will do the rest.
There are many places you can see from a helicopter, depending on your budget and interests and I have selected the best ones to help you decide.
Helicopter Destinations
There are helicopters flights pretty much everywhere in New Zealand but here are the main areas worth experiencing from the sky. West Coast New Zealand is a great place to start looking for your perfect tour.
Fox Glacier & Franz Josef
New Zealand glaciers are a popular attraction and what better way to get to the snow quickly than a helicopter flight? The two most famous glaciers of New Zealand are only separated by a short but spectacular drive however, you can see both on a single helicopter ride.
Departing from the Franz Josef township, this 20-minute flight with Glacier Helicopters flies over both Fox and Franz Josef glaciers and offers stunning views. There are several itinerary options depending on the weather and the wind, and it includes a snow landing (weather permitting).
We booked this tour when we undertook our 2-week itinerary of the South Island, but it was cancelled at the last minute due to the weather. We were offered a fall back option later in the afternoon, a Fox Glacier helicopter. However, this was cancelled again due to the poor weather.
We attended the security briefing and were very confident we were in safe hands. In hindsight, the weather would have been a nuisance and it was better to cancel rather than have a less-than-satisfactory flight.
Franz Josef
Depending on your budget, you can do a shorter flight and include only one of the glaciers. The snow landing is always subject to the weather and it is up to the pilot to decide whether it's safe to do so.
This 45-minute scenic flight from Franz Josef includes flying over Mount Cook.
Bear in mind that a departure from Fox Glacier or Franz Josef is fairly interchangeable, depending on availability and weather conditions. There is a bit of a drive between the two places, so it's worth checking with the company the day before you are due to fly.
Our flight of Franz Josef glacier being cancelled, we elected to do the Franz Josef glacier walk instead.
Queenstown
As the capital of adventure travel in New Zealand, helicopters are one of the best things to do around Queenstown. As we missed out on our Franz Josef helicopter, we booked one in Queenstown with an alpine landing a few days later. Not as exciting as the snow landing but the view over Lake Wakatipu, one of the best Queenstown attractions, is stunning!
We flew over the Remarkables, a snowfield in Queenstown, which was a film location of "Lord of the Rings". On a sunny day, the views were perfect.
This Queenstown helicopter ride leaves from the airport and includes a hotel pickup. The security briefing was a little shorter but equally thorough. We got some great views of Lake Wakatipu, which is one of the most stunning New Zealand lakes.
Queenstown activities are quite diverse and there are many tours to choose from. Restaurants and boat rides, luge tracks and hikes. However, a Queenstown holiday wouldn't be complete without a helicopter ride.
Queenstown is also a great starting point for helicopter tours further afield, as the Milford Sound scenic flights depart from there.
Milford Sound
Being one of the most famous tourist attractions in New Zealand, but also one of the most remote, Milford Sound is ideal for a combination of scenic flight, helicopter ride and cruise.
Most people drive or take a bus in order to take a Milford Sound tour. However, there is a very valid reason why you should spurge and do a scenic flight. The distance from Queenstown to Milford Sound is quite significant. The drive takes almost four hours, so that's 8 hours drive for a Milford Sound tour from Queenstown.
Milford Road from Te Anau to Milford Sound is certainly spectacular but eight hours on the road is a long time on the road for a cruise. For that reason only, I would definitely consider the Queenstown to Milford Sound flights if I was pressed for time.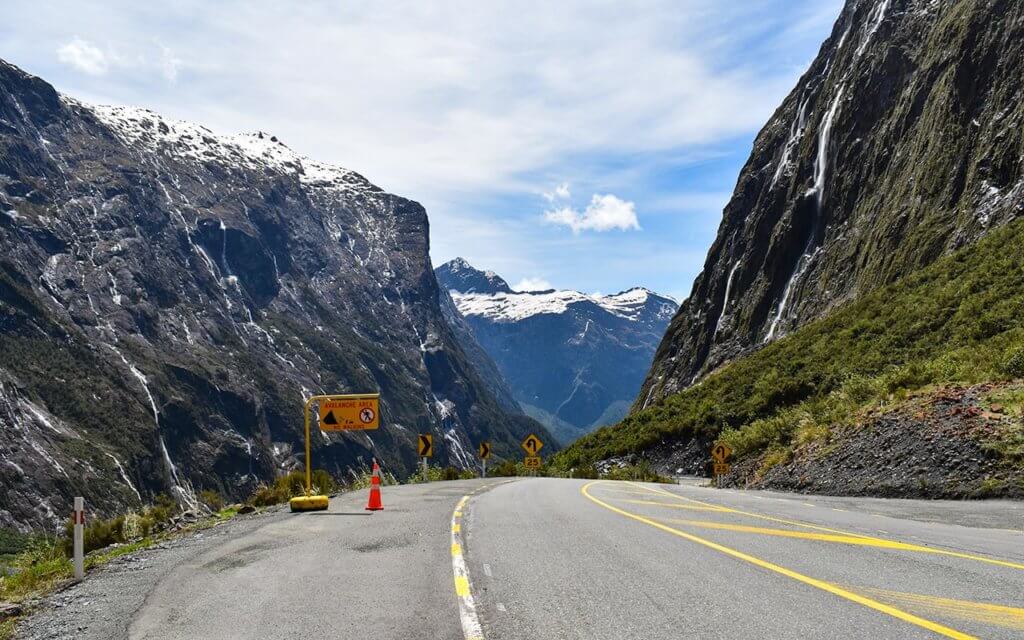 We based ourselves out of Te Anau to experience a Milford Sound cruise and it was still a two-hour drive each way. We enjoyed it, but there are reasons not to drive yourself and take a bus instead.
There are accommodation options in Milford Sound however they tend to be expensive and book up quickly.
If you plan to spend time in Queenstown and want to spare yourself a very long drive to Milford Sound, I would definitely recommend this tour. You start with a light plane transfer from Queenstown to Milford Sound, then a cruise and a helicopter ride. It's the best way to see Milford Sound and not miss a thing!
Te Anau helicopters do a combination of Milford Sound and Doubtful Sound.
Christchurch & Akaroa
As we discovered on our honeymoon, the area around Christchurch is very pretty. We especially fell in love with Akaroa, on the Banks Peninsula.
The peninsula was born out of a volcanic explosion and now has two large harbours and many more bays and coves. A visit there is one of the best things to do near Christchurch.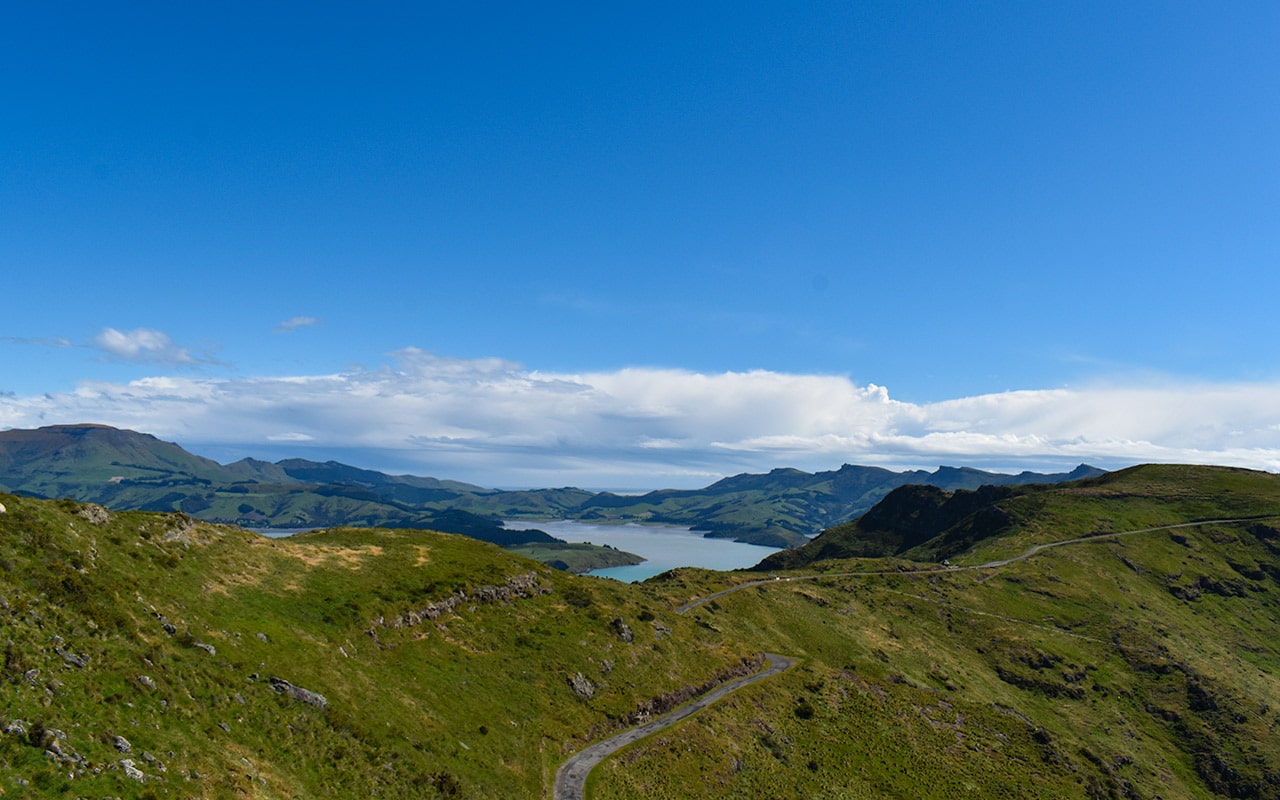 This is a stunning area to drive around and also great for day walks. From the sky, you can see its spectacular shape. If you have a few hours to spare, Christchurch helicopters can show you around the spectacular shape of the Banks Peninsula. I would definitely recommend this flight.
Aoraki – Mount Cook
Mount Cook, in Akaroa National Park, is the highest mountain in New Zealand and is a commanding presence. The National Park is a beautiful area with many day hikes or multi-day hikes. On a clear and sunny day, you can take a Mt Cook helicopter and get a view of Mt Cook glacier.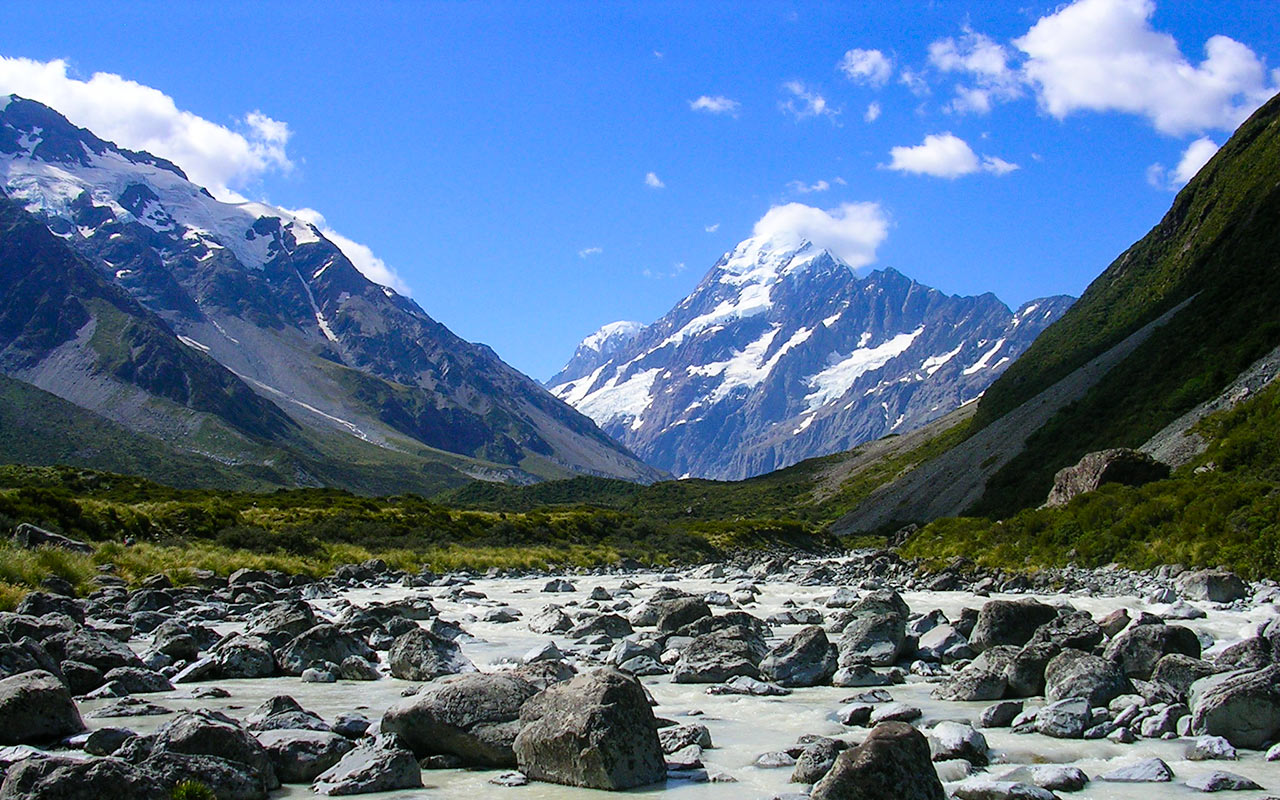 Mount Cook wasn't kind to us when we visited and we had terrible weather, so a scenic flight would have been out of the question. Thankfully, there are other things to do in Mount Cook and we walked the Hooker Valley Track instead.
Mount Cook in the sun was one of New Zealand South Island highlights on our honeymoon, ten years prior, and it's incredibly beautiful.
Registration and Security Briefing
Helicopter companies run flights every day, several times a day. So it's very easy to make a booking online. New Zealand helicopters are great entertainment and for a sense of adventure, but you should be aware of what's involved.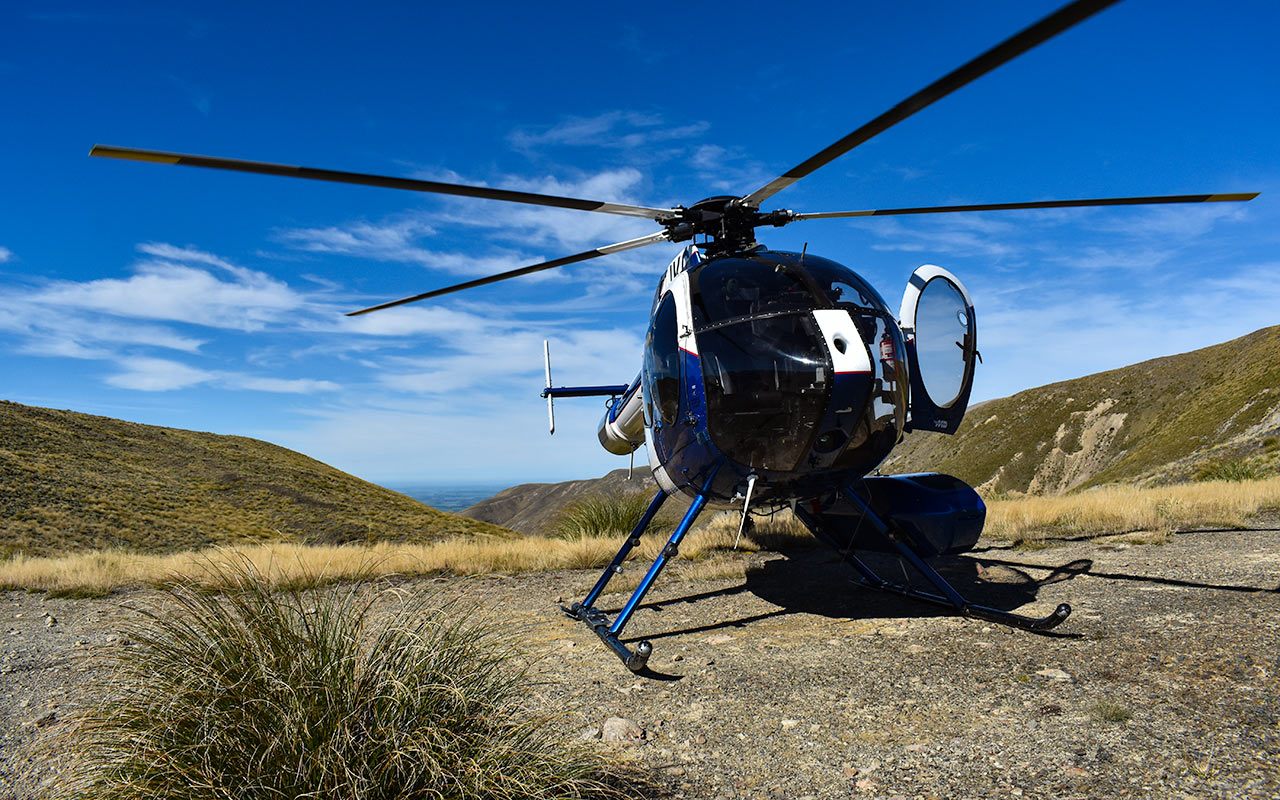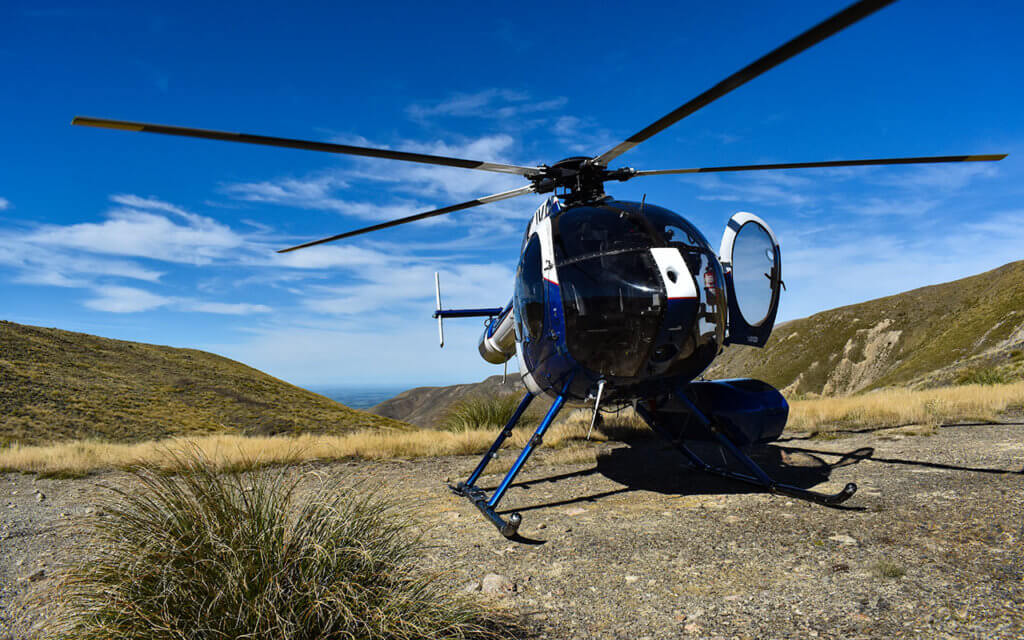 I booked my flights with Helicopter Line Franz Josef on Get Your Guide and this is my experience.
Helicopter flights are very dependent on weather conditions. It is up to the pilot to decide whether a flight will take off and things can change quickly. We initially booked a flight for Franz Josef and Fox Glacier with a snow landing with the Helicopter Line.
We went through the security briefing and they made us feel very safe, they were very professional. In the end, our flight was cancelled just 5 minutes before we were due to leave. It was disappointing however, we felt it was safer that way. We could see thick clouds over the mountains and, had we been able to fly, we may not have seen very much…
I'd also heard of helicopters immobilised on the glacier for several hours after a snow landing, due to the weather. I didn't think it was worth the risk.
The company offered to rebook us on another flight later in the afternoon from Fox Glacier but that didn't happen either. We were refunded within a few days and even offered a 20% discount for our next tour, so we were satisfied. We looked at Queenstown helicopter flights instead.
When you book, you have to disclose your weight and they are very transparent about the dependency on weather conditions.
Security Briefing
We attended a very comprehensive briefing and learned a lot about the business of flying a helicopter.
First of all, you need to know where to stand when you are close to a helicopter. You may only approach the helicopter from the front and the sides, especially if the main rotor blade is in operation. During the snow landing (or any other landing), the rotor blade remains in operation.
You are required to refrain from lifting your arms in the air or jumping close to the helicopter. I always feel like I have to bend down a little but I think the rotor blade is above man's height anyway.
The hottest areas are behind and underneath the helicopter, so if one is landing near you, you must stay out of the way.
When climbing in and out of the helicopter, use the handles inside the cabin or get assistance from the pilot (usually they're more than happy to help). Please don't touch the doors, they are actually fairly light and flimsy and are not designed to sustain the weight of someone hoisting themselves into the cockpit.
When you're in the cabin, make sure you are strapped in. The pilot will assist you if required. And put on the headphones in order to hear the commentary from the pilot. You also hear the pilot communicating with the ground, and it makes you feel like a movie a little bit…
The question of your weight is an important one. You need to disclose your weight when you book and you will be asked to step on scales during the security briefing. The pilot will then decide who sits where, in order to balance the aircraft correctly. I always ask to sit in front but I don't always the front seat. As long as you can sit near a window, it's fine as they are pretty big and you get a great view.
What you can and cannot bring
Be advised, there is only limited gear you can bring on alpine helicopters. It's a small space and there is no need to weigh it down further… So any backpacks or handbags will have to stay behind. We left ours in the car, but the company will also offer to store them in a safe place for you.
| Image | Title | Description | Brand | Buy |
| --- | --- | --- | --- | --- |
| | Nikon D5300 24.2 MP CMOS Digital SLR Camera | 18-55mm f/3.5-5.6G ED VR Auto Focus-S DX NIKKOR Zoom Lens (Black) | Nikon | Buy on Amazon |
| | GoPro Hero5 Black | Stunning 4K video and 12MP photos in Single, Burst and Time Lapse modes | GoPro | Buy on Amazon |
| | Sherpa Mountaineering Glacier Sunglasses | Spectron 3 Lens, non-polarised | Julbo | Buy on Amazon |
| | Sun by Nivea | Moisturizing Sun Lotion SPF15 200ml | Nivea | Buy on Amazon |
It is highly recommended that you bring any type of camera as this is the experience of a lifetime. DSLR cameras, smartphones and GoPros are welcome. Even if all you do is a South Island road trip, you want to carry some of these things with you!
Selfie sticks, tripods and GoPro sticks are not permitted on adventure flights. Neither are tablets, as they could obstruct the view of the pilot or other passengers.
What to wear
You need to dress appropriately for heli tours. Remember you are going in altitude and especially with glacier helicopter tours, you will experience some cold temperatures and some bright sun.
| Image | Title | Description | Brand | Buy |
| --- | --- | --- | --- | --- |
| | The North Face Women's Resolve Parka II | With lightweight weather protection, this jacket is great for hiking or city adventures | The North Face | Buy on Amazon |
| | Unisex Merino Wool Cuff Beanie Hat | 100% all natural superfine 18.5-micron Merino wool | MERIWOOL | Buy on Amazon |
| | Thermal Neck Warmer | Double-layer neck warmer | UHEREBUY | Buy on Amazon |
| | Salomon Women's Authentic Leather GORE-TEX Backpacking Boots | This classic leather backpacking boot is lightweight | Salomon | Buy on Amazon |
So you need to wear some warm clothes, preferably in layers, some sturdy shoes and have some sunglasses. I also recommend having a beanie, a scarf, maybe some gloves, a warm jacket and having some sunscreen on.
How to choose the best New Zealand Helicopter Tours
Wherever you go in New Zealand, you are likely to come across some helicopter tours. Whether your trip is a honeymoon, a road trip or a solo trip, it is definitely worth considering. You will always be dependent on weather conditions but booking with Get Your Guide gives you great flexibility.
Related Posts
Greymouth: West Coast New Zealand
I hope you get an unforgettable experience flying a helicopter in New Zealand!
Have you done a New Zealand helicopter tour? Tell me about it in the comments below!
Save these New Zealand helicopter tips to Pinterest!
LesterLost is a participant in the Amazon Services LLC Associates program, an affiliate advertising program designed to provide a means for us to earn fees by linking to Amazon.com and affiliated sites.